A beautiful, heavenly place with greenery all around, a pub inside, big rooms, a gym, a cinema, and an inground swimming pool.
Sounds magical, right?
This is what we call, how a dream house looks like.
Are You Planning to Have a Dream House?
Everyone has his fascination for a dream house, but these are the ones that everyone would desire for. A dream house is the one that makes us feel out of the world, where we can relax, enjoy, and unwind ourselves.
Have you ever dreamt of designing your dream house yourselves? Plumping the best designs, employing the best material, decorating, and designing with distinctive articles.
That is why we are. To assist you in designing and forming your dream house, the way you dreamt.
Inground Backyard Pool Designs
Swimming is not just a fun activity but a physical activity, which is highly impactful for the human body where one can engage in cardio activities. These activities are boon for people suffering from muscle pain or joint pain.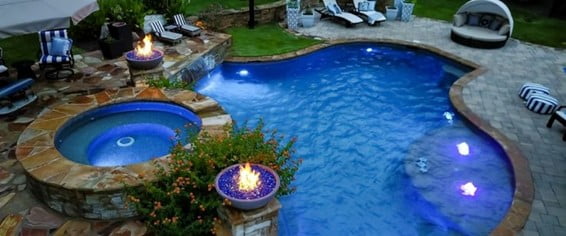 They would feel relaxed with this fun cum beneficial activity. It is the best relaxing and peaceful activity that alleviates stress. Swimming impacts both our physical well as mental health. But also, the swimming pools create an impact on our homes as well.
Inground Swimming pools give a classy look to the home where parties could be organized, and one can have a chill. This gives an aesthetic appeal to your home and adds to the tranquillity of the home.
Therefore, do not doubt your idea of installing a swimming pool in your home and give a classy look to your dream home.
Customize your homes with prepossessing designing of backyard inground pool ideas.
Scroll down and find some alluring inground pool designs mainly designed by designers.
1. Baja Shelf Pool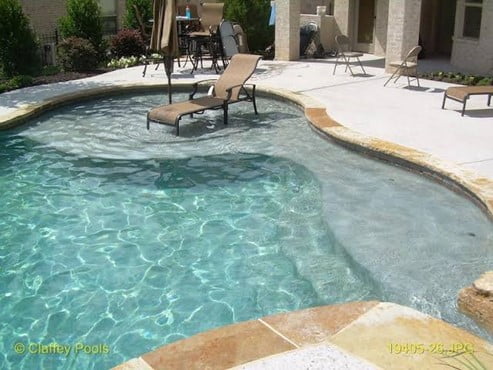 Sounds interesting this type of pool. Baja shelf pool is the pool's extended top step, making a pool inside the pool, just a shallower one. That is the safest approach if you are planning to have a pool with children. Kids can enjoy the splash of water on the shallower side of this fantastic inground pool with you being on the other side.
With the creative usage of designing and floor tiling, the Baja shelf could be made attractive and classy, giving an absolute WOW look to the home.
The steps could be used to add an umbrella and enjoy swimming in the shade. The Baja shelf does not cost high than standard pools, assuming that extra features like bubbling are not added.
2. Out-In Pool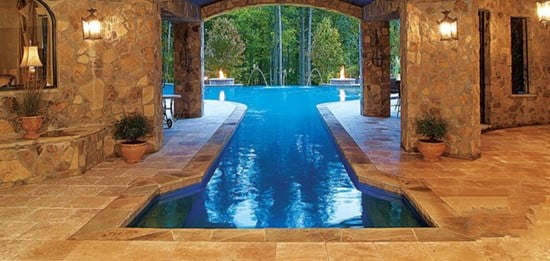 What could be better than the fact that we can swim both indoors and outdoors? Design your homes without pools so that you can swim according to your mood and weather.
In many cold countries, it is even trending to have a pool inside. Pools indoor gives its own space and provides leisure time.
3. Ark Night Pool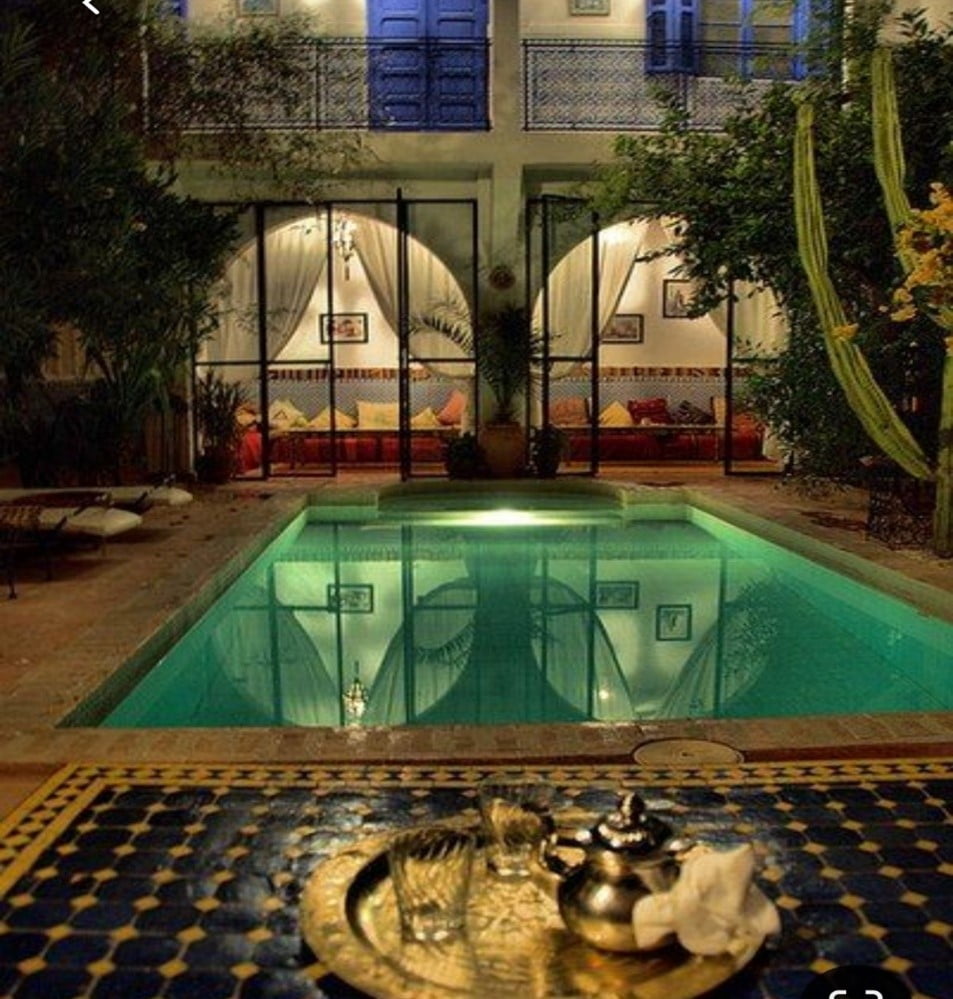 Home with a limited area of backyard could have an art night pool with greenery all around. Surround it with a wooden fence to give a smart and exclusive look. Enjoy the splashes of fun with the family with this elegant pool. Fix some lights on the edges of the pool to give different colours.
4. Aquatech Pool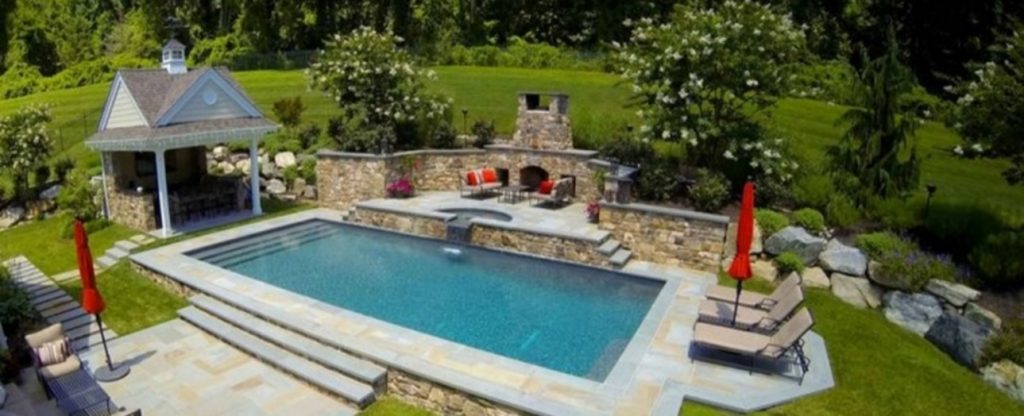 Small backyard? No problem. Aquatech could be built in whatever size you desire. This gives a complete relaxing zone in the home with fresh air and plants around.
Add beautiful plants and flowers surrounding this inground pool to give a completely exclusive look. Surround it with beautiful stones of different sizes and notice what magic it could do!
5. Lap Pool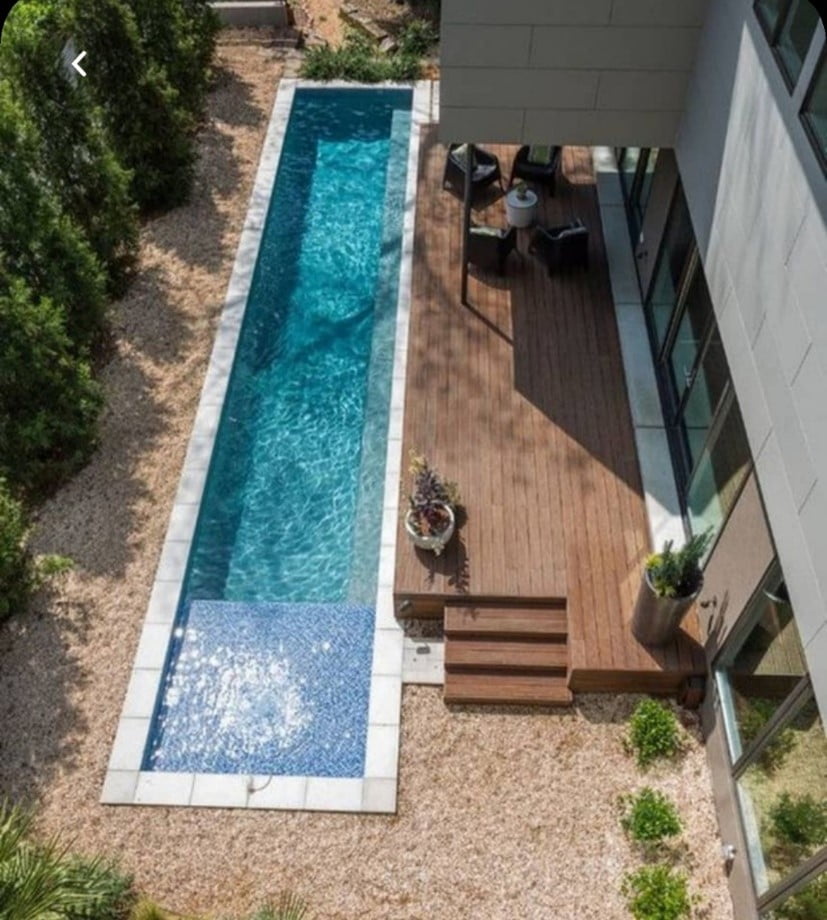 If you plan to have a pool just for exercising, a lap pool makes the right choice. That is a rectangular inground pool design that goes well in the backyard. You may cover the pool design with different and exclusive tiles and flooring or different stones. This gives it a more authentic look, and yes, also, it fits in a small backyard.
6. Seating Pool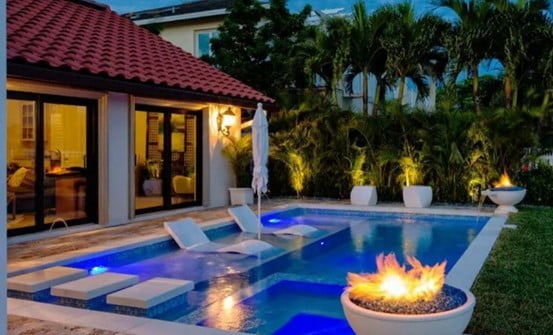 Do not want to swim? But want to relax in water, have chilled and splash away fun.
Here is a perfect place to relax and chill- seating pool. When you are not swimming, these pools could give you leisure time to read, relax, or do fun with the family in the water. This unique design would give your home a new look, and it is going to amaze your guests for sure!
Big stones in the water with design at the edges will make your backyard attractive. Soothing lighting adds to its beauty.
7. Kids friendly Pool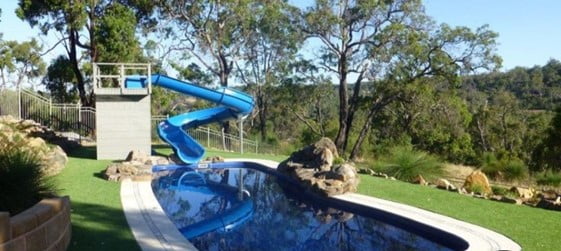 The home smiles where the kids smile. Therefore, to make kids happy here is a specially designed inground pool just for kids. This could be made in a small backyard as well but restricts to add more and more features.
Adding on swings to the pool could give a new look to the pool, making it kids friendly. Setting up an umbrella nearby can make it a perfect picnic site for families where kids can have fun and adults could also indulge in their activities keeping an eye on their kids.
8. L- shaped Pool

L- shaped inground Pool design looks very royal and exclusive with seating arranged nearby. It requires more spacing and is, therefore, more expensive as compared to the regular inground pool. The fountains installed on the sides of the pool with authentic lighting make it stylish and attract guests.
L- the shaped pool has deep and shallow ends, which adds to its advantages. Shallow ends are safe for children, and deeps ends can be used for diving.
9. Indoor Pool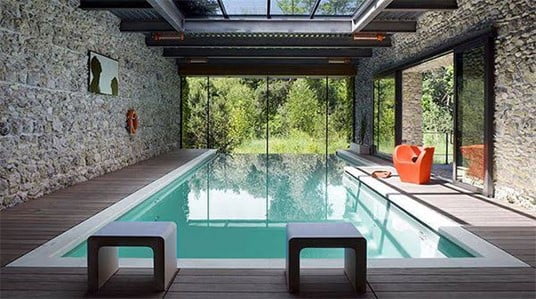 Indoor pools can serve as an alternative to outdoor pools, more preferably in cold countries. Indoor pools are built near the window to have a natural green look while they have leisure time. But indoor pools are expensive to build and maintain as compared to outdoor pools. It occupies a vast area of the house, which is not recommended by most of the designers.
10. Green Roof Pool House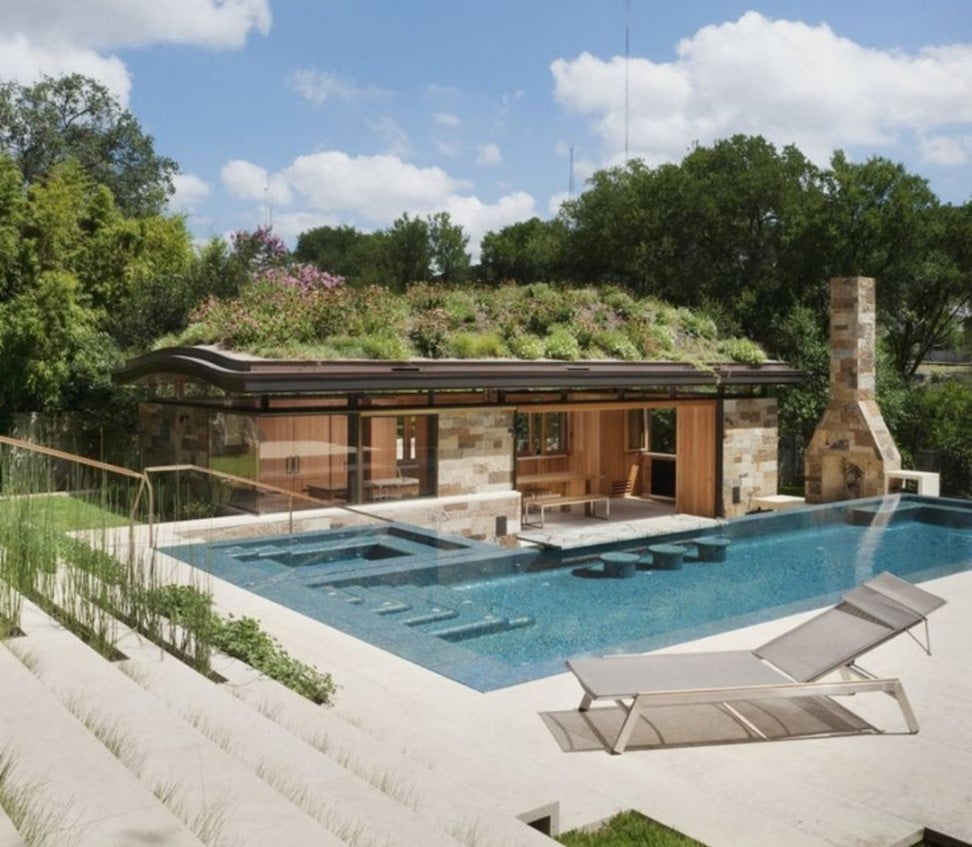 This design includes a pool house with a roof occupied with grass and flowers. This design gives a wildlife pool appearance in the home itself. That means there is no need to go on adventures to have a view like this because it is in your home itself.
11. Family Fun Pool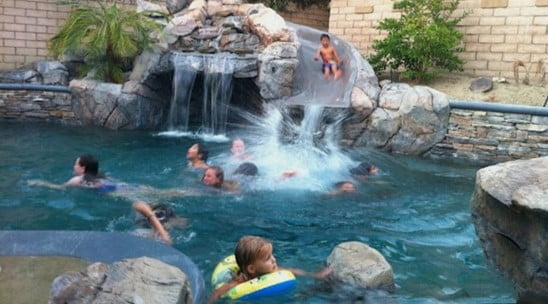 A complete family pool with waterpark experience. Here, you can add on fountains and slides to have an elegant and enjoyable look. Edges designed with various types of stones give an attractive look to the pool. Add family toys like balls and ducks to the pool and enjoy the splash. Arrange seating nearby for older adults, and do not miss them out!
These amazing backyard inground pool designs are specially designed by various designers. It is vital to remember that pools increase your home value and serve as an asset.
But yes, it requires time management.
Give your home an exclusive look with these pools and enjoy every season with your family!