Have you heard of them? OMG… they are So good!  What a great activity for the kids!  Ours didn't turn out as fancy as you see them in the Cake Pop book, but the triplets had a great time making them. They also enjoyed on the best above ground pools. I saw these Cake Pops and went out and bought the Cake Pops book by  Bakerella. I bought all the required items.  If you happen to have these supplies, then it is a low cost activity. For me… there was a lot I needed, so not so low cost.Cake Mix & supplies needed to make. Oil, eggs, water
Candy Melts (she calls for 48 oz which is four Wilton bags, but I only had 2 bags and didn't use them all)
Lollipop sticks
Styrofoam – the size I got cost me $8,99 at Joann's. I'm sure you can buy it for less, but I didn't have time to shop around.
sprinkles – we had a lot of that.We decided to go with the very basic cake pop.  Having triplets, I had to divide up the jobs so everyone got a chance.One thing about baking or cooking. There are so many lessons and skills that can be taught.  We talked about fractions, how to measure, how to flour.It was a great teaching moment.Thank goodness there were three eggs in the recipe… that's all I can say!Learning how to use a hand mixer…. and can you believe that none of them lifted it up to early?
I fully expected a nice cake spraying!Then of course once you make cake…. you get to help clean up.Of course since there are two beaters, you have to have the third have the spoon.Bake the cake as usual.  Once it is cool, cut into four large sections.They had to read the recipe.  I was there to guide and teach, but they did the work. I didn't do it for them.They got to crumble up the cake into tiny pieces…. think they had fun with that? had some homemade awesome frosting left from some cupcakes I had made last week. It was vanilla frosting, but it was just colored pink. The recipe called for 3/4 of a can of canned frosting.
A can is 16 oz, so I had them measured 12 oz of frosting.They took turns mixing it in.Of course they all dove in to make up the cake balls.Their ball rolling wasn't perfect, but this activity was for fun, not perfection.  The box made 48 cake balls.
I made them figure out the math of how many rows and how many in each row on the two cookie sheets.We took the two trays of cake balls out to the freezer. We brought them in after 15 minutes like the directions said, but we left the whole tray out.  The directions said to only work with a few at a time and keep the others in the refrigerator.  We learned.We gave them more time in the freezer, then brought in one tray and kept in the freezer inside.
Then we only got two out at a time.We melted the candy melts. You only heat in the microwave for 30 seconds at a time. I also ended up adding some Crisco (as per direction) to thin down the candy melt.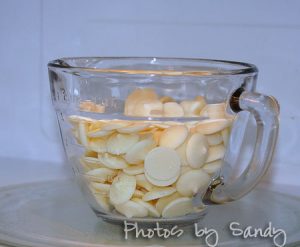 You take your candy stick and dip it first into the candy melt. Then you put it into your cake ball. Not all the way through.
Then dip it in and lift right out of the candy melt.  This one didn't get down far enough. I was using the spoon to help put some extra on the ends. I also would try tipping the bowl to make it deeper.I used one of my deepest bowls, and I think had we had a couple bags of candy melt in the bowl, instead of just one it would have been easier.
But our main problem was that they would fall off the stick.  Even after just coming out of the freezer.  I think the issue there was that I must have used a little too much frosting. I think they were just a bit too gooey. Then you tap it gently to get some of the extra off.They got to then dip them in the sprinkles. But we found it worked better and was less messy to sprinkle the sprinkles on top and not dip the cake ball into the sprinkle bowl.I had also bought a bag of chocolate melt.
It seemed to thin out a little better. I also added a little bit of Crisco to that too.he whole process took us about 3 1/2 hours from start to finish.The kids found out that the "duds" tasted just as good as the "good ones".They couldn't have been prouder.  They raced in to show their Dad, Who just done his work in garden with best zero turn mower when he got home and their brother. Of course I heard, when can we make them again?What are some of the recipes your kids like to make?