Want to save your monthly membership fees for going to a sports center? Want to play your favorite sport any day and at any time without the interference of others?
Convert your backyard into a sports court right now and enjoy these benefits at a minimum cost. Converting your backyard into your favorite sports area will not only save you tons of money, but you can play anytime you want.
It is also a fun activity to build your own sports court and style it any way you want.
Some of the ideas you can take for building your sports court are below. You can take them as a basic idea and add your creativity to it or build it as you feel like.
10 Of the Best Backyard Court Ideas
1. Concrete Court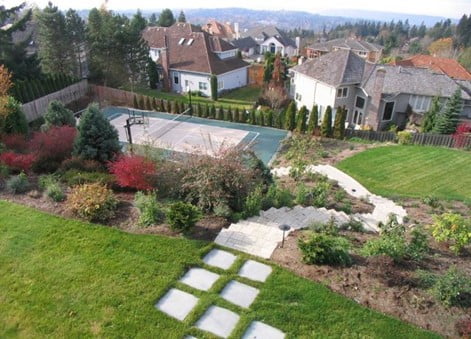 This is a traditional basketball court which is made from concrete. Before you start painting concrete, make sure that the court is completely dry. Otherwise, there can be some cracks, but other than that, it is a straightforward process that requires less time too.
The amount of concrete you pour in the field depends on the length you want like you want it to be more compact or more traditional sized.
2. Traditional Tennis Court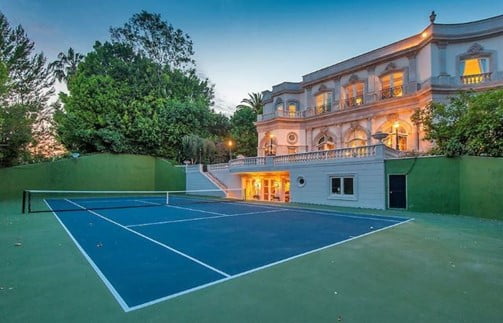 If you do not like basketball, do not worry, we have ideas for other sports like this beautiful tennis court. Its entry is made specially from the inside of the building, as you can see. It is built the same as a traditional basketball court.
You can even style this court with some flowers, or vases, or statues, or pretty much anything you like. It is all your choice what and how you wish to decorate this court.
3. Let us Play Hockey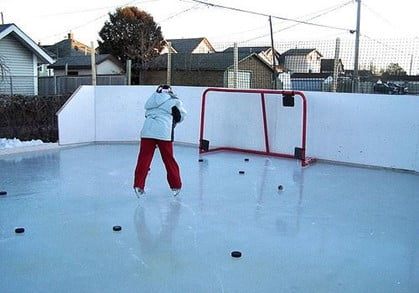 During winters, hockey is a sport everyone loves. It is fun, outdoorsy, and easy to set up. However, you can only set up this game where it is freezing, mostly in the northern regions, or any place where the water freezes outdoors. 
You do not need to make a big court; you can set up some snow scriptures if you wish. And this court can also be used for ice skating, so it is a fun activity for everybody.
4. Shuffleboard Court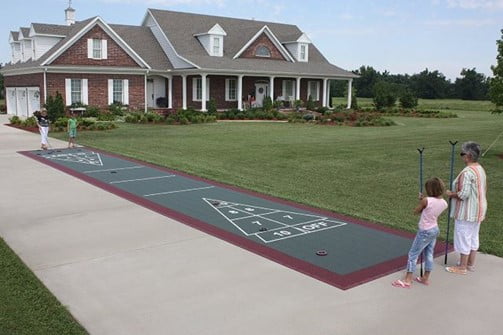 Some games come in the form of a kit, just like this game here called The Shuffleboard. Shuffleboard is one of the oldest, most comfortable, and most fun game anyone has ever played.
All you need is a clear space, be it in your backyard or a side place like the one in the picture, lay down your game, and enjoy it. The kit comes with everything you need to play the game, so you do not have to worry about anything.
 5. Baseball Court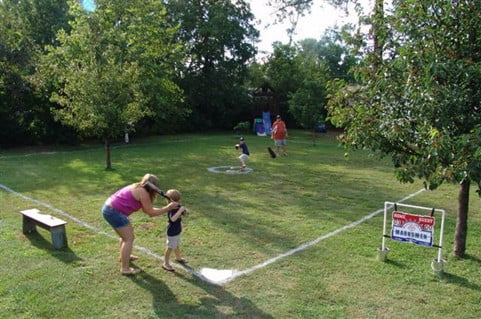 If you think that building a proper court will be a hectic job for you, then you can have a mini setup like in the picture. This setup is great for kids or anyone who is just learning the basics of a game.
The mini court seen in the picture is of baseball. This setup does not take much time to set up and is even great for that Sunday games or parties. 
You can buy the baseball kit and display it in your home or even take it with you to your friend's place; it is handy and does not require much time to build.
This means you can play baseball anywhere you like, pick up your backyard, go to a park, choose your spot, and keep on playing.
6. Volleyball Court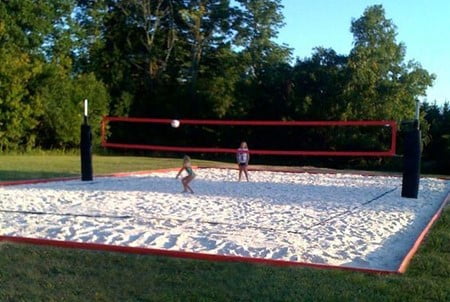 Volleyball is a beach game, but that does not mean that you cannot enjoy it without being on the beach. You can easily set up a volleyball court by clearing out an area in your backyard and dumping the sand in it.
To create a more beach feel, you can drop some seashells or pearls on the sides of the border. All you need after this is a net, a ball, and of course the players, and you have got yourself a beach day at your home.
7. Bowling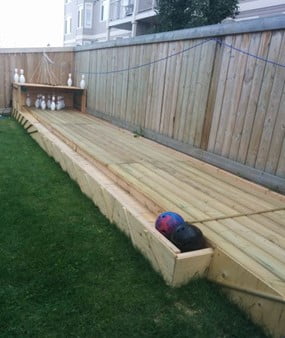 Could anyone think of having bowling set up in their backyard? Well, now you can. As you can see in the picture, it hardly requires any effort, since you can play it any time you want, not only will it make you active but the bowling lovers will never leave this place.
This set up will save you money from buying those big bowling tickets, you can play your music, and you won't have to wear those bowling shoes, which we all know isn't for everyone. You can even put decorative or neon lights around it to give it that bowling feel.
8. Classic Court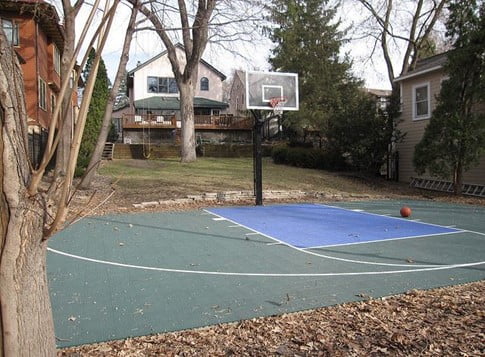 The most common game and the court is that of a basketball. Basketball is a game that everyone loves to play, be it kids, adults, or families.
Look at the picture above; this is a classic basketball court; now imagine waking up to a crisp fall morning, coming down, and having few rounds of the game with your kids.
Isn't it fun? It is an excellent start to the morning and a great way to practice for the nationals too.
You can buy a basketball mat from any sports store or build one for yourself. The hoops and stand can also be bought from anywhere or built. What's left is basketball and your presence.
9. Double Fun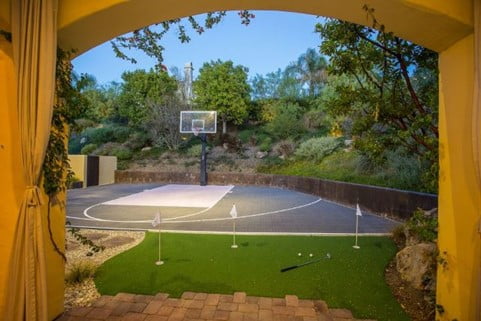 Why enjoy playing just one game when you can pay two? Just like this backyard has a basketball court and golf set up, you can also make mini courts of two of your favorite games, one for the kids and one for the adults.
It would help if you had to measure the area of both the game and build it accordingly. You can either have equal measurements for both or make one large and one small, depending upon the game court you are building.
However you wish to do, and it will be a fun way to have your evenings spent. If one court is busy, you will not need to wait for your chance but can make your shot in the other game. 
10. Multi-use Court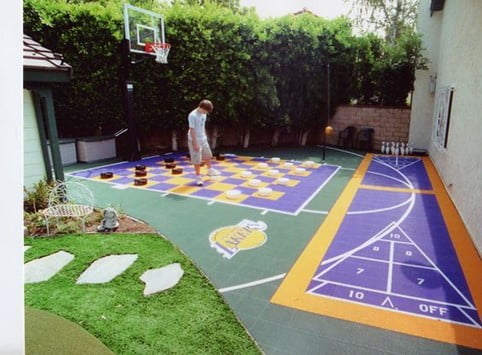 Why build one or two games when you can build as many games as you like with just a little creativity. You can see in the picture; there is a basketball court, a bowling game, shuffleboard, and plenty more. 
Kids can choose from a wide range of games and never get bored. It would help if you built it once and then enjoy it throughout. You can even put some beautiful succulents on the edges to give it a rich feel.
Conclusion
Convert your backyard into a backyard sports court with these ideas, be it basketball, tennis, football, hockey, baseball, or pretty much any other game, build it in no time, and play any time you want. It is excellent both for kids and for adults.
It saves a lot of money on your tickets, the shoes, the travel, and the best part is that it is right in your backyard. It is also a great chance to invite your friends over and show them your pretty backyard.
The few ideas that we told you here are just for reference; you can pick one and build precisely like it or make it better with your creative ideas.
Stop thinking about what to do in summers and start building these courts. Make it for a single-use, double-use, or multiuse; the choice is all yours; all you got to do is make sure to have lots and lots of fun.