Do you like to add herbs and spices to your dish to enhance its taste? Most of you must be adding the one you get from the stores. Have you ever thought about adding fresh, natural, self-grown herbs? Or growing garlic indoors?
If you have not, you should check out this article to know how you can do it and how many ways you can do it.
These indoor herb gardens look amazing in your kitchen, and it livens up space. You will have all your herbs and spices just at a hand distance, and you can use them whenever you are making your favorite dish.
Herbs, beyond acting as flavoring agents and remedying pills, can also provide a natural air-freshener.
Fragrant herbs can be grown indoors not only for cooking purposes but also to scent your kitchen or living room.
If you are interested in creating an indoor herb garden, read this article till the end to find the 16 best ways you can do it.
Modern Edge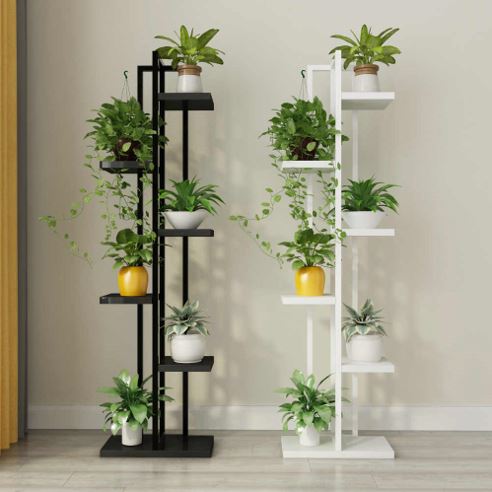 Let us start with this sleek and modern looking towering style indoor herb garden idea. Few tools and hardware items are enough to add this beauty to your house. Just cut the planks, sand the pots, screw them tightly and plant.
Paint them in statement colors to complement the look or go wild by painting them with bright colors. You can take inspiration from this to make your own diy tower garden. You can choose to make it smaller by reducing the number of levels or make it larger by adding more.
Self-Watering Herb Pot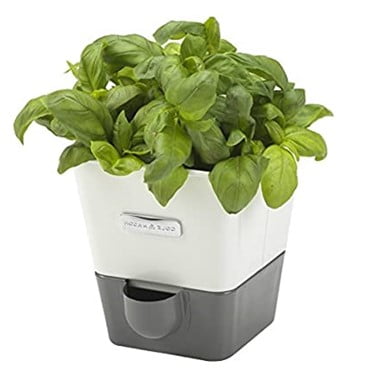 Do you worry about watering your plants when you walk away from your garden for some time?  This self-watering herb pot is a perfect solution for you. In these pots, there is an overflow hole so that the excess water flows away.
The plant roots soak the water from the bottom. Thus, if the reservoir is filled, the plant receives a consistent level of moisture. The reservoir system makes these self-watering pots very water efficient.  However, you need to make sure that you change the water periodically.
Vertical Garden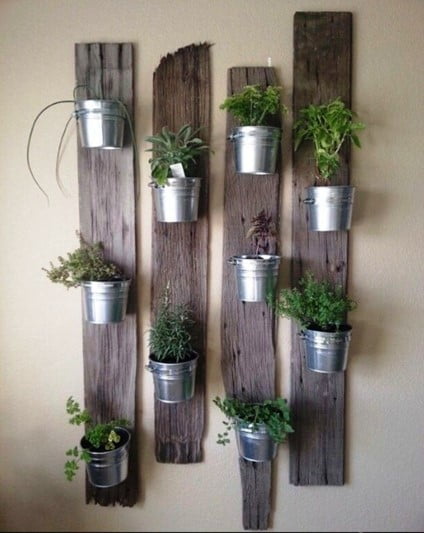 If you have little space and want to grow herbs, you may want to install a vertical garden. This will enable you to grow plants and add a statement piece of décor to your house. It is a fantastic option you go for if you want to grow spices and herbs in your kitchen. You can hang these or allow them to stand free.
Be creative with the containers you are using. You can try making use of different shaped containers to grow plants or grow them in small buckets. Paint these, draw designs/ patterns on them, or write the plant's name grown in them.
Window Garden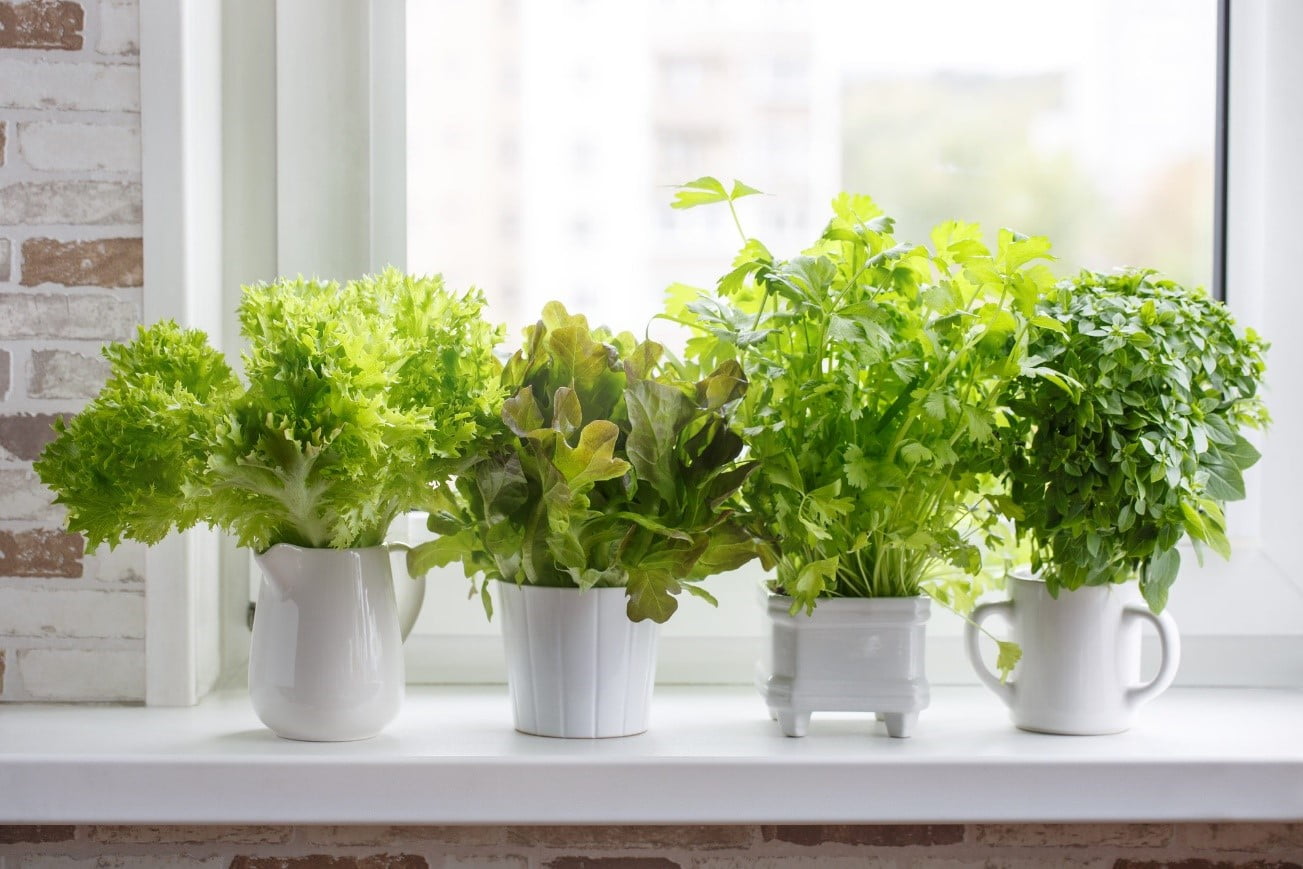 Have a sunny window at your place? Why don't you use the sunlight there to grow plants? Place a few pots there with flowers or herbs to embellish your space. You can also choose to use hanging window planters, which make a great home to many plants and are a beautiful addition to a stylish place. In well-illuminated areas, they will grow well and will beautify your place as well.
Stackable LED Indoor Garden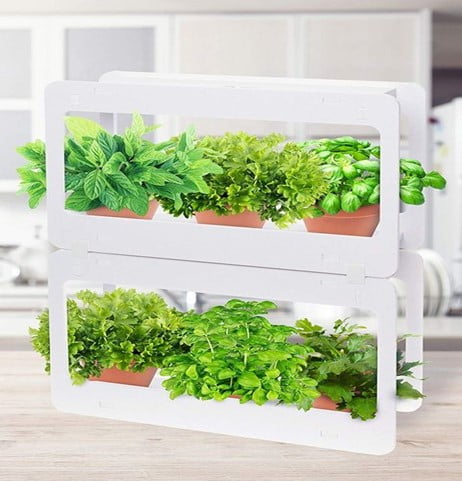 Grow herbs, succulents, or vegetables in these stackable LED gardens. They feature energy sufficient LEDs and are ultra-portable to get on to your indoor garden, anywhere and everywhere. The powerful LEDs simulate sunlight on both levels, promoting photosynthesis and helping in the plant's growth. These are perfect for an office or small living spaces and can help grow your garden all year round.
Pixel Garden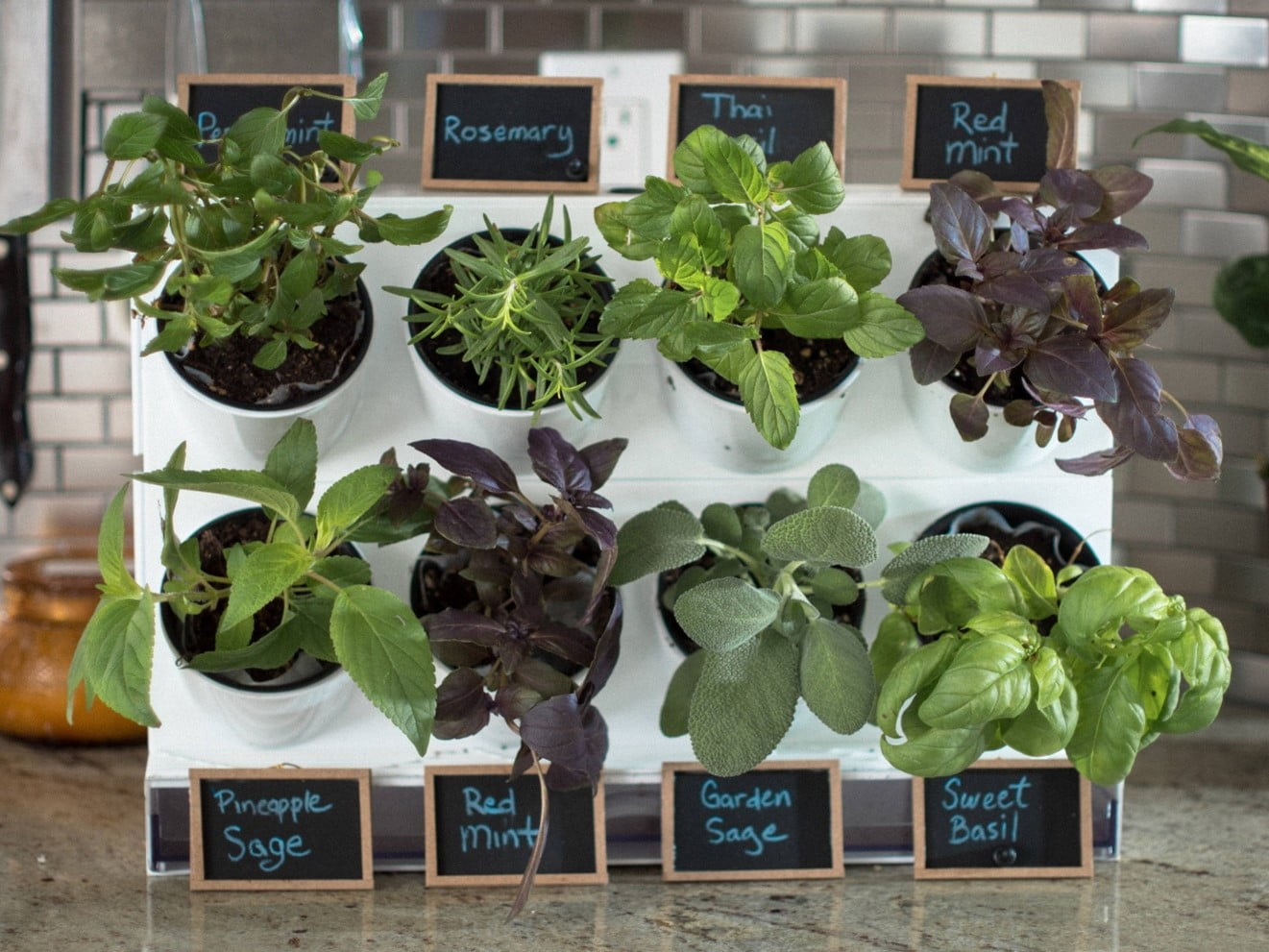 It is a new system, easy to use and versatile, which offers both aesthetic and robust functionality. This self-watering allows you to grow about eight plants at a time and do not require expensive or tedious changes to your wall. You can grow fresh herbs year-round. It is self-watering and a perfect pick for prominent families, and an eye-catching décor item at your home.
Using Recyclable Pots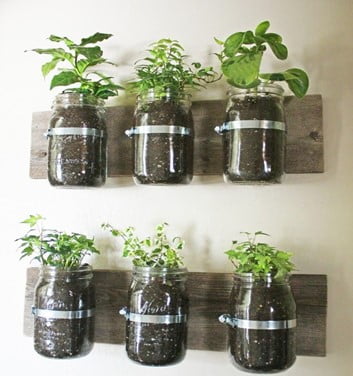 Using recyclable materials to create beautiful items never goes out of style. It saves money and helps save the environment. We have a lot of waste material at our home that can make beautiful pots for our plants.
Remember that glass jar you just emptied, and it can be made into use by removing the lid, filling it with soil, and planting a beautiful flower in it. Paint it with your favorite colors or leave it transparent and place it in your kitchen, near the window, or anywhere you want.
Add Lighting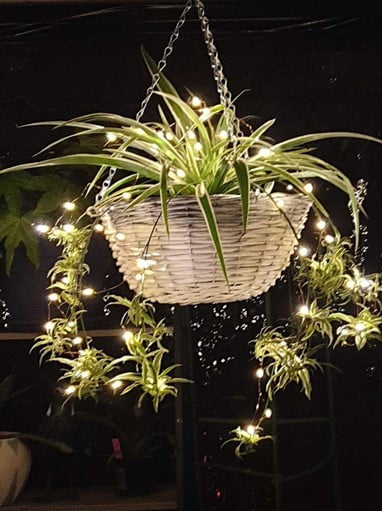 You will not believe how beautiful this will come out. Use fairy lights to decorate the hanging pots or garden beds. You can also add them into a lighting piece of your design. Make sure not to use bulbs that emit a large amount of heat as these can damage your plants. These illuminated pots look amazing and glams up your interior.
Hanging Herb Garden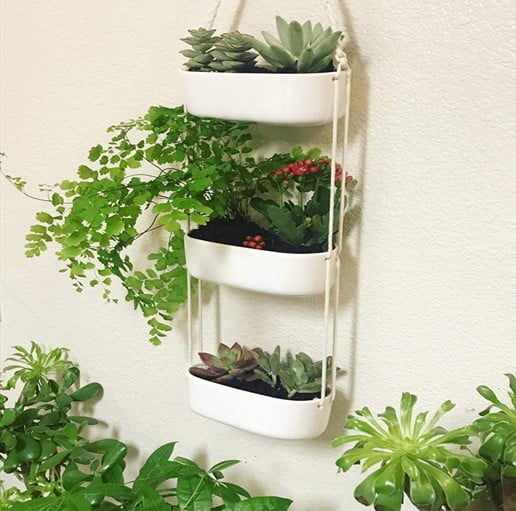 These hanging herb gardens can be hanged from the ceiling or on the wall. You can DIY these using buckets, wooden boards, ropes, and other supplies. Customize them as per your choice, paint them with colors, and use them to grow your favorite flowers and herbs.
Simplified labeled Indoor Herb Garden Idea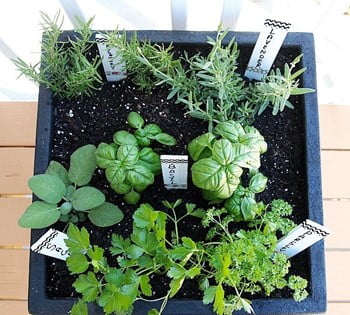 Want a simplified idea without making anything complicated? Here is one you can use. Get a big container, deep enough to carry enough soil. With enough depth for the roots, you can grow different perennial herbs without them choking each other.
Add little tags mentioning their species type and place it in an area near the window or patio, receiving direct or indirect sunlight to help your plant grow
Twisting Old Favorite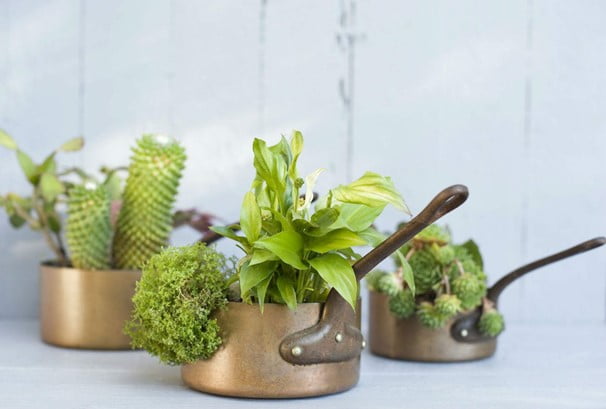 You can always use your old favorite containers to create new and fun items. Be it old jars or metal containers, and you can reuse these by using them as pots. Metal containers look fabulous if used as containers.
They come in different styles and shapes and can serve as accent pieces on tabletops. Similarly, glass and plastic containers can be used as pots to plant your favorite plants. These old items take up a new twist when they are used as pots and placed on tabletops.
Wall Pocket Planter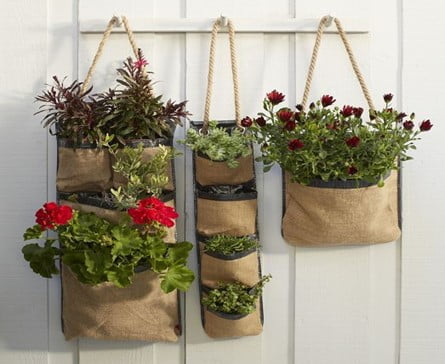 These watertight, breathable, and waterproof wall pocket planters are perfect for keeping your counters clean. They let your plant roots receive oxygen and allow you to grow flowers and herbs in them. These are washable and are an easy, affordable way to liven up your bare wall.
Wooden Wall Mounted Planter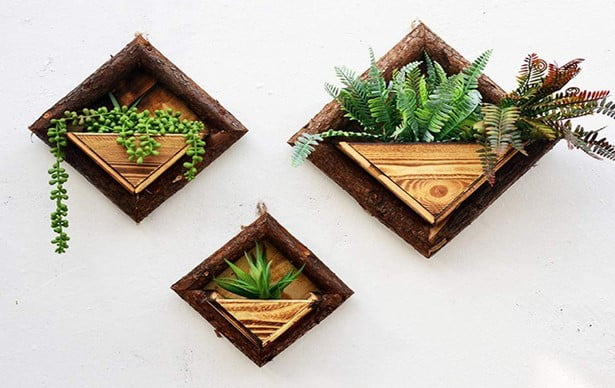 These attractive wooden wall décors are perfect to put on entrances or in your living room to welcome guests. It can be used to brighten up space and show off your succulents, herbs, and flowers. Hang these in your office space or bedroom.
It purifies and beautifies the space and acts as a décor item for you. This wall mounter is perfect for you if you want a more industrial look.
Window Plant Pod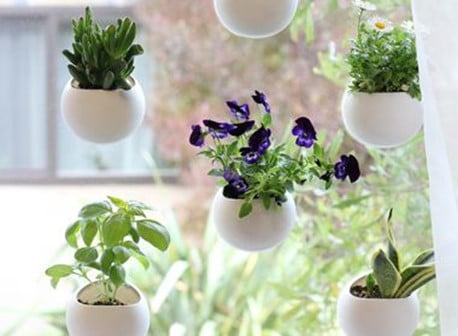 These window plant pods are good ideas for when you want to grow herbs and flowers but do not have enough space. This creates a gardening room out of thin air and can stick to any window. Fill these with soil and plant flowers in them.
Drain holes and add basin to ensure proper draining of water. Your plant will receive appropriate sunlight and grow well in this way.
Water Tank Herb Garden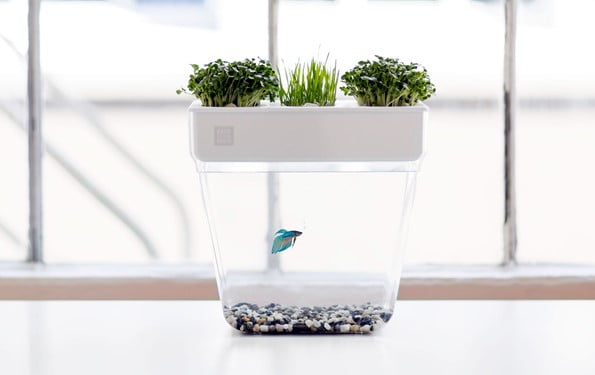 This mini aquaponic tank is a closed-loop ecosystem, where the fish fertilizes the herb, and the plant cleans the fish's water. It is a win-win for everyone. This water garden uses an aquaponic self-cleaning cycle, thereby reducing the need to clean it more often.
The plants clean the garden by continually taking up the nutrient, as their food and supplies clean and filtered water back to the fish.
Wooden Shelf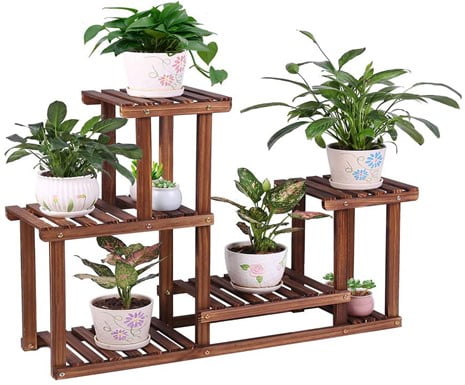 This idea requires few tools, wooden planks, and a bit of your effort, and that is all you need. Create this adorable wooden hanging planter to place your pots on its shelves and give a defined look to it.
Paint it with bright colors and hang them on your balcony, entrance, living room, or wherever you wish to.
You can try and be creative with this one. You can choose to make a simple rack stand with parallel shelves or go for a rather fancy looking multi-tier wood rack.
Conclusion
If you have reached this far, I am sure you must have found your favorite Indoor herb garden idea, which you will create on your own.
It feels good to have your little garden in your house, which you can use to get small ingredients.
All these ideas are quite simple to create on your own, or you can get them supplied to you from near home centers.
If you have found your favorite way to display your plants, make sure that you keep them alive too.