Do you want to dapper your backyard and make it look classy so that you can invite friends over for a chill party?
If your answer is yes and your backyard is not ready to entertain people, you can use Pallet Garden Furniture to refurbish your yard.
You need to be a little creative and ready to put some effort, and you will have a perfect backyard!
If you have no idea how to start, this article is just for you.
Below are listed 17 DIY Pallet Garden and Furniture Ideas that you can use to spruce up your backyard.
DIY Pallet Garden and Furniture Ideas
1. Modern Wooden Furniture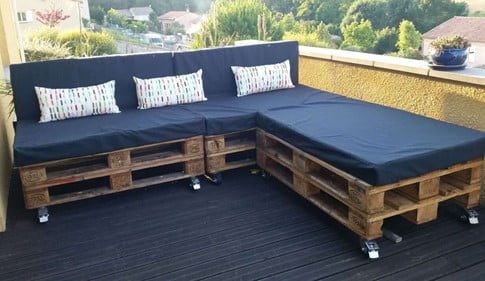 Give a modern furniture space by making this upcycled wooden pallet chair. Create the chair's base using one or more pallets, and then, to create a backrest, add another pallet.
Make sure the pallets are cut and fixed securely to avoid any injuries. Finish it off using pallet-sized outdoor seating pads.
Add some cushions to make it cozier. These materials are recycled and cheaper, which makes them an affordable addition to your backyard.
2. Pallet Table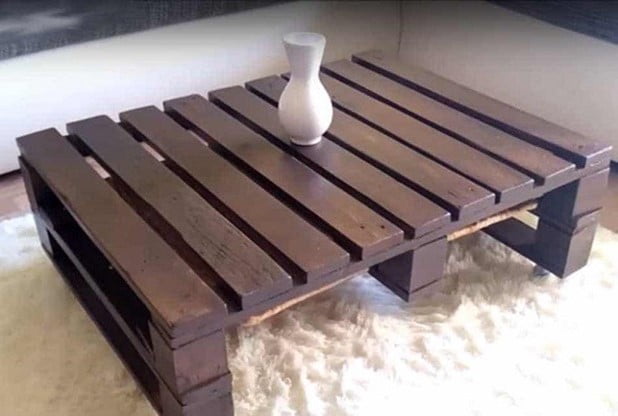 Create this repurposed pallet table as a fun summer project. It provides a bar-like atmosphere to your backyard or even inside your house. Stain it in color to match your garden's vibe, or leave it like that to give a rustic touch to your garden.
3. Wooden Pallet Bench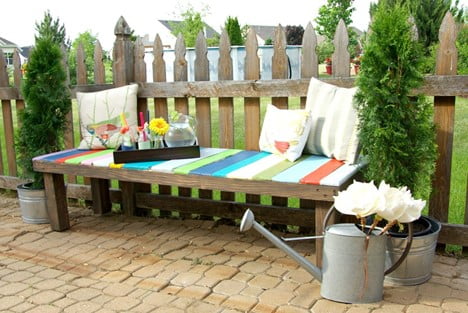 Use simple wooden pallets to create a pallet bench. It gives your garden a very vintage and fall season vibe. Imagine sitting on one in the evening or early morning having your tea under a tree with rays of sunshine falling on you with sweet winds blowing around. Sounds fabulous. Hardware and home improvement centers sell such pellets.
Many stores throw away these leftover wooden pallets, giving you a free way to make this possible by using those and building one such bench. Be creative with the design and color of the bench.
4. Upgraded Pallet Furniture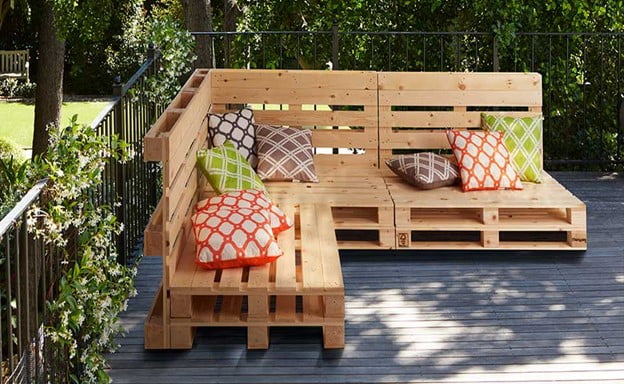 Create a cute, comfy corner sofa to make a chill sitting space with your family and friends.  Group pallet chairs to create one and add one more pallet to fill in the missing back panel. Fix it together securely to avoid any injuries.
Make sure to place it in a place where your furniture cannot get rained on and set it up in an area from where it can be moved if needed. Customize it by painting or staining with different colors or leave it like that to give an out siding and rustic appeal.
5. Pallet Beer Bar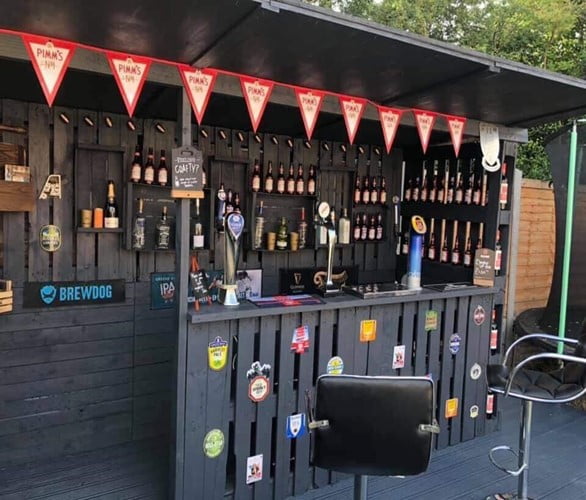 What do you think of owning a bar? Many people dream of having a bar outside. Let me tell you that it is not that difficult to own one if you try to DIY it. Here's an idea of how. You can design your wooden pellet bar by customizing it with the specifications you want.
You can add a concrete top to make it durable for outdoor fun. Make it LED- lit to give a modern and fancy touch to it. Paint it metallic to make it look like an actual bar.
6. Garden Corner Sofa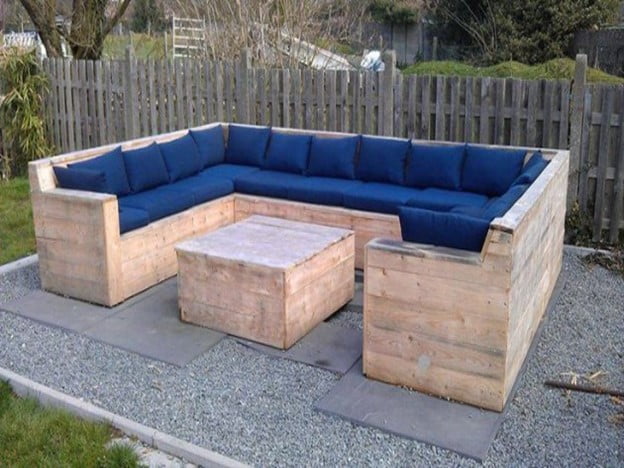 Figure out the number of people you want to create the space for, use the number of pellets, accordingly, create a perfect garden corner sofa using wooden pallets. You can make these long or short as you'd like. You can host a small family or friends gathering. Throw some cushions to help you drift away on a dreamy sunny day.
7. Repurposed Armchair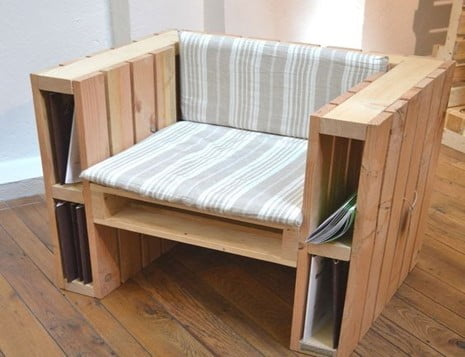 Have leftover maple flooring or scratch wood; use it to make an armchair and add it to your rustic collections. Please place it in your garden or patios to impress guests as it looks more expensive than it is. Add piles of soft cushions, thick throws, and seat pads to ramp up space. It adds a creative flair to any garden furniture set.
8. Pallet Shelf Sets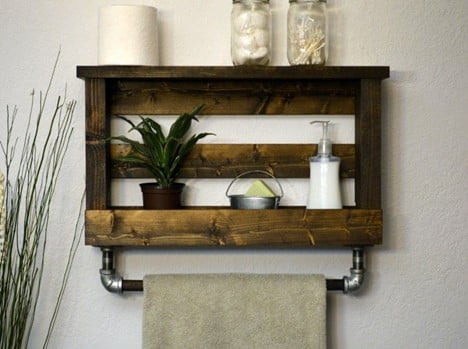 Want to give a new image to your bedroom, living, entrance, or even bathrooms? You can make some accessory and utility holding shelves there. The rustic tone, texture, and color of the woods would bring a rustic and traditional flair to your space. Shelves can be mounted on the walls, sit on the floor, or can stand free. It helps you to organize and store arrangements in your house.
9. Reclaimed Wooden Coffee Table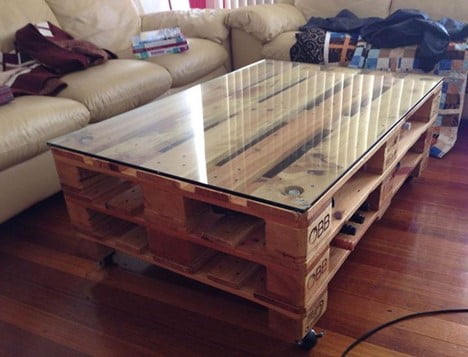 Transform a wooden pallet into a cute coffee table and place it in your outdoor patios or garden to enjoy the early morning tea. It takes little effort to build this and is extremely inexpensive. It gives a unique style with different grains of wood and sets it apart from the rest.
10. Rustic Pallet Bed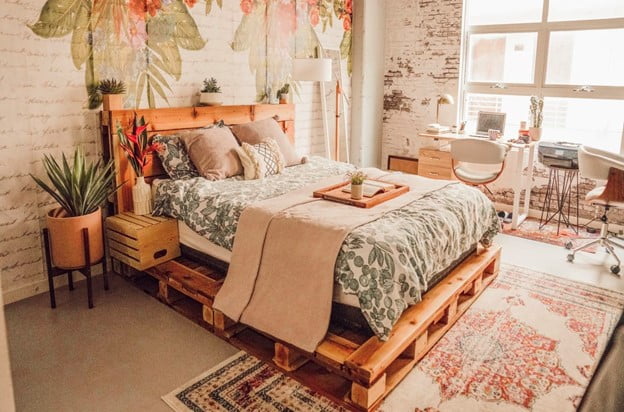 For this idea, you need to give a little extra time and effort. Use old wooden pallets to create the bed frame and headboard. Make use of stones, pebbles, look out for some terrarium ideas or any other element to decorate the headframe. This will give your bedroom a unique traditional and rustic touch, which makes it even more beautiful.
11. Wooden Chaise Lounger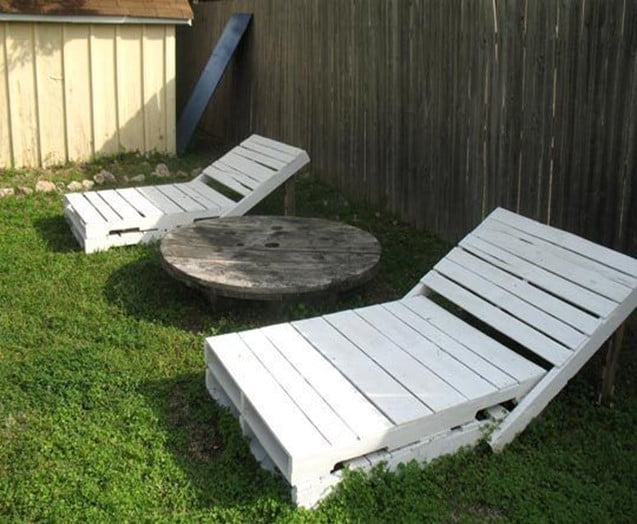 Make your backyard look more attractive by adding a wooden chaise lounge to the setup. It enhances the beauty of the yard at a meager cost. Use 2 x 4's to make a substantial wood chaise lounge. You can use old ones if you have or buy them from nearby hardware or home decor stores at low prices. Throw a blanket and some cushions to make it more comforting.
12. Wooden Wine Rack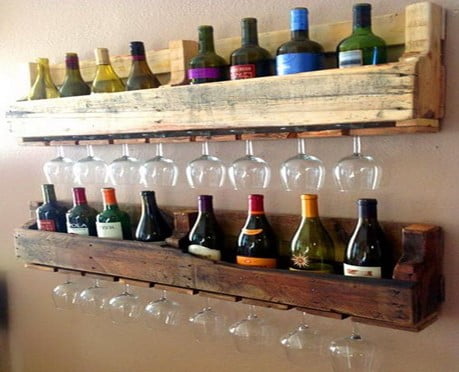 Use old wooden pallets to make a completely handmade wooden wine rack. Place them as a fancy addition in your backyard or garden where you can arrange parties or host meetups. Finish it by staining or leave it with its rustic texture for a much traditional look.
13. Wooden Chair and Table Set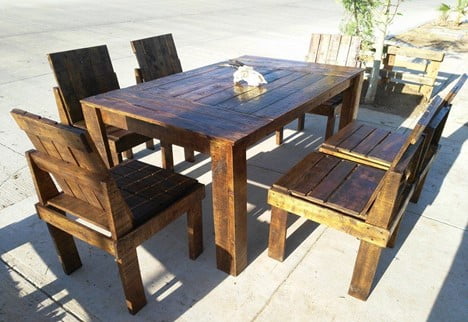 Recycling and reusing are ways you can save the environment. This idea completely utilizes old wooden pallets and other materials to create a complete chair and table set at an affordable cost and is a perfect addition to your backyard. This handmade set is not only a perfect option for personal use but also a great gifting idea. Since it is handmade, it has a personal touch and is a perfect gift for your loved ones.
14. Wooden Swing Chair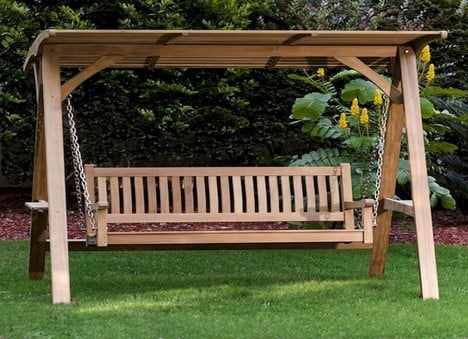 This is an amusing and exciting idea. Remember the pallet chair we talked about before? This idea utilizes that chair plus some additions to make a fantastic swing chair.
Be it children or old ones, everyone loves to lie on a swing and enjoy the time, so installing it indoors, in gardens, or on your balcony is a great option you can go for.
Use those chairs and attached some metal chains to them, and fix them on the roof. Add some bedding and cushions, and enjoy your newly installed completely handmade swing.
15. Pallet Couch
Build a couch to have your early morning coffee using old wooden pallets. This couch has armrests that could also double as a small side table. For building backrest, use the pallets with the removed dice section. To build an L- shaped model, stack pallets roughly and fill them using extra wood. Add cushions and a seat pad for high-value sitting comfort.
16. Pallet Office Furniture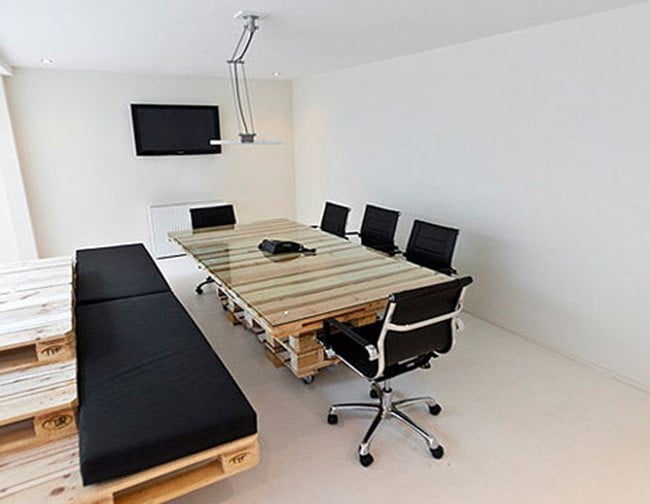 Want to set up a small working or office space? Use wooden pallets to create chairs, tables, or desks to work on. This will give you the freedom of customizing your office furniture, and you will love working here, in a space where you build everything.
Use color combinations to paint the furniture. You can also build wooden pallet shelves and use them to hold office stuff or place your favorite books there and use it as a bookshelf. This way, you will create a fun workspace at a low price!
17. Outdoor Furniture Set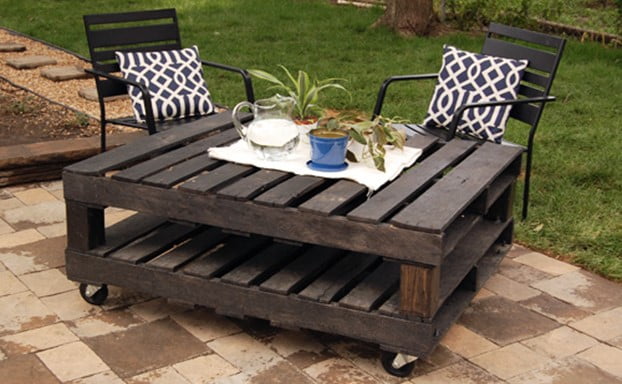 Want to transform your backyard into a cute personal café? Here's the way how you can achieve it. Make wooden benches and tables using pallets and decorate them using outdoor-safe cushions, a little flowerpot, etc.
Paint it, keeping in mind the vibe you want to create. Use bright colors to give a summer vibe or dual color combination to create a more modern look. You can leave the wood just like that to give a raw or rustic look. In any way, stained or raw, it looks fabulous.
Conclusion
As we have reached the end of this article, I hope you must by now have decided your favorite pallet garden furniture that you will create yourself.
Creating handmade stuff has its own merits associated. They are customizable and is a fun process to carry on. It is not just for one place, you can bring it inside of your home or outdoors in enclosed patio.
It gives you the happiness of creating something and the proud feeling of saving the environment. It is very cheap, and you can use a broad range of ideas to make it look as fancy as you would like.