Above-ground pools are a great alternative for in-ground pools; having an above-ground pool will also require some effort and hands-on work to maintain it and extend the durability.
Above ground pools are economical, require less space, and most importantly, are easy to use and clean. Here we will be talking about some tips that will help you with your above pool idea. Also, regular maintenance of your above ground pool is mandatory.
Get A Sump Pump
This tip right here is not exactly for your above-ground pool but is relevant and important. It would be best if you considered getting a sump pump in your basement when installing the above-ground pool.
THE BASEMENT WATCHDOG Model SI-33V 1/3 HP 4,000 GPH at 0 ft. and 3,200 GPH at 10 ft. Cast Iron...
Pumps 3200 GPH at 10 ft. lift, emptying the sump pit quickly (4000 GPH at 0 ft. lift)
1/3 HP, 5.0-Amp permanent split-capacitor motor provides energy efficiency and optimal GPH output
Heavy duty Cast Iron construction provides durability for long-lasting use
Upper and lower ball bearings for increased efficiency and quiet performance. Carbon ceramic shaft...
10 ft. power cord for easy installation
A sump pump will play the role of safeguarding you from any leak if it occurs and related water damage. A sump pump can cost you anywhere from $45-$150, depending on the quality, brand, and functionality.
Test Chlorine Levels
We all know that pool water requires and has some amount of chlorine in it. But do you know the purpose behind it? Whether an in-ground pool or above ground pool, chlorine is crucial for keeping the water safe and clean for a good swim.
It is advisable not to swim in pool water that does not have chlorine in it; most resorts and water parks regularly take care of that. Likewise, a pool owner should too.
Chlorine is responsible for killing harmful algae, bacteria, microorganisms, and other such organisms present in the water. Chlorine is conked out when it is exposed to the sun, certain chemicals present in the sunscreen, sweat, and other factors.
Thus, you should keep a watch on your above-ground pool water chlorine levels; they should remain between 1.0 and 3.0 parts per million (ppm).
Test pH levels
We have already covered chlorine, so it is time for pH levels now. Test and maintain the pool's pH for keeping the water clear. You should be aware of how much acidic or basic your pool water is; higher pH levels are basic, whereas lower levels are acidic. 
pH levels of your pool should remain inside the range of 7.2 to 7.6. Ensure your pool water pH levels regularly using testing strips or digital readers to determine your pH levels. 
PH Meter for Water Hydroponics Digital PH Tester Pen 0.01 High Accuracy Pocket Size with 0-14 PH...
【How to use calibration】Press CAL for 5 seconds to enter the calibration mode, press in turn to...
【Mini Size】The mini size ph meter we designed allows you to easily put it in your pocket, so you...
【Family Essentials】As a tool to improve the quality of life. Can be used to test drinking water,...
【Easy to use】turn on the switch,put the probe into the water and stir (make the small glass ball...
【Automatic temperature compensation】There is no need to care about the temperature of the liquid...
Pool and Spa Test Strips 100ct - 7 Way Swimming Pool Testing Strip Kit for Chlorine Bromine...
✅ DIVE IN & SWIM CAREFREE - Relax into your pool or spa's sparkling clean water. These testing...
✅ FASTER & EASIER THAN LIQUID TEST KITS - Strips are faster and simpler than liquid testing kits,...
✅ SAVE HUNDREDS & FREQUENT TRIPS TO THE POOL STORE - This kit includes 100 pool test strips which...
✅ 7-IN-1 COMPLETE CHEMICAL TESTING - Test for Total Chlorine or Bromine, Free Chlorine, Total...
✅ EXPERT SUPPORT WITHIN 24 HOURS - Our dedicated team of experts have more than 30 years of...
Pump It for 10hrs
Ever wonder why you can hardly spot algae and in a river and can find a bunch of them in ponds or lakes? Because of running water, stagnant water is more likely to grow algae and nurture harmful microorganisms, while running water can easily and effectively prevent that. So, running water is the key to clean, safe, and pure water.
The same treatment can be applied to your above-ground pool. You should keep running the pump for your pool water for 24hrs and 7 days a week. That is ideal but not possible for every above-ground pool owner, given the budget they may have.
Therefore, you should surely keep your pool water circulating for a minimum of 10 hours a day as it will turn over water a few times to keep water safe and clean for the fun time.
Clean & Replace Filter Regularly
Your above-ground pool also requires and demands some good care, and you can do that by regularly cleaning the pool along with replacing filters. As you will run the water pump for 10 + hours, the debris will be more to collect.
The filters come in various types; regardless, they have the same function to perform, which is to capture and collect debris that might pollute your pool water. Better clean the filters at least once a week, if not more.
Clean Pump & Skimmer Basket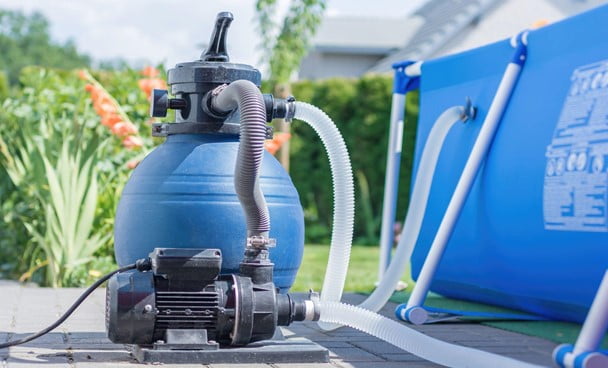 There are a few more things that you should clean as often as possible. The pump basket collects debris and other waste just before it reaches the pump, while the skimmer does the function of collecting other debris and leaves before it can enter the filter system.
Therefore, you need to clean both once a week at least if not possible to do more times. Be prepared to clean them even often if your property has lots of trees around the pool.
Note: Always turn off the pool pump and heater while cleaning.
Use Solar Blanket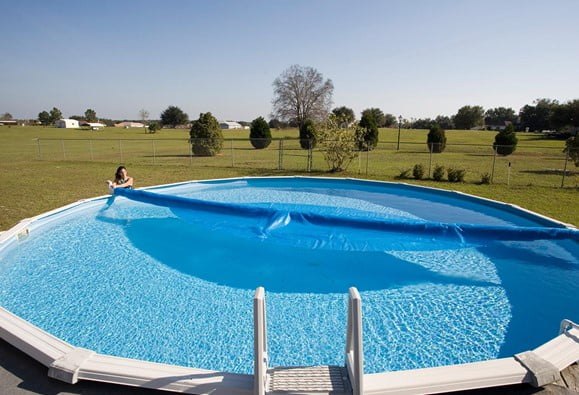 Getting a solar pool blanket is worth the money. Solar blanket does many tasks for you, and it will keep the water of your pool protected from rain and debris easily, protect against the sunlight, its UV rays, and heat. 
In The Swim 18 Foot Round Premium Pool Solar Blanket Cover 12 Mil
Raises water temperature up to 8-10 degrees in approximately 5-7 days of consistent sunlight
Reduces your water evaporation and chemical loss to save you money
Reduces heat loss and minimizes the amount of debris that can get in the water
Extends the swimming season by maintaining a comfortable swimming temperature in the pool
7 Year Manufacturer's Limited Warranty
You will experience decreased evaporation, meaning a direct cut in the water bill. Not just savings in energy consumption but as the water will evaporate less; there will be less loss of chemicals that otherwise you will have to add again and again.
Make sure you use a solar blanket the next time when the pool is not in use.
Winterize It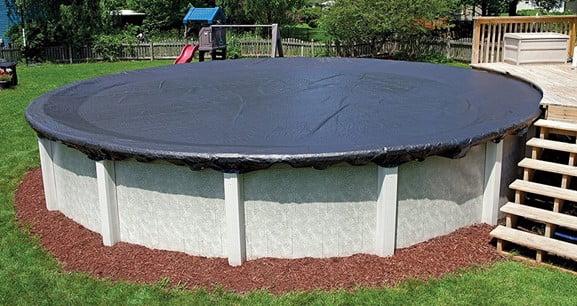 If the colder months are approaching, you better plan to properly winterize your above ground pool for protection from cold temperature and weather-related damage when your pool is not in use.
Start by keeping your water chemistry in check pH should be in 7.2 – 7.6 levels, alkalinity in 80 – 120 ppm, and Calcium Hardness in 180 – 220 ppm.
Next is to clean the pool properly, make sure no debris remains; you can do that by using skimmer nets. Now it is time to remove all the pool accessories like ladders, skimmer baskets, solar blankets, pool alarms, etc.
Sepetrel Pool Skimmer - Reinforced Frame & Large Opening Durable Nylon Leaf Rake Net,for Spa Pond...
Wider and inclined front lip for scooping debris easily and assuring no damage to pool liners
Non-commercial grade,but the reinforced frame makes it good enough for home pools,will not break or...
High-density durable nylon mesh net
The BIG WHITE BUTTON (EZ CLIP) is to prevent your fingers from getting pinched when installing or...
Handle Φ 1'/8" works with standard pool pole with a 1-1/4" diameter(pole not included)
Also, remove pool equipment, drain them, and store them safely. Drain and plug pipes, lower the water level and finally cover it with a winter pool cover.
Sale
These were a few simple yet useful tips from our side to help you enjoy your above ground pool ideas to its fullest and maintain the condition of the pool for years-long water splashing loving moments together with family and friends.