Christmas, celebrations, and decorations are synonymous. As Christmas is arriving, lights are the primary and most used decorative items. You can use lights for both indoor and outdoor purposes.
Christmas lights bring in the spirit of Christmas, be it the decoration on the Christmas tree or in your yard.
This write-up will specifically talk about outdoor Christmas lights. It is essential to have proper knowledge about the outdoor Christmas lights before buying them.
Moreover, this article will concentrate on battery-operated ones. This write-up will help you decide and choose the correct and right battery-operated outdoor Christmas lights from many products available in the market.
We have shortlisted the top 5 best battery-operated outdoor Christmas lights based on different requirements and factors.
Best Battery-Operated Outdoor Christmas Lights
Here are the best battery-operated outdoor Christmas lights:
1. Govee Outdoor String Lights
The reason they are ranked first is due to remote control facilities. You can even choose these remote-control outdoor Christmas lights like fairy lights. Go for the LED fairy lights as they are cost-efficient in the long run.
Also, a few remote-control outdoor Christmas lights come with a timer and weather resistance (waterproof and dustproof) which should be preferred. The timer function is useful for cost-saving. Both remote and timer functions are manual functions.
2. 100 LED Battery Operated String Lights
The only reason they are ranked second is due to their cost-effectiveness, timer, ease of installation, and operation. Turning on these outdoor Christmas lights will not be based on the remote control but require manual operation. The timer function helps you save time and money. Preferably, get waterproof and dustproof Christmas lights. You can also get fairy lights too.
3. Light Up Christmas Double Reindeer and Sleigh Lawn Ornament
They are very expensive, but you could afford them, then you can surely go for them. You will surely stand out if you decorate using these ornament lights. You need to work a bit and invest some effort and time to get it ready and place it properly. Try to get the ones that have a sparkling effect.
4. [Remote and Timer] 33FT 100 LED Christmas Lights Battery Operated
These Multi-Colored Fairy Lights come with both remote control and timer. These multi-colored lights blink with alternate (different) colors, thus making them quite attractive and eye-pleasing.
These lights can be of different shapes, sizes and can be used to decorate yards, porches, rooftops, and rooflines. Choose the one with a timer that can be set for 6 hours or 18 hours.
Few alternatives have an option of setting brightness, sparkling effects, slow motion, flash, etc. Choose the ones which are weather-resistant (dustproof and waterproof). If you choose the LED option, then it will be an energy-efficient one.
5. Festive Christmas String Lights, Battery Operated Timer LED
The LED alternatives are much cheaper than the ones with remote control and timer. If you are looking for the best battery-operated outdoor Christmas lights that are cost-efficient and have brilliant and beautiful colors, then get these lights.
Choose the timers with either 6 hours or 18 hours. Few alternatives come with a memory function that remembers the modes (specific functions) even after switching them off. The weather-resistant ones are waterproof and dustproof. Moreover, these lights are easy to install and use.
Selection of Outdoor Christmas Lights
The process of selecting outdoor Christmas lights is not complicated but is not easy. You cannot pick lights based on aesthetics, as other factors influence these outdoor Christmas lights.
You need to understand your requirements too before selecting the right outdoor Christmas lights. Some basics you would know and require are timers, remotes, and colors.
Cost is another essential factor you should consider before buying the lights. Affordability is the key, while aesthetics also play an essential priority.
The first decision would be to choose lights based on the power source. There are three types of battery, solar-powered and mains-powered. Before investing in any Christmas decorations, one should analyze cost in two ways: investment and then running cost.
While investment is not a massive issue for outdoor Christmas lights, running cost is undoubtedly an essential factor you should consider. The power source influences running cost. Solar-powered ones are the most energy-efficient, followed by battery-powered outdoor Christmas lights.
Mains-powered ones are not quite energy-efficient and end up consuming high amounts of energy. Simultaneously, the investment cost is the highest for solar-powered ones, followed by the battery-operated ones. The cheapest ones are the mains-powered ones.
Why Should You Choose the Battery-Powered Outdoor Christmas Lights?
Low and optimum (running and investment) cost is the first reason you should go for battery-powered outdoor Christmas lights. Moreover, the user has a free will to place them around the outdoors.
Though they may not be as bright as mains-powered ones, they are indeed quite pocket-friendly. Solar-powered ones are quite expensive. Hence, when compared to solar-powered and main-powered ones, battery-powered outdoor Christmas lights are way better.
You may want to buy the solar-powered one (if you are an environmentalist or love mother nature), but high investments and low runtime (6-8 hours) can make you a skeptic of them. Simultaneously, the mains-powered ones will require an external power source to restrict the places where you can place these outdoor lights.
You will need to figure out plugs, extension boards, and switches for main-powered outdoor lights. Though they are the brightest outdoor lights, you should know that they are quite expensive in running costs.
Thus, the battery-operated ones come out as the best choice between the three outdoor Christmas lights.
These factors are critical when you have decided to buy them. The factors are durability, brightness, battery type, colors, and other functions or modes. These considerations are quite important as they influence functioning and cost.
What Types of Battery-Powered Outdoor Christmas Lights Can I Buy?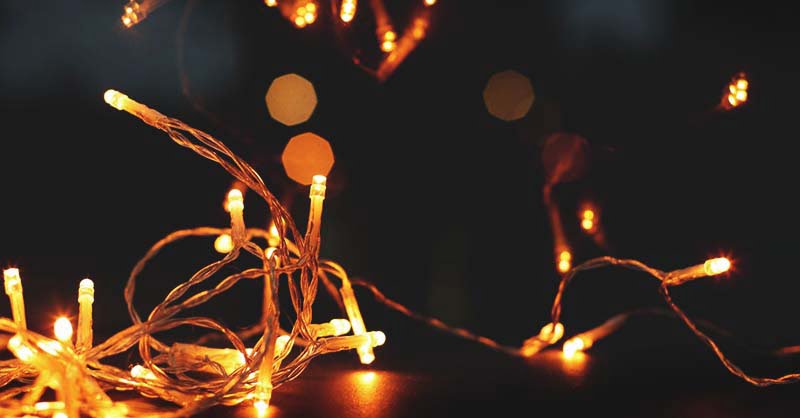 The types are traditional, festoon, and ornamental. Traditional lights are technically nothing but string lights. You can choose different lengths depending upon your decoration requirement. Festoon outdoor lights have also become very well-known for festive purposes.
They are either made up of glass or plastic. This festoon lighting can be LED lights too, which can be cost-effective. These festoon lights are considered a type of string light.
Another alternative is to use rope lights which are well-known for their weather resistance. They have a layer of thick plastic which provides this weather resistance. These are also known as the ICICLE lights.
Thus, if you want to have a Christmas feeling, you can choose these outdoor Christmas lights. Ornament lights are the best if you want to stand out.
The most obvious choice is to use reindeer and a Christmas tree. But you can also choose snowmen, Santa's, and penguins. You can also try and experiment with other alternatives.
How Long Do These Battery-Operated Outdoor Christmas Lights Last?
Battery-operated outdoor Christmas lights usually last around four to five years. Few manufacturers also give a warranty for a year or two.
They need to either be replaced or repaired after a few years. Whereas if you choose LED battery-operated outdoor Christmas lights, they can run around ten years or even more (before they need to be replaced or repaired).
Conclusion
Before you decide to invest in these battery-operated outdoor Christmas lights, understand and analyze your requirements. Different factors also influence your purchase, so understand them before you buy these lights.
Durability and aesthetics are the two most important factors. Battery-operated (and mainly LED ones) are relatively cost-efficient and last long without replacement or repair. So, choose wisely and think of them as an investment. All the BEST!