If you are looking for some beautiful wheelbarrow planter ideas for your garden, then you are on the right page. Apart from the usual flower-bearing plants, shrubs, bushes, and trees, some gardens have funky items and the usual landscaping.
There are various ways of decorating your garden. Some add unique pots, small water fountains, and some even add old items present in the garage or backyard, such as old wheels, plastic boxes or barrels, old gardening tools, etc. One of which can be a wheelbarrow that can be repurposed into a planter.
A wheelbarrow is a small hand-propelled vehicle that can transport various items to a short distance. It has a single wheel in front, forming a tripod with two legs in the back and two shafts with handles to raise the vehicle off its legs and push or pull it.
Wheelbarrows are made of different materials, such as modern wheelbarrows usually made from metal and plastic tires, whether the older wheelbarrows were usually all wood.
Even though it is a very functional tool, there comes a time when it will deteriorate and will lose its primary function to haul items. Just like any other tool, it will get rusted, deformed, or its wheel will break. But instead of disposing of it, you can transform and repurpose it.
Using an old wheelbarrow as a planter in your garden can add uniqueness to your garden. It does not matter how rusted or deteriorated it is. It will only add charm to your garden. With a few simple steps and tools, you can convert an old wheelbarrow and become a star of your garden.
Those who do not have a wheelbarrow can quickly get it from a junkyard or a thrift shop for a low price. Below are examples of wheelbarrows that are converted into planters that might inspire you to make your own.
Best Wheelbarrow Planter Ideas
1. Rustic Wheelbarrow Planter for Succulents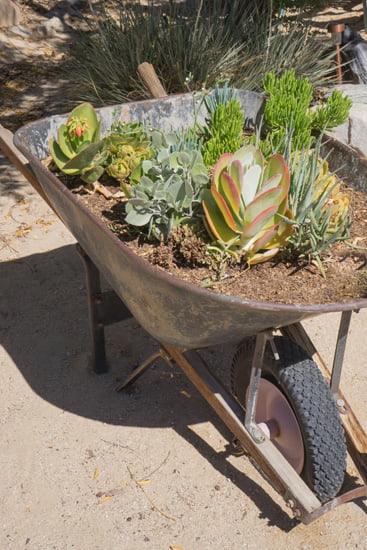 Here, we have an old wheelbarrow stuffed with succulents having plenty of space for growth. With a dusty surrounding, this rusty wheelbarrow gives a desert setting that looks right at home. Your guests will be impressed, and your yard will look incredible.
2. Wicker Baskets on A Wheelbarrow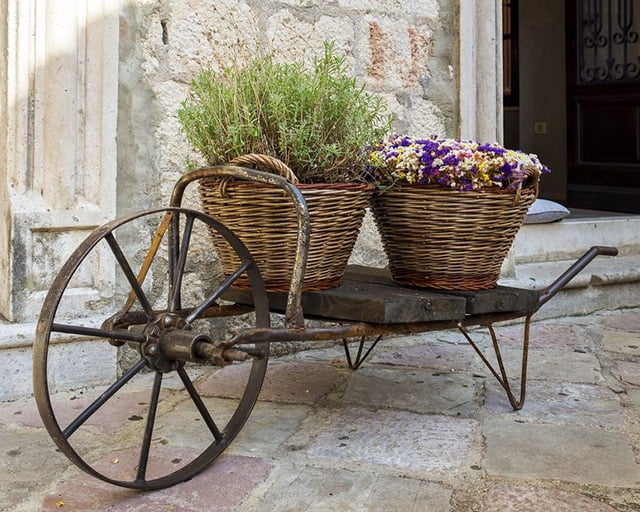 You can add some texture to your garden decor by adding some wicker pots. These pots would be a perfect addition to any tool cart or planter. You can fill the pot with herbs or vibrant flowers.
You will see your backyard garden beautifully come all together.
3. Overflowing Wheelbarrow for Long, Hanging Plants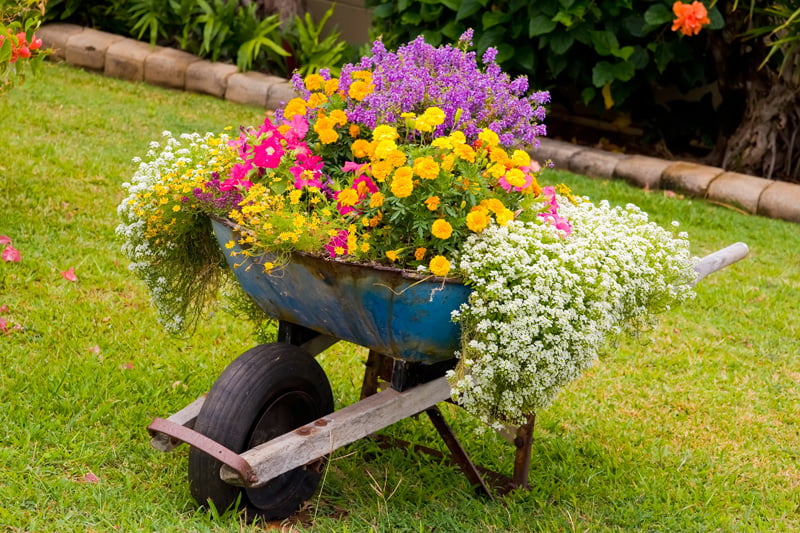 This old, rusted wheelbarrow is a perfect example of reusing old gardening tools as entirely as possible. You can plant long and hanging flowers of bright colors spilling down from every side that will make it look beautiful.
4. Shades of The Yellow Wheelbarrow to Brighten Your Garden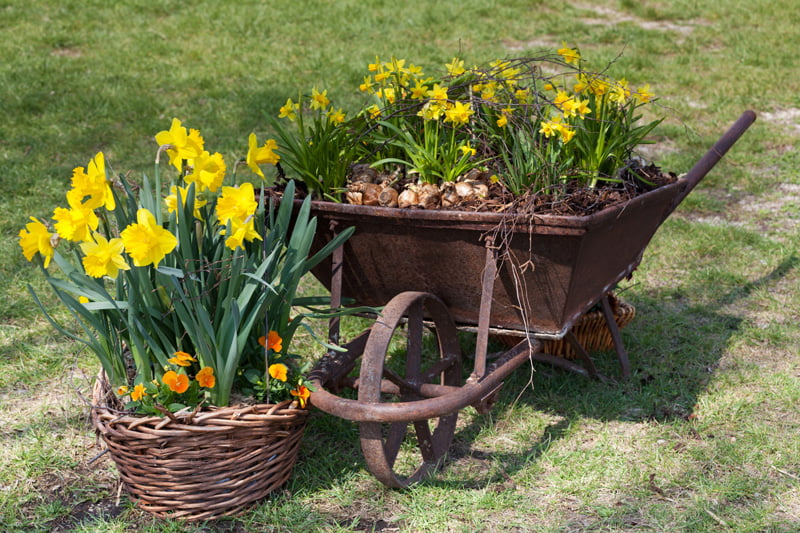 This is another old-fashioned metal wheelbarrow with a metal wheel having a completely rusted coating. These bright yellow daffodils planted in a wicker pot right beside the wheelbarrow give it an elegant look while more flowers in the wheelbarrow fill it.
5. Wheel, Spokes, And Plants with White Blooms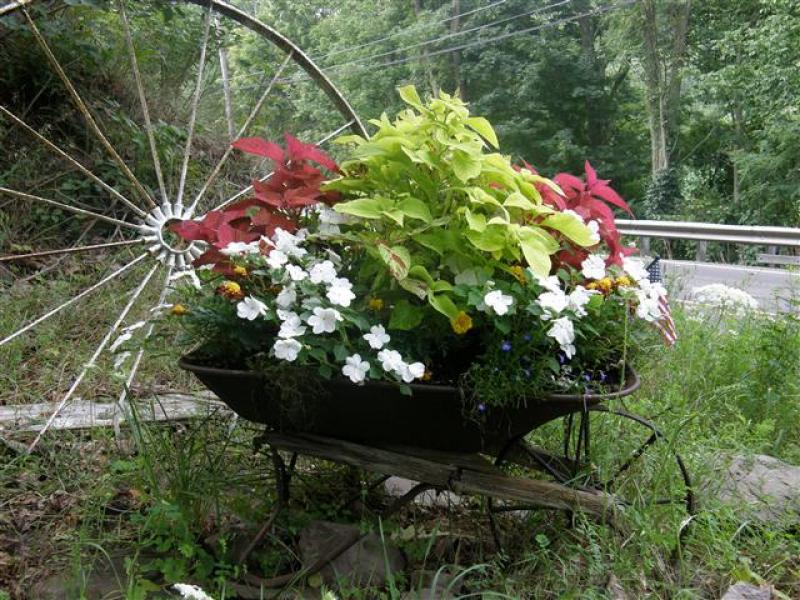 This black wheelbarrow is standing next to a massive wagon wheel. This white wheel is contrasting with the black wheelbarrow filled with white flowers and large plants bursting out.
6. Circular Wheelbarrow Planter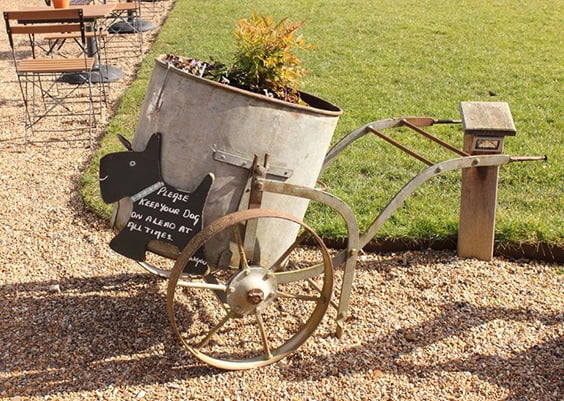 This deep, circular wheelbarrow would be perfect for adding your favorite flowering bushes or mini trees. Since you do not usually find a circular wheelbarrow, this planter alone would become the center of attraction.
7. Planted Old Wheelbarrow Planter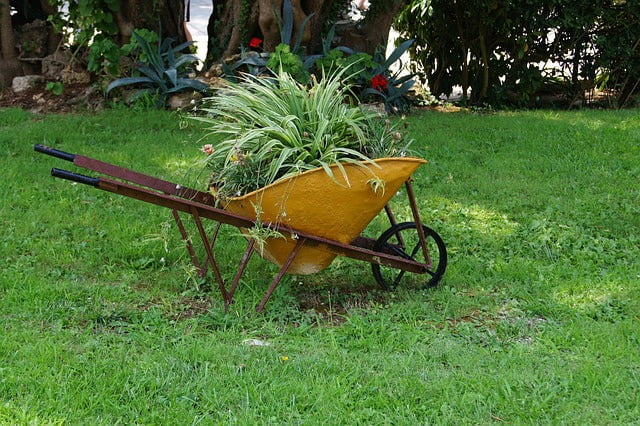 If you do not want your wheelbarrow to look rusty and dull, you can easily repurpose the basin by scraping away the rust bits and adding a fresh new coat of paint. You can create something new from something old by matching any outdoor color theme. Then plant any small plants or flowers.
8. A Wheelbarrow Planter for Vertical Options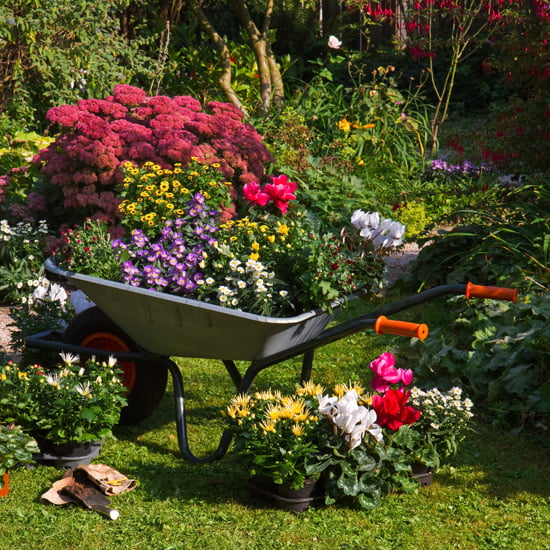 This shows another brand-new wheelbarrow used as a planter having a subtle grey plastic vessel and filled with flowers of a different variety, giving it a seamless look.
9. Old Wooden Wheelbarrow for A Patio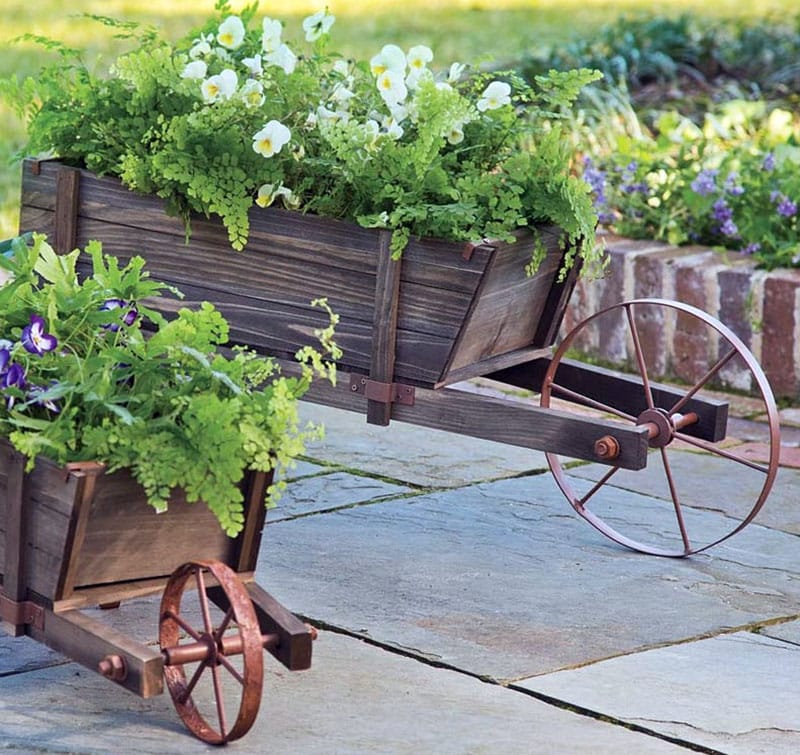 This showcases another old-fashioned wooden wheelbarrow used as a decorative plant box for flowering plants. The metal wheel frame is kept while the rubber tires have been removed to give it a more rustic look. Purple and white flowers pop in contrast above.
10. Customized Metal Wheelbarrow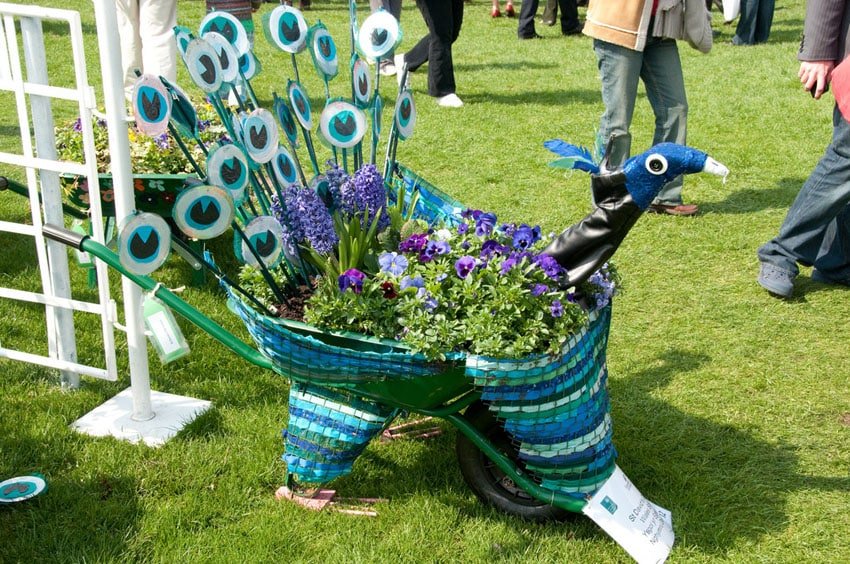 This shows a unique way to customize an ordinary metal wheelbarrow. It uses recycled plastics and other recycled items, which you can quickly gather from your garage or recyclable trash. This makes it look like a peacock making it a functional flower planter and a piece of art.
11. Old Country Look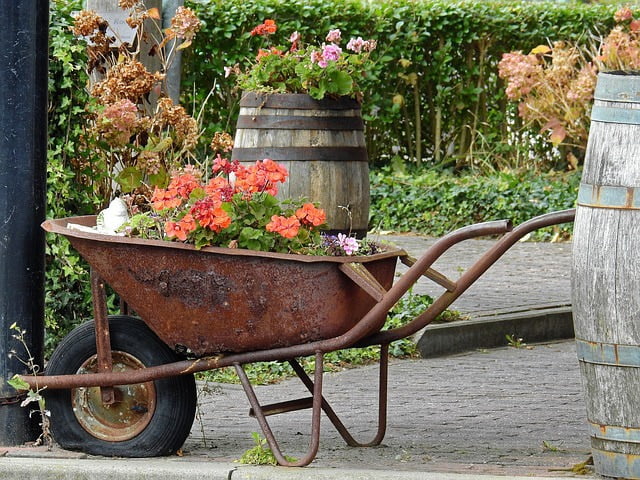 If you have an old, rusted metal wheelbarrow, you can use it to give your backyard that old country look. Fill this antique wheelbarrow with small plants and flowers. It will give that country vibe.
12. A Custom-Built Wheelbarrow with Pink Posies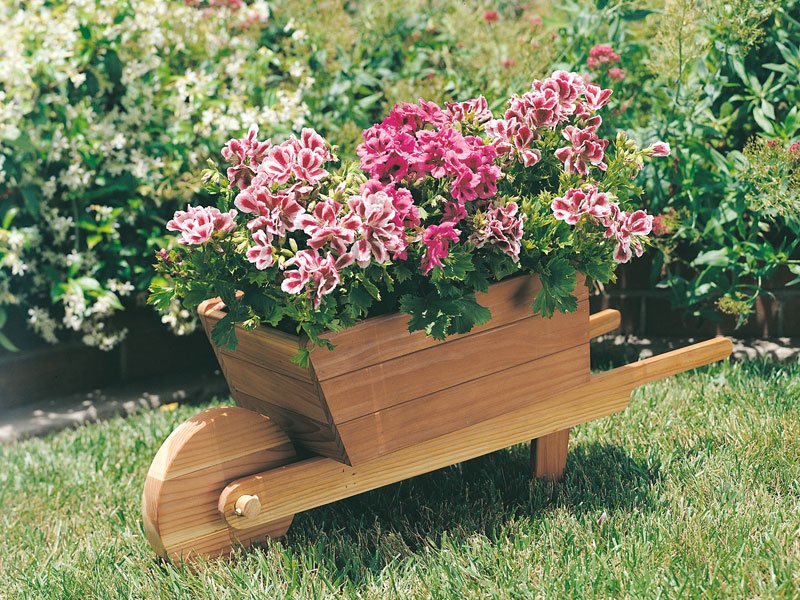 Here is a modern all wooded custom-built wheelbarrow. Bright pink and green colors explode from the container making it a perfect standalone piece. You can also add a lovely contrast by adding bright, vibrant blooming flowers.
13. Autumn Bliss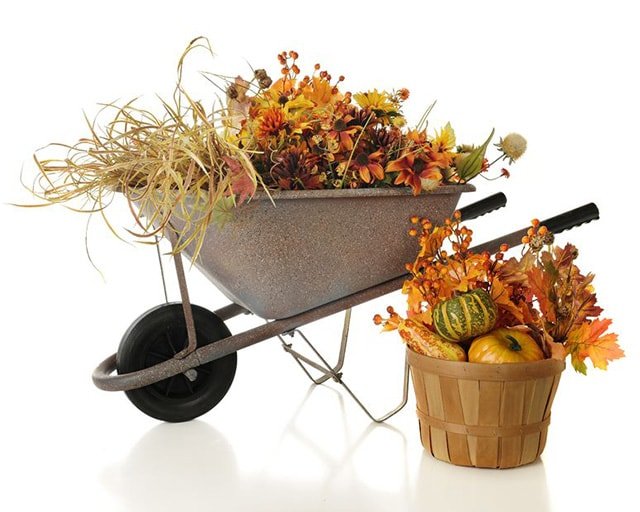 You can create a gorgeous autumn-themed garden by filling an old wheelbarrow with pumpkins and guards. You can also add some decorative leaves in red, orange, and yellow or even some straws.
14. Simple Wagon Stand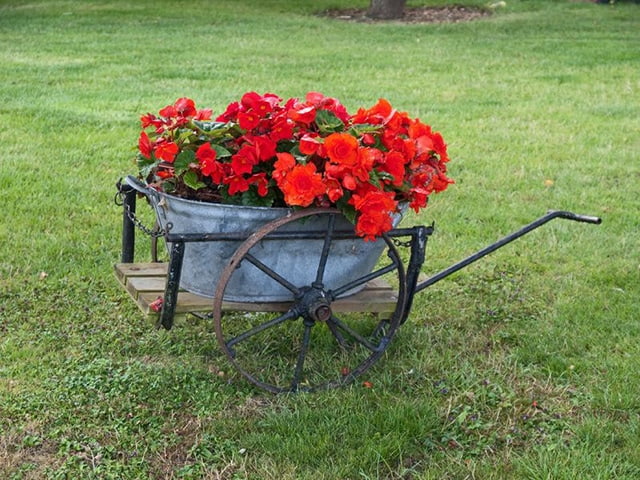 You can quickly turn a simple wagon into a cute flowerpot stand filled with gorgeous red blooms. The rust on the wheel of the wheelbarrow gives this wagon planter an old-fashioned look.
15. A Mahogany Wheelbarrow Planter for A Patio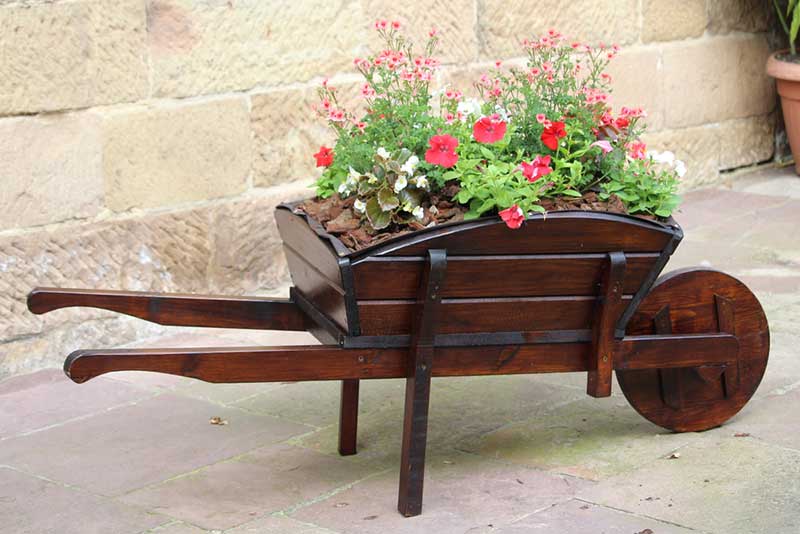 If you have a small garden, then this all-wood wheelbarrow planter is an excellent center of attraction. To draw people's attention. The dark stained wood and bright red and white contrasting blooms will add colors to your outer space.
16. Ornamental Wooden Planter for Marigolds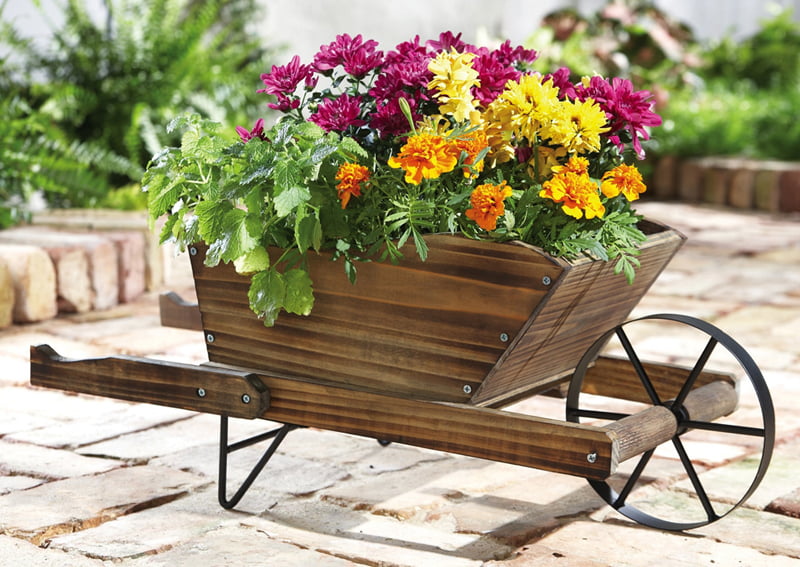 Here is another adorable modern-styled wooden wheelbarrow with a black metal wheel in the traditional style. This miniature wheelbarrow planter is perfect for a small set of flowers like marigolds.
17. Wheelbarrow Fairy Garden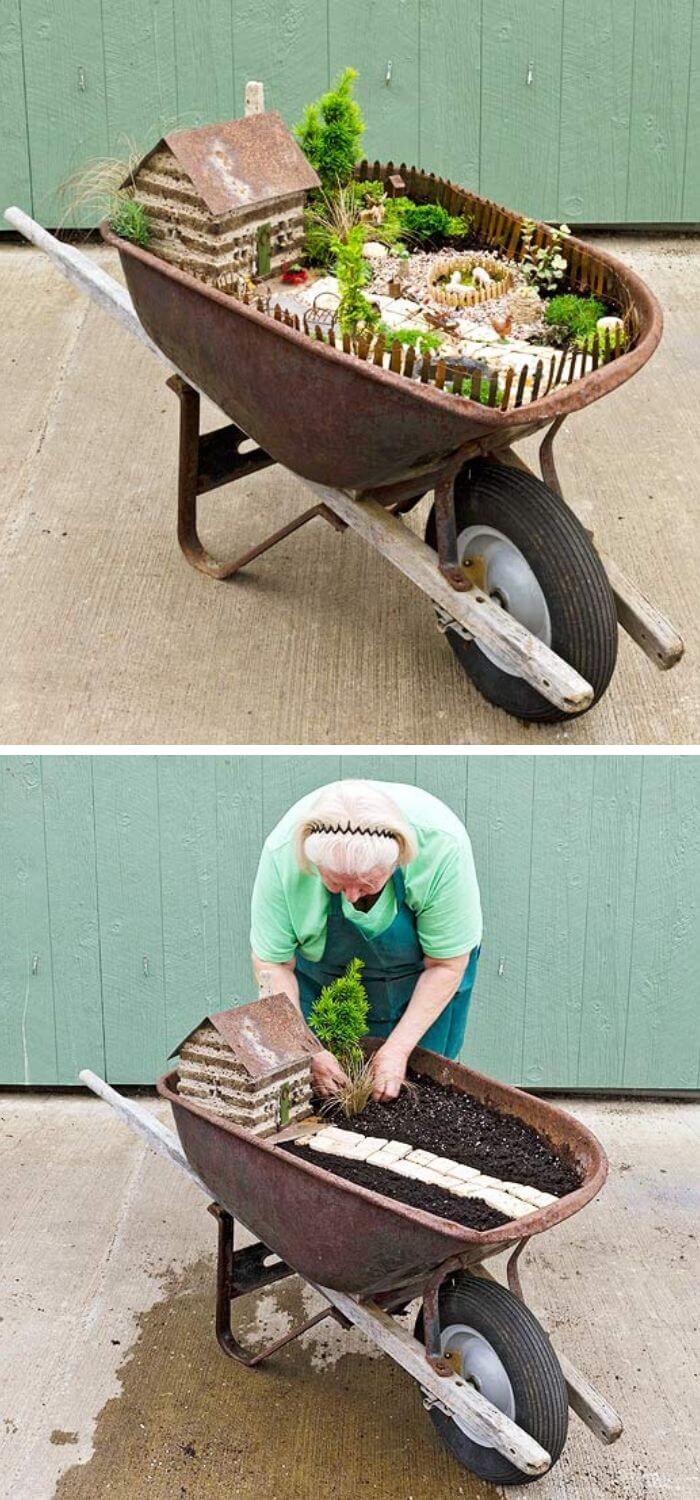 You can create an enchanting fairy world inside an old wheelbarrow. It can get as attractive as you want by adding as many details as you wish. Add some mini pickets, maybe a pasture of pigs or hens. Add some small herbs and shrubs to give it a more realistic look. You can even utilize several wheelbarrows to make various fairy gardens that will surely catch your eyes.
18. A Wheelbarrow Planter Full of Flourishing Bushes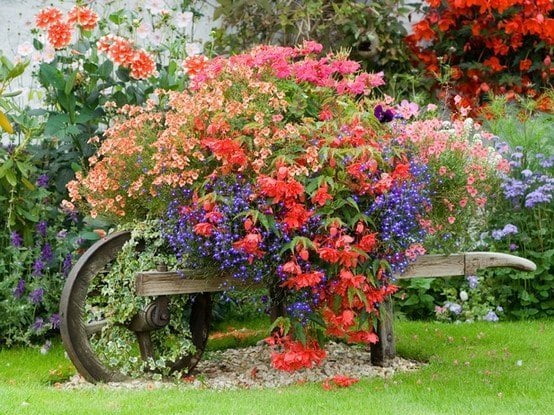 Here is another stunning example of wheelbarrow gardening. This old-fashioned deteriorated wood frame wheelbarrow buried under a cloud of red, purple, green flowers hanging from all sides.
19. Colorful and Bright Wheelbarrow Planter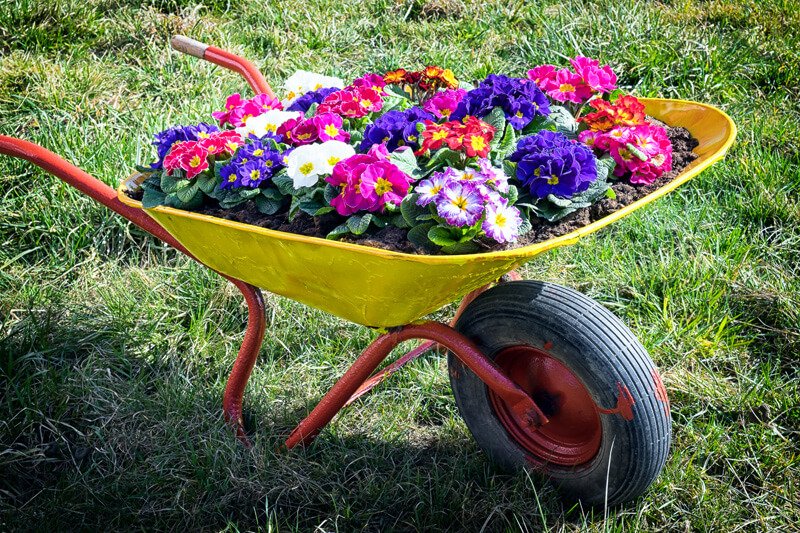 If you do not have a colorful yard, if your yard has too much greenery and nothing else in it, then you can consider putting a wheelbarrow full of pink, purple, white flowers in the center of it. You can also paint the wheelbarrow with bright, vibrant colors. It will surely draw attention to itself.
20. A Small Wooden Wheelbarrow with Plant Vases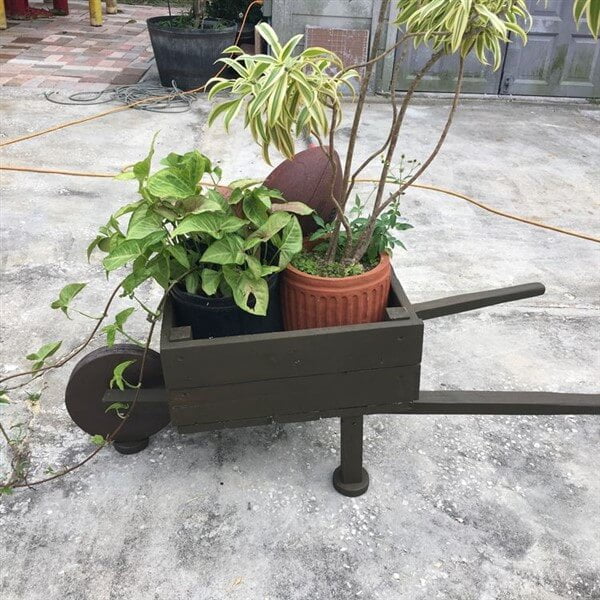 This is a new and surprising way to show the items in your garden. This minimalistic style makes it very easy and unique. Put some small plant vases and a few small decorative items. It will perfectly blend with the garden that has a lot of greens in it.
Conclusion
Overall, you cannot go wrong by turning your old, deteriorated wheelbarrow into something useful.
Whether you create a rustic-styled planter or a fairy garden, you surely add charm to your garden.
Hopefully, some of these ideas will inspire you to create your garden area, a unique work of art.