With winters come heavy snowfall, and no matter where you live, you need to be ready for it. Although shoveling becomes the most common and easiest way to clear the snow, it is time-consuming and is not the best thing you would like to do in the morning before going to work.
With Troy Bilt Squall 2100- Single Stage Snowblower, a powerful yet easy to handle the machine, you can get rid of the snow quickly and with much less effort.
It has a surprising amount of snow clearing capacity and is perfect for tackling wintery conditions with power and ease.
Troy Bilt Squall 2100
Troy Bilt has spent more than 80+ years building rugged, reliable, and valuable equipment. Their products not only can handle anything we throw at them but also be around for longer times.
Troy Bilt Squall 2100 includes drift cutters to knock down taller snow areas for faster clearing. This snow blowing machine makes snow removal faster and easier.
A dependable 208cc 4-cycle OHV engine powers it with a push-button electric start eliminating pull-starting and mixing oil and gas with 4- cycle engine.
The Squall series of snow throwers are compact, powerful machines with a high Auger Design and excellent ground-gripping for maximum clearing power. This model is perfect for large, flat areas that need clearing fast.
Pros
Comes with remote chute control for a custom throw.
4- cycle engine, so no mixing oil and gas
Well- designed Auger system for efficient cleaning
Electric start button eliminating the hassle of starting the machine at freezing temperature.
Cons
cannot handle wet snow and ice with grace.
Heavyweight
Wheels are not engineered to self-propel.
Features and Benefits.
The Troy- Bilt Squall 2100 is a single-stage snow blower engineered with excellent features to tackle most snow cleaning jobs. Using a snow thrower is a much more comfortable and quick way to clear off larger areas of snowfall. But before investing in it, look at these features to understand what your needs are.
Below are some benefits and features that will provide you the machine's specifications and help you judge better if this machine is for you.
Engine Power and Performance
Troy Bilt Squall 2100 has 208 CC, 4- cycle engine displacement. It generates such high torque to propel the Auger and discharge snow at very high speeds. This is equivalent to 5.5 to 6 hp, precisely what you require to get sober and wet snow moved out of the way.
It's a 4- 4-stroke engine, which uses four pistons to power through the engine and then pushes the combustion out, requires both oil for lubrication and unleaded gas to run.
Not to forget that the machine is also equipped with drift cutters that come in handy to break down the hard-packed snow before discharging it. The only disadvantage is gravel since it may pick up rocks and stones, which may clog the chute and delay the progress.
Single Stage Auger
Generally, snow blowers have two augers, one that lifts the snow and another discharges it through the chute. With its 208-cc powerful engine, this model can power a single auger to pick up the snow and toss it without using any secondary set of paddles.
An auger chops up the snow using series of paddles as it spins. As the paddle spins its motion, the snow is fed into the machinery and thrown out of the chute.
Ease of Operations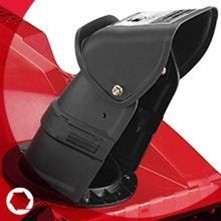 The machine comes with a remotely controlled chute that throws snow over a 190-degree panel. With its two-way remote, you can throw snow in any direction with a simple chute handle movement. This way, it will not pile up at one place, and you do not have to plan out your clearance path in advance to keep snow from getting where you do not want it.
Not just that, it comes with folding handles, giving you a comfortable ergonomic grip and height while working. So, navigating around your compound has just been made easy.
Electric Push Button Start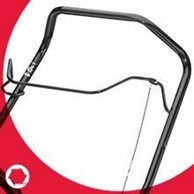 This gas-powered engine machine can be started just by the push of a start button. This feature is perfect for those who do not have the physical ability to pull start an engine. And the essential point is that snow blowers are much more convenient than shoveling, especially when it is a part of daily chores.
Drift Cutters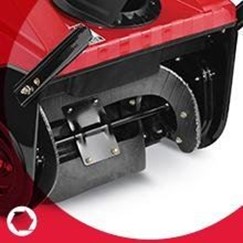 As the snow piles up in your driveway, it becomes tough to get it out of your way. But with the adjustable drift cutter arms, it easily cuts off the snow into drifts and allows the snowblower to pick up the snow and push it further off the way.
This easy-to-use feature comes in handy during late winters when the snow begins to pile up and pack down. It keeps the snow from falling back down onto the path you have been clearing with a suitable surface level.
Manageable Weight
Weighing just 100 pounds, it is easy to move into the areas you need to get in. Although the machine is not self-propelled, the Auger's movement helps pull the blower forward, creating a propelling effect helping get the job done quickly and efficiently.
Warranty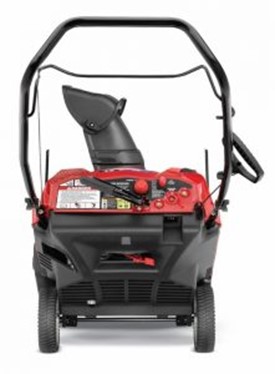 Troy- Bilt offers a full manufacturer's two years warranty. This provides plenty of time to determine if any part of the machine is defective or not, primarily when used in heavy snowfall.
They provide an excellent customer hotline and make it easy to return or get the machine's replacement parts
Customer Reviews
Customer ratings and reviews are significant factors while deciding whether to buy a product or not. People buy a particular item and give ratings and reviews as per their personal experience.
This product has received high ratings and positive reviews from its customers. It is a popular choice for areas that receive regular and heavy snowfall.
It can clear wide and deep in one pass and save much time and energy, ideal for small to medium driveways that can take three cars. The Squall proves that we can count on this brand to deliver the best snow thrower.
The push-button starts and easy control over the machine are among the features receiving special attention. You do not have to be worried about starting a cold engine, and it will start when you need it the most, even at cold temperatures!
Although the machine has a single auger, it is backed by such a powerful engine that this becomes hardly an issue for anyone.
Other Models for Snow Blower Machines
Troy- Bilt Storm 2625
It is furnished with three steel blades and an auger that resist the snow. The equipment is powered by an overhead-valve engine (OHV).
It provides enough power and speed to move hundreds of pounds of snow. One of this model's best features is that it comes with X-Trac wheels, which are self-propelled.
Another great feature of this model is the Touch 'N' Turn Power Steering and Just One Hand Operation, which gives you more control over the machine without exerting yourself.
No products found.
Troy- Bilt Storm 3090
This model is built for extremities and can clear 30- inches wide and 21- inches of snow without a hassle. The two-stage system is equipped with a steel notched auger making it easy to deliver a clean driveway and plow through the wettest snow.
It uses a 120V power cord to get the machine run in subzero temperatures, and with 357cc displacement, it can power through the deepest snow.
Troy- Bilt Vortex 2690
Troy- Bilt Vortex 2690 comes with an accelerator that crunches snow at speeds up to 10 times higher than a two-stage blower.
It can work on all surfaces and has high engine displacement for excellent snow throwing. It can also cut through the ice with ease and is easy to control through power steering.
The Vortex is one of their first 3- stage models, but their performance is quite impressive. Its 12-inch accelerator and 12-inch serrated steel augers work together to demolish the snow in no time.
The snow chute can also be positioned in 4 different ways enabling you to throw the snow wherever you like.
Owing to all its added features, it is a bit expensive, and the belt wears out if not well maintained.
Conclusion
All the types of snow blowers mentioned above are very outstanding, covering a vast array of applications. Troy Bilt Storm excellently balances between versatility and functionality.
This machine is a perfect choice for you if you have a medium-sized driveway, walkway, or sidewalk. Troy- Bilt has the best line of snow throwers available in the market. It provides the best designs and multiple features tits consumer's lovers.