People who love their gardens or plants would know the importance of compost for their plants. However, buying ready-made compost occasionally can be costly when making organic compost is a simple task.
Now, if you have been looking for a composter, you might have come across the Aerobin 400 composter.
You must have come across people who have said different things about the Aerobin 400 composter. However, making the right decision is only possible when you know everything about it, and which are facts.
Are you finding it difficult to know the facts about Aerobin 400 composter? Well, do not worry. Here is a detailed review of the composter with all its pros and cons for you.
What Is the Aerobin 400 Composter?
Before going any further, you must know what the Aerobin 400 composter is? When you know what it is and what work it can do, you will only decide if your garden needs it.
Exaco Aerobin 400 composter is insulated and has a self-aeration system. This is one of the popular products for hot composting.
Like other popular composters, Aerobin 400 composter is also efficient in turning kitchen scrap, leaves, and grass clippings into a fine and healthy compost.
Exaco Aerobin 400 Insulated Compost bin, 113 Gallon, Green
double-wall polystyrene-core sides for year-round compost production with patented "lung" system,...
Absolutely no turning required - drop waste in at the top - later remove through bottom side doors.
Processes similar capacity as 3-4 110-gallon composters.
Size: 29" W x 29"L x 47"H
This insulated composter mixes and mulches all the waste and collects the compost liquid at the bottom of the bin. Polystyrene is used to insulate it, and the machinery is made of plastic. The composter has two doors to take out the ready compost.
It also has a heavy-duty construction, which will help the compost from blowing away even in the worst conditions.
The insulation in this composter speeds up decomposition because the heat is retained, which helps.
The Aerobin 400 composter also has a patented aeration lung inside a sealed bin, which provides a more sustainable result. Experts say that this is a possible method to reduce greenhouse gas emissions.
Benefits of Aerobin 400 Composter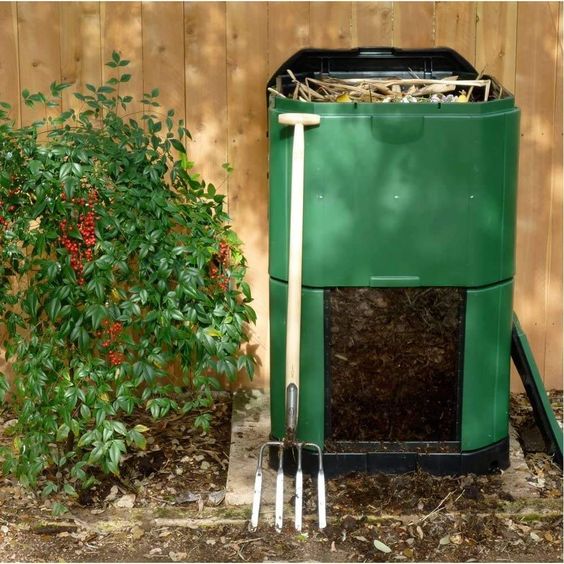 Some of the reasons why the Aerobin 400 composter is quite popular among gardeners are here. Please keep reading and know all of them.
Self-Aeration
The composter has a unique patented lung for self-aeration. This means that you will never have to turn it in manually. This lung makes the composter completely automatic.
Heavy Duty Construction
Aerobin 400 is a big body, and anyone would probably keep it outside in the garden or backyard rather than in a room.
Now, your garden experiences all, from cool pleasant breezes to boiling midday heat to even cold winds sometimes. This is something that may sound difficult for a mere plastic machine to handle.
However, the Aerobin 400 composter has a heavy-duty construction. That means it is made up of strong heavy-duty plastic covering. The manufacturers say that it can withstand all temperatures.
This compost bin also offers a lid by which you can completely seal the machine. This sealing will help in retaining the heat inside and will keep the pests away. Moreover, the Aerobin 400 composter offers three years of warranty.
Two Doors for Removal
The Aerobin 400 composter offers two doors to remove the ready compost. You can lift off the doors entirely and remove the compost, even with a shovel or fork.
A common problem with most compost bins is that it gets quite challenging to take out all the compost from the bin. With two doors that can be fully lifted off, you can get all the compost out of the bin.
Compost Tea Collection
Not only does this compost bin make nutrient-rich compost for your garden, but it also collects the compost tea. Compost tea is simply a by-product created in the process of compost making.
When all the materials are mixed and mulched into the soil, the wetter material gets drained into the reservoir at the bottom of the bin, also called liquid gold.
This compost tea is as much healthy for your garden as the compost is. It increases the growth rate of plants and gives them healthy nutrients. Also, least water will be needed if your plants get this healthy liquid occasionally.
If you plan to get this liquid gold, you may have to wait for a few months. The older your compost will be, the healthier this liquid will get. You can use this tea by directly watering your plants or with the help of a spray bottle.
Moreover, there is no need for diluting it, and you can use it in its rawest form. However, you can add a little water to it and use it efficiently if you feel like diluting it.
Double Wall Insulated Designing
The heat helps in breaking the materials down quicker. So, the composter's insulation will produce heat while the compost gets ready and will ultimately help make the compost quickly.
The double-wall insulation will keep the heat retained inside the bin instead of it vanishing away. This double-wall insulation uses polystyrene to retain the heat and make quick compost.
To get better results, you must make sure that you keep it somewhere it gets enough temperature from. In the cold climate, the composter needs to be where it can get enough direct sunlight.
Moreover, to keep your compost hot, you should probably add up to 10 to 15 kgs of waste in it every week.
Disadvantages of Aerobin 400 Composter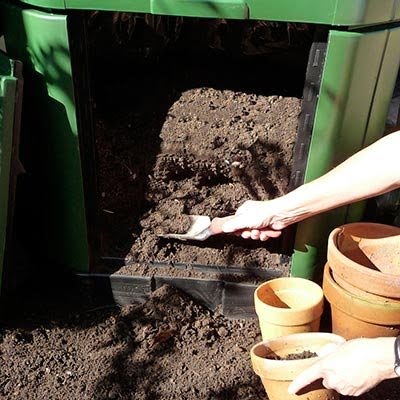 Every product has its pros and cons. Now that you have gone through all its pros, it is time to look at the cons of the Aerobin 400 composter.
This compost bin takes quite a long time to break down the materials and make compost.
Though it is a year-round process for the first time, it takes almost 12 weeks to make compost. So, if you need compost urgently, you may have to buy it from the market.
Some users have found it hard to turn the spigot to drain the water. Also, the spigot can itself get blocked sometimes.
The bin, undoubtedly, is enormous and not at all easy to carry here and there. It may also get quite tricky for you to dig into the bottom of the bin in case of any issue.
If you live in a scorching atmosphere, the heavy plastic used in constructing the composter bin's body may also get warped and change its shape after a particular time.
Should You Buy It?
After getting to know the Aerobin 400 composter in detail, anyone would suggest buying it immediately. Although, the final choice depends on you.
This compost bin not only can collect your kitchen scrap but also take up your garden and yard waste (grass clippings, dry leaves, etc.). Also, it has a capacity of 400 liters (113 gallons), which is enormous.
Now, if you have a small space to serve, this significant investment would not get used entirely. However, there is always an alternative available for every product out there.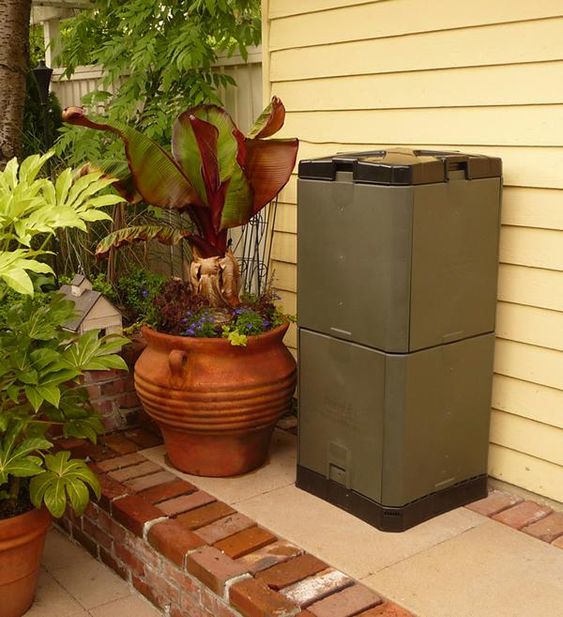 If you have a small household or do not have a large garden or yard space to serve, you can quit buying the Aerobin 400 composter. Instead, you can go with the Aerobin 200. It is a similar but smaller unit of the 400 models.
The Aerobin 200 has a lesser capacity than the Aerobin 400 composter, though it has the same heavy-duty body and is well insulated.
The product you buy depends on your needs and requirements. If you have the Aerobin 400 composter's required space, then it is undoubtedly the right choice.
With proper maintenance and care, this compost bin can serve you and your garden efficiently.