No machine guarantees an efficient lifetime of working. A chainsaw is also one of the standard machines that we use almost now and then.
However, after a specific time, we feel like it is not working as efficiently as it is supposed to. The most common problem with it is a chainsaw not cutting not or adequately cutting at all.
Now, there are many possible reasons for this, and here are the most common ones. Before we go deep into the problems and solutions, you should know what a chainsaw consists of.
How Chainsaw Works?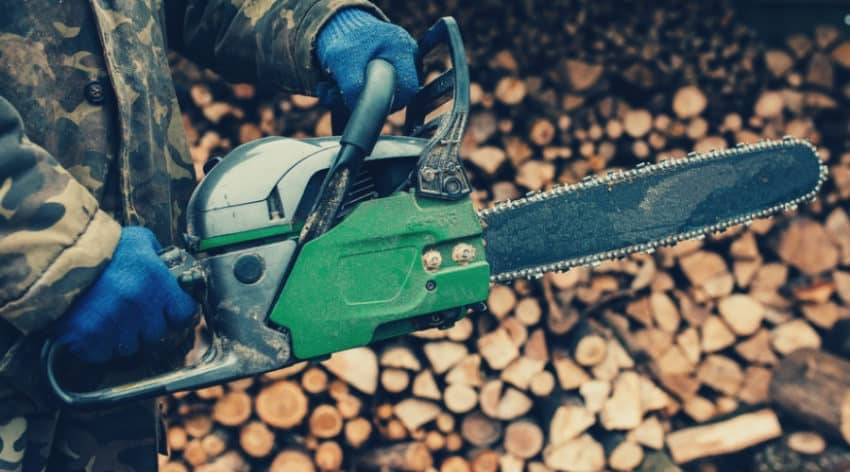 The standard chainsaw consists of a body, a 2-cycle engine, a gas tank, a guide bar, a clutch, handles, and the chain that fits the teeth around the bar. When you use a chainsaw, teeth rotate around the guide bar at a high pace to cut the trees.
The gasoline mentioned above is used to power the chainsaw to work efficiently. So, you will be having it if you have a gas-powered chainsaw. However, if you own an electric operated or battery-operated chainsaw, then there will not be gasoline.
Where Can Be the Problem?
A chainsaw commonly can have a problem in its four main elements: the teeth, guide bar, clutch, or the chain. But before going deep into these four elements, there is one thing you need to know.
Different chainsaws may suffer from different problems. However, how you figure it out is what matters the most.
After knowing the problem, you would want to solve it. For solving the issue, you need some things that will help you with the issue.
What Do You Need?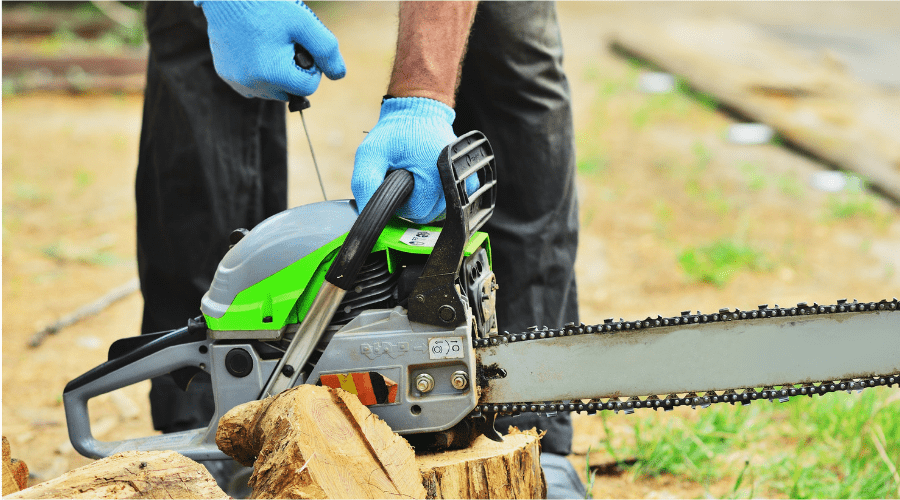 The most crucial thing to take with yourself while working with a chainsaw is injury preventing measures. So, make sure you have your protective gloves on every time you use it. Even when it is turned off, its chain has such an edge that it can easily nick or cut your skin or clothing.
Besides these protective gears, you will also need some tools that will help you solve the arisen problem. Comparatively, the construction of a chainsaw is made easy to access.
Working on a chainsaw is easy as they have 2-cycle engines, which is a comfortable design. You can keep the materials needed to sharpen or replace your chain. The tools for removal of the cover and adjusting the chain tension are also necessary. 
Now that you know what you need and are ready to get the problem in hand, you need to see which kind of chainsaw you own. That is, electric or gas-powered.
Electric Chainsaw Not Cutting
Electric chainsaws are basic ones, and working on their issues is relatively easy compared to the gasoline ones. As these chainsaws get their power electrically, it is always preferred to replace the whole product when it comes down to its engine.
First, due to safety purposes, and secondly, the repairing of an electric engine may cost you a little too much. So, if the problem is internal, people prefer changing the whole product, which is good. 
However, if you find your chainsaw not cutting efficiently, you should always check if it is getting enough power. If your chainsaw operates on batteries, you need to check if the batteries are fully charged.
Batteries usually have a lifetime in which they work efficiently, and after a certain point, they do not. In such a case, you can get your batteries changed instead of the whole product.
Moreover, if your chainsaw is working, but not correctly, cutting in slant or not cutting correctly, there is something wrong with the chain itself. Keep reading, and you will get to know about its fixing too.
Gasoline Chainsaw Not Cutting
Some of the problems are common between both the kinds of chainsaws that will be discussed further. However, the one thing that you need to make sure of is that your gas-powered chainsaw gets enough power.
No products found.
You need to check that your fuel is fresh and is the right one. You should also check for any clogging in your fuel filter. Once you check these elements, you can go further with your problem-solving session.
Dull Chain
The easiest way to know if you have a dull chain is this- you will find fine sawdust that falls off rather than wood chips when you are cutting.
You may find yourself making significantly less headway in the cut, or your chainsaw may not even cut evenly. So, a light chain may be the reason behind your chainsaw not cutting efficiently.
Improper Chain Tension
When at rest, your chain should be able to be lifted around 1/8th to 1/4th of an inch above the guide bar. Also, it should be able to go back in its place on its own. If this tension is too tight, it will resist the movement of your chain and may even eventually break it.
On the other hand, if it is too loose, it will not be able to make proper contact with the cutting surface.
Both scenarios will not let your chainsaw work efficiently. It may also be dangerous to work in such scenarios. However, this issue has a quick fix. If your chain can not be tightened, you should replace it with a new one. Moreover, it can loosen up with oiling.
Worn or Bent Guide Bar
With passing time, any part of the chainsaw can be worn out. The constant rotation of the chain around the guide bar may result in the guide bar being worn out. This will make your chain to fit improperly on the guide bar and will loosen it.
On the other hand, heavy usage or improper storage of chainsaw can result in the guide bar's bending. This would also cause the chain not to work correctly.
Stuck or Broken Chain Brake
Suppose the clutch cover is removed while the chain brake's engagement. It will eventually result in the chain brake getting stuck. So, it is always necessary to make sure that you remove the clutch covers only after disengaging the chain brakes, or you will need to reset it.
Moreover, if your chain brake is not working as you want it to, replacing it is the best option. However, before you decide, you need to clean it thoroughly to remove any dirt or unwanted material from the chain brake so that you can become sure of what you need to do.
Improper Spring Tension or Broken Clutch
The clutch is what orders the chain to spin around. If the clutch pads are worn out or not engaging correctly, they can make your chain spin improperly and eventually cause issues.
So, if there is improper spring tension or the clutch is broken, your chain may not spin around the guide bar at all.
For solving this issue, you can easily access the clutch. You can easily remove the clutch cover and be able to see where the problem is. If issues are with the clutch, it can also be replaced easily.
Conclusion
The problems like chain not spinning well, clogging in the fuel filter, and loose wires can be easily and quickly fixed. Just some tools in hand are needed, and you are done.
However, if you do not find any problem yourself, you may ask a mechanic for help. You can even decide to replace your chainsaw with a whole new product, and the choice is yours.
It would be best if you made sure of only one thing- check for the problem yourself first, and only then would you want to decide.