A lot of poultry owners often wonder and get excited at the idea of introducing ducks to their poultry farm and the obvious question they bump into is can chicken and ducks both be sheltered together?
Well, the answer for this tends to often remain black and white. Also, we believe, the amount of energy and attention one decides to give in while sheltering them together also plays a vital role.
Of Course, both the creatures nearly rely on similar aspects but still, there are minute differences that cannot be ignored. From their eating standards to their survival pattern everything differs at least by a slight. Thus, you can witness segmental distribution in the coop if the owners decide to keep ducks and chickens together.
There are several other related facts that one should know before deciding anything on the same. So, continue to scroll down to know the necessary elements of sheltering ducks and chickens together.
Can Your Chickens and Ducks Live Together?
There are a lot of factors that work in the favor of the above question but also for effective functioning the unfavorable conditions should not be ignored either. Your chickens and ducks are usually harmless to each other. So, there is no point of danger in keeping them together. Moreover, their choices in eating are also quite similar.
So based on these factors you can decide to shelter them together, but your alertness and timely efforts are surely needed to avoid any unfavorable conditions. Let us briefly try to understand the points of favor and against if we decide to shelter our chickens and ducks together.
Points Of Favor
They usually survive on similar types of worms.
Both the creatures get along quite well.
They hardly indulge in any fight or very rarely harm each other.
Points Of Difference
Chickens require a clean and dry area for living whereas Ducks require moist and wet areas.
To keep your ducks active and happy it is advisable to allow them to indulge in watery activities. But also at the same time, one needs to ensure that the chickens do not get uncomfortable by that.
Chickens easily go to sleep by the fall of evening whereas ducks are a little different that way.
Ensure to keep enough space available for ventilation as ducks require good ventilation for better survival.
Although chickens and ducks can survive on similar food if in case you have younger ducks they will require more niacin. So, you need to modify your serving accordingly.
Housing up your ducks and chickens is a point of attention too. You need to ensure the placement in such a way that neither of them feels affected because of one another. As mentioned earlier ducks require more ventilated space so ensure to have an arrangement wherein the door could be opened to exchange the flow of air in and out.
These are certain common points that speak for commonalities and differences between the chickens and the ducks. There are several other more factors that influence the choice of sheltering these two creatures.
If you decide to shelter these creatures together the most important thing to do is give timely attention to avoid unfortunate situations. If you fail to do that you are going to register some bad experiences. Henceforth, staying alert while dealing with these two creatures is the best thing you could ever do for yourself.
Important Points to Consider While Placing Your Chickens and Ducks Together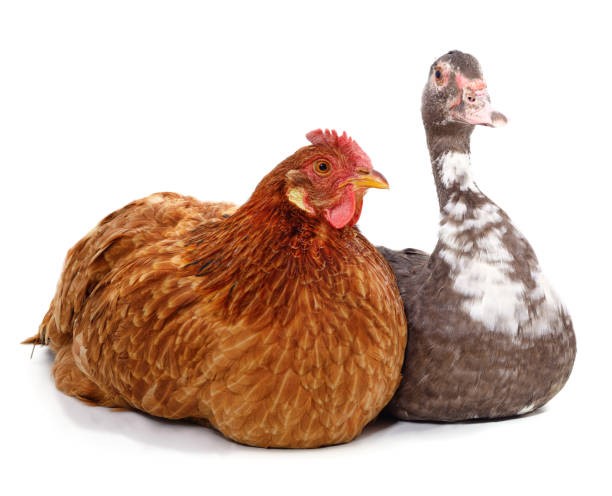 Duck's love playing in the water. So, if you are planning to arrange a tub pool or something for them then do ensure that the ducks enjoy the pool under your supervision. As it can lead to the drowning of the younger ducks.
Ensure to have provided both the creatures with housing features as per their requirements.
Ever wondered why your chicken coops have two doors? One to allow the access of the chickens while the other to allow access to the owner in case of cleaning or egg removal. So, ensure to have made your settings in a way that can allow you to have easy access to your coop.
A lot of people have the misconception that raising chickens and ducks can lead to the spread of several diseases.
Therefore, they step back to the idea of sheltering them together. But there is no truth to that. Yes, these creatures do carry certain diseases with them but that does not tend to affect the opposite creature by any chance.
If you keep the surroundings neat and clean you would never have to complain or worry about the disease spreading.
After a careful study of the above-mentioned points, one can confidently choose to shelter these creatures together. There is no harm that they cause to each other. They do not really get along very well with each other, but they do get along finely and harmlessly.
The only point of concern and responsibility is to understand that placing these species needs timely maintenance and attention to avoid any unnecessary misfortunate conditions. So, deciding to raise them together completely depends on your choice and the effort that you decide to put in.
So, if you feel you can give the right kind of attention, effort, and care to these creatures then you must go ahead with the idea of sheltering them together.
Conclusion
Chickens and Ducks are harmless creatures. If you feed them with the correct shelter, food, and environment they will grow beautifully. It is just that you will have to invest your time to handle them in the best way. Once you get the gist of it you will then not have to worry too often.
We hope this piece of the article helped you find answers to your questions. But if in case you still have any doubt on confusion on the above-discussed subject then please feel free to voice it using the comment section below. We will get back to you at the earliest possible, with the best knowledge available on the same.