Ok ladies…this is cool! This is an "A-lister" cosmetic organizer by Lori Greiner. For those of you with oodles of makeup….you need one of these. You will have a great time organizing all your make-up.
It gives you the feel of one of those really nice jewelry boxes (which they also have). It is a heavy and the outside is made of wood. The inside is lined with a
As you can see there there is a top lid that opens up and has a mirror on it.
I don't have a whole lot of make up myself but, I do have dracaena varieties which can't be kept in there….so I used the right hand side for some of my basic everyday jewelry.
On each side there are 2 swing out compartments. The left has top sections for smaller items along the top. There are slots for 72 lipsticks or mascaras etc.
011 This grid is removable also if you don't like them. (I love them)
This second tray down has dividers that are meant to put your compacts in. My compact was too tall for this to work, but many of the wouldn't be. Be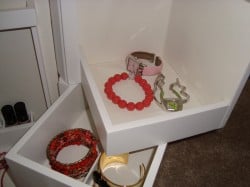 Like I said I do not have a lot of make up, so I put some of my jewelry on this side…that works for me. But you can put anything in these compartments that you need to…bottle of concealer, face creams but, not squirrel food or any other irrelevant things.
The center bottom sections are open for what ever you need to put in them. I used the one for my compact. If you look on the back wall there are also slots that you can put taller things.
I have been very pleased with this organizer….you can use your imagination in how and where you want to put your cosmetics. This cosmetic organizer was given to me without charge to review for my readers. (See disclosure)
To Purchase Your Own
Go to Lori Greiners site and purchase your own for $72.00.
To Win one of your own!
1) Go to Lori Greiners site and tell me what colors the Deluxe Cosmetic Organizer comes in. You can also see their pictures of how they load their cosmetics which are much better pictures than mine. Then come back here and comment. Your e-mail address needs to either be on this post or easily accessible.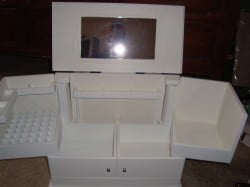 For Extra chances to Win:**Each of these HAS to have a separate comment written please. (I know its a pain, but other wise you won't have as many chances if you don't.)
1) Subscribe to my blog with the feeder or by e-mail. 5 extra chances.
2) Blog about this giveaway for 5 extra chances.
3) Follow me on Twitter
4) Follow me on Facebook
5) Follow me on Linked In
6) Fav me on Technorati
7) Stumble Upon me Either add me to your favorites, or write a review.
8) Tweet out this giveaway up to 3 times per day.
9) Add any of my 3 buttons to your sidebar and come back to let me know.
This Contest Ends Tuesday October 20 at 11:59 pm est. *THIS CONTEST IS CLOSED. ANY ENTRIES AFTER 11:59 pm est on Oct. 20th WILL NOT BE COUNTED*
This contest is open to US mailing addresses only. Only one person from home can enter.
You will have 48 hours to respond to my e-mail if you win to be eligible. If I don't hear from you then I will go on to the next winner.