teamson kids shelf Isn't this Magic Garden shelf darling? It is made by Teamson designs and it is not something which you put in outdoor toy storage after some use. This is their Teamson Kids line. When the PR rep e-mailed me she offered me the doll house or kitchen. I wanted to say yes to one of those SO bad.. but my triplets are 9 years old who are keen to jump with pogo stick for kids, just a little too old for it. (Darn it!) I mentioned I thought this shelf was really cute and I love shelves for helping kids to organize. I like them much better than toy boxes because you can see what you have. It makes it easy for the kids to be a little more organized.
She sent this Magic Garden shelf and my first thought when I went to pick up the box on the front porch was, "Woo Nelly… this is heavy! It's going to be a nice one!" I was right. This is very high quality, from the hand painting that makes each one a little special and unique to the hardware (according to my husband.)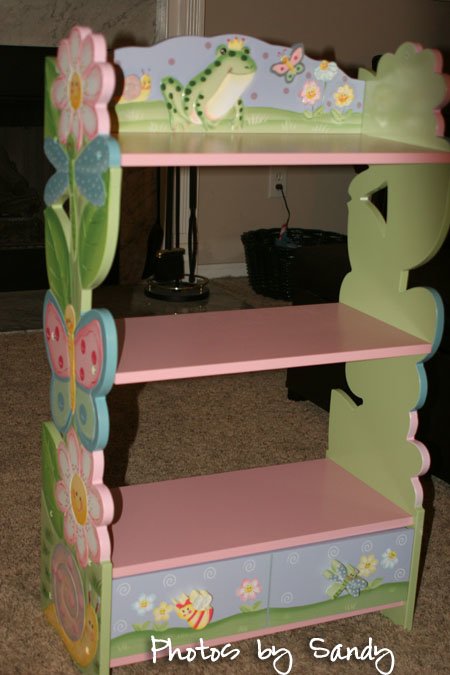 What really sealed the deal for me on the quality was my husband. He is putting this together on the floor in front of me and at least 3 or 4 times he turned to me and started talking about the quality. "Sandy, Who made this? This is really nice. I am impressed… the wood is solid, the instructions are clear, even the way they have it packaged in the box – you can just tell there is a difference. I have exactly the amount of hardware I need and even it is high quality. Everything lines up perfect." This is coming from a man who is a senior project manager for a construction company! It takes a lot to impress Dave… and Teamson Kids did it. This is one of latest products to review and it has made my top 10 list for my Gift Guide this year!