The one way to make your house function properly and give you fewer troubles is by keeping it in regular maintenance. Like anything, a house which is well maintained looks more attractive and is more satisfactory.
But regular maintenance is an easy task if you have a pair of two helping hands with you. Otherwise, it is a bit difficult task that you may want to refrain from doing.
Chronic procrastination from maintenance piles up to a gigantic task impossible without taking help from an expert, which means regular maintenance could save you from potential expenses.
Maintenance is not just cleaning the house from the inside or repairing the broken pipes system. Maintenance also means taking care of what is above the house. We are not talking about the clouds here, but we are talking about the roofs.
But what is wrong with roofs? Your roof faces the weather directly, and with varieties of weather conditions and dirt in the environment, you can only imagine how dirty it can get.
Roof Gutters
Roofs of houses are generally attached with gutters that collect all the water or snow that falls onto the roofs so that all of this rainwater is discharged at a particular place where you desire and not just anywhere around the house messing with your garden and your beautiful lawn.
So, a gutter alongside the roof is an integral component of the house that most people overlook most of the time.
These roof gutters not just help in keeping your house clean and protected from the annoying rainwater falling all over, but it also helps in recharging the groundwater table.
The Gutter's water reaches into the ground and trickles down to the bottom up until it reaches the underground reservoir and recharges the underground water table.
This practice will benefit millions of people in the future, as is quite visible from water scarcity and depleting underground water tables.
But installing these roof gutters is not just it. You also must make sure that it is in and remains in a working condition not to have to face rainwater falling directly on your lawns from the roof.
To make sure that this does not happen and your share to mother nature is not compromised, you need to make sure that it rains clean. But how can it be dirty? The dirt and leaves and all the debris that falls on your roof are eventually going to end up in your Gutter.
When the dirt, leaves, and other debris types arrive at the Gutter, they clog the Gutter and prevent it from functioning.
This makes your Gutter completely obsolete, and in times of heavy rains, you also face the threat of the Gutter falling off or breaking in case the Gutter becomes too heavy.
Cleaning the Roof Gutters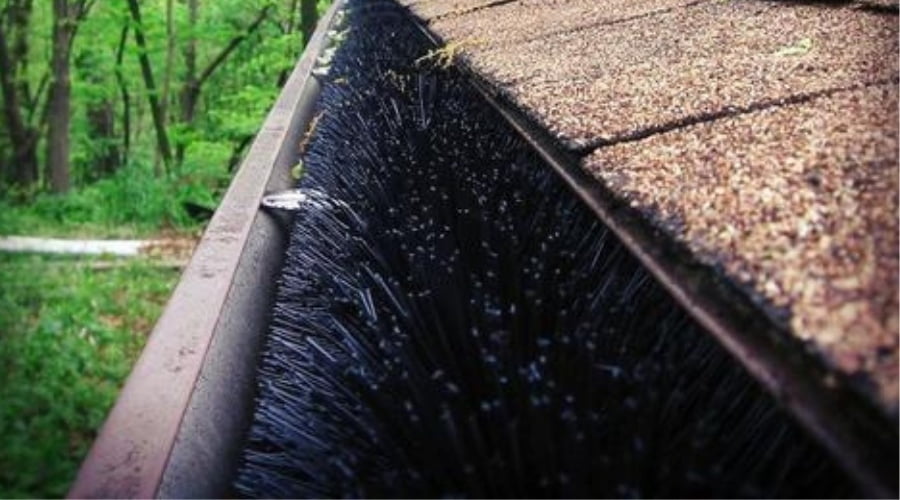 To prevent all this from happening, you need to ensure that your Gutter is free from all this foreign stuff and is functioning correctly.
One way to make sure that this never happens is to clean it after every rain or snow or storm. This could be a hectic job in the winter or rainy season. It is not for you if you have a busy work schedule and cannot take time off to clean the roof gutter.
This approach also will not work as the Gutter might fill with clutter even when it is not raining or snowing. If you live in a house surrounded by trees, then it's impossible to remove all the waste, which in this case are the fallen leaves, from the Gutter because they are too many and it happens too frequently
So, given that regularly cleaning the Gutter is not a smart and easy thing, the next and the best approach is to leave something there to make sure your Gutter remains clean.
This can be done by installing a guard for your Gutter, which prevents all the dirt and debris from entering the Gutter. Gutter brushes are a perfect option to look for if you are interested in installing a gutter guard for your house.
These gutter cleaners are round and are of different lengths. They come in different lengths and diameters to suit your requirements more precisely. Gutter brushes are very flexible and can be installed easily.
It would help if you had stairs and some time off your schedule. Gutter brushes obstruct all the leaves and dirt from getting into the Gutter and only allows the water to move through them. They catch all the twigs and leaves on their surfaces, allowing the winds to blow them off.
It is also instrumental in cold places receiving snowfall. The snow is deposited on the gutter brush's surface, and only the melted snow can reach the Gutter and flow through it.
This product comes with a five-year warranty period, which is, not to mention, a lot. It is also very affordable, and as already mentioned, it comes in various lengths and widths for precisely matching your house needs.
Cleaning Gutter Brush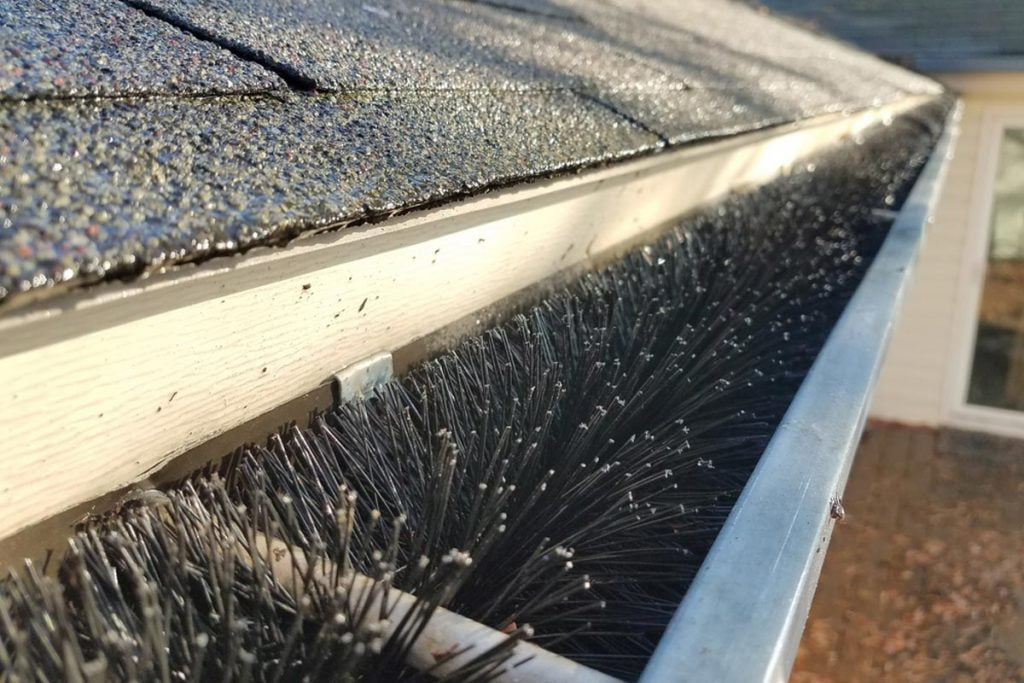 Now that these gutter brushes are put on the front line instead of the Gutter itself, it is evident that the gutter brush would get dirty.
And if the gutter brush gets dirty, then it is your responsibility to clean it. You need to clean the gutter brush because if it has been left untouched for a while and all the leaves and the dirt have deposited over it, the chances are that it would restrict your Gutter's functioning.
To make sure that both your gutter brush and Gutter are functioning well, you need to clean it regularly.
To clean your gutter brush, all you need to do is get up to the Gutter and clean it. But to execute this, you will need a ladder in the first place to reach the Gutter.
Ensure that you have set the ladder right so that there are minimal risks of an accident and that you can get your hands on the gutter brush properly.
After taking out the gutter brush from the Gutter, you have two options with you- you can either clean it with your hands or use a garden hose for cleaning.
I would recommend both as some wastes and dirt are small and might miss your hand, but there is no chance in hell that a garden hose will miss it. Repeat the same proposal until you have dealt with all your gutter brushes.
While cleaning the gutter brush, make sure that you have also cleaned the Gutter as some dirt and debris succeed in reaching down to the Gutter.
So now you are aware of how to keep your roof gutter clean and well-functioning and how to clean your gutter brush. But here is the bigger question of whether you even need a garden brush. Let us try to answer this question.
Do I Need a Gutter Brush?
The gutter brush is good to have household equipment that would help you reduce a lot of wasteful effort you might have to put otherwise every time your latter became dirty or got jammed. So, it is always good to install a gutter brush.
Gutter Filters By GutterBrush - 12 Ft. Prevent Gutter Clogs - Reduce Gutter Cleaning - Protects 6...
6 Inch Wide X 12 Ft Long Gutter Protection | Easy DIY slide-in Gutter Guard Installation, 5.25"...
GutterBrush: The Original Since 2004 | Gutterbrush has 5 size diameters (see sizing sample box, 3...
Year-Round Gutter Protection For Any Climate | DIY Gutter Guard, the easiest gutter guard...
Protects Underground Drainage From Gutter Leaves | Easy leaf guard filter, no fastening or tools...
Save Time and Money On Gutter Cleaning | Stops gutter clogging, is easy to install, and eventually...
But if you are still cynical about it and want to analyze it before considering buying it, you can also do so. For this analysis, you will have to ask yourself three critical questions.
Where Do I Live?
If you live in a place that receives chilling winters and loads and loads of snowfall in the winter season, you should get a gutter brush.
If you do not get a gutter brush, then your Gutter will have to deal with all the snow by itself, and chances are it would fail miserably.
With all the snow accumulated in the Gutter, the melted snow will not find room to flow. The snow will not even melt unless the weather is warm.
Where is My House Situated?
If your house is situated in a place surrounded by tall trees, it is in your best interest to get a gutter brush because if you won't, then the Gutter will be frequently jammed by the leaves that will fall from the tree.
With a gutter brush by your side, you will only have to care for the maintenance only once a month or once in two months.
What am I Getting?
The third concern is what you are getting and what you are getting is very delightful and a beautiful deal. As already mentioned, gutter brushes come with five years warranty.
Gutter Filters by GutterBrush - 6 Ft. Trial Pack - Prevent Gutter Clogs - Reduce Gutter Cleaning -...
5 Inch Wide X 6 Ft Long Gutter Protection | Trial Pack - Easy DIY slide-in Gutter Guard...
GutterBrush: The Original Since 2004 | Gutterbrush has 5 size diameters (see sizing sample box, 3...
Year-Round Gutter Protection For Any Climate | DIY Gutter Guard, the easiest gutter guard...
Protects Underground Drainage From Gutter Leaves | Easy leaf guard filter, no fastening or tools...
Save Time and Money On Gutter Cleaning | Stops gutter clogging, is easy to install, and eventually...
Also, the price of the brush is very affordable. And what is even more attractive is that they come in different lengths and widths to exclusively match your requirements.
Conclusion
Make sure to keep regular maintenance of your Gutter and your gutter brush. Gutter brushes do not get affected due to the weather, and that makes them well durable.
They have galvanized steel in the center, which is rust free and holds the gutter brush together. It would help if you got a gutter brush, given it is so durable and so practical.
So happy, less hectic life to you once you have purchased a gutter brush.