Chainsaws are an essential tool that comes in many different types of backyard work. Many people already possess a chainsaw and use it regularly, while many do not.
You can use it for pruning purposes, cutting woods, cutting trees, among other things, dozens of other activities.
If you fall in need of a chainsaw more than once every month, then it is in your best interest to buy a chainsaw.
This is because the cost of renting or hiring a professional for once may seem less costly than buying one, but the renting or hiring cost surpasses the cost of buying a chainsaw over a period.
But buying a chainsaw is not at all easy. This is because of the number of varieties and sizes they come in.
Deciding which chainsaw to buy could be a little overwhelming, and you will have to give this decision some more time and thought so that you are sure you have made the best decision.
To make this decision, you are needed to ask yourself one more question regarding what size chainsaw do I need.
Answering this question right will increase the chances of getting a chainsaw that is of the perfect size for all your needs.
Deciding Chainsaw Size from the Work, you Need to Accomplish
The better way to find out what size chainsaw I need involves me deciding what is the purpose of getting the chainsaw.
This refers to all the activities that I would be carried out using my chainsaw. If I must work inside my house with some heavy piece of wood or furniture, then the best thing would be to go with a big and powerful chainsaw.
But if I must do some small, odd jobs, I will not go with a giant chainsaw like in the previous case and buy a small and compatible one. It also depends on whether you need it for commercial purposes or your household.
If you need it for commercial purposes, you must buy a robust and hardy chainsaw to execute the Work provided like a piece of cake.
But if you need it for domestic uses, then a less powerful and less hardy one could also do the Work.
So before deciding on buying a chainsaw of a particular variety, you are recommended to list out all the jobs you will do with it and whether you need it domestically or professionally.
Before getting deeper into knowing what size of chainsaw you need, let us find out whether you even need a chainsaw or not and if yes, then what should be the right approach for you to take.
Do I Need to Buy a Chainsaw?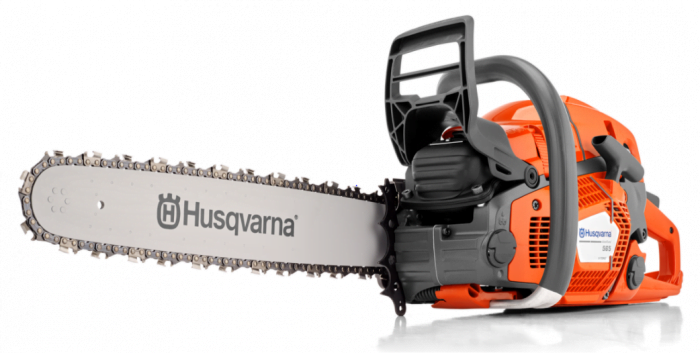 Chainsaws, provided how important they are, can find space in every household, especially the rural or suburban households.
But even if you have fallen into the need of a chainsaw for cutting a tree or other activities, it is not mandatory (sometimes also not the best option) to buy a chainsaw.
This is because if your chainsaw needs are occasional, then you are better off renting one or hiring a professional who does the job precisely.
If you have not purchased a single chainsaw in the past and have no experience operating one whatsoever, you are not recommended to purchase a chainsaw in one go.
An untrained person might ruin the Work he has to do or even injure himself in the easy case scenario. So, if you have not yet operated a chainsaw, you should watch some tutorials and take some classes regarding operating a chainsaw from a professional.
You can only execute a task flawlessly if you know how to hold a chainsaw while working with it.
Also, learning how to operate a chainsaw is only necessary if you are sure that you will need to operate one often in the coming days or years.
If it is a one-time thing, then the best thing to do would be to hire a professional and let him do all the Work. You can also ask him to teach you how to operate the chainsaw, or you can watch and learn from him.
So if you are going to need a chainsaw in the future and are ready to learn how to operate it, then we are good to jump into our next and the most important topic to decide the variant of a chainsaw to go with and also the size to choose.
So, let us answer the "what size chainsaw do I need?" question.
Deciding the Size of the Chainsaw and its Type
There are different chainsaws to choose from, and they also exist a variety of chainsaws that you might want to give a thought before purchasing any.
Broadly the chainsaws can be divided into two different varieties. One is the electric chainsaw, and the other variety is the gas chainsaw. The size of your chainsaw will also depend on the type of chainsaw that you have purchased.
So, to answer better what size of chainsaw you should get, you must be aware of these two varieties of chainsaws in the first place.
Electric Chainsaw
Electric chainsaws are powered by electricity and come in two variants, i.e., corded and cordless. These chainsaws have electric engines, and so they do not emit much noise. With corded varieties of electric chainsaws, you have a limitation of the area your chainsaw can cover.
This is because the corded varieties of chainsaws could only be used to the extent of the cord's length or the availability of a circuit point. In the absence of a circuit point, you are restricted to a tiny area where you can use your chainsaw.
Whereas the cordless chainsaw is powered by lithium-ion powered batteries and can move to any place as you desire. Electric chainsaws are smaller in size than the gas chainsaw, and their bar comes in length variants of 8 to 16 inches.
Greenworks 10.5 Amp 14-Inch Corded Chainsaw 20222
10.5 amp electric motor starts within seconds for ease of use and Reliable power
14-Inch Bar makes clean up jobs a breeze
Tool-less chain tensioning for quick adjustments so you can get back to the task at hand
Wrap around handle provides user comfort while clearing debris. Translucent oil tank for clear view...
Auto-oiler provides adequate Lubrication to ensure the best cutting performance without the hassle
There might be longer bars, but this is the standard measurement. The electric chainsaws are less powerful than gas chainsaws, which is why they do not support bars of longer lengths.
A corded chainsaw engine ranges from 8 to 15 amp, whereas the cordless chainsaw's engine ranges from 20 volts to 60 volts.
Chainsaws of these types and sizes are very suitable for you if you have regular household tasks to take care of and do not want something which makes a lot of noise when working.
This is undoubtedly not a chainsaw to go for if you are looking for something for professional works. The advantage of these chainsaws is that they demand less maintenance and run very smoothly.
There are a lot of brands in the market to choose from. Electric chainsaws are the best pick for you if you are looking for small-sized chainsaws and do not want to worry about so much maintenance work that takes a lot of necessary time from you.
Gas-Powered Chainsaw
Gas-powered chainsaws are very different from an electric chainsaw. These chainsaws generally run on either oil or gas or a mixture of both. Gas-powered chainsaws are much more significant, bulkier, and powerful than their electric counterparts.
These chainsaws are top picks of professionals, and you would always see a professional using these chainsaws. You do not have to rely on electricity and do not have to face battery drainage since these run on gas.
As already mentioned, these chainsaws are bigger than electric chainsaws, and the bar length of these chainsaws ranges from 18 inches to 26 inches and more. These big bars are used to execute heavier tasks that a regular electric chainsaw is unable to do.
No products found.
These chainsaws' engines range from 32cc to 62cc, and they are powerful enough to run the long bar effectively.
So, if you want a more extended and more giant chainsaw for more heavy-duty or professional Work, then you should go with gas-powered chainsaws.
The biggest issue with these chainsaws is that they need regular maintenance, failing which your chainsaw might not work correctly.
Deciding the Size
Once you are done with broadly determining the type of Work you need your chainsaw for, i.e., determining whether you need it for regular heavy-duty Work or small household works, and have decided accordingly which type of chainsaw you are going to need, i.e., electric or gas-powered, you are left with a question of choosing the final size of your chainsaw.
Your chainsaw's final size could be determined by imagining the most challenging and most immense Work that you would be doing with your chainsaw.
If your most immense Work is not big enough, like cutting small shrubs, you should go with a small-sized chainsaw between 10 and 14 inches.
If you are thinking of cutting something, then its size will also determine your chainsaw's size.
Conclusion
Now that you have a clear idea of which type of chainsaw to choose for which kind of Work and the range of sizes they offer, you can answer your question," what size chainsaw do I need?".
Make sure to compare the chainsaw prices that you want to buy across various platforms before making a purchase.
Ensure whether the chainsaw you are buying has an engine that is powerful enough to support the desired bar and chain length.