A quality heating system makes your home warm and comfortable. But efficiency depends on the right equipment and installation. It also determines how often you will need the services of a service technician.
Understanding complex engineering processes for the first time and without mistakes is almost impossible. It's one thing when it comes to crooked wallpaper sheeting or a misplaced laminate panel that can be removed and redone right away. And another thing is when it comes to laying pipes, installing a boiler, installing radiators, and installing underfloor heating. That is why you should turn to an HVAC company.
Since the HVAC System affects the quality of human life, its allowable parameters are prescribed in the normative documents. Fulfillment of these requirements is mandatory in the case of commercial use of premises, as well as in the acceptance of apartment buildings. When designing ventilation inside an apartment or for a house, they can be accepted at the level of recommendations.
What to consider when installing an HVAC System?
Installing any utilities requires clear compliance with regulations. Otherwise, at best, the equipment will not work at full capacity or will sooner fall into disrepair. And at worst – possible network breakdowns with much more serious consequences.
First, it is necessary to correctly select the type of heat source heating system: solid fuel, gas, electric, alternative in the form of a heat pump, and the like. Each option has its advantages and disadvantages. A single recommendation for all occasions does not exist, so the selection is always individual.
When laying pipes, it is important to correctly calculate the slope, all the turns, transitions, pick-up tees, crosses, and other accessories. Open elements should not be heated above a certain limit. This is one of the first safety requirements. The use of insulation materials and special coatings reduces heat loss. And thus increases the efficiency of the system.
Advantages of cooperation with a professional company
Compared with independent work, the work of installation companies usually has several advantages:
Development of a full individual project of the heating system for your home. Adapting a typical solution on your own without proper education and experience is almost impossible.
Calculation of power and other characteristics of the heating system. Accounts for pressure in the network, design features of the building, availability and quality of insulation, and the desired temperature in the rooms.
Consideration of all building and engineering standards and safety requirements.
Recommendations on choosing and combining different types and brands of equipment, pipes, fittings, valves, and supplies.
Safe and quality assembly of all elements. Sealing and sealing of fittings.
High speed of the professional team. The entire system will be put into operation in the shortest possible time.
A thorough check and adjustment of the system, a guarantee on the work performed, and after-sales service.
Installation of HVAC System components. If you use a monoblock ventilation unit or if it is possible to group the elements of the system, they are located in the ventilation chamber. As a rule, the chamber is allocated a basement or attic, as it is necessary to provide constant access to the HVAC System for its maintenance.
Massive elements of the system must be securely mounted so that they do not emit vibrations. As a rule, installation of HVAC systems in the room is carried out before the beginning of finishing work – otherwise, you can damage the repair.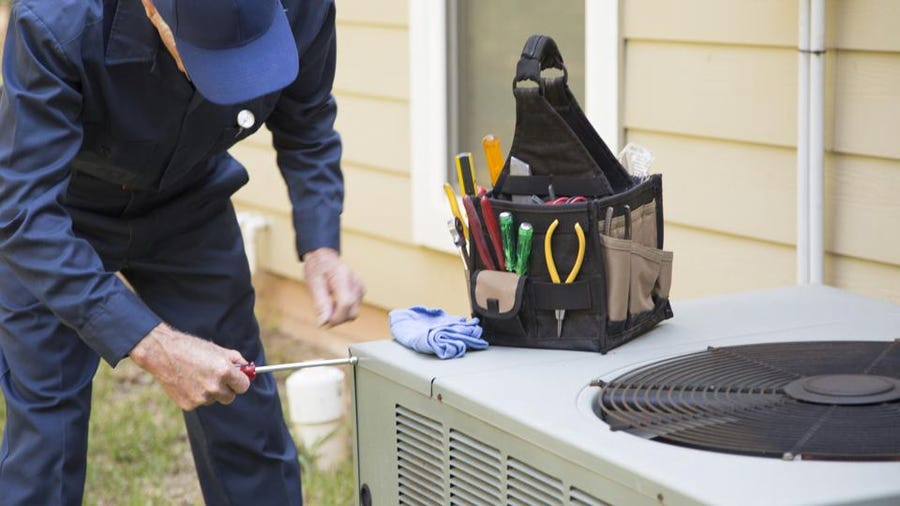 HVAC service project
You can order the HVAC service project from the organization or designer which has a permit to carry out this type of activity. Quite often, such services are provided by companies that are engaged in the installation of heating systems and sales of necessary equipment. Thus it will be possible to comprehensively resolve the "heating issue" in your private home. At the output, the customer receives a document, which includes a text part, schemes, and drawings.
While making financial calculations, you should take into account both a one-time investment for the purchase of system elements and their installation, as well as regular expenses for periodic maintenance and power consumption for heating and humidifying the air.
The project will specify all the nuances necessary to carry out the installation work: the general configuration of the network, type of wiring, characteristics of the heat generator and piping, size and location of heating devices and other equipment, and their specification. Also, in the project, HVAC service will be specified requirements for the boiler, heating devices, automation equipment, temperature control, pumps, collectors, chimneys, pipelines, etc. Upon request, the cost of installation and materials can be calculated.
Conclusion
HVAC Installation is a lengthy process that will require not only physical effort and material expense but also close attention to a lot of details. Heating systems installation should only be done by professionals. If you have planned such action as HVAC Installation, only a professional can provide expert assistance and also advise you on what is best to install for your premises.