The Grand Opening Festivities at the new Walmart Supercenter were a family stop for us today. I brought my children, along with a friend of my daughters, to do a little shopping and enjoy the family friendly games, activities and food. Summer break has begun and we're in need of some new summer clothes and swimsuits.As soon as we drove into the parking lot, we could see all the activity that was taking place. It was a perfect day for being outside, enjoying the sunshine, some games and a little lunch.I appreciated that they were serving fresh fruit with the hot dogs. The fruit was so tasty and I knew I'd be stopping in the produce department to pick some up to take home. It's a perfect example to show the kids that fruits are great to go along with any meal.
My youngest loved the mini cupcakes, and I enjoyed testing out some new products.Walmart Family Fun Day
The kids throughly enjoyed the professional face painter. Hailey chose a "Frozen" theme eye paint.The older girls got into the whole face painting! I was really impressed with the quality and speed she created these designs and it made our Grand Opening adventure very memorable for them.After we finished all the fun outside, we ventured into the store to purchase a few things and we found Chester Cheetah! Of course we had to get a picture with him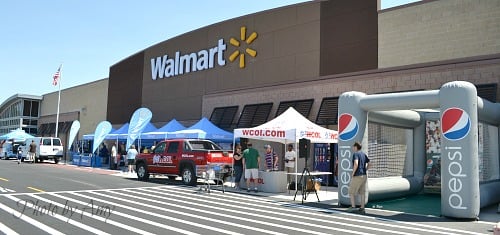 I LOVE that they have tankini's for little girls! This is the type of swimsuit both my daughters prefer to wear and it has been so hard finding a good selection for my youngest. She loved every one of these cute suits! It was hard for her to decide on just one for best above ground pool party.
If you're into fishing and camping, this is THE place to shop! They have a huge camping section and I was enthralled by how many fishing poles they carry! Note: this picture only shows a small percentage of all the poles they have. They have also best zero turn mower to take care of your lawn.
How can you walk down this aisle and not enjoy all the colors? Wouldn't it be fun to buy some of every color and have a whole rainbow of towels at home?If you're in the area, make sure to check out this new Walmart in Dublin, Ohio on Sawmill Rd. It's a Supercenter which means it has it all! Clothing, home goods, electronics, along with a full grocery section too all at their Every day Low Prices! If you to stop in to check it out, share your visit through Twitter, Facebook & Instagram using the hashtag #GOWalmart.