Suppose you are thinking of creating a new landscape in your yard, re-landscaping your current yard, or even just looking for new ways to fill up an empty plot in your garden. In that case, you should check out this post featuring 15 fantastic garden landscaping ideas that will help improve your curb appeal.
This article will surely help you determine how to create a fantastic landscape in your backyard. It will also introduce you to several beautiful landscaping ideas from landscaping services by Wichita arborists so that you can see some brilliant creations that will inspire you to mold your yard to the style you like the most.
You can also include water features like streams, ponds, waterfalls, or large fountains, giving your garden an exotic look. This will also add soft noises that are wonderfully soothing while sitting on your deck or patio.
Also, consider various styles of the pathway. This pathway can be created by using bricks, stones, tiles, or concrete. Ensure you do not add unnecessary curves as a pathway is the base of your landscape and one of the focal points to the yard.
Whether your garden is large or small, perfectly manicured, or a little wild, you will indeed find the perfect idea to inspire you this summer!
Awesome Garden Landscaping Ideas
1. Lush Garden with Wooden Pergola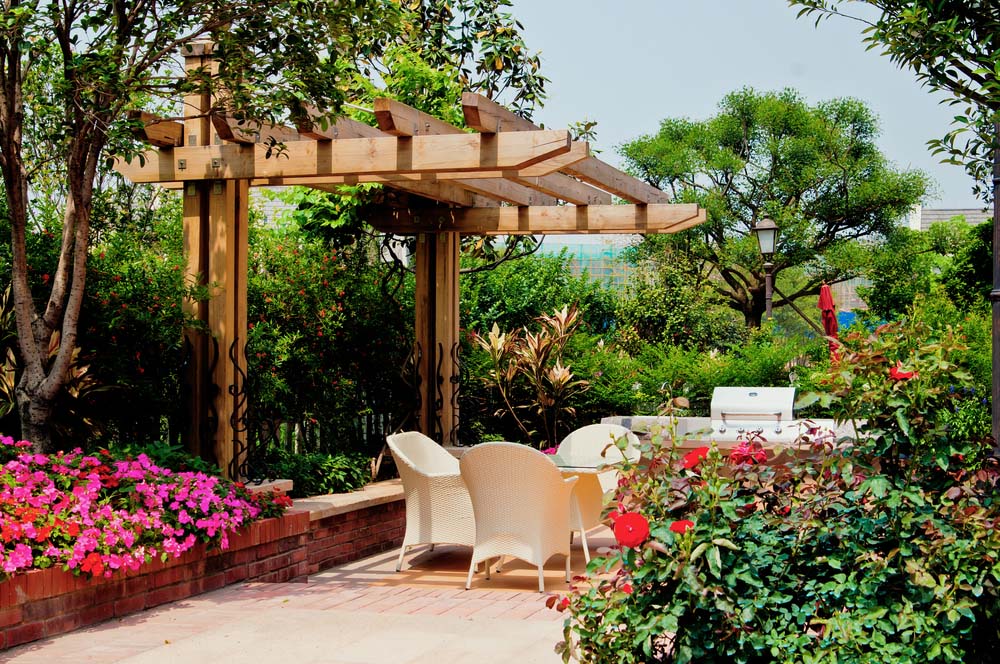 Here is a beautiful garden consisting of a large brick patio partially covered with a wooden pergola surrounded by lush flowering bushes, large green trees, and other fauna.
2. Rose Garden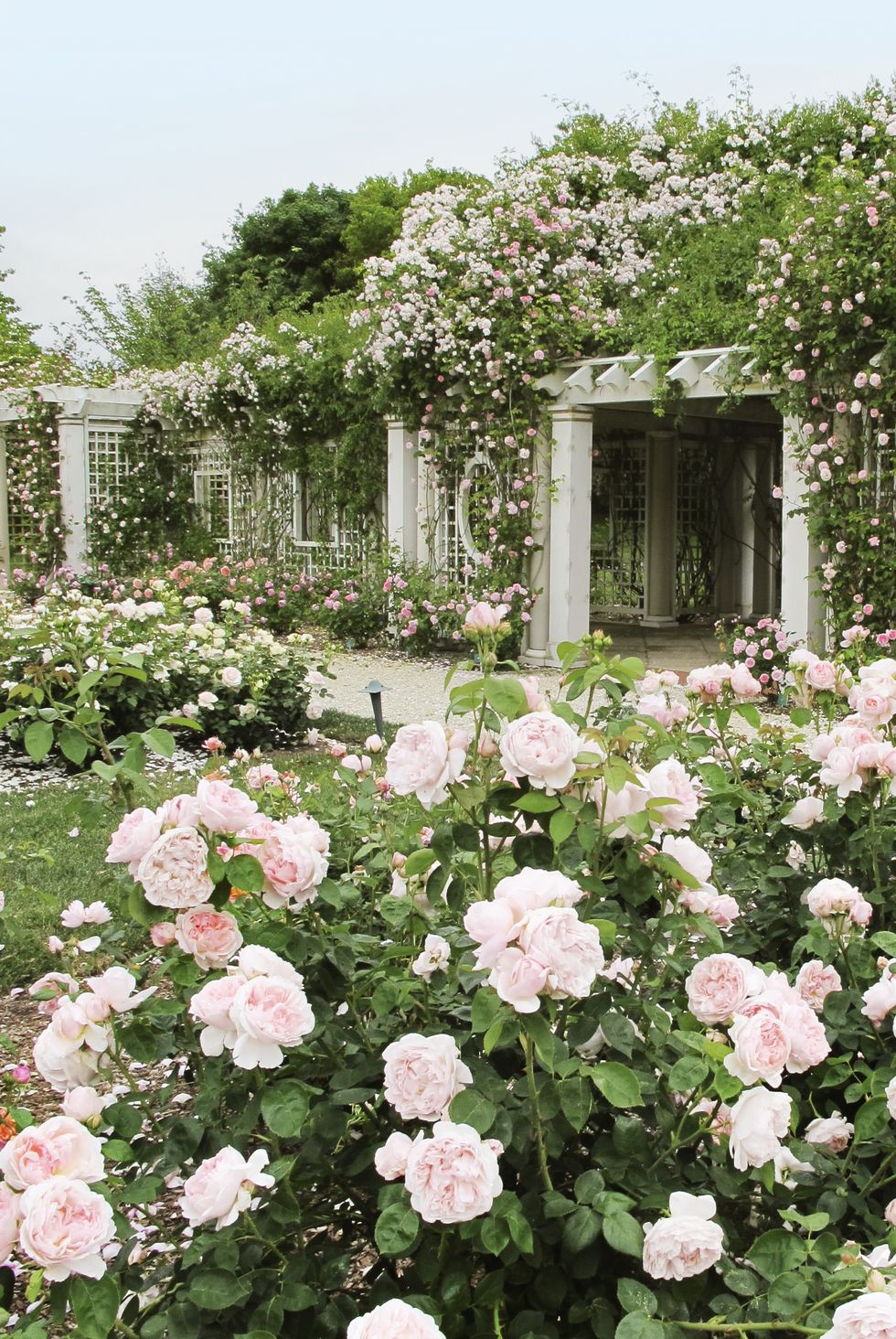 Limiting yourself to one type of flower will save you a lot of yard work in the long run. And what better flower than roses. Fill your yard with a lot of rose plants. It does not get more romantic than this.
3. Container Garden with Rock Sculptures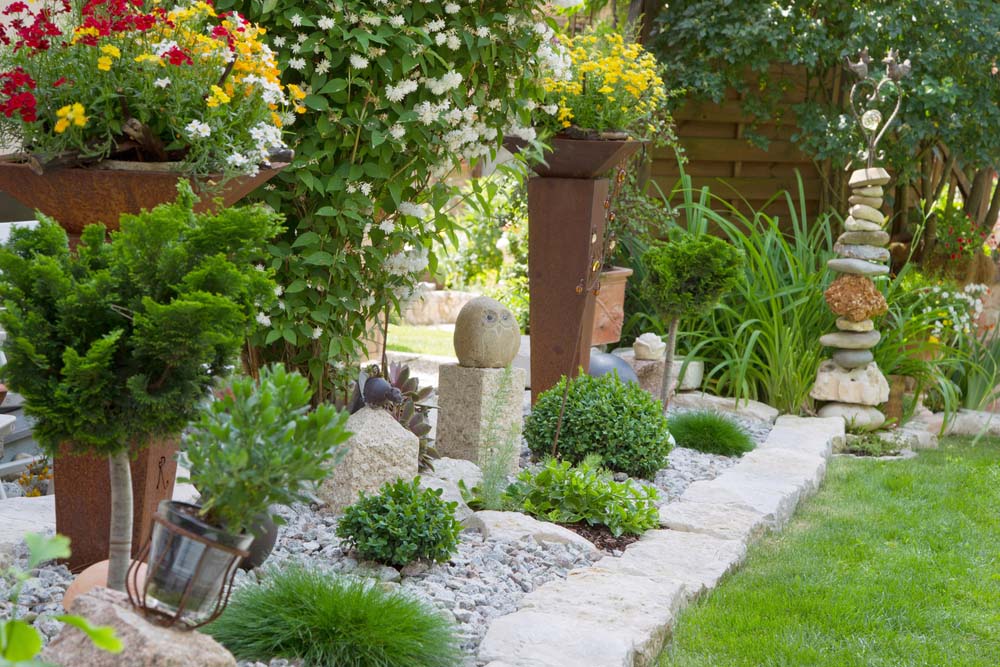 This is another example of a simple garden full of tall and short containers used as planters and creative sculptures scattered throughout the garden. The difference in plant size, bloom size, and container gives this garden an exciting texture, and the yellow, red, and white contrasting flowers give this garden a spring vibe.
4. Outdoor Shower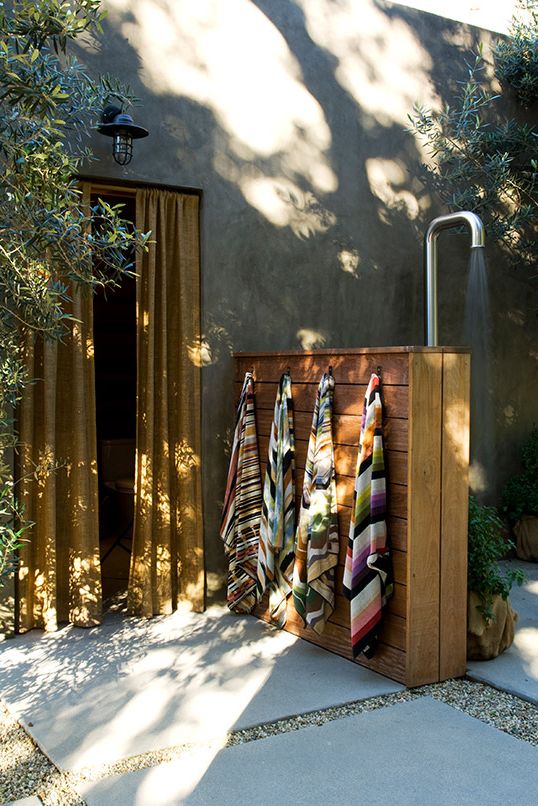 Why have a regular bath if you can have an outdoor bath? If you have an enclosed courtyard, you can create an outdoor shower in your backyard. You do not need to do much. Just lay a tile pathway that leads the way and hang up some wall hooks on the sidewall to put up some colorful towels that will add some colors to your garden without planting an entire garden.
5. Container Garden with Aged and Mossy Stone Structures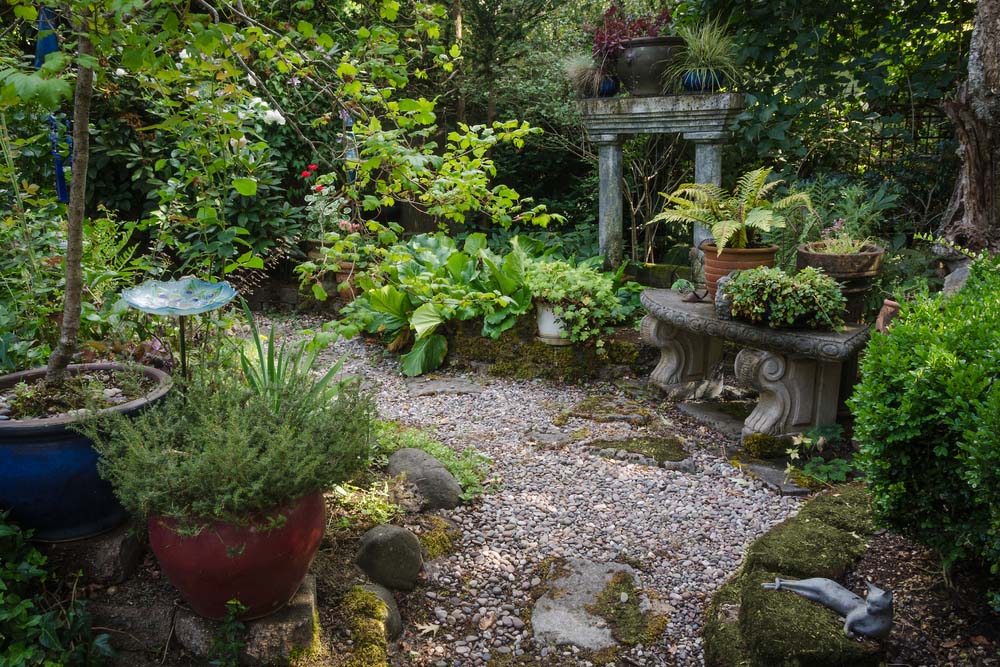 You can add antique stone benches, antique displays, and old potteries as planters to an area having more natural woods. Use tiny pebbles to make a pathway can add elements like bird fountains. Mosses growing between the stones create a uniform green look.
6. Rock Garden of Tranquility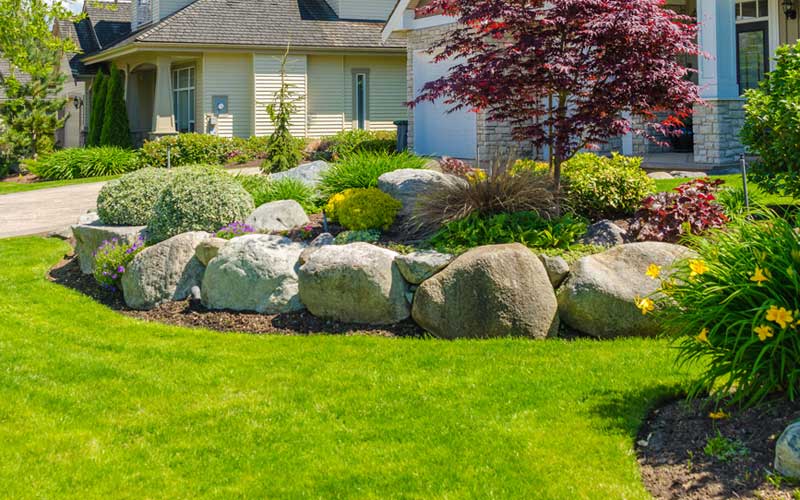 Rock gardens are best for first-time gardeners who want to get creative with their landscapes but prefer less mowing and weed pulling. A rock garden is created in the house's front yard with large rocks arranged in a circle. Inside this rock circle, small trees and bushes have been planted. You can also add flowers if you want.
If you have a small pond in your backyard and it looks dull and straightforward, you can add a small rock garden around your pond and create a whole ecosystem with greenery and stunning stones. It will turn your yard into a quiet oasis.
7. Two Level Yard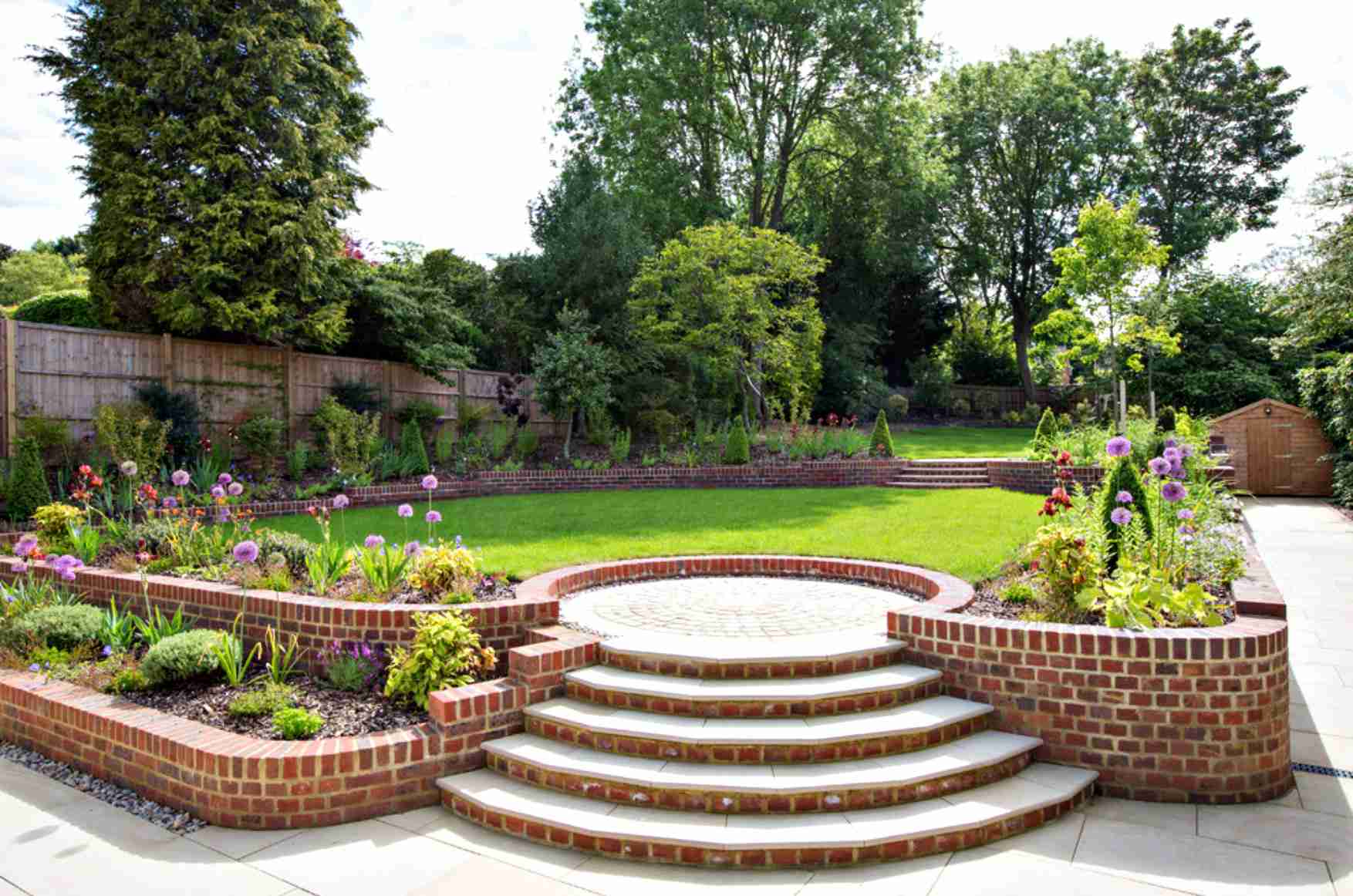 You can transform your neglected backyard filled with weeds and overgrown shrubs into a beautiful landscape. This backyard has created multiple levels using bricks to make circular stairs that link the stone patio to the lawn, and the garden level is the second level defined by brick retaining walls to make planters. The terraced beds are planted with colorful flowers, small evergreen shrubs, and vines. This looks both simple and sophisticated at the same time.
8. Pool and Patio for Entertaining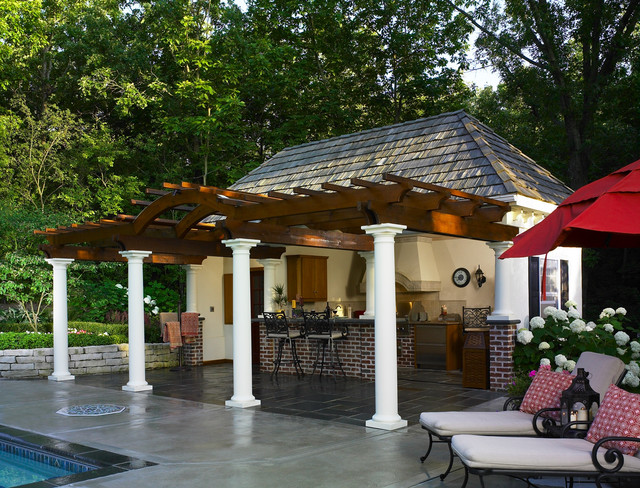 The patio defines how you enjoy your time outside. A patio has seemingly limitless use socializing, sunbathing, relaxing, and many more. Pool patio design should match the design of your swimming pool and your house and compliment your lifestyle.
Round pools are a great way to deviate from the standard rectangular look. Your pool can be a beautiful element to add to your backyard landscape ideas. Shown above is a round pool surrounded by dense, leafy trees and a finely manicured garden.
9.Backyard Fire Pit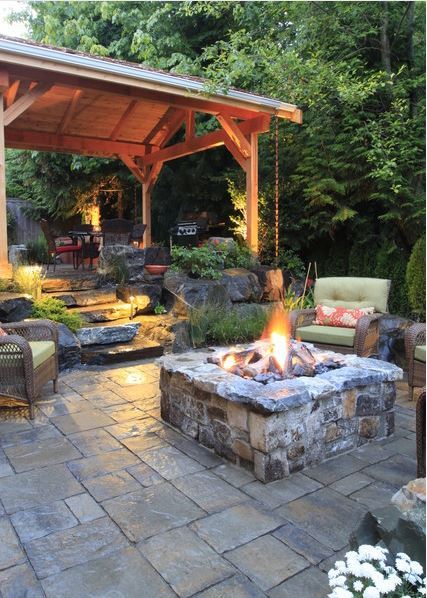 Fire pits can also stand as a focal point of your backyard scene. Here is a classic version of a backyard fire pit made of stones. Since it is made of stones, it will be sturdy and will last for a long time.
This type of fire pit can be built in your backyard patio with excellent patio furniture surrounding it will make this whole setup incredibly relaxing. This would be a perfect setup on a cold winter night, sipping on some hot coffee with close friends or family.
10. Edible Landscaping (Vegetable Garden)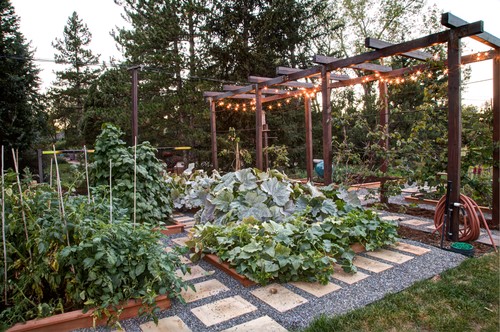 Edible landscapes are attractive options for most homeowners. Emphasizing creativity with gardening techniques, edible landscaping uses fruits, vegetable-bearing plants, herbs, and edible flowers, turning the traditional lawn into a more functional space.
When it comes to what goes into edible landscapes, almost anything does. You can convert any yard into an edible garden. You can choose many common fruits and vegetables that serve an architectural purpose and produce food.
This lovely garden features cucumbers and zucchini in the front planters and yellow and green squash in the back planters. The bed borders are made from timber, and the walkways are crushed granite and rectangular cut flagstones. This gives the ability to access the garden from the walkway without stepping into the soil.  There is an arbor with string lights on it for evening ambiance to the garden.
11. Flower Covered Pergola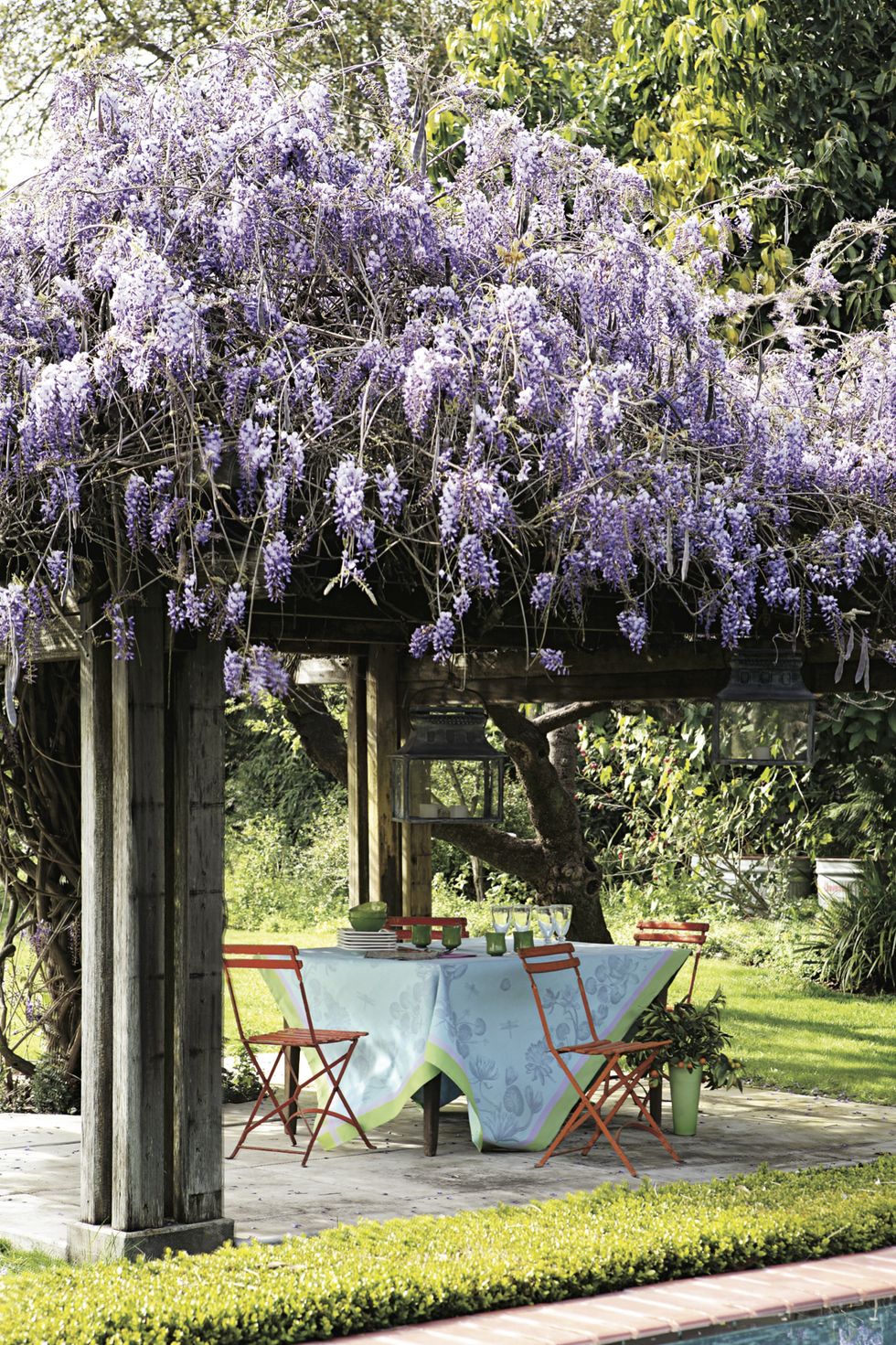 If you think of adding a few seats and a table in your backyard as part of your outdoor living space, most Green climbing plants on the roof that offer a lush background are also recommended.
12. Garden Dining Area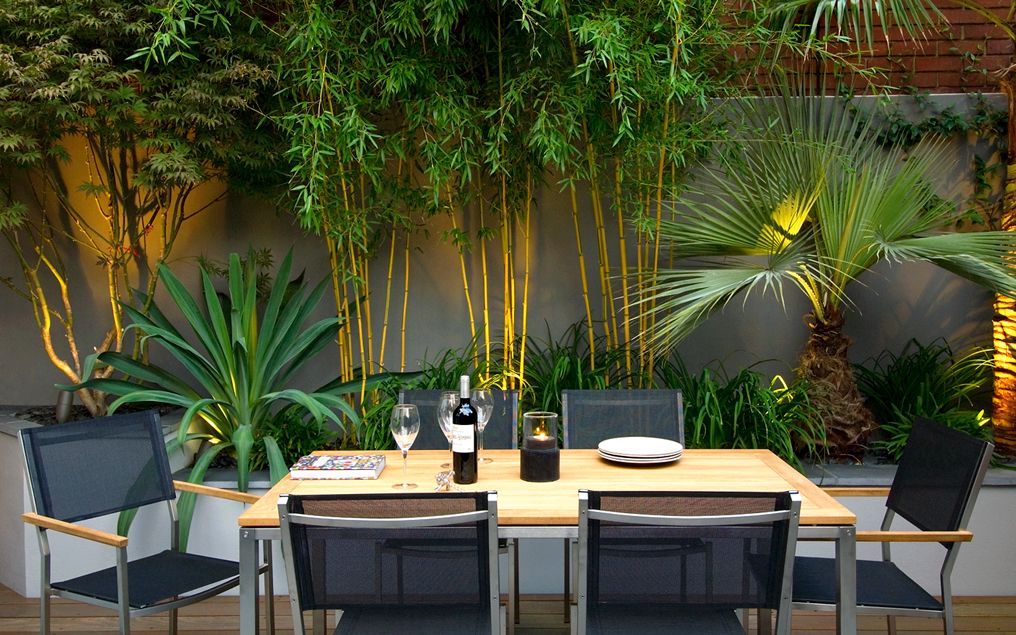 You can make a wonderful dining area for you and your family outside the house. Whether it is in your garden or backyard, it will be perfect for entertaining on a long summer day and enjoying nature.
You can also enjoy this near-perfect experience by adding a few chairs and a simple dining table. Even if you do not have outdoor dining furniture, do not worry. You can set up a rug with a simple coffee table and a few cushions around it. It is all about how it looks together in the end.
13. Garden Fountain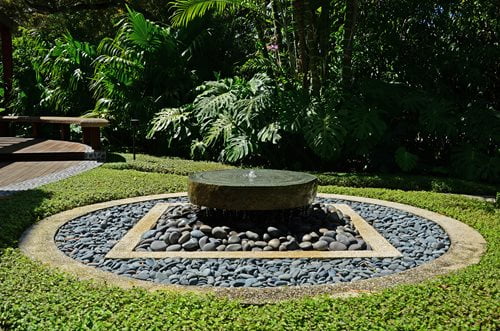 Adding a water feature brings a whole new scenery experience to your garden. a well-placed fountain can transform an ordinary garden into a relaxing outdoor retreat. Fortunately, there are so many different styles available in the market to choose from that you can easily find the perfect fountain that fits the style and the size of your backyard.
14. English Garden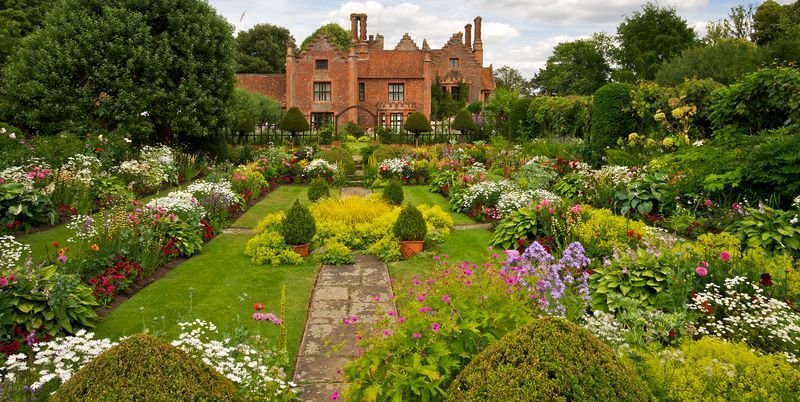 If you plan on changing things in your backyard, you can convert your backyard into an English garden. English garden usually refers to a romantic, sweeping landscape design where the land overflows with lush flowers and plants.
Traditional roses and hedges will be the most predominant feature of the garden. Tall plants, short plants, pink and white flowers, all these things can also be placed next to one another in an English garden. Anything will work if it is a beautiful plant.
15. Charming Topiaries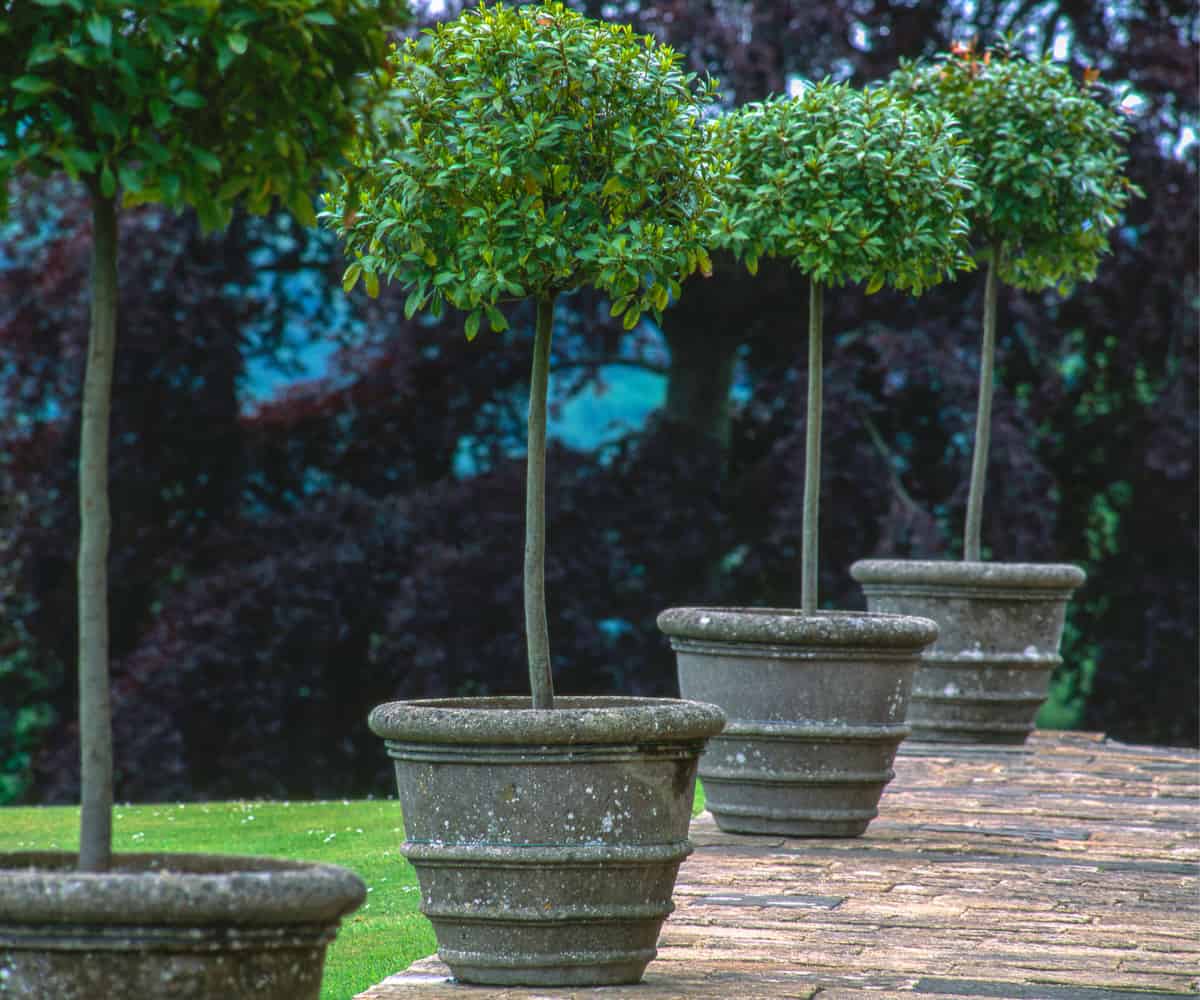 You can shear dwarf trees, shrubs, and herbs into animal forms or geometrical shapes into three-dimensional space. It can be used as garden landscapes. Creating a topiary in your garden can make the place a focal point and give a classy look. This art requires a lot of patience and hard work.
16. Timber Pavilions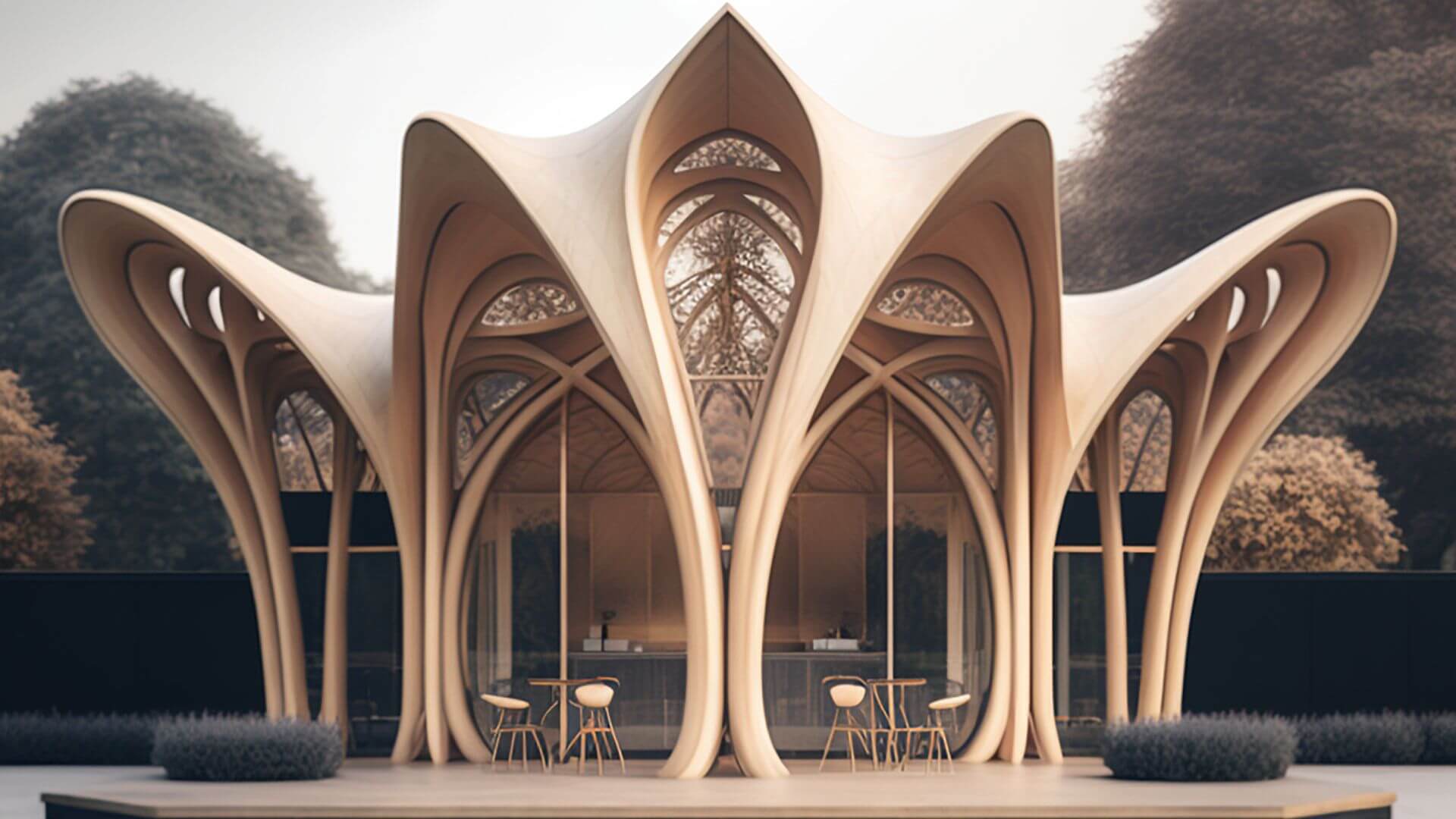 Timber frame pavilions are an exceptional backyard landscaping idea that effortlessly combines functionality and aesthetics. These elegant structures, constructed with sturdy timber frames, offer a versatile space for outdoor activities while complementing the beauty of the surrounding landscape. With their open sides and roofed tops, timber frame pavilions offer a perfect balance between shade and open-air ambiance, allowing homeowners to enjoy the outdoors in comfort. Whether used as a sheltered area for entertaining guests, hosting gatherings, or simply as a peaceful retreat, these pavilions create a focal point in the backyard, blending seamlessly with nature.
Conclusion
Converting your yard into a paradise is easy. You should try this simple landscaping idea above, and trust me, and you will not regret it.