Everybody has different tools that they use to handle snow that lands on the driveway or doorstep. A shovel, of course, is the most common equipment. But shovelings is a physically draining chore.
It demands a lot of manual work. Alternatively, two machines used to clear away large amounts of snow are leaf and snow blowers.
They will save your back from the strain of bending a thousand times to toss away snow with a shovel.
Snowblowers are specifically designed to blow away snow, as the name suggests. They are available in two kinds of models electric and gas-powered.
For people who live in areas where it snows heavily, snowblowers can be a lifesaver. On the other hand, a leaf blower is meant to clear up the ever-mounting pile of dry leaves in the garden or driveway.
Can it be used to clear snow? Absolutely. Not just snow, you can conveniently use your leaf blower for many other purposes. We would discuss them in later parts of this article. Let us dive in.
What is a Snow Blower?
A snowblower has a rotating auger that scoops us snow, which is then fed into an impeller. The impeller has a powerful fan that blows away the snow far away.
This is a two-staged blower. Three-stage blowers have accelerators that crush hard snow so that the impeller can blow it even farther. A three-stage blower can blow up to 30 inches of snow at once. Usually, gasoline or diesel is used to power snow blowers. They are compared based on power, energy source, price, and the distance at which snow is thrown.
Is a Snowblower a Worthwhile Investment?
Shovelings are exceptionally tedious, especially when there is a lot of snow. Scooping and throwing can go on for hours. But people use it because it is the least expensive and needs no maintenance.
However, if your area receives a considerable amount of snow, investing in a snow blower is a smart investment. because a snowblower will cost at least a few hundred dollars.
A quality snowblower will remove all the tediousness and rigorous work. You must ensure two things are done correctly: storage and maintenance.
If you want your snowblower to work correctly for a long time, you need to take good care of it. You would also need a separate place to store it, like a garage or shed area.
What is a Leaf Blower?
It is typically used to clear garden debris, but you can also use it to clear fresh snow from your driveway or porch. But since it is not a snowblower, you must be careful while using it to blow snow.
Here are some conditions for using a leaf blower on snow: Do not use it on hard, thick snow patches. A leaf blower can work effectively only on light, fluffy snow. The snow depth should not be more than 4 inches.
Leaf blowers usually use extension cords for power. Make sure the cord does not have cuts or exposed wires. Do not blow snow above 32 degrees, and it will be too heavy for a leaf blower.
Sale
BLACK+DECKER Electric Leaf Blower, 7-Amp (LB700)
7 Amp motor provides a powerful and efficient blowing performance
Moves up to 180Mph to 180CFM for fast and easy cleanup of leaves and debris. Uses: Ideal for...
Built in cord retention prevents frustrating interruptions during cleanup, Moves up to 18Mph to...
Lightweight at only 4.4 pounds
Air speed: Up to 180 mph; Included components: (1) LB700 7 Amp blower, (1) Blow tube. Item does not...
Sale
SnapFresh Leaf Blower -20V Cordless Leaf Blower with Battery & Charger, Electric Leaf Blower for...
Powerful Copper Motor and Turbine Tech - The SnapFresh cordless leaf blower uses turbocharging...
2 Adjustable Speeds and 2 Adjustable Tubes - The blower has a high-speed mode which has an average...
1-Stop Plan, Including a Battery and Charger - This cordless leaf blower with battery is a one-stop...
Battery Maintenance Tips - First, the electric leaf blower comes with a fully charged battery ....
Ultra-lightweight and User-friendly Design - The body of this cordless leaf blower weighs less than...
How to Use a Leaf Blower as a Snow Blower?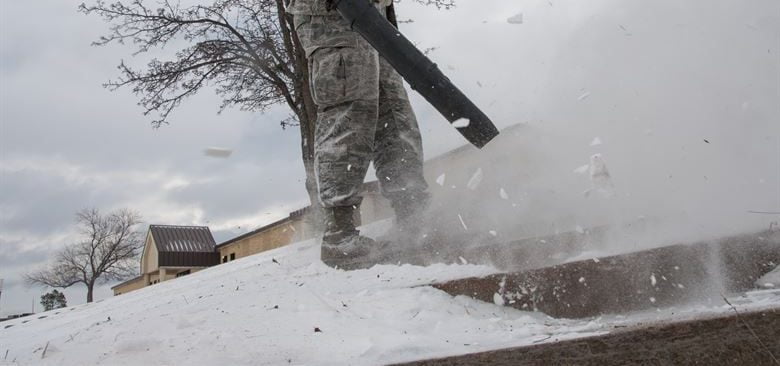 Both a leaf and snow blower can be used to get rid of snow blankets provided that your leaf blower is powerful enough, you use the right technique, and you have maintained it well.
Using a leaf blower has an added advantage. You do not have to think of investing in a heavy snow blower. It will also very conveniently used to perform its original task of clearing garden debris.
A leaf blower can be stored for all seasons of the year and help you minimize the equipment you need to maintain and repair. It is any day a better option than a shovel.
Not just the driveway, you can also clear snow off your car, garbage cans, and mailbox using a leaf blower. Snow also gets collected in small cervices that are not easily accessible. You can easily pick up your leaf blower and get rid of the snow.
A leaf and snowblower are used in pretty much the same way. Aim your leaf blower down in the sideway at a stable angle and sweep from side to side gently.
An important thing to remember is that a leaf blower is ineffective with wet snow. You must make sure that you use it while the snow is fresh.
Before buying a leaf blower to blow away snow, always check the manual beforehand and make sure it is strong enough. Most leaf blowers are not resistant to cold, but some are powerful.
Precautions
Use A Gas-Powered Blower: Electric models use an extension cord, and there is a risk of getting a shock and short circuits. Also, electrical leaf blowers are less potent than fuel-powered ones.
Weather Conditions Should Be Right: If it is warmer than 32-degree Fahrenheit, do not use your leaf blower. This is when the snow will start melting, and it will be next to impossible to clear it.
Also, always keep your leaf blower in a dry space after using it. Please do not use it in shallow temperatures either. Cold weather damages the engine, and it becomes difficult to get the machine to start working again.
Proper Storage: As mentioned earlier, the leaf blower should be stored in a warm, dry place. Let it dry completely after using it, or the wet spots would freeze to become ice and damage the machine.
Be Careful About the Brand: Your leaf blower needs to be robust and of excellent quality to blow snow. This is where a leaf and snow blower are different. Snowblowers are designed to be powerful.
Popular brands like craftsman, Echo, and Stihl offer powerful leaf blowers. No matter which brand you choose, the blower will do its job consistently only if you maintain it well.
Protect Yourself from The Noise: If you have heard your neighbors using a leaf or snow blower in the morning, you know what we are talking about.
They are LOUD. Every product list decibel, so you can compare the intensity before choosing one. Do not hesitate to wear hearing protection, goggles, and a dust mask while using it.
Keep your pets away and avoid using the blower very early or late in the day. Gas leaf blowers are noisier than electric models.
Type of Leaf Blower: It is advisable to get a powerful leaf blower with a high MPH and CFM. A backpack leaf blower will be the best option only because it can cover a large area.
Study the weather conditions in your area before choosing a model. If it experiences light snow, a decent leaf blower will do the job for you.
Snow Blower Vs. Leaf Blower: Which One to Pick?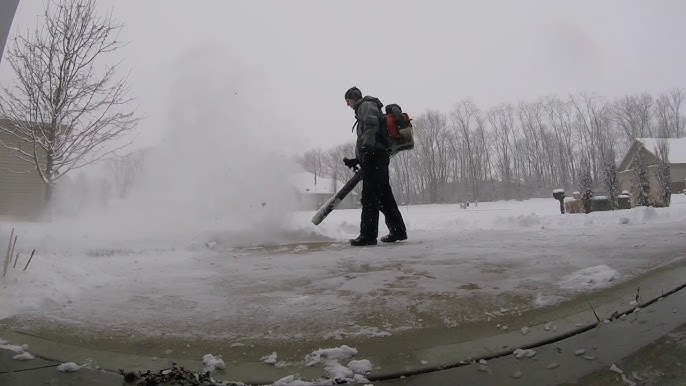 As you must have understood by now, you can use either a snowblower or a leaf blower to clear snow around your house. Both have pros and cons.
While snow blowers are excellent for large amounts of wet and dry snow, leaf blowers work perfectly fine in small places.
Snowblowers require extra maintenance and storage space, but leaf blowers are easy to handle and store.
A leaf and snowblower do not demand rigorous work. A leaf blower has quite a few limitations like temperature and snow depth.
The bottom line is that an investment in a snow blower is justified only if your area experiences heavy snowfall. If that is not the case, a leaf blower will do your job without any hassle.