Imagine it is a Sunday. The sun is out, the sky is clear. Your patio is bustling with the laughs and cheers of your friends. A cool breeze grazes your cheeks as you are handing out drinks.
Sounds lovely. Sunday brunches and family get-togethers become even livelier on the patio. While open verandas are just fine, enclosed patios are becoming exceedingly popular among homeowners.
These enclosures, when designed right, add a warm and cozy feel to the entire property. You can go in several directions to make an enclosed patio that suits your personality and aesthetic. Here is your guide to a patio that fits your home just right.
What Kind of a Patio Enclosure Should I Get?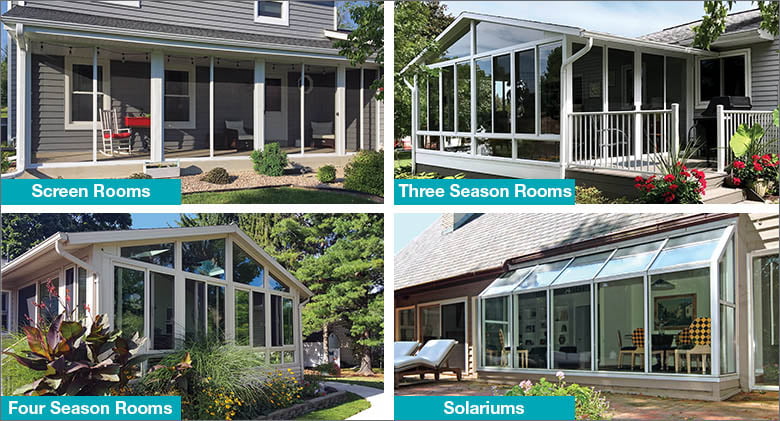 Fundamentally, there are two main types of patio enclosures. You can have a patio that is partially covered. Such a structure acts as a shelter from direct sunlight. Simply topping the patio with yawning serves as a decent shelter.
While this is one of the most basic forms of an enclosed patio, designers also incorporate screens and doorways into the patio design. Such patios not only provide shelter against wind and sunlight but also keep pests and bugs away.
The second main type of patio enclosure is the sunroom. These rooms are essentially extra rooms added to the house. The sunroom is a completely sheltered structure with large windows and doorways. They let the sun in a while, keeping the insects out.
Designers often find innovative ways to make this room as refreshing as possible. It is also easier to install temperature regulating units in such structures as it is entirely enclosed. The best part about this space is that you can enjoy them even in rainy or stormy weather.
Your choice of an enclosed patio largely depends on how you wish to use the space. If you love picnic lunches and barbecue parties out in the open, partially covered patios are best suited for you. You also have an option of retractable covers.
These coverings allow flexible setups. As per the weather and the mood, you can have your patio covered or leave it open. If you prefer a space isolated from pests and weather elements, a sunroom or a fully enclosed patio is recommended. You can use this patio irrespective of the weather outside all year round. 
Enclosed patios come with an assortment of benefits. Entertaining guests is easier and more fun on the patio. However, most people do not go beyond the occasional hangouts and get-togethers. If the enclosed patio is designed mindfully, it can serve a variety of purposes.
For instance, adding a comfortable seating arrangement along with good lighting can turn the patio into a nice reading area. You can even add bookshelves and create a small library in that space. If you are not much of a reader and instead want to use the patio as a fun place, you can place a trendy seating arrangement and install gadgets such as screen projectors and speakers to make yourself a recreational movie room.
The enclosed patio also serves as a nice alternative to the usual dining room inside the house. Especially when paired with a suitable lighting system, this arrangement can create a beautiful impression on guests.
Thus, before deciding on the type of patio you want, consider the purpose you want it to serve.
Things To Consider While Designing an Enclosed Patio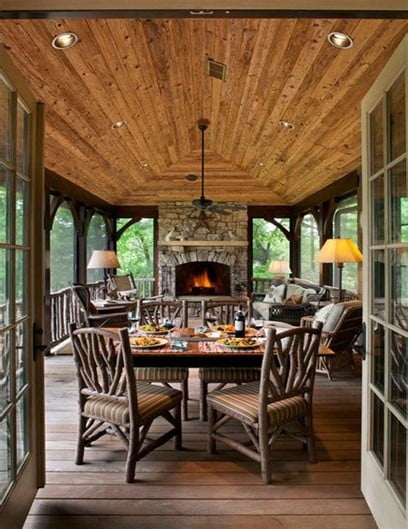 If you are going for a partially enclosed patio, the patio covering will be a canopy or an awning in its simplest form. This will be the shelter over your head. A windy region will likely necessitate you to have some screens on the side/s as well.
Of course, side coverings are not mandatory. You can skip them altogether if you want more open space. But if you do opt to have a blocking screen, consider the spots when you will need a window and a doorway.
Make sure to incorporate building material that will also protect you from pests along with harsh weather conditions. Net screens are preferred by homeowners, but glass shelters are also becoming increasingly popular. Glass shelters bring in a lot of sunlight. But this is at the cost of your privacy, and even security for that matter. Therefore, weigh your options carefully.
Patio floor is another element that you should give thought to. You are good to go if your patio is already made from concrete. If not, you will need to add sturdy, dry flooring for your enclosed space. Tiles, wood, carpet are some of the many options you can explore.
As you might have gathered, an enclosed patio turns out best if it is designed with a lot of thought. Many things must be considered if one wants to make their patio stand out. While you can work on your own, seeking help from a professional architect can make a huge difference.