Cooking Grills are one of the most critical components in the kitchen as you can use them for cooking your favorite and delicious foods. There are various kinds of grills available in the market which comes in compact sizes. 
This article will discuss the eight best compact grills in detail, which you can use along with their pros and cons.
Top 8 Small Grill Reviews
Here is the list of the best Top Eight grills which you can use in any small places or yards to cook delicious foods:
Weber Original Kettle Charcoal Grill 441001
Weber Original Kettle is one of the best grills you can purchase as this model comes with various features. This grill uses charcoal, which makes grilling much more accessible. 
Some of this grill's best features include a convenient lid hook, a triangle-shaped base, a damper for heat adjustments, etc. A pair of wheels are also available in this grill to make it easily portable from one place to another. 
That is why it is considered the best charcoal grill in the market. According to user reviews, charcoal grills can be messy, but the cleaning system of Weber Original Kettle can make it way easier. It is small, but it has 363 square inches of cooking space, enough for grilling purposes.
Overall, this grill is the best option for those people who want an affordable and compact charcoal grill. 
Pros:
A classic charcoal grills
Durable
Very easy to clean up 
Cons:
Comes with cheap quality of the wheel
Does not comes with an inbuilt thermometer
George Foreman 15 Serving Electric Grill GGR50B
The George Foreman 15 Serving Electric Grill GGR50B runs on electricity and can be used outdoors and indoors. It is considered as one of the topmost grills in the list of best grills. It is effortless and straightforward to use the George Foreman grill. It has a cooking space of 240 square inches, which can hold up to 15 servings of food at a time.
It can heat up quickly as it is an electric grill, so you do not have to wait for your food to cook. The George Foreman grill comes with a non-stick coating, a removable stand that is useful for storing the grill outdoors and indoors, and an inbuilt thermometer useful for adjusting temperatures. It has an odd circular design, which is quite complex to fit in your kitchen. 
Overall, it is an ideal grill for small functions, family gatherings, and those who want to grill foods on the balcony. 
Pros:
Used both indoors and outdoors
Electric powered
Cooks food faster 
Cons:
Odd design
Always need a power source
Char-Griller E06614 Akorn Jr. Kamado Kooker Charcoal Grill
The Char-Griller is one of the best grillers in the list of small grills. The Kamado Kooker Charcoal Grill is very compact, but it can bring Kamado's quality to the food. 
It is a charcoal grill with a size of 13.5″ and cooking space of almost 148 square inches, which is enough for cooking a family dinner. It can be easily portable, but you need 2-3 men. 
Its price is relatively high as it comes with a lifetime warranty. You can use this grill to make different meals, barbeque, or you can also use its slow cooking function to smoke turkey meat, etc. The Char-Griller comes with a durable ceramic frame, an inbuilt thermometer, and a ceramic heat deflector. 
Overall, Char-Griller is a perfect option for people interested in buying a kamado grill and do not have a lot of space to store a large grill. 
Pros:
Comes with a lifetime warranty
Two cooking options available: slow cooking and fast cooking
Kamado quality
 Cons:
Quite Expensive
Portable but heavy
Weber Electric Grill 52020001
The Weber Electric Grill is considered one of the best small grills, and it is perfect for small yards and balconies. The Weber Electric Grill is an electric grill which consists of porcelain-enameled cast-iron cooking grates with an aluminum body. 
It is effortless to assemble this grill. It comes with a long electric cord of almost 6 feet. 
The Weber Electric Grill has a cooking space of about 189 square inches, which is considered an ideal size for a small grill. One of the main disadvantages of this grill is that it can take some time to heat it.
Pros:
Very easy to use
Provides great grilled taste 
Cons:
Heat slowly
Always need a power source
Char-Broil Classic Two Burner Gas Grill 280
The Char-Broil is a traditional, compact gas-powered grill that can be considered significant for grilling. The weight of the grill is almost 43 pounds, and it can be easily portable. 
It comes with some of the best features like it has two burners, which provides some flexibility while grilling, and a push-button increases the ignition and makes grilling more comfortable. It has a cooking space of 280 square inches, which is more than enough for 7-8 people. 
It lacks some basic features like a thermometer and a warming rack. Otherwise, it is a perfect option for those who wanted to use the grill for learning purposes. 
Pros:
Affordable
Push-button ignition system
280 square inches of cooking space 
Cons:
No inbuilt thermometer
Difficult to assemble
Oddly, shaped stand
Weber Smokey Joe
The Weber Smokey Joe is one of the classical and small grills which is available in the market. It comes in the shape of a kettle and is equipped with a bottom vent and an aluminum top damper, which is used to divert the airflow.
Despite being small, it has enough space available for storing coal. It is effortless and straightforward to use this grill. 
Pros:
Affordable
Very simple to use 
Cons:
A very messy cleaning system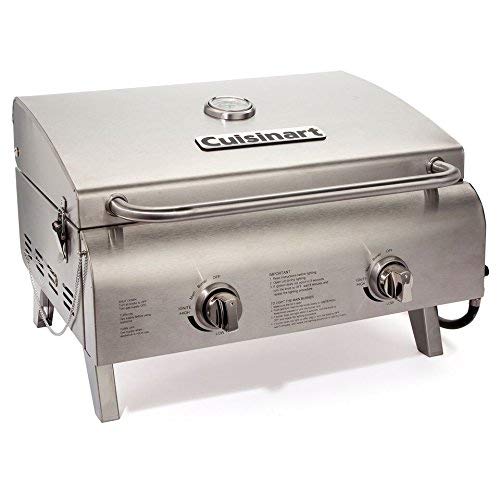 No products found.
The Cuisinart CGG-306 Tabletop Gas Grill is one of the best small grills available in the market. It is a gas-powered grill that has a perfect heat distribution across its surface. 
It consists of two burners that are accurately controlled such that one burner is set to high, and another is set to low for indirect cooking purposes. The grill is fired from a 20-gallon propane container, which gives an output of 20,000 BTU. 
Pros:
Excellent heat distribution along the surface
Cons:
Requires a twenty-pound propane cylinder
Not portable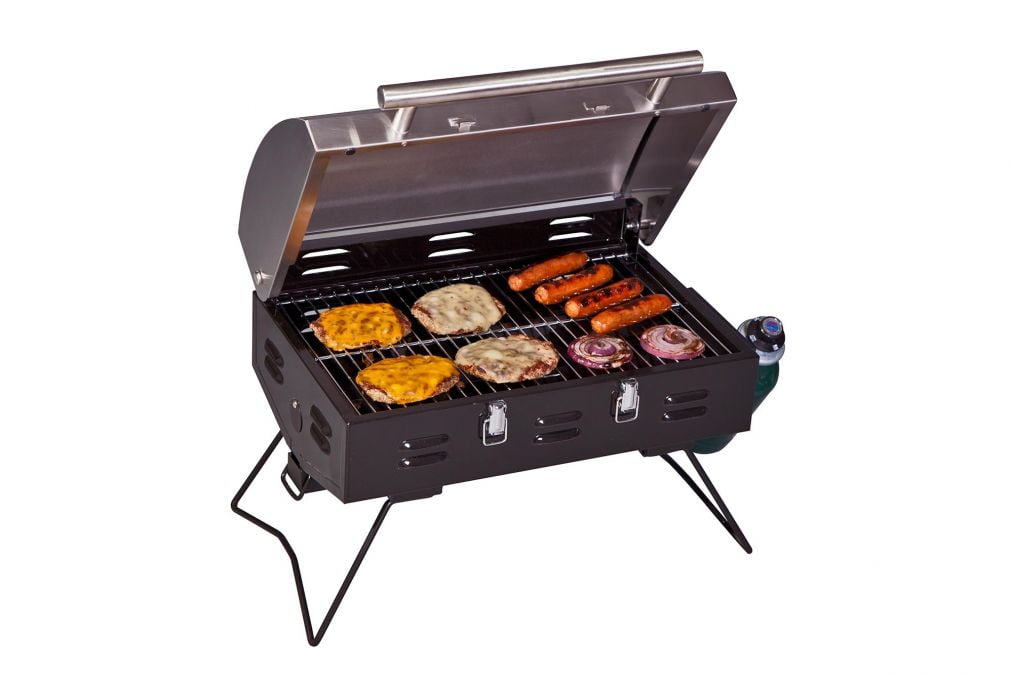 The Camp Chef PG100 Tabletop Grill is considered one of the best grills for outdoor purposes. It can be easily used while traveling. It comes with steel rod fold-out legs and two substantial clamps, which helps secure the stainless-steel lid. 
The Camp Chef is perfect for quick heating of simple foods, such as hot dogs, burgers, etc. according to the customer reviews, it is considered an ideal grill for a picnic or other outdoor purposes. 
Pros:
Compact and rugged
Best for outdoor purposes 
Cons:
Final Words
If you want to buy a right compact size and small grill that will last longer, you can easily choose any one from the list that matches your needs. 
All the grills mentioned above are exceptionally perfect and easy to use. So, you should feel free to go with any of the options. 
I hope you find this article useful, and If you did, then don't forget to share it once, and if you have any doubts/questions regarding the topic, don't forget to paste it in the comment section below. We will try our best to solve all your queries.