Just a tad less than the amount you spend on your house is the budget for your patio, that too enclosed. When you wish to have an enclosed patio, it will cost more than the open one; how much you think it looks good in your garden or yard doesn't come with less cost. 
You should also make sure that you are building an enclosed patio that does or does not require a permit. Whenever anyone tries to build anything, it comes in a way that makes you empty your pockets or your checkbook a couple of times. 
Your patio's costing depends upon various factors like the material to labors to optional add-ons in your area. 
Choose the material – If you are starting to build the patio from scratch, the material you chose will significantly affect your cost. The price per square foot can range from $6 to $30, again depending upon the material. 
The raw concrete material starts at about $6 per square foot to $17, while the bricks range from $8 to $12. If you wish to install stones, then the costing can go from $10 per square foot to $25, and the flagstone goes from $15 to $30.
These are a few examples of quite popular materials when building an enclosed patio; however, other exclusive materials might have high ranges; it is better if you check their cost beforehand. You decide to build the patio.
If you have a 12 by 12-foot patio, then a budget-friendly concrete will cost you $864, whereas a flagstone material can cost up to $4,320 before enclosing your patio. Enclosing it might cost you even more, again depending upon the material you use, additional necessary items, etc. 
Everything comes at some price; what makes them range low and high depends upon their quality, durability, longevity, and appearance. If your material is durable, of superior quality, and long-lasting, it will cost you much, and it is not much you can do about it. 
According to HomeAdvisor, the average cost to build a patio enclosure in 2018 was $15,516, ranging from $8,408 to $23,384. Not much has changed in the cost from then to now; now, the costs come slightly higher than before. However, HomeAdvisor told me that you could get all of this under just $2,890. And this is only possible if you do not buy all the luxury items; otherwise, the budget can easily exceed $30,000 more. 
This was in case you want to build an enclosed patio from scratch. If you already have an open patio, then the enclosing will cost you somewhere around $5,000 to $10,000 for fully or partially enclosing the patio, including the materials, and accounting of doors, windows, screens, roofing. 
You will most likely spend around $20,000 with the new additions of windows, screens, panels, roofs, etc. The more amount of additions you bring to the patio, the more it will cost you. 
The screens for an average-sized patio are not that expensive; if one might consider purchasing, you can quickly get them for $280. When you enclose your patios, you will require to put windows, not those windows that will break loose due to heavy wind, but sturdy, massive windows; four of these windows might cost you around $1,200 to $3,200. 
If you wish to go all premium, you may also consider the seating, decking, additional landscaping, climate control, privacy shades, and your entertainment features. 
Most governments charge $900 for more elaborated patio structures; you will not need a permit for building and enclosure. However, it depends upon your area; some regions have other guidelines like measurements mentioned to build your patio, limiting its square footage, etc. It is best to check in with your local offices first before building a patio or enclosing one. 
With all these prices above, labor work will cost you anywhere from $20 to $40 per square foot. Be it any material, labor charges are separate from that of the materials but come under the total cost only.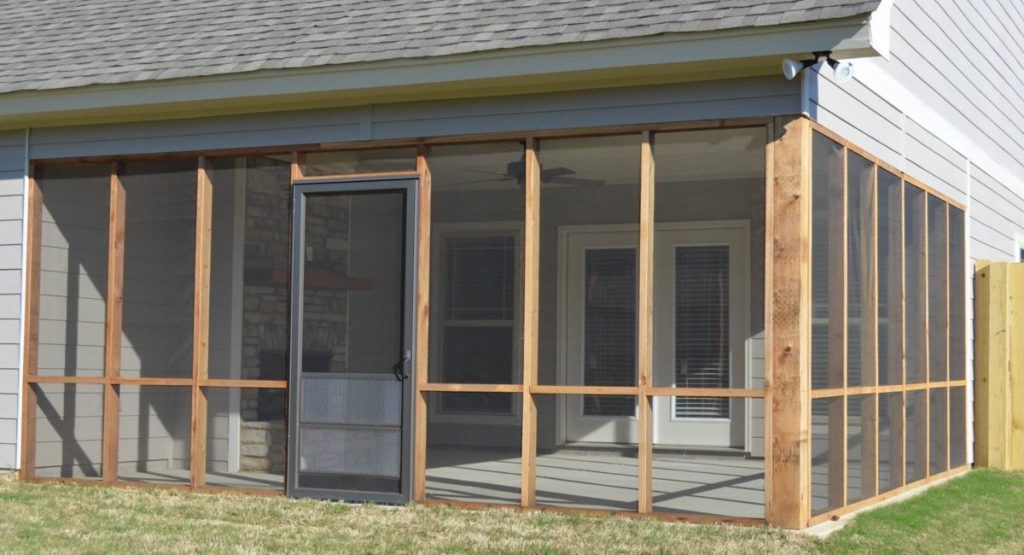 The additional add-ons like a fireplace will cost you about $1,500 to $6,500, including labor and material costs. If you wish to install a concrete patio manually, it can cost you $700 in total, and professional help will range from $2000 – $4000. 
Installing an HVAC system will cost you $650 to $4,500 depending upon the size and capabilities. You will want some greenery, and for that, you can get the planets for $120 per piece. You will need to install portable heaters during winters, which can range from $100 to $500 per unit.
Conclusion
Building a patio is tough. Not only manually but also cost-wise. Building anything costs money, not less one unless you have everything with you beforehand; it is just like making revisions and redesigning your existing home. Depending upon which material you wish to use, you can quickly check the costs of the material.
Enclosing a patio means the additional windows, doors, panels, add-ons, and so much more. You cannot cut back on these costs as they will come at a high price. You cannot merely put up any windows; you must put those up which are sturdy, can protect you from any weather while giving your patio a nice look. 
These qualities do not come at a low price; you need to empty your pockets to get these features. However, it is best to make a budget list first, including all the necessary things you may want, and then budget it accordingly.