Having a beautiful patio is just like a dream come true. One gets extra space, extra time, a pleasing view and many more. But still, most of the families are not seen using patios too much due to the heat and the rain they encounter. This ruin the entire magic of having patios, but not anymore.
There is a simple solution to this major problem and that is getting an enclosed roof over the patio built. An enclosed roof over your patio would do miracles for you. Once you get it installed you will then have to not worry about any weather conditions. You could spend time on your patio whenever you desire.
While one decides to get an enclosed roof over their patio, their major point of concern is the amount that would be spent on getting it fixed. So today in this article we will try to deal with that aspect of the subject. On an average it is advisable to have saved somewhere around $10000 to $50000 for your roof over the patio.
The cost completely depends on the quality and the material you use. So, let us dive a little deeper on the subject and try to find an estimated number required to get an enclosed roof over a patio.
Average Estimated Cost Details
By now you might have already guessed an estimated figure in your mind by glancing at the factors that influence the cost of setting an enclosed patio roof. 
Based on the above statistics discussed, it is usually assumed that building an enclosed patio roof can somewhere range from $10000-$50000 depending on the choice of material, size, length, and other similar factors.
On an average if one chooses for a low maintenance wood patterned or aluminium material it may cost somewhere around $8000 to $12000 for an estimated area of 20 by 20 feet.
Later if you decide to add a screen it will result in an additional count of $5000 to $7000. Then choosing a patio cover will result in somewhere between $50 to $2000. Henceforth the overall average cost can be assumed anywhere between $10000 to $50000.
Understanding Patio and Enclosed Patio Covers
Patios are usually a spread of outdoor space often referred to as courtyard, forecourt, or yard. This is an extra space that is used for dining or to celebrate special occasions. Patios can be either constructed at home or can be ordered readymade and then installed. 
Generally, patios are open which makes it difficult to rely on during summers and rainys and thus the need for enclosed patios emerges.
Enclosed patios usually refer to an extra room built over a patio that already has a roofing system. The patio enclosure can be made of cement, pavers, bricks, and various other materials.
Factors Affecting the Cost
The cost of building enclosed roofs over patios eventually depends on the materials you choose to use. Not only that various other factors influence or accelerate the cost of the building. And in this section of the article, we are minutely going to study it.
Roof Size
The size of the roof you plan to build is a very important driving factor that estimates your overall cost. Usually, an estimated survey states per square feet to cost somewhere between $15-$55. So accordingly, one can calculate based on the size they choose to spread the roof cover.
Materials
There are several types of materials that can be used to build an enclosed patio roof. Different materials influence the cost differently. The aluminium patio roof is said to be the most affordable one, as compared to the other available materials. 
A normal basic aluminium roof for an area of 20′ x 20′ may cost somewhere between $6000 – $10000. Whereas a wooden roof may cost somewhere around $5000 – $10000. Similarly, you may have variations in cost for different materials.
Complexity
How complex your enclosed roof structure formation is supposed to be designed is another cost influencing factor to look at. The more complex your design or formation of the roof is the more well-finished materials will be required. Which will eventually accelerate cost.
Shop Amazing Enclosed Patio Roofs for Your Home
1. COOL Spot 11'x11′ Pop-Up Gazebo Tent Instant with Mosquito Netting
2. TANGKULA 9/10FT Patio Umbrella Screen
3. KANAGAWA 7'x13′ Sunshade Sail Rust
4. ABCCANOPY 10×12 Patio Gazebos
5. Shade&Beyond 8′ x 10′ Sun Sail
Points to Remember.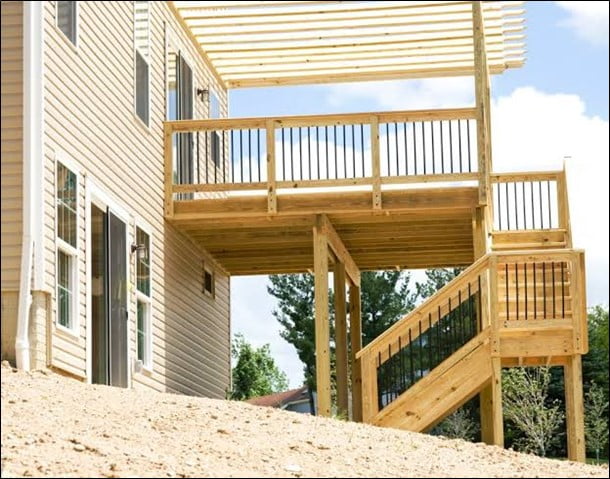 If you are reading this article, then it pretty much means that you are looking to plan your budget to get your enclosed patio roof built. The choices you make in terms of materials, roof height, etc. are the biggest reasons that influence your budget. So, if you are looking to ease your budget then do consider the following points that will help you have a planned and affordable budget for patio roofs. 
Remember to have finalised the roof size of your patio priorly as that will give you a general idea of the total cost that may incur.
Choose materials that are of good quality. Although that might prove to be a little costly but will help you in the long run.
Do not forget to take professional help. Doing so will lessen your burden.
If you are confident in the fact that you can yourself create the enclosed roof over the patio then get your materials collected to one place and begin doing that. Only if you trust your skill otherwise it can prove to be a great struggle.
Check out this article to understand the cost factors in detail.
Video References 
Conclusion
Cost is the foremost thing to look at while planning your practice or activity for any new venture. When you have an estimated ratio in your mind you feel confident and sufficient carrying your practice.
Building an enclosed patio roof is a great responsibility especially in terms of cost. So, staying pre-planned is the best way to avoid any instant moment crisis.
We hope that this article proved to be of some help in assisting you to find your estimated cost for building an enclosed patio roof. If still, you have any doubts regarding the subject, please feel free to use the comment section below to voice it. We will get back to you at the earliest possible with the best available knowledge on the same.
Hope to hear your joyous stories of spending quality time with your near and dear ones on your patio.
Happy Reading!