There's a reason Grandma always had a ceiling fan — they can slash your energy costs while making your room feel several degrees warmer or cooler, depending on the season and the direction of the fan blades. But Grandma's old fan would look out of place in a modern home. You want something sleek, stylish, and modern, not some disco-era atrocity.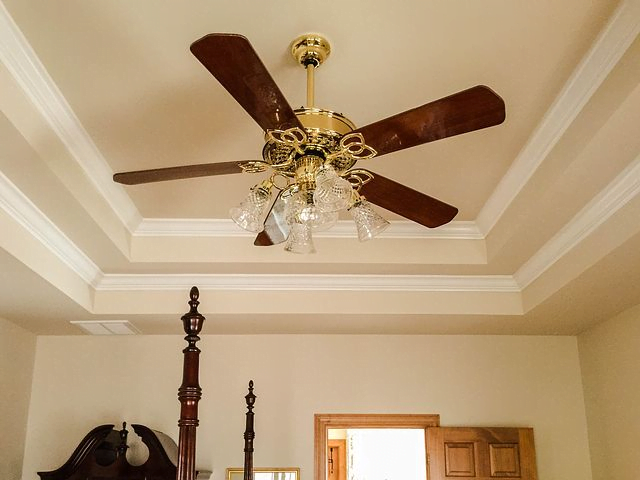 Fortunately, it's not hard to find a ceiling fan that looks nice and works well with your room and decor — not these days. Designers are producing fans in an array of designs and styles, so whether you're going for a traditional, cottagecore look, a tropical beach vibe, or a minimalist, modern look, you'll have plenty of fan designs to choose from. When you're choosing a ceiling fan, match it to your furniture or to your home's architectural style. Make sure it's the right size for the room, so it doesn't overwhelm the rest of the decor — but don't be afraid to make a beautiful fan your design focal point.
Match the Fan to Your Home's Architectural Style
Do you live in a Victorian home? What about a craftsman or a ranch-style home? Do you happen to have lots of plants at your home? One of the best ways to make sure your new fan looks great is to buy one that matches your home's architectural style. So if you live in a mid-century modern style home, you might want to choose a modern, minimalist fan design. If you live in a downtown loft apartment built in a converted factory, a fan with a more industrial look might be best. If you're in a beachside bungalow, choose a tropical design.
Of course, there are most likely many fan styles that could fit with your home's architectural style. To really tie the room together, choose a fan with finishing elements that match those of your home — for example, grab a fan with the same dark, cherrywood finish as your hardwood floors and trim, or one with a brass motor housing that matches your doorknobs and light switch plates. As long as some element of your fan matches some element of your room, it will look like the fan was carefully chosen and put there on purpose.
That said, installing a new ceiling fan is also an opportunity to create a new focal point in a room's decor. Most fan designs are understated and minimalistic, because in most cases, homeowners don't want to call undue attention to the fan. But you can also buy beautiful conversation piece fans that will draw the eye and make the room pop. Of course, these types of fans are best hung in larger rooms with higher ceilings — a large, elaborate fan could make a small room feel too small, even if it's a really nice fan.
Consider the Ceiling Height

If you have a normal ceiling height, you can probably go with any fan — most come with a short downrod that allows you to hang the fan at the optimum height of about eight to nine feet off the floor. If you have a low ceiling, however, you're going to need a low-profile, flush-mount ceiling fan — otherwise it will loom in the center of the room and endanger the scalps of those walking under it. If you have a high ceiling, though, plan to purchase a longer downrod so you can mount the fan at the optimum height for airflow and aesthetics.
Get the Size Right
When you're choosing a ceiling fan, the size of the fan is just as important as the design, color, number of blades, light fixtures, and functionality. A fan that's too large for the space it's in will make that space feel too windy, while a fan that's too small to do the job just won't, well, do the job.
Measure the room or space where you intend to put your fan to determine the square footage. Ceiling fans are measured across the entire width of the blades, from the tip of one blade to the tip of the corresponding blade. If your room is under 75 square feet, stick to the smallest fans — 36 inches wide or smaller. If your room is 76 to 144 square feet, you'll want to look at fans 36 to 42 inches wide. If your room is 145 to 225 square feet, you'll need to look at fans 50 to 54 inches wide. And if your room is larger than 225 feet, you'll need to shop for fans 60 inches or more wide. Fan sizes start at about 28 inches and go all the way up to 90 inches or more to accommodate the largest great rooms.
Ceiling fans these days have some sleek new looks. Whether your design aesthetic is more traditional, more industrial, or more mid-century modern, fan designers are offering plenty to choose from. Choose a fan that looks nice in your house, and so you can enjoy looking at your fan as much as you enjoy the breeze it creates.