Patio renovation can turn your budget upside down if you do not factor in the best products in the market.
From adding extra covered space, warming indoors, fitting in gym equipment, and indoor plants, preventing the entry of birds to enhancing the aesthetical beauty of your property, the benefits of patio enclosures surpass the market cost.
Yet, on practical grounds, it is important to understand what makes one enclosed patio enclosure costly than the other. After all, your home renovation budget depends on every change you introduce.
So, let's find out…
The Size
How much space does your patio cover? Equivalent to a small room or a big patio deck with a swimming pool? Depending on that the size of the patio enclosure will be decided and hence the cost.
This is a one-time investment and thus compromising on the best size to save some bucks would turn costly for you. Do not forget to consult the building contractor for the feasibility of installing a patio enclosure depends on the space available.
In an otherwise case, you may not receive the desired benefits. Also, the possibility of an expensive patio repair or replacement increases.
2. Material
There is no scarcity of materials in the market. Glass is one popular option with a frame made of wood, vinyl, or even aluminum frames. IT would be better if you will go with some wooden gate designs. It is not just a costly option but not recommended if you have kids and pets at home. Also, if the lack of privacy in your backyard is a permanent concern.
Look for material that is durable and can withstand harsh weather like rain, sunlight, snowfall, and does not dislodge against strong winds. Ask your patio or pool cover installer for the best materials in the market.

3. Roofing
If you are extending your roofline, then some extra construction work is unavoidable. For instance, the home roofing material should match with the extended roof. Alternatively, you can also consider an insulated patio roof installed to keep indoors warm and cozy for you and your family.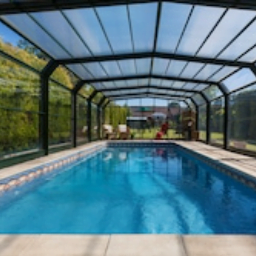 Each option has a cost attached to it. Consider the option which does not dent the overall beauty of the property and the strength of the roofing system.
4. Flooring
Concrete is a popular flooring material that has immense durability and lasts for years. Modern architects recommend paving stones that are available in plenty of colors and designs. Anything that adds strength to the flooring and complements the beauty should be a good option.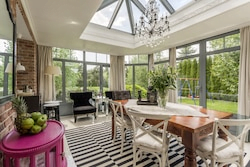 5. Extra features
Want to make your patio the centerpiece of your property? the options are endless in the market.
Glass windows
Sliding doors
Ceiling fans
Skylights
Home gym equipment
Indoor garden
It is all about the actual purpose the patio serves for the property owners. Put a central table and pull a couple of chairs to dine with your family. Host a pool party, dance, and drink all night without missing the pristine beauty of the surroundings in your patio.
Wrapping up
Having a patio enclosure or not is a call homeowners can make. You can save extra bucks if you have old construction material stored and other glass supplies. Talk to your interior designer and building contractor for a great deal without exceeding the budget.
Leave your comments in the section below: