Planning an outdoor space project can be challenging when the landscape is also included, and you need to figure out how it can be made into a heavenly space. 
For that, there are many things that you will have to get done, and lightning is also one of them. You might also be wondering about the lighting that you should choose and buy for the best result.
Ring spotlight and floodlight are the 2 most common types of lights used by house owners. 
But before advising you to buy one of these, and not the other one, you should educate yourself about both, so you may choose the one which suits your cause perfectly. In this article, we answer all your questions related to ring spotlight and floodlight.
Ring Smart Lighting – Spotlight, Battery-Powered, Outdoor Motion-Sensor Security Light, Black...
A battery-powered spotlight that shines 400 Lumens of brightness on driveways and other areas when...
Ring Bridge, Ring Alarm Pro, Echo (4th Gen) or Echo Show 10 (3rd Gen) required to enable smart...
Add this to any Ring Smart Lighting Starter Kit with Ring Bridge so you can get notifications,...
With the Echo (4th Gen), Echo Show 10 (3rd Gen), or Ring Bridge, you can connect this light with...
Spotlight installs in minutes with a wire-free design and included toolkit to illuminate your...
What is a Spotlight?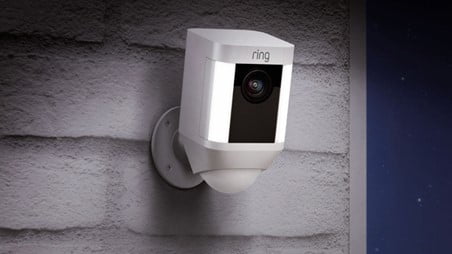 A spotlight produces a strong beam of light used for laminating a particular space or object. A spotlight can be used for landscape property to highlight fences, statutes, trees, plants, fountains, etc. Spotlights are suitable for short distances, and they come in a variety of sizes, types, and functionality. Getting the one which suits your need the best is ideal.
Here are 7 factors that will help you determine an ideal spotlight.
1. Purpose
It is vital to understand the purpose of the spotlight before buying it. As we know that spotlights are versatile but getting one that works best for your purpose is mandatory. Spotlights can be used for strengthening house security by using outdoor CCTV cameras. They can always be used for lighting your property, like the backyard, patios, gazebos, and more.
2. Brightness
Sometimes, even the most expensive LED light will not satisfy your need for the light it emits; this means less brightness than expected. Most of us look at the watt and then assume, higher the watt brighter the light it produces, which is not very true. Instead, it would be best to look out for the 'lumens,' which is used to determine the amount of light a source can emit.
3. Battery Type
This factor decides the duration a spotlight will run. No surprise that every type of spotlight runs on the energy that a battery has. Batteries come in 2 forms, rechargeable and disposable. Both work perfectly; nothing gives a major advantage to any of them. Although a lithium-ion rechargeable battery will have a longer life span and retains the charge longer.
4. Size and Weight
The size and weight of a spotlight may relate to its functionality and practical use, although not necessarily. For most cases, size and weight do not matter unless the purpose for the use of the spotlight is crystal clear. If you require a spotlight for your backyard, then a relatively bigger size is better. Similarly, if you need the spotlight for your outdoor adventure, a small and lightweight spotlight is the best to carry.
5. CRI Rating
CRI means color rendering index and is vital for lighting inside your house and other such places. CRI determines the ability of light to reveal its colour; in simple words, how much white is a white LED light? CRI will help in this. A perfect one should be 100 on the CRI index, while spotlights are around 80 to 90 on the index, acceptable since they are used outside the house.
6. Beam Difference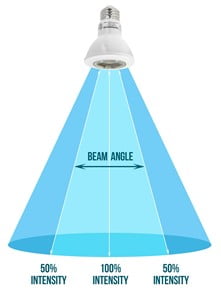 A ring spotlight is ideal for projecting it to a specific place. The beam of the ring spotlight cannot go beyond 45°, meaning it is suitable for places where there is less or maybe just one thing that needs lightning. The floodlight can project and light up a far greater area, and it can go up to 120 degrees. The vast beam of floodlight can be used to light up the whole area of your garden easily, without any compromise in energy and light.
7. Coverage Area
You know that a ring spotlight is not built for covering large areas, but a floodlight is. Therefore, you must also estimate the amount of area that can be covered by a floodlight in your garden; less or more illumination will not work; something close to perfect is ideal. 
For that you can take the help of a professional or even read the information displayed on the site selling floodlights, they've all the necessary information ready for you.
Even a formula to calculate the coverage area can be used. Distance from Bulb x Beam Angle x 0.018(constant) = Beam Width (in feet)
Conclusion
Both a ring spotlight and floodlight have their unique uses and ability. To light up the front of your house or the whole backyard wall, a floodlight would be the best fit, but for statues, trees, or things like that, a ring spotlight can be the optimum option. 
Many people use both accordingly to achieve the aesthetic look which they desire. You should choose the light that can best fit your outdoor garden space while keeping in mind the things we mentioned earlier.