Winter evening in most regions leads to darker and longer nights, encouraging us to install appropriate lighting outdoors.
Summer is the right time to find the right type of lighting for your outdoor spaces as there is more time for you to make your decision. Good lightings are best for security reasons but are also great for your garden.
Adding some ornamental lightings will turn your garden into a decorative backyard that is safe and attractive.
You may need to choose from many lighting options to install the right outdoor floodlight. This blog will help you find the right lightings for your household, so your house keeps lightened throughout the night.
What is a Floodlight?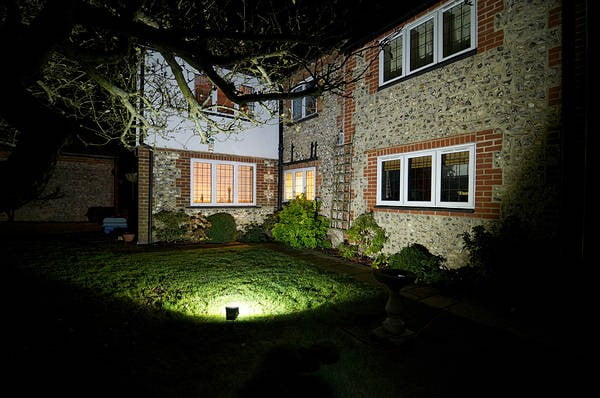 LED floodlight is a lamp designed to cover a wider area of a place and is suitable for households with spacious gardens. Several types of floodlights should be chosen according to the size and shape of your yard.
The floodlights are mainly used for large stadiums and parks, but you can also see them at large warehouses and garages. The floodlights are commonly used for security purposes where plenty of lighting is required.
What is a Spotlight?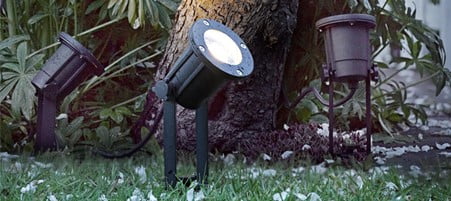 Spotlights are usually used in smaller spaces and can only exceed up to 45 degrees, and the width can only exceed up to 25 degrees. Spotlights are popularly used to illuminate certain objects or highlight a specific thing to make it look more appealing.
The spotlights are commonly used in exhibitions, malls, or to highlight sculptures in museums. These spotlights can be used to highlight architectural pieces in your home, doorways, and statues.
You may also need spotlights when you do not want to disturb your neighbors and wish to limit the light to your garden.
Spotlight Vs Floodlight
Confused between ring spotlight vs. floodlight The decision of choosing the best outdoor lights might seem tricky as both spotlight and floodlight have their own advantages and benefits.
Ring spotlights are best for houses having fewer outdoor spaces or if your wish to limit your lighting only to your doorways or doorsteps.
Floodlights are popularly used today for personal and commercial purposes as they have a large variety of floodlights that match every household's needs.
Considering some points can make your decision making the process easier and effective, so let us consider some factors before you make a choice.
What Should Be considered Before Choosing Outdoor Lights?
You must consider several factors before investing in a light for your outdoors. But the most common ones are:
Location
The area you will be considering installing a spotlight or a floodlight can make your decision much easier. Consider the area you wish the light to cover, the height of the area, and the angle of that area.
Once you have decided the place you wish to install the light, now decide the size of the light and which light will best cover that area.
If you wish to cover a large outdoor space, then floodlights are the best outdoor light for you, and if you are planning to cover a smaller area, then the spotlight might work best for you.
The Activation of the Lights
As the technology takes over, the floodlights are gaining popularity on how they get activated. Some lights can be activated manually, and some lights have motion sensors.
Lights that activate when someone walks are very beneficial as they can also help you save a lot of electricity. The 'dusk till dawn' floodlight is activated when it gets darker outside and switches off in the morning.
The choice of activation of lights depends on personal preferences, but the most popular ones today are the ones that are energy efficient.
Brightness
What amount of brightness do you want? Ask yourself before you install a floodlight or a spotlight. Floodlight has several differences in the type of brightness that ranges from 700- 20,000 lumens.
The amount of brightness you will want to have will depend on the location and space you consider. Personal spaces only require 700-1500 lumens, and commercial places like parking spaces or parks would require more brightness.
Budget
This is the most important factor you should consider before making a purchase. What is your budget for outdoor lights?
Start by researching the prices of both types of lights and choosing the one that fits your budget and all the above factors.
A spotlight is at a lower price level when compared with floodlights. However, floodlight offers more brightness and features when compared to spotlights.
Brand
Which brand is most trustworthy? Several brands offer quality floodlights and spotlights, but you may have one brand in your mind. Everyone does.
The most popular and trustworthy brands are Maxsa, eLEDing, cooper lighting, micro solar, and sun force.
Conclusion
Choosing the best outdoor floodlight or spotlight for your garden depends on personal preferences but floodlights offer more features such as size, brightness, sensor, brand, and price.
Spotlights are great to illuminate and highlight a specific pace or a thing but would also work great to cover a place that needs limited lighting.
Considering the above factors may help you in choosing the best outdoor lights for your house.