The exterior of your home will always be the first thing people would see. Whether you want to provide your home a facelift or you plan to sell it in the future, it's necessary to choose a suitable exterior paint.
Considerations In Choosing Exterior Paint
A fresh layer of paint can work wonders on the overall curb appeal of your property. Although some brick houses won't require new paint, exteriors in siding or stucco might need one. If you find the available colors overwhelming, some considerations can help you find the right exterior paint that's worth your money. Here are several factors to check out when selecting the ideal exterior paint for your home:
1. Durability
When it comes to durability, it's a factor worth considering since the exterior paint will undergo constant exposure to various elements. If you're going to invest in a fresh layer of paint for the exterior, you should know if it's going to last.
The best way to ensure how long the paint will last is to check the number of years the manufacturer states in its warranty. The varying warranty periods indicate different levels of quality of the coating. When the warranty is a short one, expect low-quality paint.
If you find it challenging to select the suitable exterior paint for your home, checking out Ring's End Guide and other product guides would greatly help.
2. Latex Or Oil
If you're deciding between latex or oil, you might be surprised you can barely find the oil-based variants in the local stores these days.
One reason why oil-based paints are no longer on the mainstream is because of the stricter government regulations on volatile organic compounds (VOC). Additionally, oil-based paints couldn't compete with the superb performance of acrylic products today.
Good acrylic paint can remain flexible in various scenarios in which oil-based paints can't. Acrylic paints are better at expanding and contracting with the surface under them. Other notable features of acrylic paint that make it stand out include:
Retains color and glass longer
Higher tolerance to low-temperature application
Resistant to mold and mildew
Easier cleanup
3. Retention Of Color And Gloss
Constant exposure to direct rays of the sun can cause the binder and pigment of the paint to deteriorate over time. As a result, it'll eventually chalk and lose its glossiness. Most paints in the market will lose a certain amount of color and gloss over time, but low-quality paints will lose them earlier than the better-grade variants.
Both latex and oil-based paints that aren't 100% acrylic are the main offenders. If you want to stay safe, you should pick a mid-grade 100% acrylic paint for your home.
4. Sheen
When it comes to the different sheen types, you should use the right one for your home. Here are some considerations:
Flat. The flat paints are the right choice if you want to conceal any imperfections on the exterior surface.
Satin/Eggshell. These options are the most popular sheens in most houses. Both provide the ideal balance between sufficient shine for washability with minimal glare. Generally, these are great options for the siding of your home.
Semi-gloss/gloss/high-gloss. Some homeowners tend to avoid any shiny paint for the siding due to the distracting glare. Nevertheless, the glossier paints usually have a harder film, better durability, and less porous. These paints are the best choice for the windows, doors, and trims since they undergo constant use and exposure to snow and water.
5. Coverage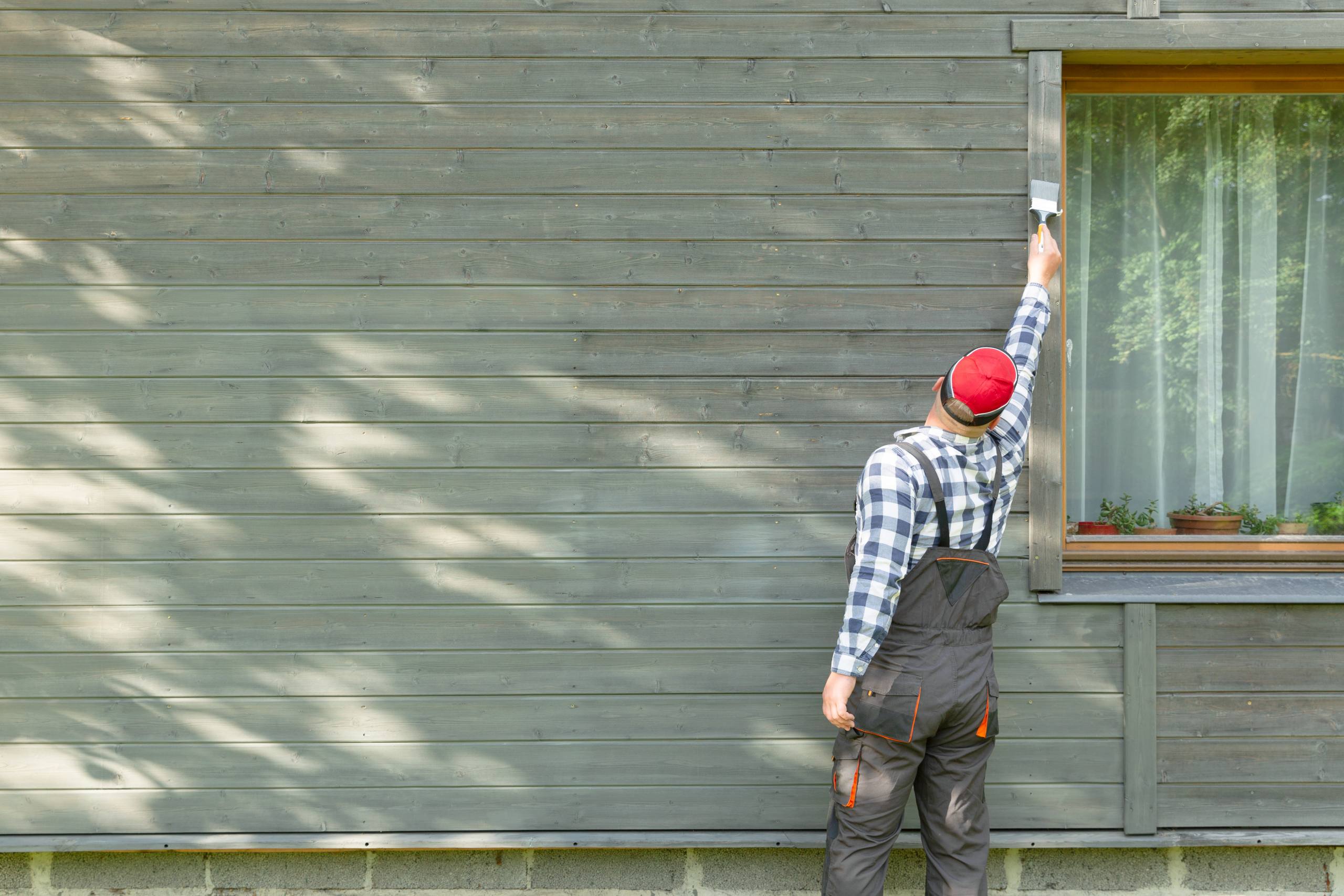 If you've heard about one-coat coverage paints, it might seem an appealing choice for your home. Sadly, this type of paint is unsuitable for all situations and doesn't apply in the same way as traditional paints. Nevertheless, if you decide to use one, make sure you'll apply it correctly to achieve the best results. In some scenarios, though, they can't last long.
In case a one-coat coverage paint isn't the right choice for the exterior of your home, you might settle for a good primer followed by two layers of good-quality 100% acrylic paint with color concealing capabilities. Through this approach, you'll achieve uniform coverage for your home's exterior.
6. Moisture And Temperature
When your painting project falls in the spring or fall, most exterior paint options have a technology that allows you to apply them even if the surface and air temperature are 35 degrees or higher.
It can be detrimental to the overall outcome to continue painting even if it's raining. Luckily, some of the latest products in the market boast moisture-resistant properties that allow you to paint despite the raindrops. Nevertheless, it's still best to stop painting if rain is likely to occur within 1-2 hours.
Conclusion
When you have an upcoming paint job on the exterior of your home, it's crucial to find the right exterior paint that's worth the investment. The initial step is to do your research and read comparison reviews on specific paint products you're considering for your home. By assessing these factors during the selection process, it'll help you along the way in finding the suitable paint for your home to give it a fresh look you'll love.