Do you want to make a relaxing, low-maintenance Japanese garden in your backyard? Japanese gardens have a unique style that makes them different from other gardens. The garden incorporates a sense of balance between plants, water, and rocks.
The ambiance is simple and serene. They are designed to make one feel relaxed and peaceful. In this article, we will look at some Japanese garden ideas to help you transform your mental and spiritual life.
Elements for Japanese Garden Design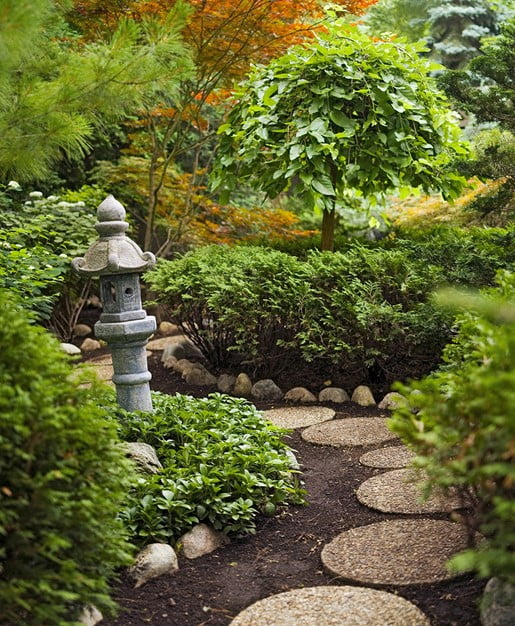 If you want to create a beautiful Japanese garden in your backyard, then an understanding of some important elements of a zen garden can help you make a start. These elements come all the way from ancient Chinese literature. So, before we get into Japanese garden ideas, let us explore its elements.
There are six such elements:
Seclusion
a Japanese garden aims to create seclusion, which is obtained by creating small, enclosed, cozy areas. Japanese gardens are usually smaller as compared to other garden designs so that it is secluded from other areas.
Artificiality
This includes creating artificial landscape elements like trained or pruned trees, creating gardens' hills, artificial rocks, etc. Artificial elements are an essential part of Japanese garden ideas.
Antiquity
It involves the use of old statues and objects, which include old stone pathways.
Waterways
You will find water in almost all Japanese gardens. Water can be present in streams, ponds, fountains, waterfalls, water containers, and water bowls.
Panorama
This refers to creating an elevated area in the garden so you can overlook the garden and see it in its entirety. This can be achieved by building a deck.
We will include all these elements in our guide to Japanese garden ideas; let's see what we have got!
Tips To Create a Japanese Garden at Home
Keep It Natural
The best tip for a Japanese garden design idea is to follow the principles of nature. Try to keep the design as natural as possible. Japanese gardens are not about modernity. They are about taking nature and styling it to fit your garden space. This is why a Japanese garden is excellent for small spaces.
Japanese gardens mimic nature, so you will not find fountains, squared ponds, and metallic structures. Everything is used as a natural setting.
Pruning
The second tip is the careful use of trees and shrubs. They should be modified to fit and complement a small space. The trees can also be used to screen off undesirable parts of the garden. Evergreen shrubs give a year-round color to the garden.
Water Features to Create Zen
Water can be moving water, such as in a waterfall or even still pond water, to bring a sense of calm and reflection. Make sure that it is in scale with the garden and looks natural. A huge waterfall in a tiny garden looks unrealistic.
Rocks for Symbolism
Rocks frequently feature in Japanese garden designs. The rocks symbolize nature in the form of mountains. It is advised to group rocks together in threes or fives to get a better structure.
Statues, Buildings, And Other Structures Should Be in Scale
If you are going to use statues or buildings in the garden, make sure they are in scale with other garden components. The structural pieces should not take away from the natural feeling of the garden.
Limit The Flower Colour Palette
Flowers can sometimes overstimulate the senses. A Japanese garden gets its color from the foliage and not through flowers. If you fan flowers and want to grow them, you can squeeze a few showy flowers. You can also grow plants that bloom at different times.
A Tea House
Japanese gardens often have secluded structures that provide an intimate space. Ideally, placing such a structure provides a path that is traveled to reach a peaceful place. There are space constraints in modern gardens, so it is not easy to create that path. The garden entrance should be defined as far away from the structure as possible. Use winding stone paths to create a pathway.
Plants For a Japanese Garden
Every authentic Japanese plant will work for the garden. It goes without saying that a Japanese maple will look great in your garden providing year-round interest. Other plants that will play a role in tying the garden together are – bamboos, Japanese privet, cherry trees, etc. Choose a variety of evergreen plants and deciduous shrubs so that the garden has a structure and does not look bare in winters.
Designing the Garden
Start with laying out a pathway for the garden. Make sure no object obstructs the vision in the path.
The next step includes using natural features such as hills, boulders, and water. Dig a pond, use rocks and utilize anything already present in the space (like an elevated region). Identify the hardscapes that you would want in the garden and start deciding a place for them. You can incorporate a tea house with a bridge here.
Next, fill up the garden with green Japanese plants. Place the plants irregularly to get a natural feel. Lastly, add some final touches like benches for relaxation, lanterns, etc. There you go! You have an authentic Japanese garden in your backyard!