What are Japanese gardens? It is a natural composition based on five components: a thought (spiritual part) and a material. The material component includes four elements: water, plants, stones, and architectural structures.
All these symbolize the unity of man and nature. Japanese gardens can be of three types: flat, mountainous, and rugged. Each of these types has distinct characteristics:
The flat type is an entirely flat area. The world of earthly nature is represented by stones, trees, water sources, or reservoirs. Decoration – stone lanterns, garden sculptures.
Hill View – Combining Hill and Water. It can be hills with a waterfall, streams running down a pond.
The Crossed Garden is a miniature recreation of the mountainous part of Japan. There is a reservoir with an island, artificial mountains, lanterns, pathways, bridges. It is advisable to arrange tea houses with traditional Maksoobai (bowl for handwashing) and bamboo fences.
When one thinks about making a garden, the best choice for this is a Japanese garden. These types of gardens can provide the best place where someone can relax and meditate. Relaxing and doing meditation in these gardens can help one gain inspiration and be fully motivated.
But there is a question in everyone's minds that what type of Japanese Garden will be the best? Do not worry about solving this problem; here, we will provide you the best Japanese garden ideas from which you can go through and select the best Garden for the backyard.
Japanese Garden Landscaping Ideas
1. Fishpond or Koi Pond with a Beautiful Waterfall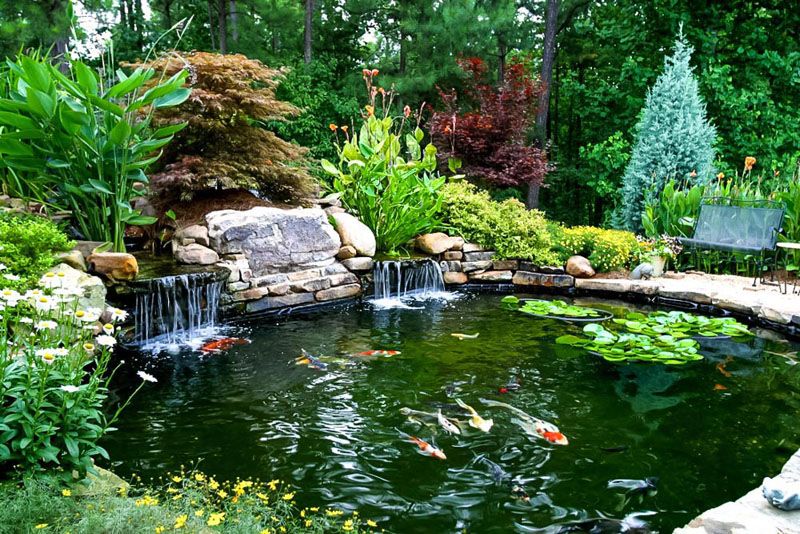 Koi pond is a pond for fish (Koi). Koi is so beautiful, which can help to increase the Garden's beauty. At the pond's edge, beautiful flowerpots can be placed. A narrow waterfall will also help to create a peaceful environment.
Note: Minimum size of the Koi pond should be three feet deep and over 1000 gallons because Koi fish needs large space.
2. Enclosed Territory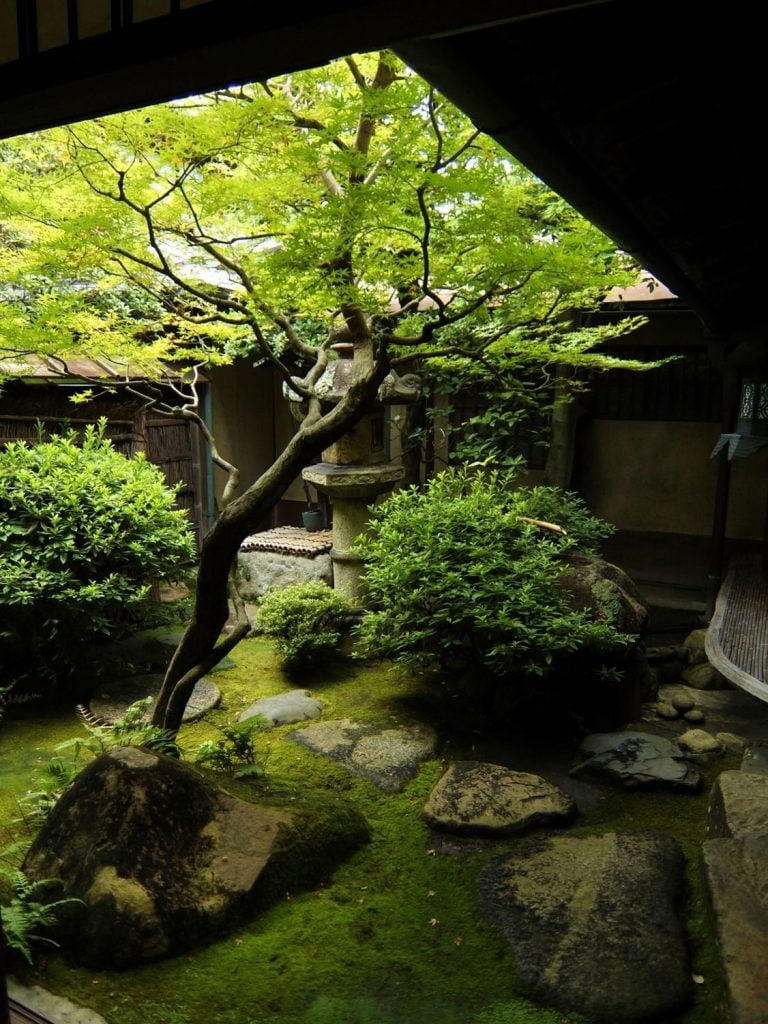 If one has less space for the Garden, then this idea will be best for them. As in the corner, beautiful flower plants can be planted, and on the other side, tables and chairs can be placed, which will provide a place for reading and morning snacks.
3. A Large Water Pond with a Garden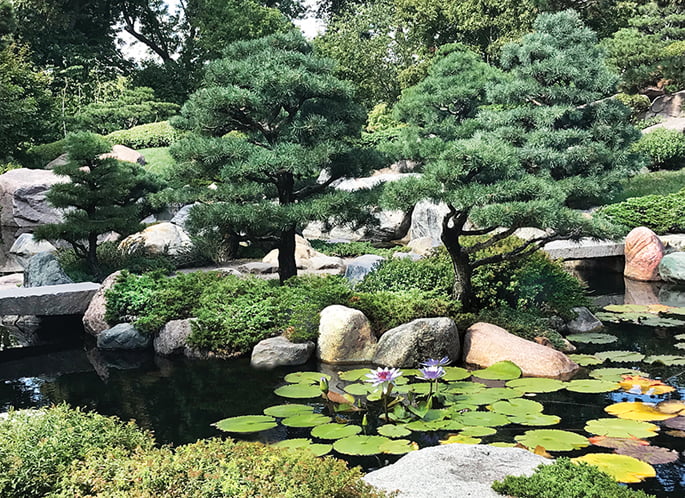 If one has a large space, then you can make a large pond. In this large pond, one can add various types of fishes. Koi will be the best as it also requires considerable space to swim. To complete the design, rocks covered with moss can be the best choice.
4. Full of Greenery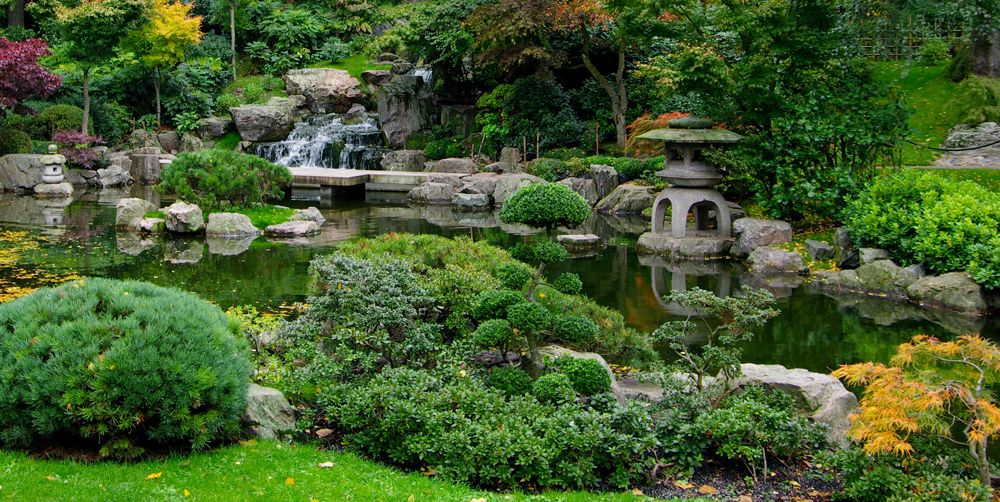 If you love greenery, then this traditional Japanese Garden is for you. Break the park into steps and grow well-trimmed grass on each. If one has more space, then trees can also be planted on the sides garden.
5. Colorful Garden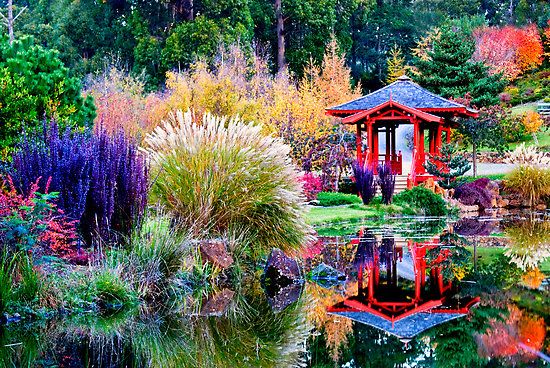 If someone is fond of beautiful different colors, then plants or trees of varying shades can be planted. In other seasons, different types of flowers of different colors can make the garden design more beautiful.  The red color will be the best choice because it is a traditional color that signifies passion and strength.
6. Garden with a Walking Path
If someone is a fitness freak, then a garden with a walking path will be the best idea. A broad walking path between a well-trimmed grass garden and a waterfall at the side will give you great happiness and relaxation while walking. At the edge of the waterfall, some small flower pots can also be kept increasing the Garden's beauty.
7. Rock Garden with a Small Waterfall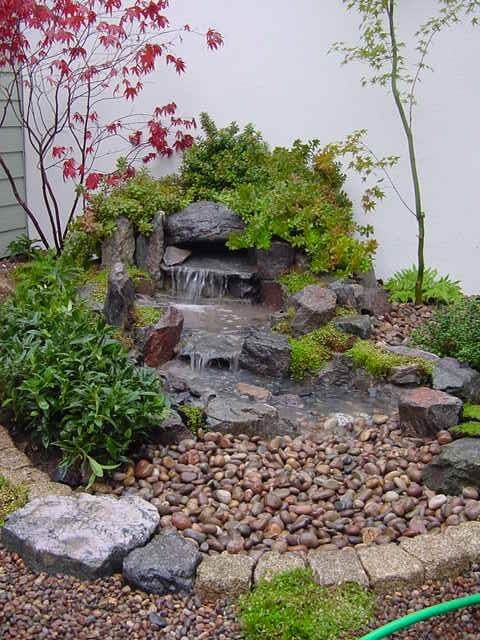 A rock garden with a small waterfall is the best choice for those who have little space for the Garden. This type of Garden can bring peace to your mind. It is a perfect choice for a place where someone can do meditation.
8. Garden to Trap Spirits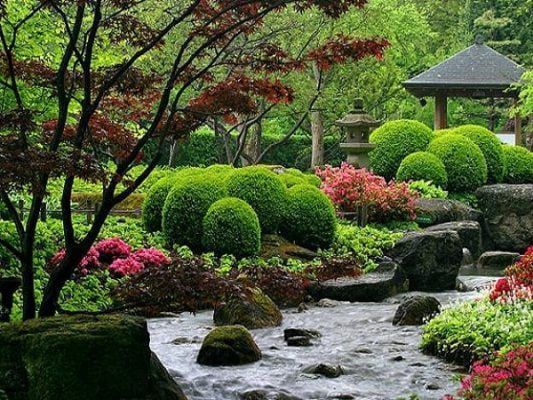 Now, this is an interesting harden. It is believed that the spirits can only move on straight paths. So, this garden path is made in a zig-zag form so that one can have a chance to free themselves from the spirit's grasp.
9. Just Rock Lover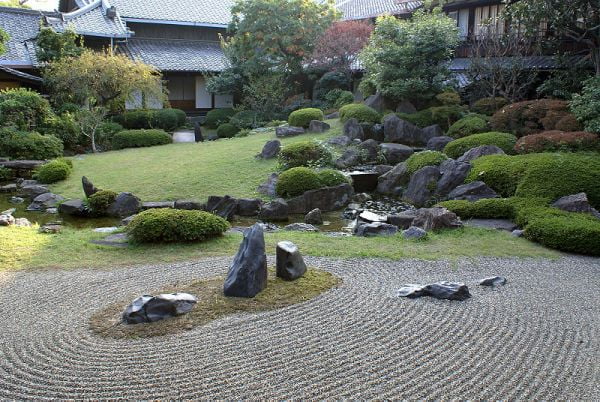 This Japanese Garden is for those who love rocks. You can cover the ground using various types of small stones. But, a garden with just rocks only will not look good. Add lots of shrubs and small flower pots at the corner to increase the beauty of the park.
10. Garden for Bird Lovers
No one can think of a garden without birds. Birds are like part of the park only. So, a rock birdhouse can be made at the Garden corner with a small fountain at the side. This is the right place for morning meditation or to read.
11. Brick Garden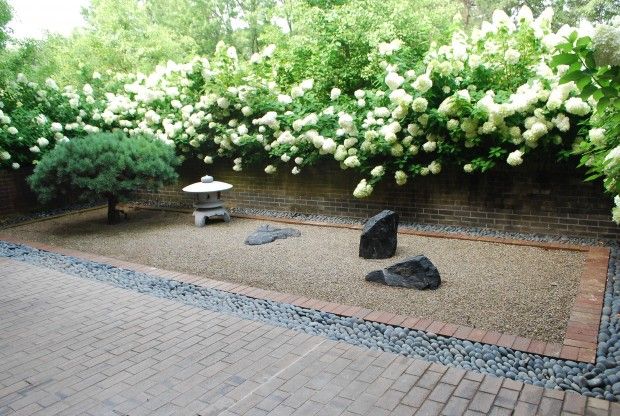 It is not essential that all the Japanese landscape be made of rock, sand, grass, etc. A brick garden also looks good. It is a small Japanese garden; on one side, there can be plants, and on the other side, brick pavers can be placed, and you can enjoy both separately.
12. Garden with Temple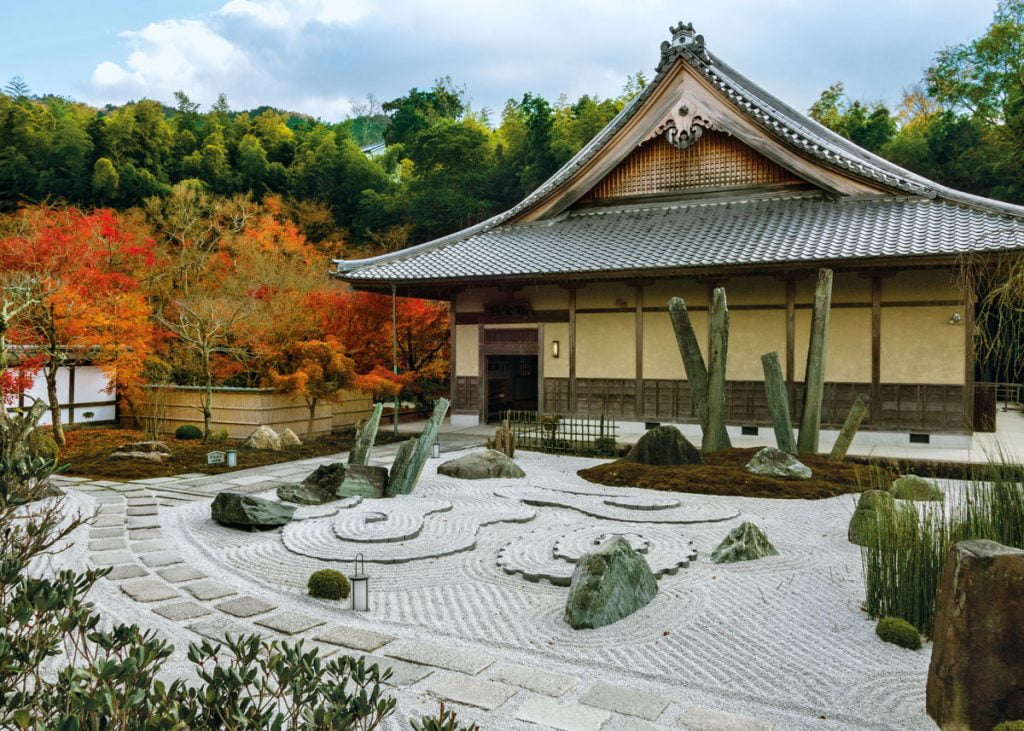 Japanese often use some architectural design between the landscapes to make the Garden beautiful.  Some temples can be made between Japanese landscapes in honor of the ancestors and gods. It will also provide beauty to the park.
13. Beautiful Landscape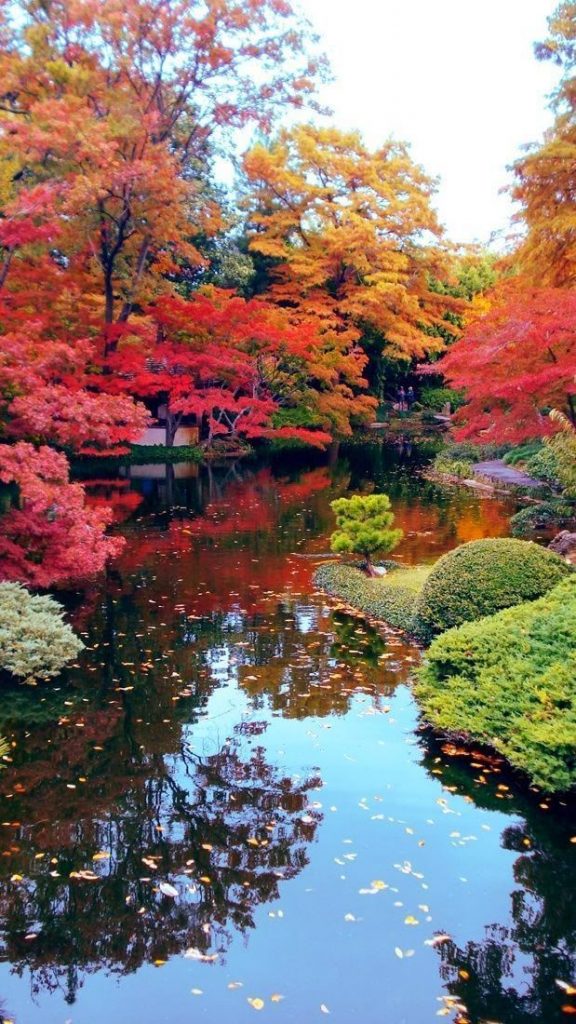 Whether you plan a complete redesign, or want to add a few new strokes, fascinate yourself with your pictures. You will be surprised by how some flowers and garden furniture sets change the entire outdoor area.
14. Grass Plates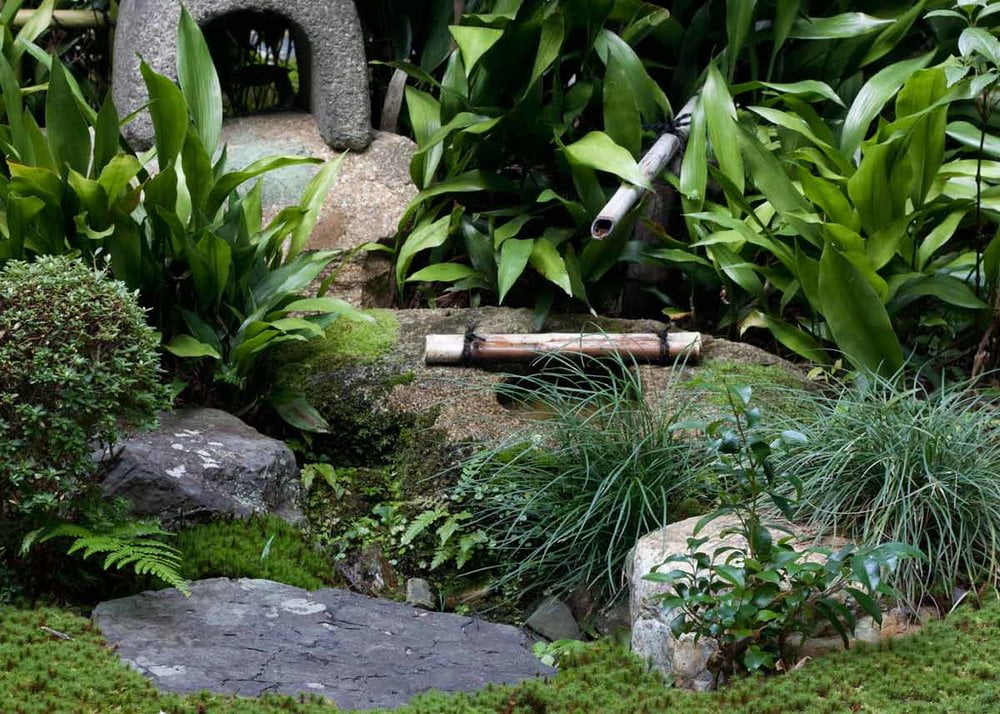 Lattice is one of the most popular modern landscape assemblages! A unique floor plan with squares and rectangles can be made by combining concrete, grass, and plants. Thyme completes the rectangular interval here. This plant not only looks good with its purple flowers; it is still harsh in winter and can catch foot traffic. Another fact for netting the Garden: The layout of the park makes it look larger.
15. Beautiful Backyard Garden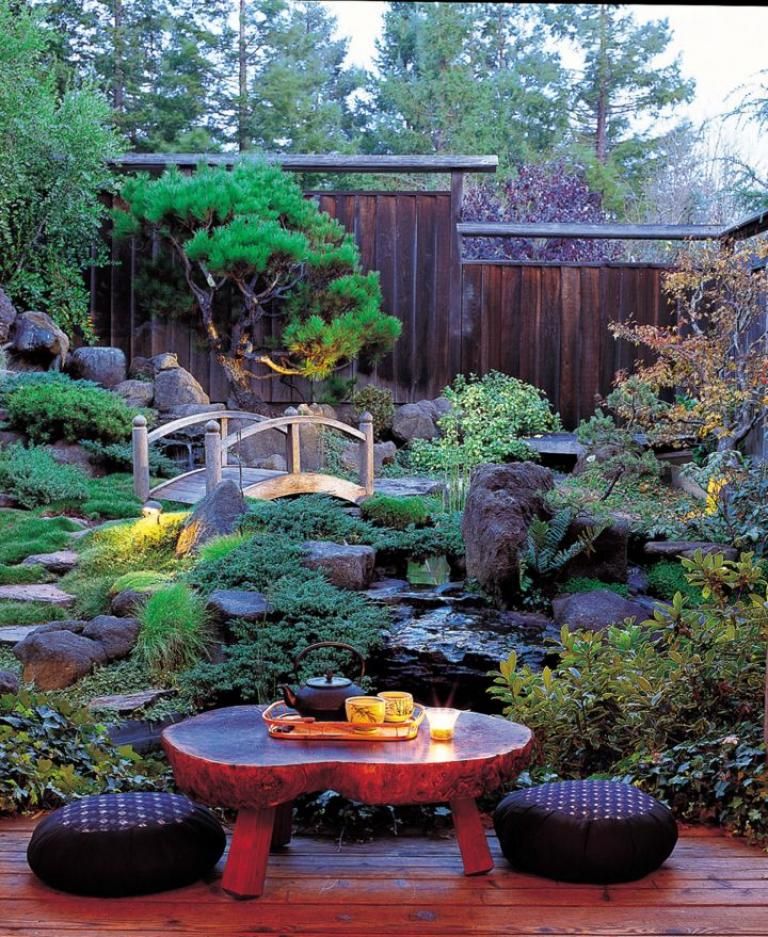 If you have a backyard these also you can make a beautiful Japanese landscape. In a corner, swings can be made, and in the rest of the area, a small garden with rocks at the edge will give you an enjoyable environment where you can relax and spend plenty of time.
At last, we are suggesting the best plants which you can grow in your beautiful Japanese landscape.
Japanese Garden Plants
The purpose of this creation is to recreate the landscape. Plants for Japanese gardens are more likely to decorate relief, emphasizing the contrast. They need to be chosen very carefully. The preferred Japanese species cannot take root due to differences in climate and soil.
Trees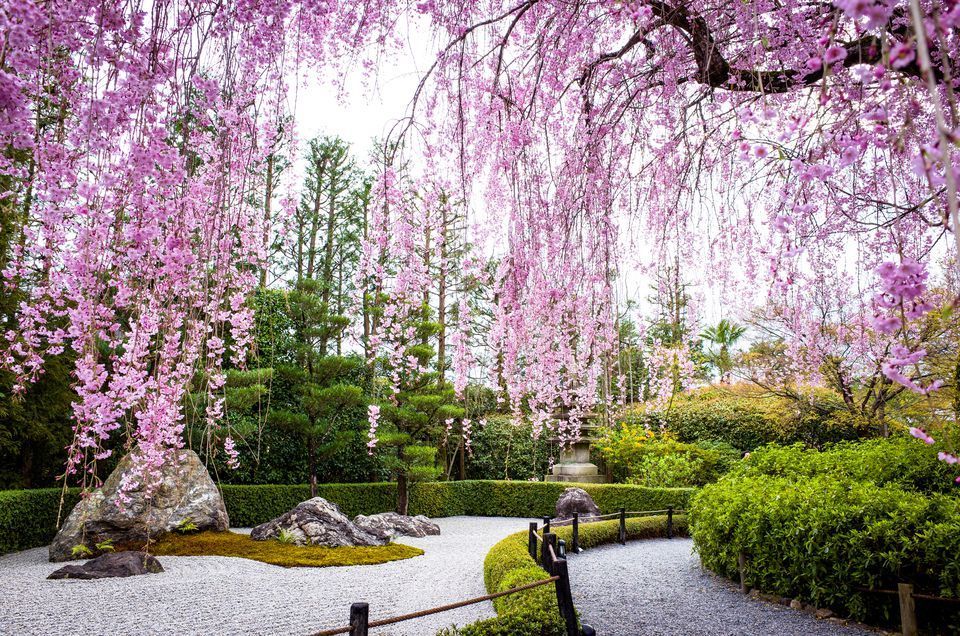 Cherry (some areas may use Sakura, taxa variety is excellent for the Moscow region), maple (almost all types are suitable, perfect honey plants, combined with coniferous plants), pine (coniferous – of composition Center, longevity, strength, as a prelude to courage).
Shrubs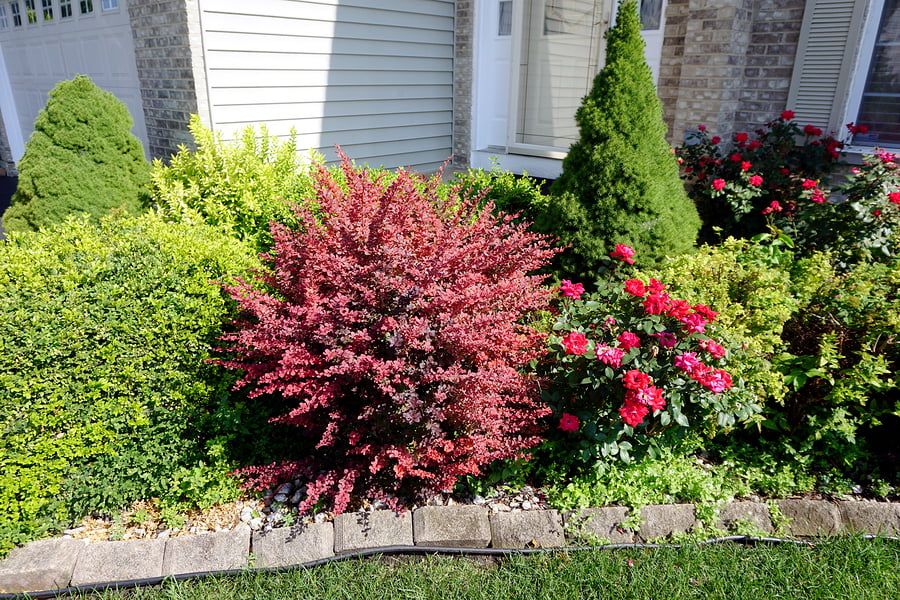 Barberry (variety of varieties, excellent material for hedges), hawthorn (flowering shrubs will be a decoration in spring, and in summer, they will be pleased with the array of fruit colors, they look imposing in the trunk).
Perennial Flowers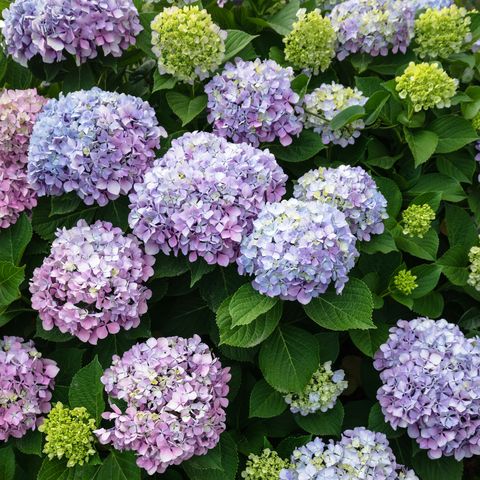 Peony (choose a tree variety, heights up to 25 cm in diameter, double or semi-double), rhododendron (flowers not large, but in succulent inflorescence, shiny leaves emphasize the tenderness of flowers), chrysanthemum (Japan National flower of, various species do not limit imagination)
Cereals, Ferns, Bamboo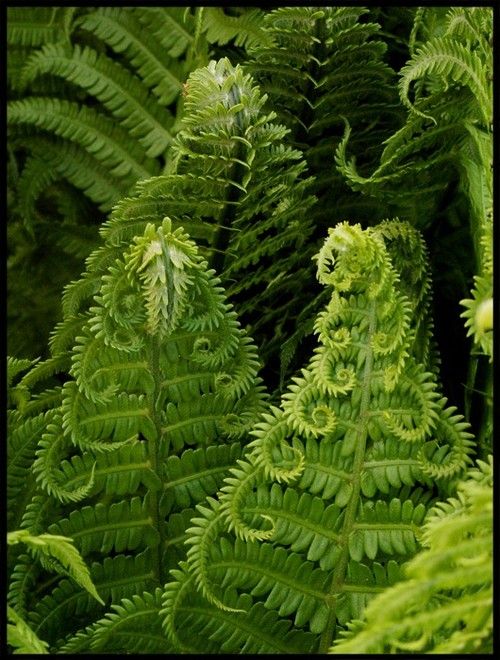 Miscanthus (ornamental herbaceous grasses, many varieties, the decorative period from the first months of spring to frost), leg Vallie hair (in the Moscow region it takes root well, openwork leaves are exotic and leave attractive in a picture, sit in a prominent position), Saza (in our latitudes, the only variety of bamboo that grows wild, sits against the backdrop of a stream or as decoration for a gazebo).