The idea of a Japanese garden came up at the time of war when people needed a serene space to relax and reflect. The harmonious balance of all the elements of the garden brings a feeling of calmness. Traditional Zen gardens were built according to norms and rule, which was there in the ancient books.
 With time the gardens evolved and, the elements began changing and became more inclusive. Now a days you can see so many modern and interesting Japanese garden ideas that are very different to the traditional ones.
Initially, there was a selection of plants that were traditionally used. Mostly they were perennials and ornamental shrubs or grass. Traditional flower beds were not a common thing in Japanese gardens even now, but flowering plants are commonly seen in most Japanese gardens. All plants are selected and choreographed matching the ambience, colour palette and aesthetic of the garden and theme.
Few flowering plants that you can consider while designing your very own Japanese garden are listed below.
Wisteria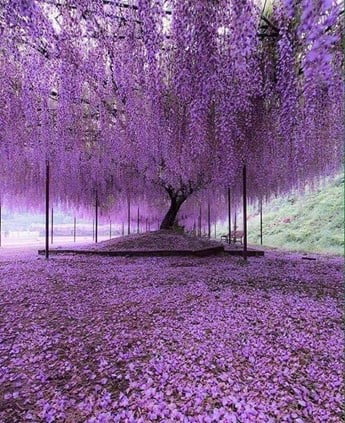 This ornamental flowering plant looks like a tree right out of a fairy tale. With its lavender and violet petals, it can enchant anyone's heart. But one should be careful as it bears poisonous berries and has torn like crystal that can give unnecessary allergies. In the early days, the Japanese believe that Wisteria symbolized love, sensuality, and tenderness. 
Lotus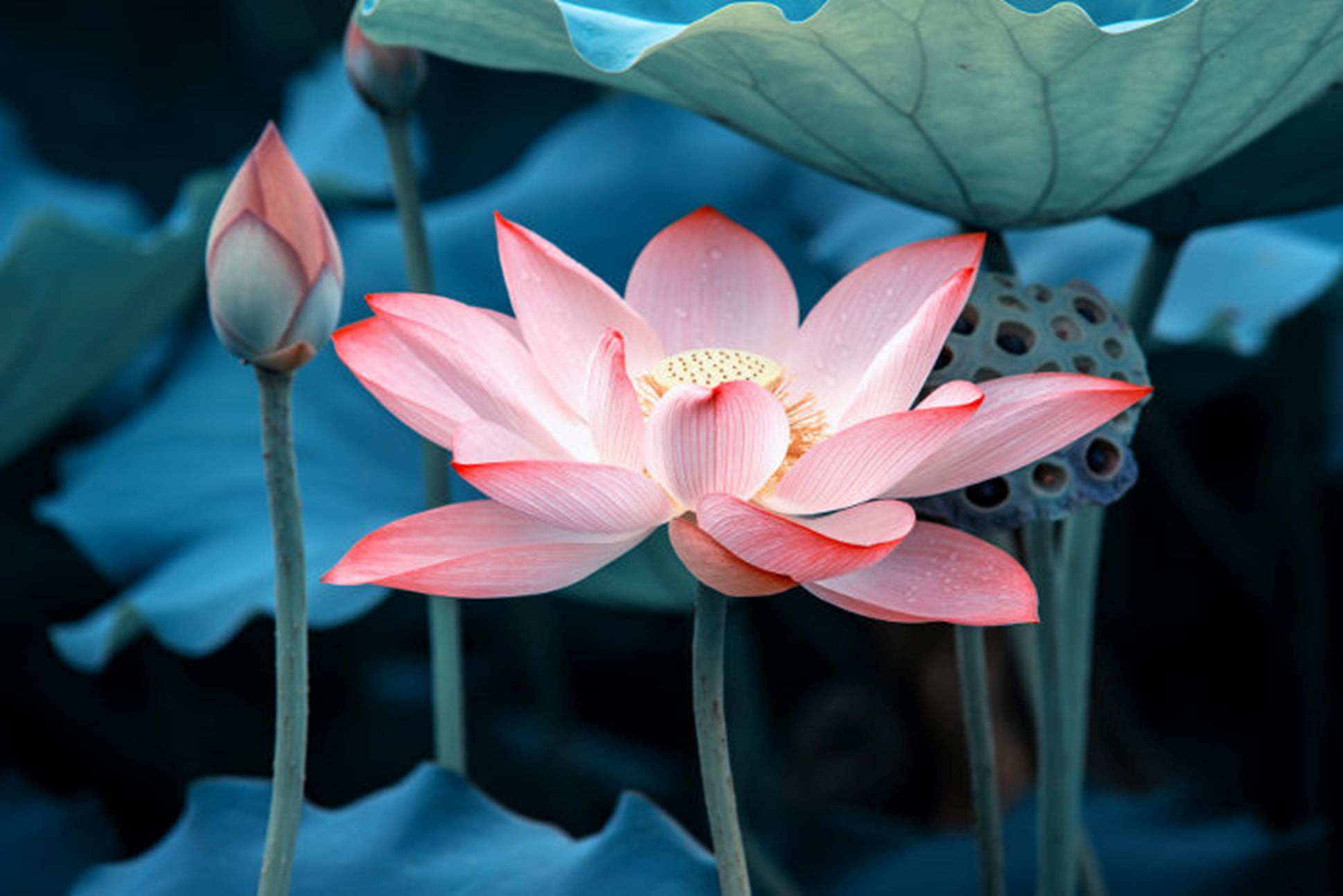 Japanese culture revolves around Buddhism which holds the lotus as their most sacred flower and associates it with Buddha. Since lotus blooms from the dirt and shallow water represent enlightenment which is one of the core values of Buddhism.
Iris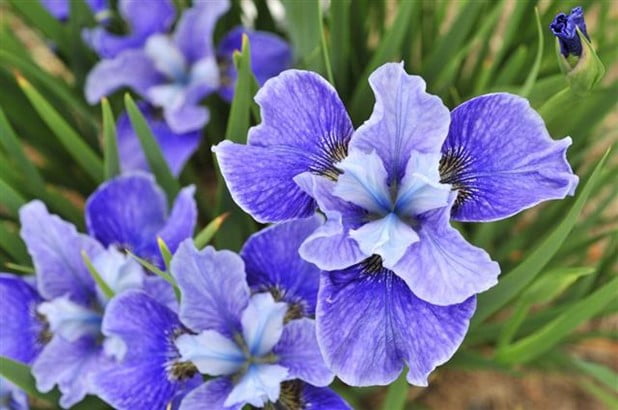 The bright blue colour of Irish denotes blue blood which means heroism or martyr. Some believe that Iris protects you from evil energy and protects who wear them. Either way, the blue colour is very attractive and goes well with a calming blue themed garden.
Hydrangea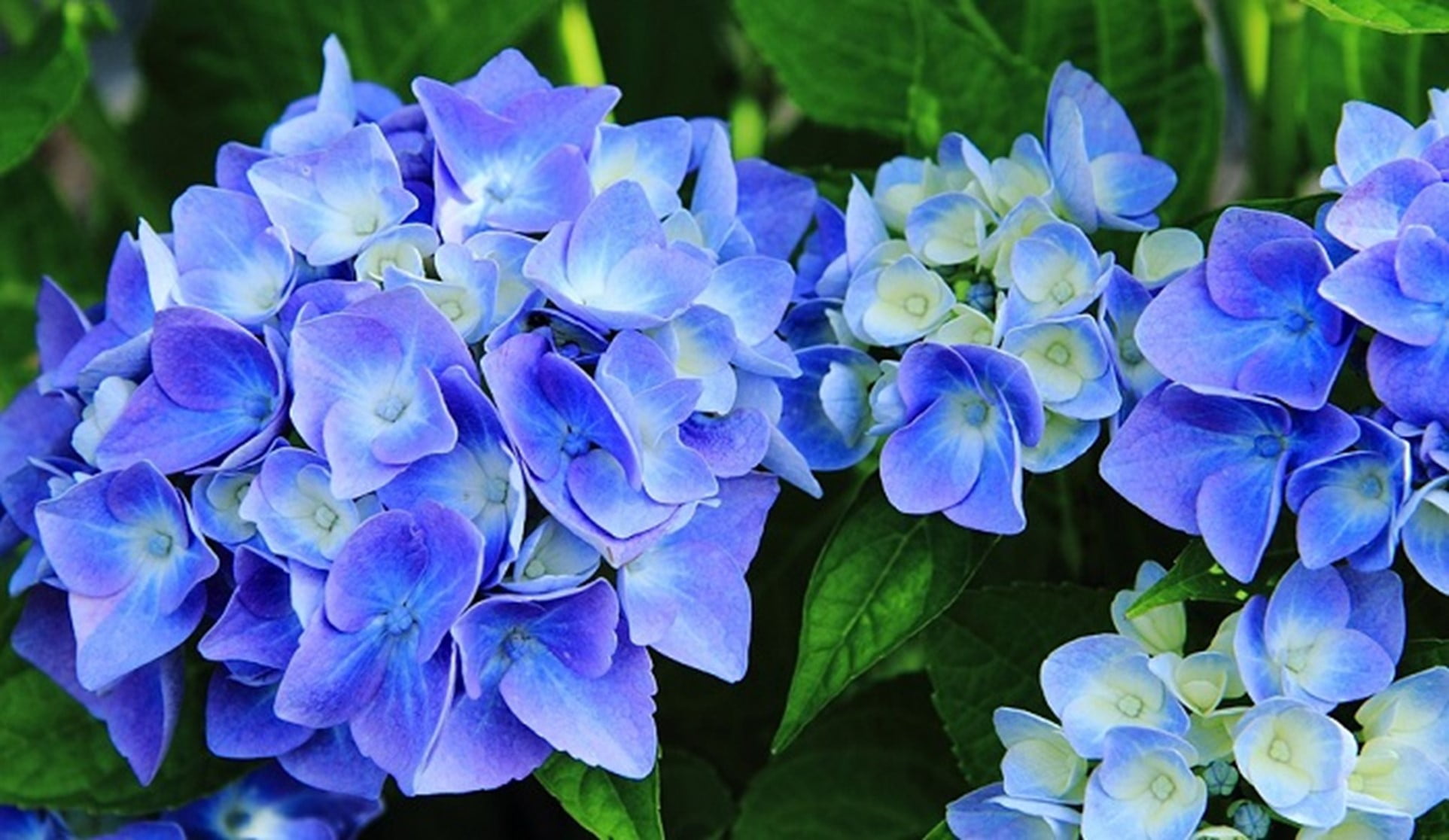 This beautiful, cluttered flower conveys the message of heartfelt emotion, gratitude, and apology as once an emperor gave this to the family of his lover since he did not favor her in time of need.
Cherry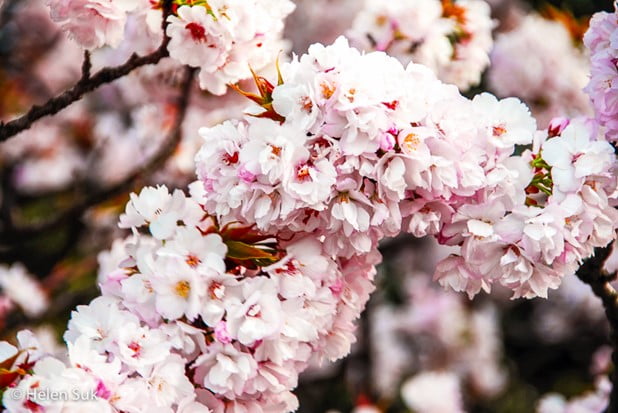 Commonly known as the Sakura by the Japanese people. They bloom at the youth of the springtime and last for only about two weeks. It represents the fleeting nature of life and the time for a fresh start.
Camellia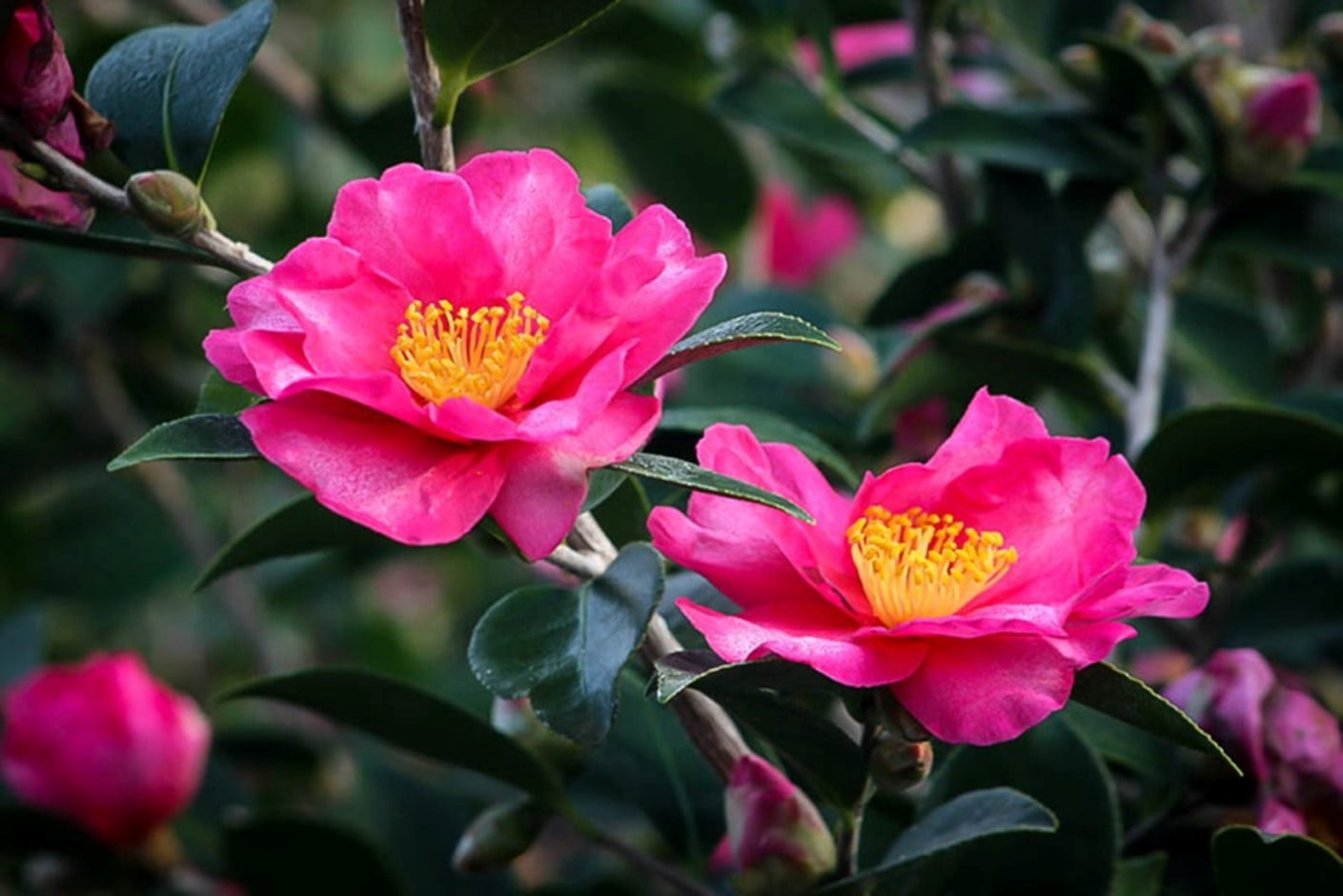 This early spring flower symbolizes noble death among samurai. It is commonly known as Tsubaki by the Japanese. 
Ground Covers
Since Japanese garden does not use much of artificial manmade materials, they usually use ornamental shrubs and grass to cover most of the garden. Using moss to give the essence of time and age is very common. It set the mystical ambience for the garden and gives a calming effect. There are lots of options to choose from. A few of them are listed below.
Moss
Japanese Sweet Flag
Japanese Ardisia
Baby's Tears
Spurge
Bracken
Sedum
Heuchera
Rosemary
Leopard Plant
Big Trees
Like all other gardens, Japanese gardens have trees, mostly oak, pine and other perennials. Japanese maple is one of the common choices because of its striking foliage that changes colour around the year. Most gardens also have trees like the Sakura, different types of pine and different trees that are prized for their wood. Listed below are few choices that can be considered.
Scarlet Maple
Willow
Water Oak
Canadian Hemlock
Cedar
Coastal Redwood
Himalayan White Pine
Japanese Black Pine
Traditional Plants
When it comes to the Japanese garden, you must honor the traditions. The best way to do that is by having few traditional plants in the garden.
Buddha Belly Bamboo
There is a variety of bamboo to choose from for your garden but the most common go-to choose is the non-invasive ornamental bamboo which can be tamed and maintains. 
Japanese Maple
Well known to many people because of its prized foliage. It is known as kito commonly by the Japanese folks and the tree represents balance in nature and life.
Japanese Sedge
This ornamental grass is commonly found in central and southern Japan. The foliage works perfectly and harmoniously when planted accordingly. This non-invasive evergreen grass can be used as a hedge or clumps among pebbled path or surface.
Sawara Cypress
It is a common coniferous evergreen forest tree native to southern and central Japan. The growth is slow but can be as tall as 160 feet.
Black Bamboo
It is a well-curate choice as it is hard and fast-growing bamboo. Prized for its mesmerizing ebony colored stalk. This bamboo is widely cultivated and native to the Hunan province of China.
Japanese Wisteria
It is a woody deciduous twining vine with mesmerizing flowers. It is one of the most highly romanticized flowering plants that bloom in a cluster during mid-spring and have a fragrant distinctiveness to grapes.
Painted Lady Fern
One of the most elegant ferns to cover your garden with. Tolerates the sun but dies due to frost during the fall as it is extremely harsh in Japan. It stays in a dormant state and re-emerges during the springtime.
Garden Juniper
This coniferous shrub with long trailing branches is commonly seen in many ancient Japanese gardens. It has needle-like leaves and is very low maintenance but does not compromise on the beauty.
Japanese Quince
It is a thorny deciduous shrub with beautiful scarlet flowers. It is non-invasive and grows well under the full sun. It bears delicious fruits perfect for jam, jelly, and pies.
Trees and plants of all shapes and kinds are beautiful if you choreograph and synchronize them well with the overall aesthetics of the Japanese garden. Apart from the trees and plants, the other elements affect the choice of plants for your garden to a certain extent.
The core value of most Japanese garden is the yin yang which is the essence of balance in nature and life. That is what most gardens aspire to be, and the selection of the greenery matters a lot.