Draining your above-ground pool is something that is very rarely done or not done at all. Draining should never be practiced during the winter season because the liner may dry out and crack due to wind and cold.
Summer season is undoubtedly the best time in the year to figure out pool things. But apart from all these, draining should be practiced because it is necessary for the pools, and there are also various reasons why one should drain their above-ground pools.
It is not at all necessary to call a professional to perform the task.
It is a straightforward job to do and can be done by yourself. Chill! You have come to the correct place because this article fully discloses how to drain a pool yourself without even calling a pro for the job to be done. 
Looking for simple and easy steps. All you need to do is – reading the article below to know the interesting hacks! Relaxed right? Sounds good? Now, let us explore in detail!
Draining of an Above Ground Pool
There are only two options available with you and those are: one you can use a garden hose and the other one is that you can use a submersible pump. 
You can also combine the two methods, make it one, and then use your personal method for the draining of water.
Flexzilla Garden Hose 5/8 in. x 50 ft, Heavy Duty, Lightweight, Drinking Water Safe, ZillaGreen -...
EXTREMELY FLEXIBLE - All weather flexibility
EXTREMELY DURABLE - Abrasion resistant outer cover and crush resistant anodized aircraft aluminum...
HYBRID POLYMER - Won't kink under pressure, coils easily and lays flat with zero memory
LIGHTWEIGHT - Lighter than traditional garden hoses making Flexzilla easier to carry and maneuver...
LEAK FREE CONNECTIONS AND DRINKING WATER SAFE - A durable O-ring provides long lasting leak free...
Sale
VIVOSUN 800GPH Submersible Pump(3000L/H, 24W), Ultra Quiet Water Pump with 10ft. High Lift, Fountain...
Specs & Dimensions: 4.1*2.6*3.5 inches; The 6.5 ft. long power cord offers convenient installation...
Detachable & Cleanable: This powerful yet small-sized water pump is easy to hide and disguise; No...
Many Possible Placement Positions: Place the pump flat on its base, stick it on an angled or...
Wide Range of Applications: This is a high-performance, energy-efficient pump and is well-designed...
3 Outlet Adapters:Includes three nozzles with different diameter sizes: 0.51 in., 0.62 in., and...
Isn't it one of the great above-ground pool ideas of draining? You can surely think about it before going ahead and performing the task.
But if you are doing the draining partially then, you do not need much, and just a garden hose will complete the activity without much effort and expenses.
Firstly, you need to figure out where you will dump the drained water when it is out of the pool. Various cities have various rules, so before performing the task, you need to know the rules and regulations of your city, especially if you are planning to drain the entire above-ground pool.
Once it is decided where the water will go when drained out of the pool, you can use any methods to siphon the water out. Here, you can easily use a garden hose to create a siphon by slightly cutting the two ends.
You can also use the entire garden hose. Your choice! If you plan to cut the hose and siphon the water out, six to eight feet long will do the work. Just one thing you need to do is immerse the hose into the pool.
And if you have not cut your hose to do the activity, then you simply need to attach it with the spigot. Both methods are good working so you can choose any for your work to be done!
Let the water drain as it will take a bit of time. If you are doing complete draining, you probably need to replace your liner to prevent it from algae which often gets created under the water. You can also suction the water out using a dry vac.
If you are not willing to spare many expenses, then you may use containers or buckets to remove water as much as you can from the above-ground pool.
This is all that you can do! If you are not draining your pool fully, then the partially cut garden hose is fine for this method and easy to handle.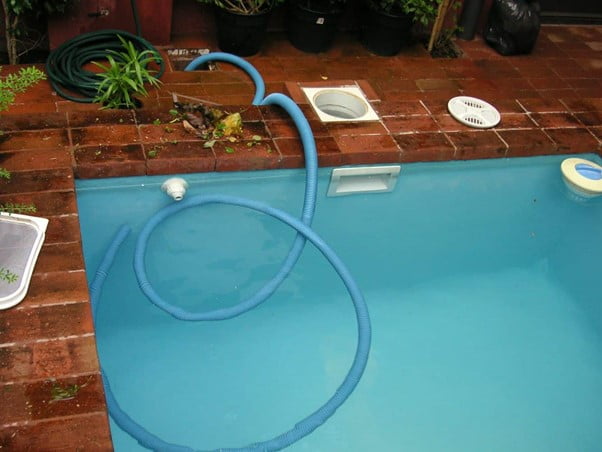 Why You Should Drain Your Above Ground Pool
There are people found all around who want to replace their pools, so in this case, one should have to drain the above-ground pool to create a new one probably.
Liners may often leak or tear; in that case, you must replace the liner, and to do that, draining is compulsory! There is nothing you can do other than draining during this kind of situation.
Chlorine lock is a pool condition that can just not be fixed in any way other than draining. If you add more and more chemicals, it will do nothing but worsen the situation more. And adding more chemicals does not mean a better outcome.
Rather, in such cases, the pool becomes dysfunctional. Most of the time, such things happen because too many chemicals are often added to the pools, making the pools ineffective and useless. Like this, the pH levels of the water get unbalanced.
In such a situation, there is no other way to draining the entire pool and replacing it with fresh water.