Above ground, pools are a great addition to your property and a great alternative to in-ground pools. The reason behind this is that in-ground ground pools require a complicated and extensive construction procedure that is costly and takes up a lot of time and energy. On the other hand, installing an above-ground pool is comparatively easier and hassle-free.
Plus, the benefits of both remain the same. So, you are getting all that you want from a pool without a compromise, and yet you do not have to go through excruciatingly long and exhausting paperwork as well as construction procedures.
But your work does not end with the installation of the pool. Along with your above-ground pool ideas, certain things need to be added to ensure your complete comfort as well as a little security for your family.
Although it is not mandatory, it is better to have fences around your above-ground pool to ensure children do not fall into the pool while playing. The fence also helps keep strangers away from using your pool or approaching you while you are taking a swim. In simple words, it serves the same purpose as any ordinary fence around your property.
But with the extensive choice options in the market, narrowing down on one is an overwhelming task, but we believe it can be a little easier if the unfit options are filtered out. Hence, we have selected the top 7 above-ground pool fence ideas for you to select the best match for your pool.
1. An Enclosed Pool with A Deck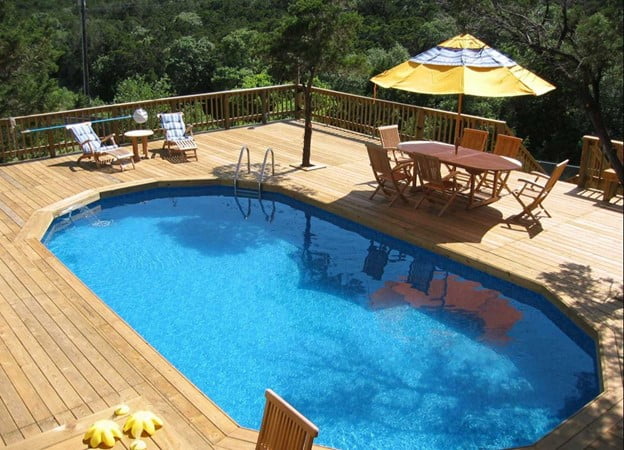 What people most miss about in-ground pools is the deck. After all, before you take a swim or even after a swim, nothing is more relaxing than enjoying a cool drink or reading your favorite magazine sitting on the deck. If you want a deck, then you can enclose your pool with a wooden fence and add the deck with comfy chairs and a table on the extended wooden platform for you to enjoy your Sunday afternoon.
2. Bamboo and Glass Fence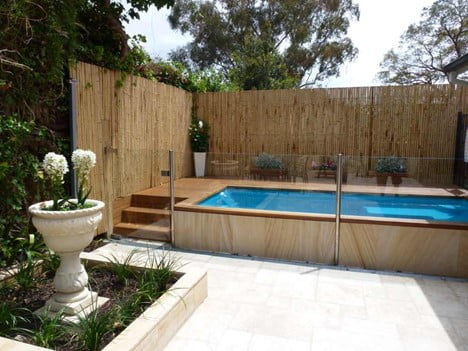 In the 21st century, whether it is fashion or decoration, fusion is a raging trend and what can be a perfect blend of classy yet tropical than bamboo and glass. If you do not want to build a usual pallet fence or metal fences, then this combination will surely add extra glamour to your above-ground pool. While on one side, you get privacy from the prying eyes of your neighbor, on the other hand, you do not feel claustrophobic enclosed by fences on all sides. The shorter glass fence provides you quite a view and makes sure that you do not feel trapped.
3. A Classic Metal Fence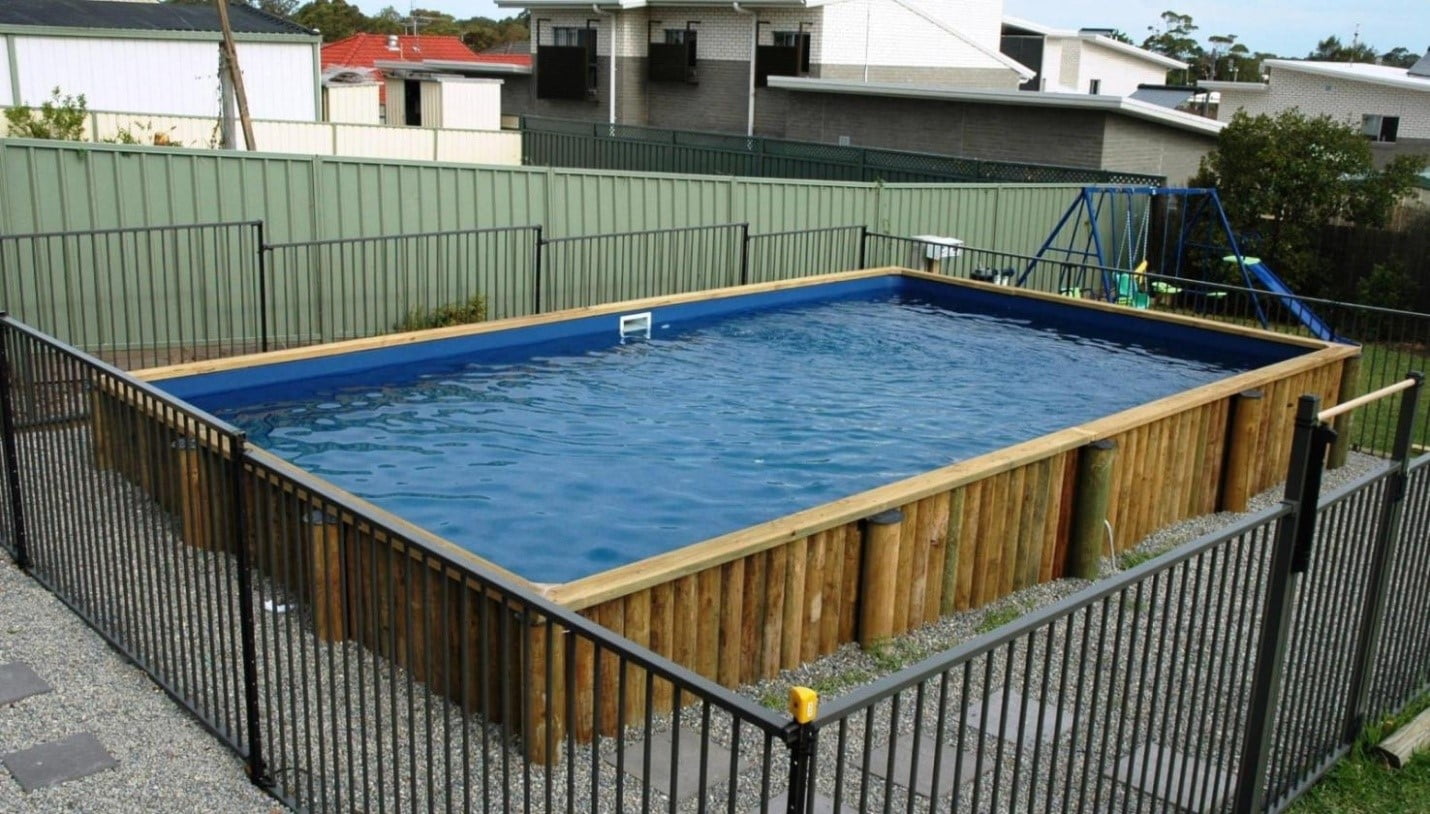 If you are running on a tight budget and cannot afford to have fancy fences around your above-ground pool now, then opting for a basic yet effective metal fence is a good idea. The classic metal fences provide the required security that you need, and it is also tough and sturdy, making it difficult for intruders to break in. Although this might not be the perfect idea of a fancy fence, you get protected at an affordable rate on the brighter side. While with this pool, the color of the fence has been kept black, you have no such compulsion. If you want to make this basic fence a little more fun and beautiful, you should experiment with colors.
4. Modern Fancy Fence for Your Above Ground Pool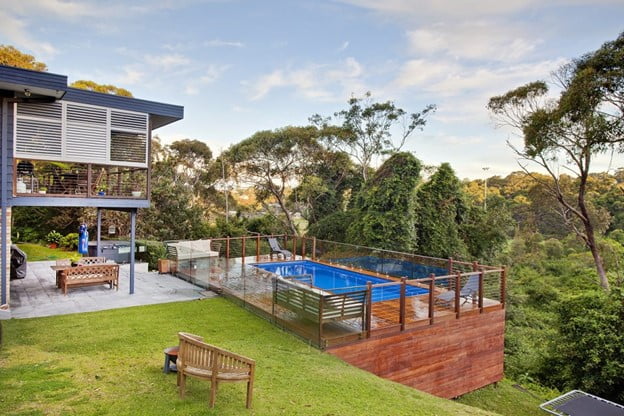 While we agree that the location of the above-ground pool has a lot to do with the overall charm of the setup, apart from that, the glass fence surrounding the pool on a raised wooden platform brings an old rustic charm that is undeniably striking. To add to its beauty, you can place wooden benches on the deck for you to enjoy a nice sunbathe while you read a book, and the fence will take care of your wandering toddlers and ensure that they do not fall.
5. Basic Wire Screen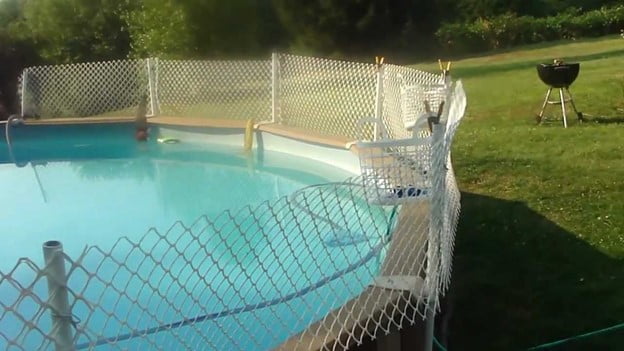 While most people try to add an aesthetic fence around the above-ground pool that will catch the eyes of the neighbors as well as blend perfectly well with their property, sometimes your budget and skill might come as a barrier during the current situation. If your budget does not permit you to get a fancy fence around your pool and you do not have the necessary skills to do it yourself, it is best to stick to a cheaper fence. After all, you can always upgrade to a better fence later. At least, this fence will provide you with some degree of privacy.
6. Frosted Glass Fence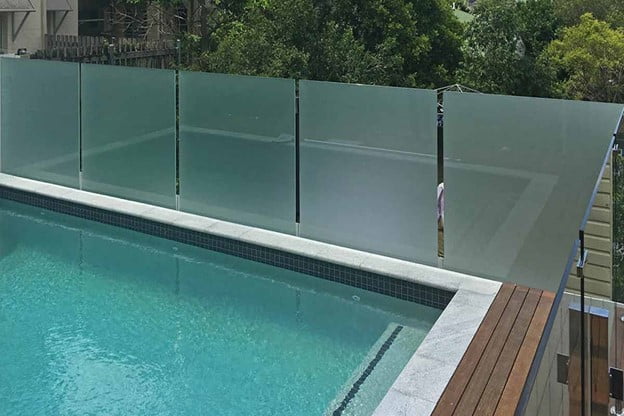 While glass fences not only look chic and stylish around your pool but also ensure that you do not feel trapped in. But it does not provide any degree of privacy. So, if you want to stick to a glass fence owing to its charm, yet you want a little more privacy, then a frosted glass fence is your best shot. While they protect you from the eyes of intruders, they also look stylish around your pool. If you are looking for an alternative here, you can also choose tinted glass so that you can enjoy your view while no one else can see you.
7. A Wooden Trellis Fence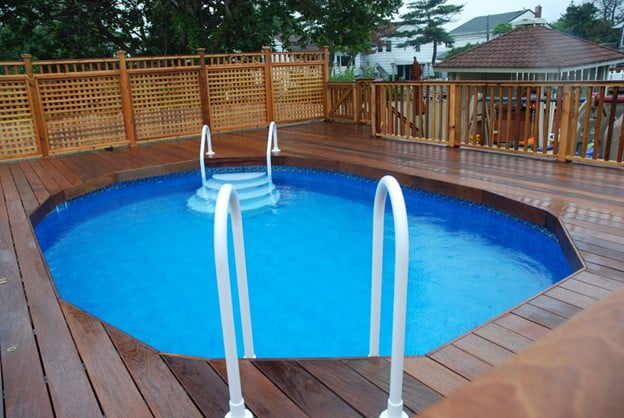 If you think that a trellis can only be used for decoration purposes in your lawn or growing climbers, then here is a brand-new way to use it around your pool. If you are bored with regular fences and want to opt for something new and out of the box, you should opt for trellis fences.
As you can see in the picture, the trellis matches perfectly with the wooden floor, and it also provides a greater degree of privacy and security in comparison to other types of fences. Also, the trellis holes will ensure that your view is not completely blocked, and you can keep an eye on who is coming around your pool. Isn't that amazing?
So, these were the 7 brilliant fences that you can mix with your above-ground pool ideas and create a stunning and secured pool for you and your family to enjoy during summer. We have made sure that there is a pool fence available for every kind of taste as well as budget.
We hope you found your perfect match and in case you have any further queries feel free to reach out to us in the comment section below.