Are all the nature lovers and the gardeners present over here? I guess so! Wouldn't it be wonderful to have a beautiful garden at your place to relax in your free moments, especially in the evening period when most of the people sit idly?
It can turn out to be outstanding if you choose to create your very own Japanese garden with spaces of meditation which would bring the exact reflection of the Japanese culture to your home garden or lawn. Such an atmosphere is nothing but the epitome of peace.
Read the article below to know about creating such a kind of Japanese garden.
Creating a Japanese garden can turn out to be very beneficial for few people because such atmospheres relieve people from a stressful and hectic life. Nowadays nobody has got time with themselves, and all that everybody wants is to sit and chill whenever free.
So, why not create a space for yourself to find peace in this running world or to sit and chill with your loved ones for the time being?
This is probably one of the best Japanese garden ideas because here you will be creating the landscape by yourself, and the most interesting part is that the little heaven will be yours!
Understanding the Basics
Before implementing something on your property, knowing the basics is an essential part of the entire story. If you do not know the basics, you know nothing! There are only about two hundred people who have created the Japanese garden properly on their respective lawns in the entire world. Adapting a different culture and bringing that to your home is not an easy task if you are thinking it to be. 
Understanding their style from the inner corners of your heart is rather more important than everything. You can create any of the two types of Japanese garden in your yard – Moss Garden or Rock Garden.
Moss Garden
Moss is the signature plant of Japan. So, if you are willing to bring the Japanese culture to your doorstep, then it is not a bad idea to create a moss garden on your lawn. Such gardens create a soft and smooth feel to relieve your burdened mind and body.
Rock Garden
Rock garden includes the elements of sand within it. The small particles of sand are to be designed to symbolize the pattern of a running river or so. These gardens do not consist of any water elements, and it only symbolizes rivers and mountains just with the help of the little sand particles.
Serving Loyalty to the Japanese Culture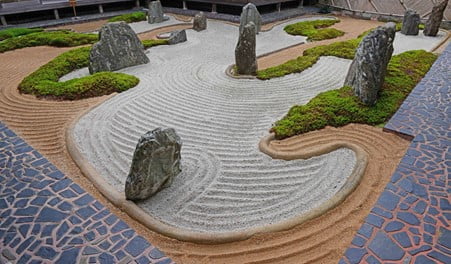 Education is something that is needed everywhere, and it will be haunting you throughout your entire life even if you do not want to communicate with it again. But before creating, know the real Japanese culture. There are many things, like in a few parts, the Chinese culture also got mixed to it.
So, if you are willing to find the Japanese authenticity in your own garden, then you need to study and differentiate a bit before implementing. Green is the most preferred color if you are aiming towards creating a Japanese garden. Japanese traditions have got flowers in their gardens but not so colorful ones, which would distract the human eyesight.
Flowers in the Japanese gardens work for highlighting the preferable green color and acts as the balancing color in the entire garden. So, keeping this in your mind is very important if you are really influenced by the Japanese culture.
Believe In Little and Simple Creations
It is not a race where you need to create one of the most beautiful Japanese gardens to showcase glamour. Rather, it is a space where simplicity is served as a purpose. Hence, try keeping your garden design simple.
Trust me, simple design does not mean leaning backward; rather, it is the epitome of modesty and simplicity. Use simple raw materials to create your Japanese garden. For example, use bamboo fences which would bring a natural and a beautiful look to your garden.
Create little stone pathways for walking. This is Japanese culture, and it holds a strong belief along with it too.
Conclusion
Take your own sweet time to create a Japanese garden at your home to feel happiness and calmness together in the same space. You may look at the designs of various other Japanese gardens that have been created by your friends, relatives, neighbors, or maybe strangers.
It is always important to know what others have done! Because by going through all the works you will be able to find at least an appropriate one among all the other works. Japanese gardens invite calmness to the creator's home.
So, before bringing calmness home, go out and verify how exactly you should build your garden and what it would look like after the completion? You need to be successful doing this, and then what not?
After that, you will be able to experience several pleasant situations and feelings at your home. Please take a moment for yourself and your garden to look at the other ones for creating a beautiful masterpiece in your yard itself.