Why keep gardening restricted to the outdoors when you can have all the greeneries inside your house? With plants dwelling with you inside the house, you will be able to get all the benefits they stand for.
From fresh and pure air to the unforgettable aroma and sent to all the lush green beauty in and around you. We bet you cannot get all of this anyway else.
But everything has benefits and drawbacks at the same time. The same is the case with indoor plants. Growing indoor plants' downsides are a bit more practical and something that you should pay adequate heed to.
When growing plants indoors, there is always the problem of space. If grown in large numbers, indoor plants can eat a lot of your precious ground space that you cannot afford if you are a city dweller. This space can be used to stuff other necessities in your house.
But where there is a will, there is away. Although this line sounds like a cliche, it is right in this aspect. If the argument that indoor plants can eat a lot of ground space is stopping you from having one, then congratulations because both of your dilemmas are going to get eliminated in a few minutes.
You can grow indoor plants and still save ground space for other necessary goods by hanging them to the wall or the ceiling. This way, you will receive all the recreation and medicinal amenities from the indoor plants or, say, hanging plants and still have the ground space left for other uses.
Best Varieties of Hanging Plants
Some of the best varieties of hanging plants are:
Orchid Plants
These lightweight plants could be the one plant that your house was missing. Its flavorful aroma will elate your mood every time you enter the house. You will have a hard time when you are trying to get angry at someone because this plant will not let you.
And the aroma is not the only good thing about this plant. The beautiful and colorful flower will also attract everybody's attention and get you a lot of appreciation.
The flower generally blooms for almost 10 to 12 weeks per year on an average. That is a large amount of blooming time. These plants are also edible, so you can have them in your dishes if you want to.
Spiller Plants
Spiller plants are among the most decadent varieties of hanging plants on this list. This is because these plants continue to grow and overgrow the pot. The branches droop down from all sides of the pot, making it one great thing to look at.
The greenery that this plant provides to your house is unmatchable. Also, with. With more leaves, there will be more photosynthesis and, therefore, more fresh air for you. You might have to cut the branches if it has overgrown to a considerable extent.
These varieties of hanging plants are also the most common and do not require much if sunlight. But it is always good to keep them on patios or near windows to get enough sunlight.
Succulents
These small plants are also a very calm and beautiful option to go with for a hanging plant. Succulents are very hardy plants and do not require much of your attention. If you are careless and you know it, then it is best to have this plant as a hanging plant inside your house.
These low maintenance plants do not require much sunlight and do not require much water. This is because their thick and fleshy leaves already contain much water and can sustain for days. These plants are also very lightweight, and the thick leaves look beautiful. These plants work as a great piece of decor.
Air Plants
These are also lightweight plants, but they are comparatively bigger when compared to succulents. Like succulents, they do not require much attention and care, and they are a go-to option for you if you are a lazy bud.
But its low maintenance comfort does not come at the cost of the excellent aroma that other plants provide or the fresh air. This plant can provide all that, and it looks beautiful.
Air plants are good ailments for a stressed-out person or have a stressful schedule as these plants help reduce stress. They derive all the nutrition from the air and need indirect bright sunlight. They can be put in bright rooms that receive sunlight and are lit up for the day.
What are Hanging Plants?
Hanging plants can be referred to as simple plants or sometimes an impressive variety of lightweight plants grown in a pot or container suspended in the air.
They are just like ordinary plants and require care and nutrition just like any other plant.
Hanging plants have become very common these days, and they can be found in nearly every household, be it in a city or distant farmhouses and villages
People who do not have space for gardens (like apartment dwellers) can also continue their love for gardening with these hanging plants' help.
Let us see some of the benefits that hanging plants offer us.
Benefits of hanging plants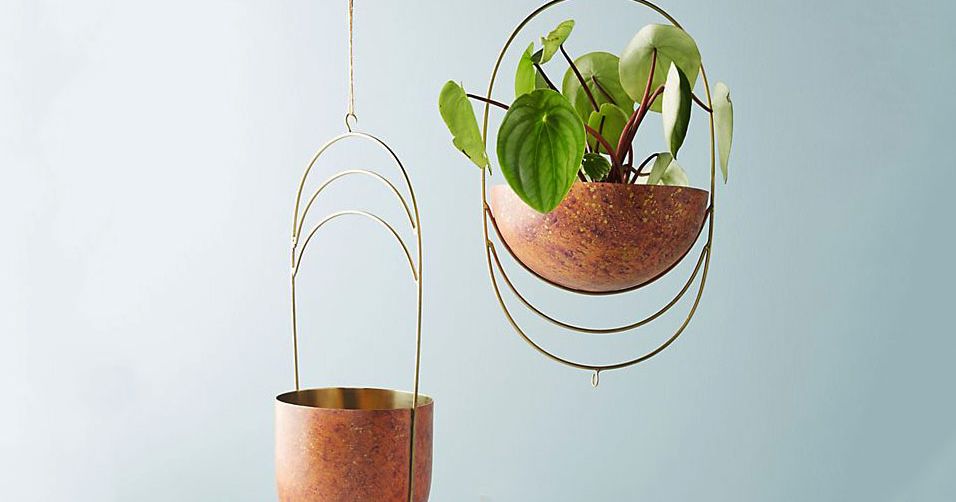 Some benefits of hanging plants have been mentioned below.
Less Ground Space – The most significant advantage of hanging plants is that it requires comparatively less ground space. The fact that they are suspended in the air makes the air under them accessible for many uses that you would have put that area to otherwise. 
Plants at Eye Level – Hanging plants are generally suspended at the level of your eyes so you can quickly notice them and take care of them properly. You can see what is wrong with your plant easily. If the plant were too high or too low, it would have been comparatively difficult to work with them. 
Lightweight – Hanging plants are generally light in weight, so you do not have to worry about the plant falling on the ground and spreading on the floor. The fact that they are lightweight helps them grow more appropriately, and it does not demand much of an effort from your end to hang them. 
Beautiful – Hanging plants are considered way more beautiful than the same type of plants sitting on shelves or tables. They give a perfect floating green ascent to your house that is very difficult to elude.
Medicinal – Hanging plants do come with medicinal and health advantages as they provide you with purified air. If the plant variety is an insect repellent, you are also relieved from many harmful insects like flies and mosquitoes. And not to forget the pleasant aroma that they provide.
How to Hang Plants?
Hanging plants is very easy, and you do not require any help from experts. It could be done in just a few minutes. All you need to do is drill a hole on the ceiling or the wall where you want to hang the plant and then attach a hook in that hole.
Now your plant could be placed inside the cross-section created by Macramé, which is attached to the hook. Ensure that you have lightweight or plastic pots so that the risk of them falling on the floor is significantly mitigated.
There also are other ways to hang your plant other than using a drill. You can hang your plant by attaching your hook to an already existing hole. You can also use S-shaped hooks that do not require a hole in the first place.
Hanging your plants to the tension rods can also be a sage and practical idea (if you have one, obviously!). These rods are very reliable when it comes to supporting weights and bolster your weight also and that too easily. The tension rods are bought for pull-ups. This tells. How reliable they are with heavy loads. So, no worrying about your plant being spread on the floor.
You can also use a hanging plant stand for that purpose but buying one would involve more costs, and the precious ground space that you are championing to save would be at risk. So, you should only get a plant hanging stand if you can afford it and the ground space is not a problem for you at all.
Now that you know how to hang a plant and do the same without using a drill let us learn about some of the best and most beautiful varieties of hanging plants that you can grow in your house. All of these are beautiful and attractive, and it will be a tough time for you to choose one which is best for you. Let us get into the list.
Conclusion
These are some varieties of hanging plants that you should go with if you are starting. Most of the mentioned plants are low maintenance and hence will not demand much of your everyday time.
Make sure to use the right ropes and attach the hook firmly so that there are fewer chances of your hanging plant falling on the ground. Threesome many tools and techniques will you grow hanging plants without drilling.
These will help if you do not live in a permanent dwelling or do not want to drill. And risk the look of your house.