Have you flock and looking for the best ways to make a comfy coop for your birdies to hang out with? Making a chicken coop is not hard, but maintains it is a challenge. The comfort and health of your chicks will depend on the materials you used to make your coop.
Today you have a dozen options to choose from, but I suggest you consider your surroundings and choose accordingly. Let us check out a few of the options for your chicken coop flooring.
Climate and weather, coop location, other animals, flock size, common predators, and coop styles are things you need to consider before choosing the flooring.
Wood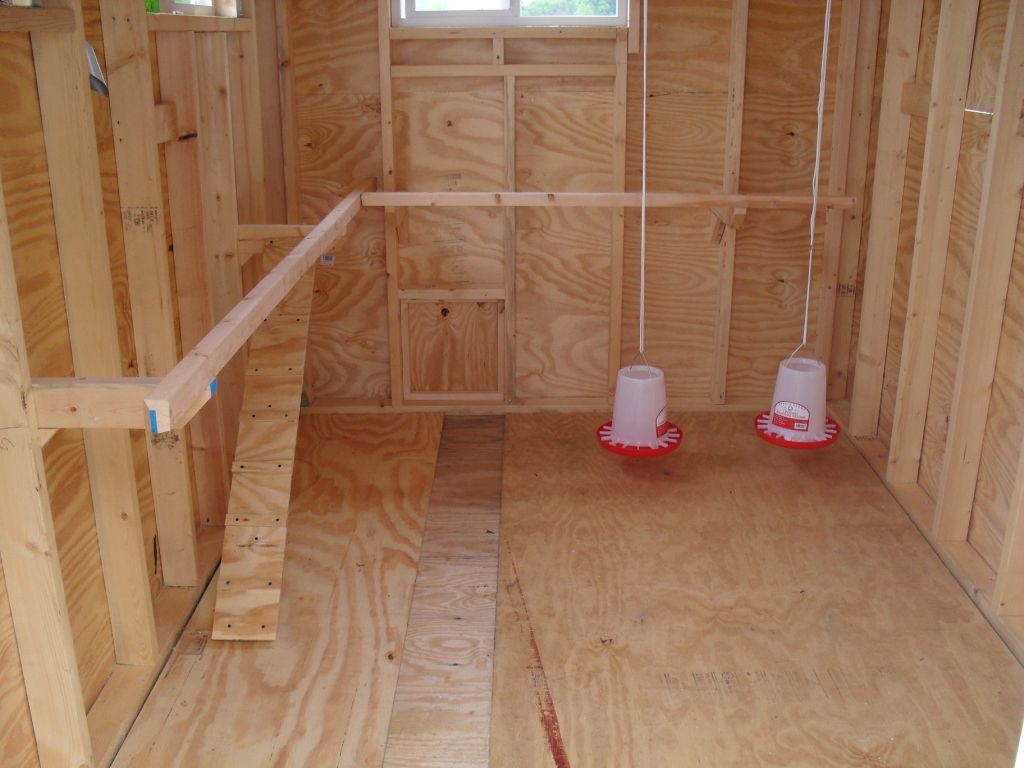 Wood flooring is THE go-to option for almost everyone while making a chicken coop. Why? Well, I'm sure you are most probably building the chicken coop with wooden pallets, and getting another material just for the flooring is a bother. It is easy to install and keeps your flock pretty warm and cozy. As plywood is readily available and is not so heavy on the pocket, people tend to ignore the cons.
 I am sure you will say that treated wooden flooring will survive all the hurdles, but no. After your wooden floor exposed to the chicken droppings, it will rot. You have a few options for sustaining your wood longer. The most common is heavy bedding. Use pine shavings, papers, sand, or anything offbeat that you prefer. People lately using rubbers and coatings as well.
But even with those, the moisture will eventually soak and rot your floor. You can try using a coat of paint that will protect the wood from rotting, but, on the other hand, when the paint will chip off, your chicks will tend to feed on them and get sick. Well, let us say that your wood flooring will eventually wither, and you will have to replace it over time.
Ensure the wood flooring is a bit elevated from the ground and sturdy to keep most predators such as rodents away. One more thing, make sure you have a jet spray to help you clean the flooring as droppings tend to stick between the pallets and are hard to take out.
Concrete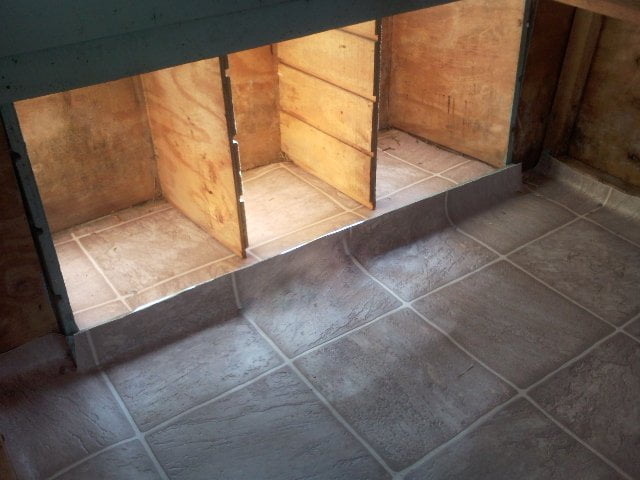 Having cement flooring is the best available option since it is easy to clean and maintain but not cost-effective. Concrete flooring is perfect for keeping burrowing animals away. So if you have a rat problem, go for it! For installing concrete flooring, you need to do it on a hard leveled surface with some professionals' help.
Or you can Google it and try out this project yourself. When making the floor, make sure you make a rat wall, a foot deep around the edge. It will prevent rats from nesting under the surface. Once you have your concrete flooring, you will be building your coop on it. After that, there would not be much of an expense for maintenance as it is easy to clean and disinfect. You can build your floor a bit slanted with proper drainage.
Now, you need to understand that you are making this coop for a fragile domesticated bird and, their comfort should be the priority. If you from a humid climate, summers will be bliss for the chicken in a concrete flooring coop, but it will get way too cold in cold weather. For this, you might eventually have to install a heater and, they are readily available over Amazon. 
You might hear chickens hurting themselves as concrete are hard flooring. You will need lots of soft bedding to keep your chicken from getting hurt. It will also help to keep them warm.
Plastic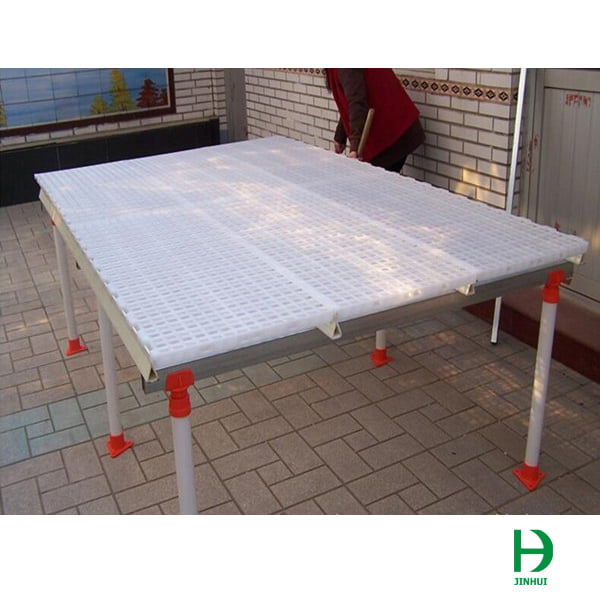 Plastic flooring is the perfect flooring option out of all the others as it is innovative and gives you a disease-free, clean, and hygienic coop to raise a healthy flock. Plastic chicken coops are more durable than a traditional chicken coop and look fancier as well.
Frost King P1025/6W Polyethylene Sheeting, 10' x 25' x 6 mil., Clear
Packaged plastic sheet has dozens of uses around the home, garden and garage
Use it to cover and protect furniture, appliances and equipment
Use to make storm windows and doors and to protect building materials, machinery or other things stored outdoors
Use as a boat cover, as a moisture barrier; to make temporary enclosures; to cover plants and shrubs, etc.
Light weight drop cloths are for covering furniture. The heavier weights can be used on the floor to cover carpeting, rugs, hardwood floors, etc.
This coop is lightweight and portable and designed in such a way that the chicken is comfortable inside. Most plastic coops have built-in insulation to keep the chicken comfortable in all weather. It will have a removable tray which will collect all the dropping.
A quick wash with soap and lukewarm water and your coop will be as good as new. It's not all cherry here either, as it doesn't keep predators out, or since they are lightweight, there is a higher chance that you may break it. Plastic coop is not suitable for big flocks either. If you want to pet a few for your amusement in your backyard, then buy a plastic chicken coop with your eyes closed.
Wire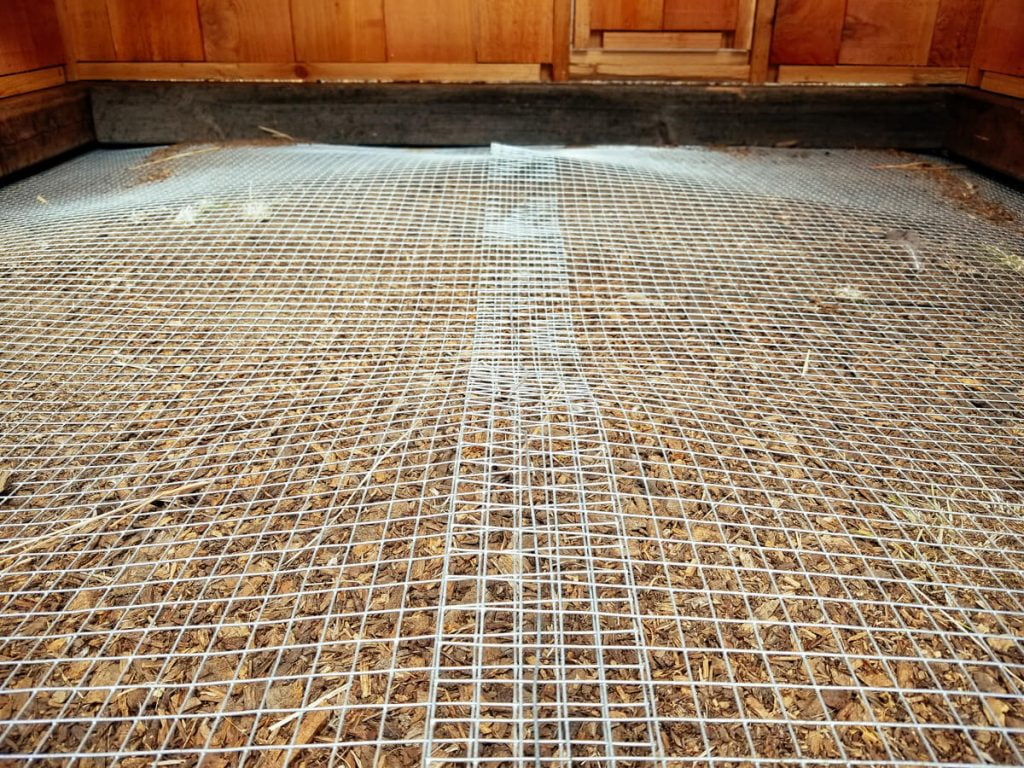 There is lots of chicken wire available in the market, but you should never get chicken wires for your coop as they are not sturdy. Instead, go for a welded wire. Since wire flooring has too many downfalls, it should be your last option.
The main reason why people tend to go for wire flooring because they think that the chicken dropping will fall through the net and will be more hygienic and more comfortable to maintain. In most cases, the dropping gets stuck and, you will end up with an unsanitary coop.
BSTOOL Chicken Wire Net for Craft Projects,3 Sheets Lightweight Galvanized Hexagonal Wire 13.7 Inches x 40 Inches x 0.63 Inch Mesh,with One Mini Wire Cutting Pliers-10 Feet(3 Sheets)
Perfect Size for Craft Works: We Cut The 10-foot Wire Mesh into 3 Sheets,Each Wire Net Measures 13.7-inch Width by 40-inch Length,More Easier for You to Cut and Shape;These Chicken Wire Mesh are Made From Galvanized Wire With 0.63'' x 1'' Hexagonal Mesh Opening,The Perfect Size for Family Craft Works.
Main Purpose: These Small Size Chicken Wire Net is Mainly Applied in Family Crafts,Such As Jewelry Holder, Safe Cover of Pet Cages, Christmas Garland Frame,Photo Wall,etc.You Can Cut and Shape For Any Other Small Projects.
Widely Apply: Galvanized Hexagonal Chicken Wire Netting are Also Great for Gardeners,Surround plants to keep curious critters away!And Other Big Projects You Want,Because Each Sheet of Chicken Wire Net is Wide and Long Enough.
LIGHTWEIGHT & STURDY: The Chicken Wire Mesh is Made of Galvanized Iron Wire With a Wire Diameter of 0.6mm,Lightweight and Sturdy Enough;Lightweight Chicken Wire Net Makes Your Craft Work More Convenient;Sturdy Chicken Wire Mesh To Make Your Crafts More Reliable and Long-Lasting.
Portable Wire Pliers: We Have Equipped a Mini Portable Industrial-grade Wire Clamp For Chicken Wire Mesh to Make Your Craft Work More Convenient.It Can Easily Cut All Soft Iron Wires With a Diameter of Less Than 1.2mm. In Other Places of Your Family You Also Need a Wire Cutter Like This.
Wire flooring is only good enough if you are from a very humid place. There would be proper ventilation for the coop, and it will not become a hot box. But for a cold climate, it is a no-no.
Wire flooring is not safe since predators can easily tear the wire and enter the coop. It also injures your chickens as they tend to get their feet stuck in the wire and end up with broken toes.
Yes, you will not need any bedding for wire flooring and, most coops that are portable have them but, I strongly suggest not getting one as it is not comfortable for the chickens either. After all, you are making the coop so that your birds are safe, happy, and healthy.
Rubber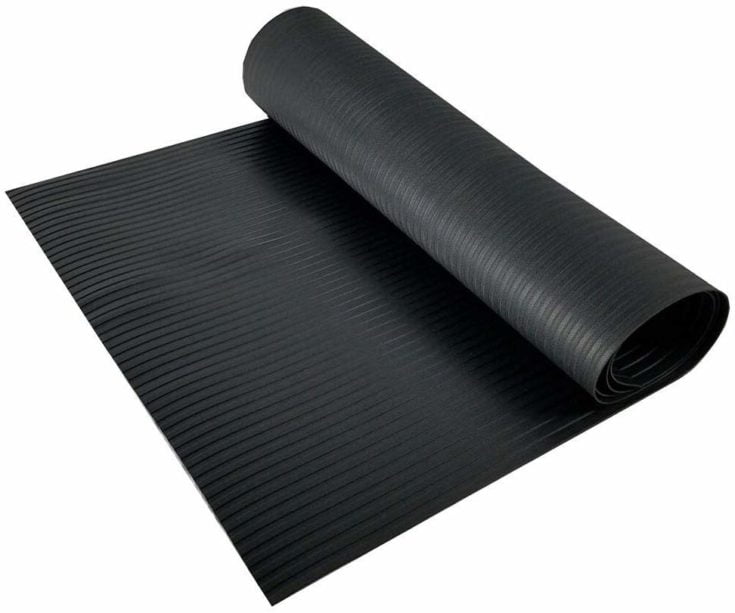 It is not a very suitable option since it is usually used as a lining for chicken coops. Rubbers are chicken friendly but not the go-to option when you have an infestation of rats. Rubbers do no good in saving your chicken since predators have sharp teeth and can cut through the rubber to enter the coop.
You can use rubber as an add-on over concrete or wood flooring. What this will do will work as a protection for both your floor and your chickens. Your floor will last longer with the rubber mats and, the chicken wills not hard themselves over rough and hard surfaces.
Set of 9 Interlocking Black Floor Tiles- 11.5 inches Each Side - Non-Slip Tread - Wet Areas Like Pool Shower Locker-Room Bathroom Deck Patio Garage Boat. Can be Cut to fit - FoghornConstruction
✔ Wet Or Damp Areas - Many uses around the home, boat, kennel, business where excellent traction and damp areas are expected. So many uses around the pool. Put a tile under a plant pot, cut to fit any complex shape. Sturdy tiles that are reusable and re-configurable as often as you want. Install in vehicles and campers as well!
✔ Under Cushions - Use for ventilation on your boat under those V Berth cushions or anywhere moisture and condensation are a problem. Promotes airflow under the tiles. Put a few tiles near the door for wet boots / shoes. Pet areas? No problems. 1000's of uses!
✔ Rubber Grip Surface - Flexible tiles snap together to fit any shape. Can be cut with a sharp knife for pipes, curves, seat posts you name it. Installing is as simple as snapping the tiles together by hand. NO TOOLS REQUIRED
✔ Flooring Solutions - Kitchen, Pool, Shower, Pet area for Dog, Fishing boat, Lockers, Farmhouse, Camping, Gym These mats are easy to clean, installation is a snap, and as a carpeting / carpet alternative they are pretty hard to beat. Outdoor or indoor use.
✔ Installation on Most Surfaces - Concrete, wood, tile, even use in a bathtub. Weatherproof and UV resistant. Cleanup is easy with a scrub brush and soap. You can even run these through a dishwasher (low heat) if you need. Cleaning is simple and a snap. Each tile weighs 1 lb 2.6 oz
Rubber flooring is easy to install, clean, and sanitize but is a bit expensive. If you want to look for something more pocket-friendly, you can try using the Rubberized waterproof roof coating material. A thick coat of it over your initial flooring, and you are good to go. But I don't know how much toxic-free this material is for your chicken. So, before buying, try, and talk with your shopkeeper.
Dirt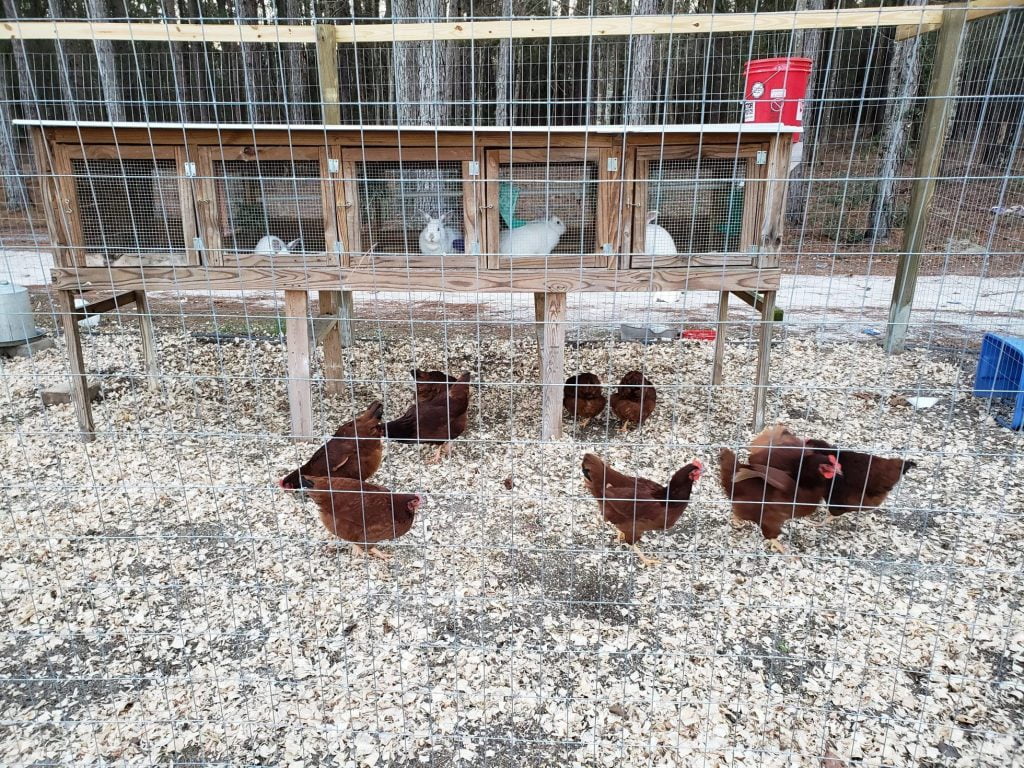 Having a dirt floor is very traditional and old school. Not many will have a dirt floor nowadays as there are too many complications. The main problem that is faced is the burrowing animals that keep digging holes around the coop. Other animals can also try and dig the hole deeper and enter the chicken coop. If your chickens are not safe, then there is no point in having a chicken coop in the first place. 
Cleaning a dirt floor is a tough job as the muck stays along with some water and makes puddles. Moreover, if you have a dirt floor, then most like the chicken will damage the floor and roll on the dirt for a bath like any other bird. All in all, dirt flooring for a coop is not suitable for a healthy and safe chicken coop. It is, however, also free but too much hard labor.
While making a chicken coop, you will think that floor is the last thing you should bother about, but it plays a far more significant role. A comfortable, safe, and clean coop will give you a healthy flock with high productivity. I believe that if your chickens are happy, you will be happy as well. So, do not be stingy and shed that extra few dollars as it will help you in the long run.