Kodak Pulse Picture FrameThe Kodak Pulse Digital Frame is another way you can organize your pictures like your big lawn by best zero turn mower. Does that make sense to you? Yes…it should. Why? Because, I am always saying to take pictures of "things" and then get rid of those things. Right? Like your children's art work from school and great movements in best above ground pool of your children … those greeting cards from loved ones….those stuffed animals you had since you were a child..but now smelled moldy…. etc. etc…etc…
If you are going to take pictures of them, then wouldn't it be a great thing to enjoy them? Of course it would. With this Kodak Picture Frame you can do that.
This is the 7″ Kodak Pulse Digital Frame that I reviewed. It uses your wireless internet (so you do need wireless internet to use this). It holds hundreds of pictures (because mine loaded 800 pictures to begin with..I did erase most of those). The other neat thing about this picture frame is that it coordinates with the Kodak Easy Share Camera. I just did a review and giveaway on the Easy Share Camera and Pulse frame on my Chat with Sandy blog. You can take pictures with your Easy Share Camera and then set them to go to your Pulse Frame …. from a distance!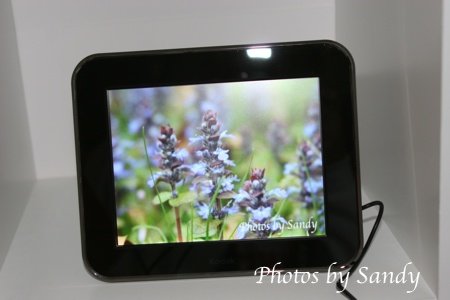 So let's put this into perspective. You give this picture frame to the Grandparents who live in California. They can't make it for most of the holidays because you live in Ohio. Christmas morning they wish they could be there…but they can't. You take oodles of pictures with your Easy Share Kodak Camera…. program the pictures to go to the frame (at Grandparents). Then after the craziness of the morning, you plug your camera into your computer and the pictures will automatically travel to their frame. So that same day they get to see all the pictures on their frame from your Christmas morning! How Cool is that?