img-mattress-pads mattress pads are something that I typically hate to spend money on, but it is one of those necessities. It seems it would be more fun to buy new sheets or a comforter, doesn't it? But when you realize the reality of what can breed in our mattresses…you will realize a good mattress pad is well worth it!
I was sent this mattress pad to test out and I am happy to say I have been very pleased with it. We have been using it for a couple of months now and it is comfortable, no plastic wrinkly noises, no sweating (because it doesn't breath) and even though I can't see it..it is nice to not worry about the mites and bacteria. (Mites I know are around and I don't want to think about them…but bed bugs I have never had and don't ever plan on having!..uh ..yuk!)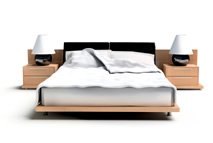 This shows the Miracle Membrane which is described on their web site as "a new age air vapor porous barrier fabric, which is waterproof and protects mattresses from all liquids and bodily fluids."
The top is a natural terry cloth fabric that keeps you cool in the summer and warm in the winter (who doesn't love that?). I hope you can see the texture from this picture. It looks like a soft smooth robe.
It is hypoallergenic, prevents dust mites and bacteria from breeding in the mattress. It is recognized as a Class 1 Medical Device by the Food and Drug Administration.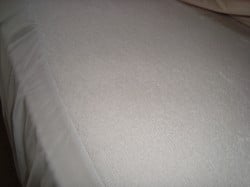 It washes up great and one of the things I noticed right off the bat was that it fit our mattress! We have a large pillow top mattress (you can see where the pillow top starts through the fabric, so that is a tall mattress to cover and I have a hard time finding sheets to fit…but this fits great) The other wonderful thing about it is that it doesn't "pop" off the corner of the bed everynight. Literally every morning my husbands corner of the bed had the sheets and mattress pad pulled off (I don't know what he does over there every night when he sleeps….) but since we have had this mattress pad I have not had one time that has happened. I am 100% satisfied with this mattress pad and thrilled that they sent it to me to try out. (disclosure policy)