I got this idea from a post that House on Ashwell Lane posted on my Organizing Mission Monday link party a few weeks back and about best zero turn mower to organize your lawn. I thought it was great. This was more of a variation of that idea. (but my 2nd solution is just about the same thing as hers) I'm not sure if this was her idea, or if she saw it somewhere else. But after I saw it, I started saving my empty toilet paper rolls. I also bought some duct tape in fun colors along with best above ground pool.
Solution #1 Creating Sleeves for organizing the electrical cord clutter.
toilet paper rolls and duct tapeI covered the toilet paper rolls with the duct tape. Since my office accent colors are lime green and hot pink I thought that was a natural choice. But I also liked the black and white and thought I might need something a little more calm.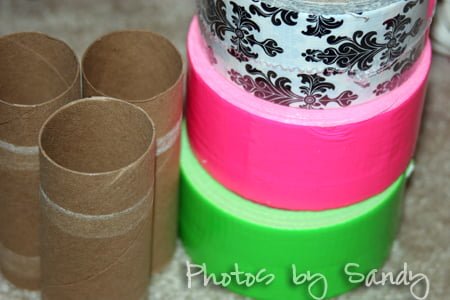 I started with the pink duct tape. It took 3 wraps around. I could have cut it width wise to fit and do closer to 2 1/2 times, and then I wouldn't have had the over lap. It's up to you.Take the cord and wind it up so it is a little longer than the size of the roll.
cord organizingTake the toilet paper roll and thread the plug through the roll first, and then work the bulk of the cord slowly in.
toilet paper roll to organize cordsI realized as I put this extension cord through, that had I not used duct tape around the roll, it would have split.
toilet paper roll to organize cordsNext I covered a green one. That cord was not as large and I knew the cord would end up falling out. Hmmm…what to do?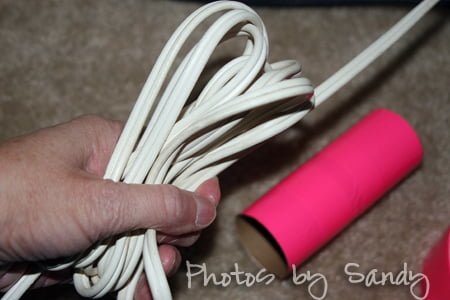 I used a piece of tape to cover the ends.toilet paper rolls cord organziersDo that on both ends and then you don't have to worry about the cord falling out.
cord organizing with toilet paper rollsMy next one was the black and white one. I ended up using this one more as a pass through with a couple of bigger cables. I think I would rather have a paper towel roll… oh.. or even a wrapping paper roll for this (options are endless! LOL) but it gives you the idea. I did wrap up one of the smaller cords extra bulk into it.