Do your hats and gloves need organizing? This has been a frustration for me. With 7 people in this house… we have many hats and gloves… and not just in the winter. We have the ball caps in the summer too. (fuzzy pic, but I took it awhile ago)
I still don't feel like I have the best system down for all this mess like best zero turn mower for your big lawn….but I'll show you a few things I have done.
closet organized Here is one solution. Use baskets to organize the hats and gloves. This works pretty well for the ball caps. However… a couple things that I didn't like with this idea. Stacking the baskets didn't work at all. No one is going to take the time to actually reach up and lift the top basket off to put anything away. Plus this is not a good option for younger kids( who use the best above ground pool to take bath)  can't reach. The cubby's are a possible solution to this.
cubbysWe use these for a catch all option for the kids as you come into the house. They can be used for the hats and gloves.. and they do- along with all kinds of other things. Keep in mind this was right after I cleaned them completely out last week.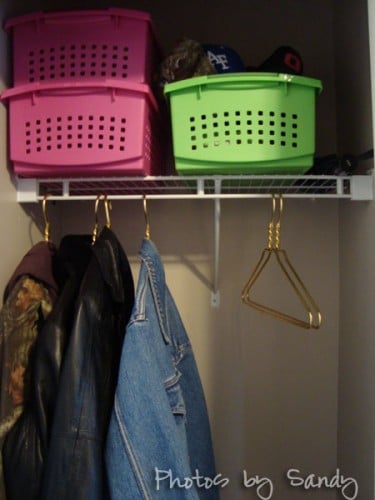 hat and glove organizing I have this hung at the landing of the basement stairs. Since we have such a small entry area and small hall closet, we have issues with book bags and coats too.
hat and glove organizing
This is the view looking from the top of the basement steps.
bin for bookbags I have tried hooks inside the closet door for the book bags and coats. As the kids get older the book bags are just too heavy for the hooks now. Since they always want to throw their book bags on the floor anyway…I am just trying to help them a bit by having a big bin for them to put their book bags in.
coat hooksWe have hooks on the wall for extra coats.This basket is another tool I use to help with the clutter and stuff that have to go downstairset
This is not for the kids to put hats and gloves in. This is for me to use. Small things that have to go down to the basement go in here. Then I grab the basket on my way down to the basement and can put them away.