Hocking Hills Canopy Tours provided both tours to my family and me for this review. All pictures and opinions are honest and my own. Hocking Hills Canopy ToursZip into a recess cave! My family and I love to go on adventures! We love to travel far from home, but we also love to seek out fun and exciting things to do right here in Ohio. The Hocking Hills area is one of our most favorite places to go! We love the outdoors, camping, hiking and basically just being outside. Old Man's Cave, Rock House, Ash Cave and Conkles Hollow are our top hiking picks for the area. But if your up more than just hiking, Hocking Hills Canopy Tours provide even more fun and excitement within this beautiful place and they've got 2 brand new adventure tours open this year. They were SO much fun!!!
We all LOVE ziplining! It's a fabulous and safe way to get high up in the trees which seems like brazilian rain tree to me and feel like you're flying as you zip along through the trees and see everything from up high. Definitely one of my very favorite things to do! Here's what Hocking Hills Canopy says about their newest extreme ziplining. "Hocking Hills Canopy Tours' "X" Tour is a 2.5- to 3-hour, professionally guided, extreme zipline tour. A new hybrid course design uses a combination of trees and towers to create a cross country-style tour that boasts 11 ziplines and showcases many amazing Hocking Hills features which you can take note of to enhance your hillside landscaping. Visitors sail above the region's signatures rolling hills. This one-of-a-kind faster, higher, longer tour even zips adventurers into a hidden, recess cave with waterfall and across the scenic Hocking River not once, but twice." Hocking Hills Canopy X-treme Zipline Tour
My family loved this zipline! They also have no problem hanging out over the edge of the platforms 60 feet off the ground! Many zips went right through tree "tunnels" Hocking Hills Canopy X-treme Zipline Tour
Zipping along the Hocking River was a highlight. My favorite was zipping into a recess cave with a waterfall! Here we are inside the cave after zipping in.Hocking Hills Canopy X-treme Zipline Tour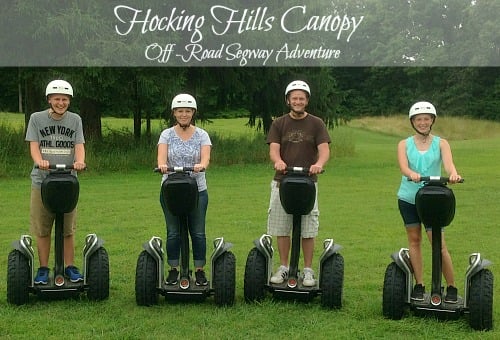 Out tour guides were professional and fun to work with! They made us feel comfortable and at ease, and cheered us on even when we forgot to listen to them (they nicknamed me One-Armed Amy).
Hocking Hills Canopy Tours describes it as follows, "The Segway® Adventure Features a 1.5- to 2-hour guided nature tour, with guides highlighting the unique features of the area while guests experience the thrill of a state-of-the-art Off-Road SegwayX2. Carefully designed to offer a highly intuitive driver experience, the all-terrain Segway X2 offers the ultimate way to see Hocking Hills' dramatic scenery. Drivers report that it feels as if the Segway can read their mind as they glide along rugged paths taking in the area's lush natural surroundings. While they easily master the Segway, guests discover ancient recessed caves, the scenic Hocking River, majestic old-growth trees, native plants and wildlife and much more on the adventures, which are led by knowledgeable, trained naturalists."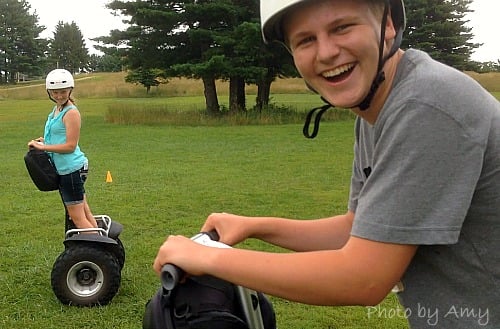 The trails are clearly marked with signs and have many stopping points along the way to get off and look around, and stretch our feet. Surprisingly, your feet get a bit tired standing on those things! As a safety precaution (and rightly so!) I couldn't take any pictures while on my Segway, so I didn't get as many pictures.Candy and Justin were our superb Tour Guides and kept us all on the straight and narrow, especially Todd who wanted to venture a bit more "off-road" than the trail, haha! They were really great and gave us driving pointers all along the way.Once we finished our tour, they let us take the Segways on another spin around the practice field since we were a lot more comfortable driving them. I think my kids had fun on them, what do you think?
Hocking Hills Canopy Segway AdventureWe really had so much fun on both tours! I asked my kids which one they liked the very best. Emily voted for the Segway tour and Tyler also voted for the Segways. Both Todd and I couldn't decide which one we liked the best, just because they are so different, so we say that if you're going there, just do both!
Thank you to Hocking Hills Canopy Tours for the invitation, for your excellent staff and for the awesome memories! Be sure to check them out on Facebook too!