This week on Organizing Mission Monday I am going to be concentrating on all that Paper clutter we have to constantly deal with.
But here is a list of the Mission: Office posts that I have done so far:
1) Your Files
2) Your Mail System
3) The Shredder
4) Pen & Pencil Clean Out
5) Organizing Your Desk Drawer
6) My Office – Before
7) My Office – After
8) Shelf Organizing
9) Organizing Sales from Home
10) Office Chair
Please visit my Featured Bloggers for this Week:
Featured bloggers, please pick up the "Proud To Be Featured On Organizing Mission Monday" button
Talking Dollars and Cents – 52 Weeks of Organizing Challenge
Alexandra tackles her files! Now she is ready for her taxes! lol
My Chaotic Home – Home Management Binder
Patty did a great job making a Home management binder. I love her the page that she made up for who she does this for.
A Tall Drink of Water – Office Makeover… well, sort of
Rachel reorganized her office in her bedroom. Working with a small space is really hard to do. Check out how she lined her drawers and made her space look great.
Thank you, featured bloggers.. don't forget to pick up your button above!
Link up to my Link Party
Rules- Just a couple of basic ones. Your link doesn't have to be office related, just organizing… but I will be looking for the office-related on this Office Mission for my Featured Bloggers.
This link party is continuous for the Mission: Office series. It is open until Feb. 24, 2011. Feel free to add more links as long as they are to the specific post and organizing related.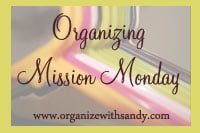 1) Link to your specific post – not your blog
2) Link back to my blog with my button or link (cuz it's just linky nice)
3) I'd love if you'd follow me on google and/or FB. The google is new and I'm trying to build it
4) Blog post related to Organizing or Cleaning
5) Family-friendly
6) No sales pitches or web sites.
7) If I feature you I will use one or more of your pictures with a link back to your blog!
Be sure to check out my list of link parties! If you have a link party.. please link it up! Underneath the daily buttons, there is a list of links I have compiled of link parties.
If you are confused about how my Organizing Missions link party is set… check out the agenda here.
If you aren't sure how to link up… see my link party tutorial here. It is simple.
This is a continuous link party until the 24th of Feb! Feel free to link up other posts, even if you have already left a post.