This shop has been compensated by Collective Bias, Inc. and its advertiser. All opinions are mine alone. #newfromhormel #CollectiveBias
Hormel Everyday Scratch
I need help on busy days and would love straight from the grill flavor without having to fire up the grill! My kids always seem to be hungry! Everyday I hear, "Mom, when's dinner?" and "Mom, WHAT's for dinner?" After school, band practice, and piano lessons, they always seem to be starving from swimming  in best above ground pool. I'm also hungry after all the running around, but I haven't had time to even think about dinner, let alone have something fixed.
I prefer to serve a homemade dinner if at all possible, so when we have these busy days (and there are many), how can I get a good dinner on the table that tastes great, has high quality ingredients and is homemade? My kids love pizza and it is a fast and easy dinner. Although they enjoy pepperoni, which is the standard at our house, I wanted to make something fun, different, and unexpected for them tonight! While Shopping at my local Kroger, I found a new and different product called Hormel Everyday Scratch Meats. With straight-from-the-grill flavor, these proteins are cooked and sealed fresh, and are simple and versatile proteins that are actually good for you! (no preservatives and Og Trans fat)
I found exactly the kind of meat I was looking for. Flame Seared Carnitas!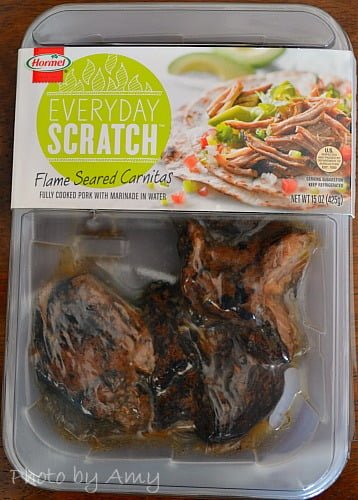 Now to get to work on my new pizza recipe…
Philly Cheese Carnita Pizza
– Your favorite homemade pizza dough recipe or prepared pizza crust
– Jarred Alfredo Sauce
– Shredded Cheese (I used a combination of mozzarella and provolone)
– 1 pkg Hormel Everyday Scratch Flame Seared Carnitas
– 1/2 sweet onion, sautéed
– 1 bell pepper, lightly sautéed with onion
Preheat oven to 425 degrees. Warm Carnitas according to package directions. Pull out of package and shred meat with fork. The meat was so tender and juicy, it really just fell apart! There was also plenty of meat. Once shredded, it filled a dinner plate; plenty for a family of 6!
While getting the pizza ready, my kids kept sneaking meat–they couldn't keep their hands off it. It really was flavorful and tasted like I'd made it myself.
Slice onion and pepper. Sautée onion in butter or oil until soft and transparent and just starting to brown on the edges. Add peppers and continue to sautée for a few more minutes. You want the onions nice and sweet, but the peppers only barely cooked. I had a few small red and green peppers in my garden, so I used one of each for color.
Prepare your homemade pizza crust or use your favorite prepared pizza crust and spread the alfredo sauce on top. Be generous!
Next, add plenty of cheese (what's pizza without lots of cheese?) and plenty of the fabulous Carnitas.
Add the onions and peppers on top…
Toss in hot oven for about 12-15 minutes or until the cheese is melted and bubbly. Enjoy your new pizza!
I have to say, I actually made 2 pizzas (because one won't feed my family). I made this one and then the standard pepperoni. The Philly Cheese Carnitas pizza was gone in minutes and I still have leftover pepperoni pizza! Every member of my family asked me when we could make this pizza again! I think I've found a winner!
If you like Philly cheese flavors, also check out Hormel's Philly Style Steak with Sautéed Peppers and other new Hot Sandwich Meats! Yet another new and different easy meal idea that is now available!
Make sure to look for all the new flavors in both the Hormel Everyday Scratch and Hot Sandwich Meats in your nearest Kroger refrigerated entrees section. Here's where I found mine to help you find yours!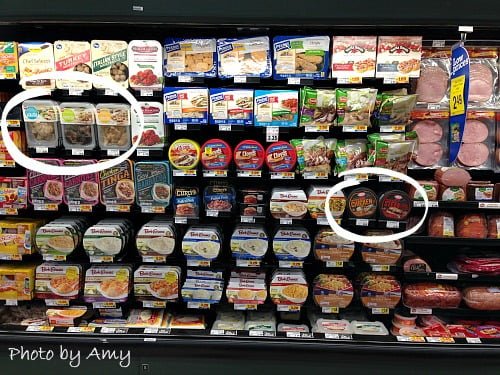 If you're also a money saver like me, Hormel has printable coupons for the Everyday Scratch and Hot Sandwich Meats! Offers expire 11/30/14. (Note if you live outside the programs geo-target area, both links will direct you to the coupons.com homepage.)
Hormel is also offering a $1 off coupon on their Everyday Scratch Homepage. Coupon expires 30 days after printout, final expiration being 11/30/14
Thanks to Hormel for helping me save time and money & helping me choose the best zero turn mower.
Love to All! ~Amy