Many times the main problem that we have in the kids playroom is that they have too many toys!! We love our kids and want to give them everything. But sometimes everything is too much.
Have you heard the phase, "Less is More"? This can be very true in regards to this. I am not saying to throw out all they toys. Not at all. But I am saying 90% of the time that our kids have too many toys.
Are you overwhelmed when you walk into a room of your house and there is SO much Stuff? You don't know where to start…and it almost makes you feel like just walking right back out of that room.
So why should your kids feel any different if they walk into a playroom with SO much Stuff? They can be overwhelmed by toys. I know that it seems they should be happier with lots of toys…but it can be too much.
So what to do?
Start with at the starting point. Sorting! (You knew I was going to say that didn't you?) You can go back and look at how to sort in my "Five Steps to Sorting" post.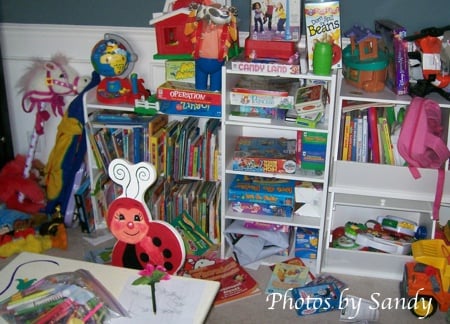 Step 1 –
Get those black and white trash bags. Black for trash – White for Donate
Step 2 –
Make those decisions quick. Do not sit and remember each birthday party or Christmas that each toy came from. Remembering the fun, who gave it to them. Feeling guilty if you give it up. That is "personalizing" the toy. You can take a picture of it…if it is something you want to remember.
Step 3 –
Look at each toy or book. Ask yourself these questions:
1) Does it work? (broken? – trash)
2) Do they like and and play with it? (If not – donate)
3) Have they out grown it? (donate)
4) Does it have all the pieces and parts? (If not – trash)
5) Is it broken? (Trash)
6) Is it worth taking up space in the playroom? (If not – donate)
Step 4 –
Decide if YOU are the reason they have too many toys. Are YOU the one that doesn't want to give them up? Many times we are the problem, not the kids. We remembering picking out that toy and how excited we were to give it to them. We know how much it cost and know that it was expensive.
BUT…..if they do not use it any longer, if it is broken ….it is time to give it up.