We are all familiar with motorhomes or what is more popularly known as RV do not, we? Every person who is a fan of traveling on the road and tripping possesses an RV, and the ones who do not possess it cannot stop thinking about possessing it. 
It is a very desirable product that every vehicle enthusiast wants to get his hands on. And why won't it be desirable? It is comforting, spacious, private, and can move. It is like a house on wheels. Who does not want to carry their houses along with themselves to the long trips and family picnics? I would certainly want to get my hands on one.
Well, don't you think your hens also want one for themselves so that they can access the comfort of their coop even when you are keeping them on the move? 
I mean, after all, they also have lives and need rest. It would help if you considered finding a solution to this problem to make sure that your chickens are healthy and happy. Because only then will they be able to provide you with good quality eggs and obey you.
A solution to this problem is to build a portable chicken coop for your little ladies. It is not that simple. A portable coop will be able to allow your chicken to have the coop comfort despite being at a completely different location. 
But the most critical question is, who will require a portable chicken coop, and for what purpose?
Some Portable Chicken Coop Plans
1. Paw Hut 98."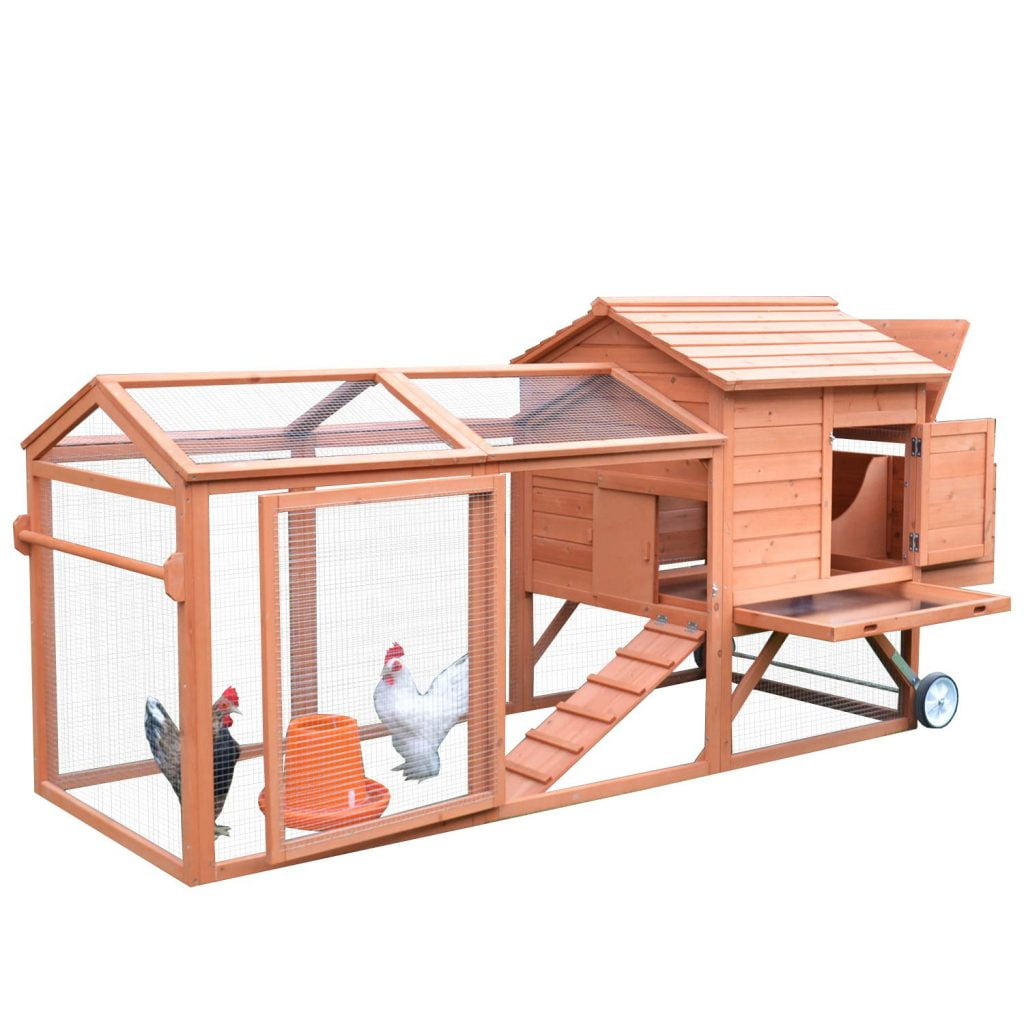 A portable chicken coop, pa what 98″ is a very fancy looking yet efficient chicken coop idea that you can implement by yourself or purchase as a ready-made product. It is available as a ready-made product on amazon and looks quite fascinating. It houses a coop capable of housing 3 to 4 hens and a run-in front of the coop with proper galvanized wire fencing. It also has wheels attached at the back to make it easily transportable.
2. A-Frame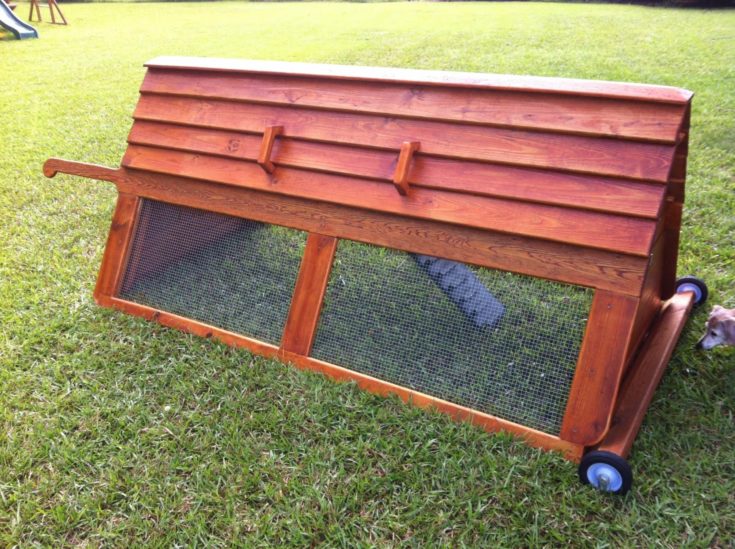 This is also an efficient and portable chicken coop plan that you must consider for once if you are in a severe lack of space and have a busy schedule. These portable chicken coops are shaped like the roof of a hut, and you can see A-shape from two sides. 
The coop is broader at the base and narrower towards the upper part. This provides your chicken with even more space to run as the bottom structure is used as the run.
3. Keep Moving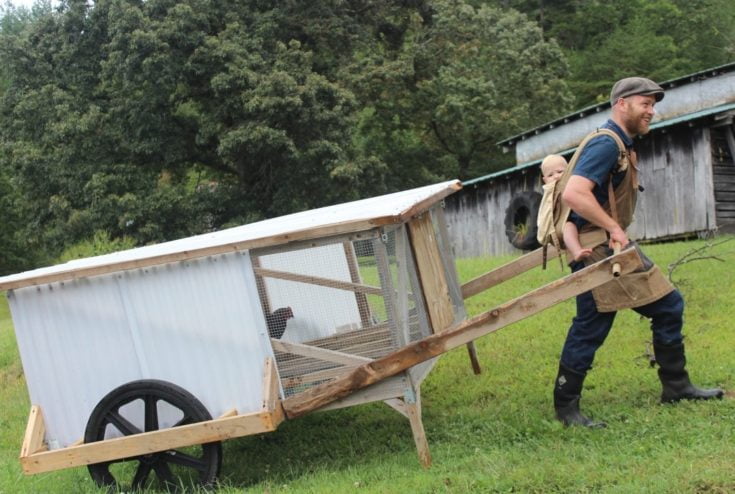 Though these portable chicken coops might not seem attractive to you but are very useful and practical, and this is not even the best part. The best part is that it costs significantly less than other portable chicken coop plans and is the most easily movable among them all. It might not be attractive by itself, but its features certainly do the job for it. It is like one big box segregated into a closed section called the coop and an open section covered with the run's wired mesh.
4. Easy Access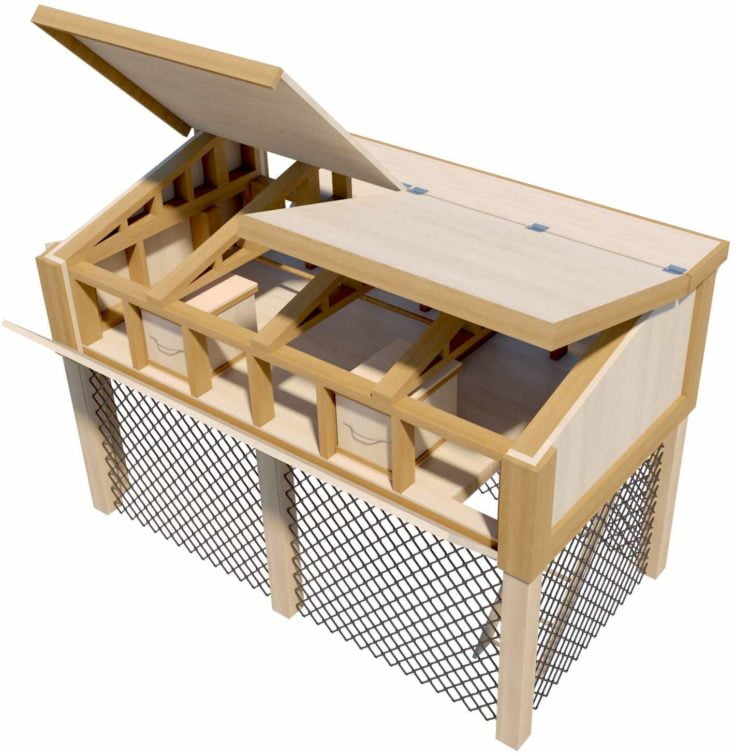 Again this is not a very attractive chicken coop idea to go forward with, but if you are a practical person and only care about whether the task is being fulfilled or not, then you should go with this design. This is portable and very compact. 
The frame model uses efficient utilization of space by making the run at the bottom and the coop at the top. This way, the chicken is provided space to run errands and sit in the coop calmly. The top and the bottom section is connected via a ladder.
5. PVC Build Coop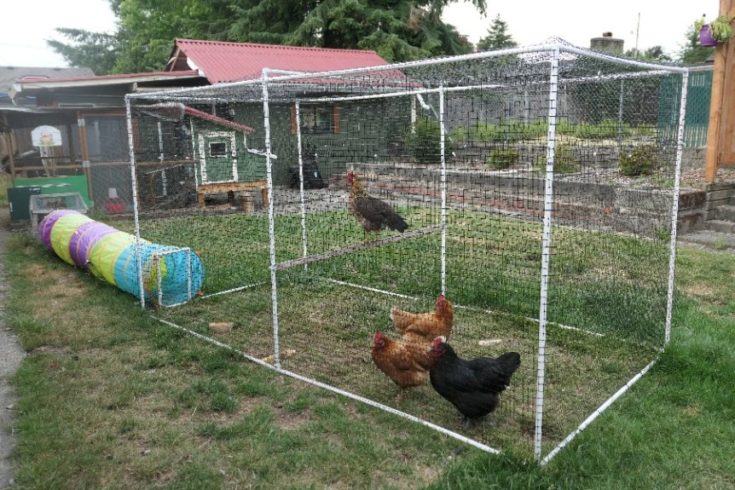 Although they do not have a wheel attached, these portable coops are very portable compared to the heavy portable chicken coops. This is because it is incredibly light in weight because of the PVC used.
It can also be set up in any place you desire and is probably one of the easiest day chicken coop projects that are also very efficient at the same time. All you need for constructing these portable coops are wired mesh and some PVC pipes. This also makes it a very cheap option.
6. Dome-Shaped Coop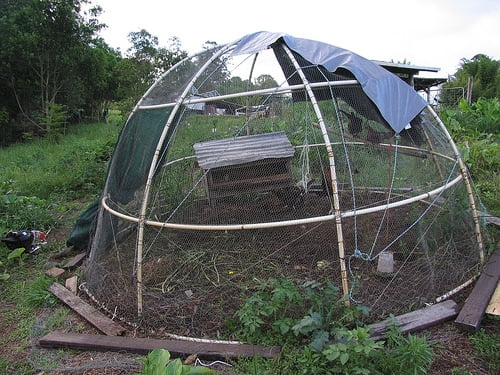 This portable chicken coop plan is unique because of its dome-shaped design. You can set it up at any place you want. If you find a better place for your chickens, then you can quickly shift this coop at that place. To move this coop, you can either attach the wheels at its bottom, or you can change its location by only using some muscles. It will not be that heavy.
7. White Beauty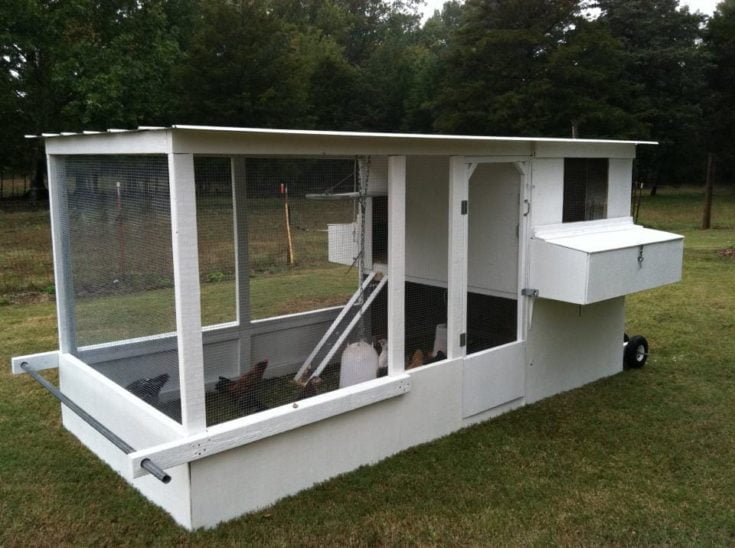 This white beauty would be the one portable coop you have been searching for if you want a house for your chickens, given that they are not more than three. Though not big, it will be very comfortable for your chickens. This portable coop boasts a run and is attached with a handle and wheel to make it easily movable.
8. Farmhouse Style Chicken Coop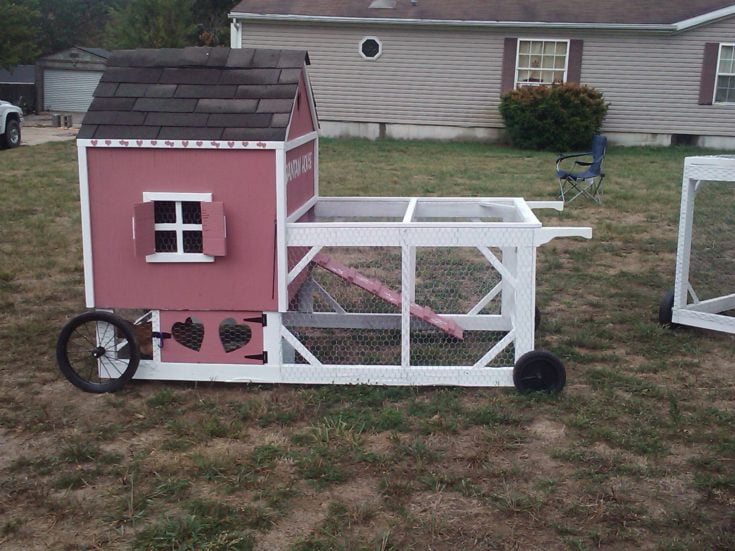 Your chicken coop can come in the shape of a miniature farmhouse. Why should it be only you enjoying the lifestyle of a farmhouse? Your chickens should also experience it. And the best way to give them this experience is by not letting them inside your farmhouse but building a farmhouse for them. This chicken coop is capable of housing 3-4 chickens within it. It also comes with a run and is easily movable.
9. Chicken Wagon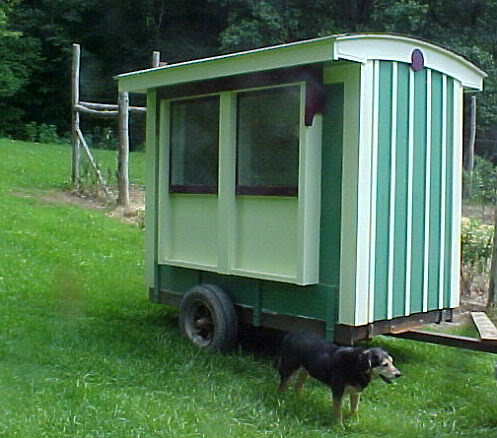 This chicken coop plan is the easiest one to move.  If You have a frame left from your old trailer, or you can get one either from someone or buy it, then this should be your go-to chicken coop plan keeping portability your topmost priority. You can design a run on the coop or build it outside, at the place where your coop is kept.
10. Meaty Tractor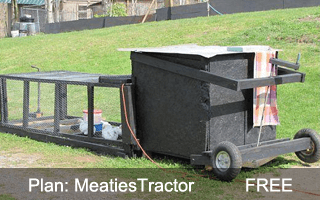 This is a small but significant chicken coop plan suitable if you have 2-3 chickens. It comes with a very long run, big enough for the hens. This cop plan is DIY and can be built for a couple of hundred dollars. Like many other portable chicken coop plans, this one also comes with a wheel and a handle, making it easily movable.
Who Will Require a Portable Chicken Coop and Why?
A portable chicken coop can be needed by any person depending on his desire, but most of the time, the person is a farmer who rears hens for eggs. These farmers have huge farms.
Because of these big farms, the hens that they rear cannot get around the whole farm and feed throughout the farm. So, to keep the nutritional contents of the soil in balance, they are needed to shift their hens' position from time to time. 
Because they cannot shift the hens on a big farm unless they are correctly organized, they require a portable chicken coop, which is also known as a chicken tractor in many places. These portable chicken coops can also be used by people living in cities with small spaces, as these coops are adjustable and require lesser space.
Must-Haves in Portable Chicken Coops
Here is the list of the three most important things that must be present in a portable chicken.
Coop Itself
The first and foremost thing required in a portable chicken coop is the coop itself. I know it sounds naive to mention this at all, but people would be less bothered about getting done with the coop and focusing on other stuff if this were not mentioned. And your chickens do not want that to happen. So, for the sake of your little chickens, I have mentioned this obvious point.
The Run
The second important thing in a portable coop or any ordinary coop is the run. It would help if you had a run to make sure that your hens are happy and healthy. The run allows your chickens to run around a little and take more of that necessary fresh air after being in the coop for so long.
The Ventilation
You need to make sure that the coop is provided with the right amount of ventilation so that an apt amount of light reaches the coop and the hens inside do not panic. The ventilation can be in the form of doors and windows or even in the form of ventilators.
The abovementioned necessities are necessities in every ordinary coop, but the next necessity is exclusive to the portable chicken coop.
Portable Element
While thinking and working to provide every other element, do not forget that your coop must have a portable element so that it is not difficult to move. To provide your coop with this element, you can use wheels, build handles, and use lightweight materials to be easily movable.
Now that we know a portable coop's basic requirements let us investigate some portable coop ideas that you can purchase or build by yourself.
Conclusion
The above mentioned are some of the portable coop ideas that you can implement to move your chicken quickly.
Make sure the coop is well provided with grains and water so that your chickens are provided with a proper supply of nutrients all the time. 
Do include all the necessary elements in a coop to ensure that your chickens are happy and healthy. 
Because only then will they be able to provide you with good quality eggs. That is how trade works. Right?