Salmon is a luxurious smoked fish used to prepare lip-smacking recipes varying from delicious sandwiches to Japanese sushi.
Smoked salmon makes a delicious and perfect combination with a freshly baked loaf of bread, along with a fresh cucumber salad. A simple recipe using smoked salmon is enough to satisfy your taste buds.
Salmon was once considered a luxury food product. Now it is readily available in every supermarket and has found a commonplace in UK households' dinner table.
Whether served as chopping's into scrambled eggs at breakfast or seasoned with herbs, beetroot, whisky, and more on your dinner table, it will perfectly satisfy your appetite.
Apart from its taste, it has significant health benefits.
Smoked salmon comes in two varieties. The hot smoked salmon is high in protein content, but it also has high salt. It is an oily fish; therefore, the hot smoked salmon is comparatively high in fat concentration.
Cold smoked salmon is nearly like hot-smoked salmon in its nutritional value. It is high in protein and unsaturated fat.
Both the variety of smoked salmon has proved to be a good source of vitamin B and selenium. This provides our immune system's energy to function correctly and protects our cells and tissues from damage.
Vitamin D content present in it regulates the level of calcium and phosphate in our body. This is necessary for healthy bones and teeth and to support the normal functioning of the immune system in our body.
Therefore, keeping the health benefits in our mind and maintaining the taste, we have tried to cover the top 10 recipes using smoked salmon for you to enjoy.
Smoked Salmon and Avocado Sushi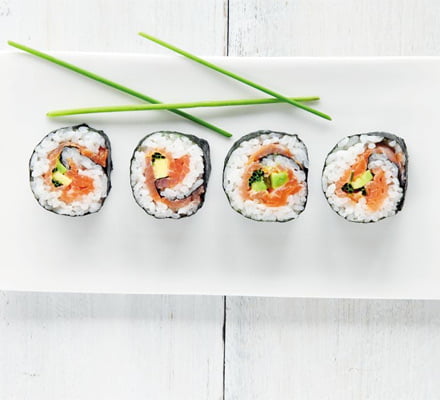 Ingredients Required
Four slices of smoked salmon
Two tablespoons white wine vinegar
sweet soy sauce for serving
½ lemon juice
Four nori seaweed sheets
One large avocado
300g sushi rice
One bunch of chives
One tablespoon of caster sugar
Method of Preparation
Take a small pan containing 600ml of water. Put the sushi rice in the container and boil the water until the rice is cooked. Stir it with vinegar and sugar solution, put a cover, and let it cool.
Chop the avocado into slices and put it in a bowl. Squeeze half lemon juice on the avocados such that it is completely covered.
They evenly spread the rice between the nori sheets, put the salmon slices over the rice, and cover it with finely chopped chives. Now place the avocado pieces in the center.
Make a fold along the bottom edge of the seaweed and roll it up. Now seal the rolls by applying water at the ends.
Repeat the process with other nori sheets.
Cut each roll into eight cylindrical pieces and serve with sweet soy sauce.
Lemony Smoked Salmon & Spinach Tagliatelle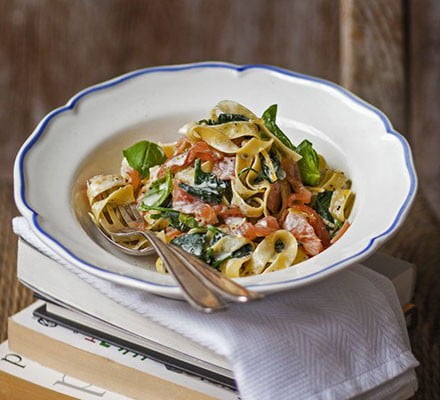 Ingredients Required
75g of sliced smoked salmon
1 tsp olive oil
50g spinach
75g cream cheese
100g tagliatelle
finely chopped basil
One finely chopped garlic clove
zest and ½ lemon juice
Method of Preparation
First, cook the pasta according to the instructions on the back of its pack.
Meanwhile, take another pan and heat one tablespoon of olive oil, and sauté the minced garlic until it becomes soft. Add the spinach to the pan and continue to cook so that it becomes tender.
Now pour the cream cheese and add lemon juice and some black pepper into it.
Use a colander to drain the pasta and mix it with salmon, basil, and the prepared sauce, along with water to loosen it a little. Toss them together and the season before serving.
Spicy Salmon Tabbouleh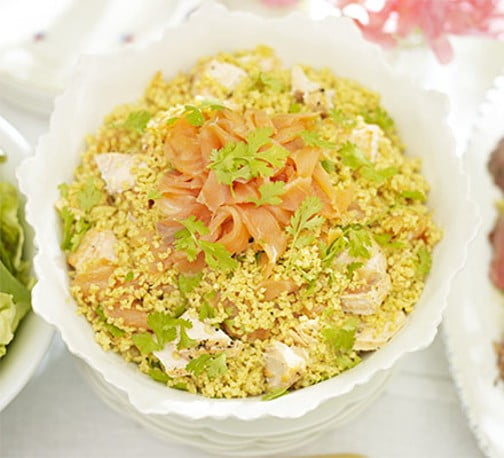 Ingredients Required
300g of smoked salmon
500g pin-boned salmon fillet
3 tbsp sunflower oil
peeled and finely chopped ginger
Two finely chopped onions
300g Greek yogurt
2 tbsp korma paste
One lemon juice
a handful of roughly chopped coriander or parsley
400g of bulgur wheat
Method of Preparation
Take salted water in a pan and cook the bulgur wheat properly in it. Carefully strain the water and leave it aside to cool.
Brush the salmon fillet with oil and grill it for 7-10 minutes.
Heat the remaining oil in a saucepan, add the chopped onions and ginger, and fry it until softened and becomes translucent.
Add the korma paste and stir and cook for a minute. Turn off the flames and add yogurt, lemon juice, and leave to cool.
Chop the remaining smoked salmon into thin strips. Mix the freshly chopped salmon and the half grilled smoked salmon to the bulgur wheat with seasoning and coriander. Slowly stir together and put onto a serving platter.
Spread the lemon wedges and serve. This is one of the most enjoyed recipes using smoked salmon.
Baked Salmon & Eggs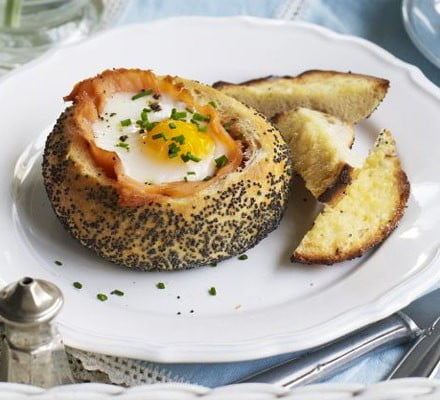 Ingredients Required
Six slices of smoked salmon
Six medium eggs
Six white rolls
few chopped chives
25g of butter melted in a bowl
Method of Preparation
Preheat the microwave oven to 180C.
Cut off the top layer of the white roll, then scoop out the bread inside until there is a cavity wide enough to contain a slice of smoked salmon and an egg inside.
Place the rolls carefully on a baking sheet, reserving the upper layer of the roll.
Take the bowl containing melted butter, rub the edges of the roll with it using a brush, and then put a slice of smoked salmon on the roll.
Break an egg into each and bake for 10-15 minutes according to your taste. Spread chopped chives and toast the tops with the remaining butter, then cut into pieces and dip into eggs.
Smoked Salmon Spaghetti with Chili & lemon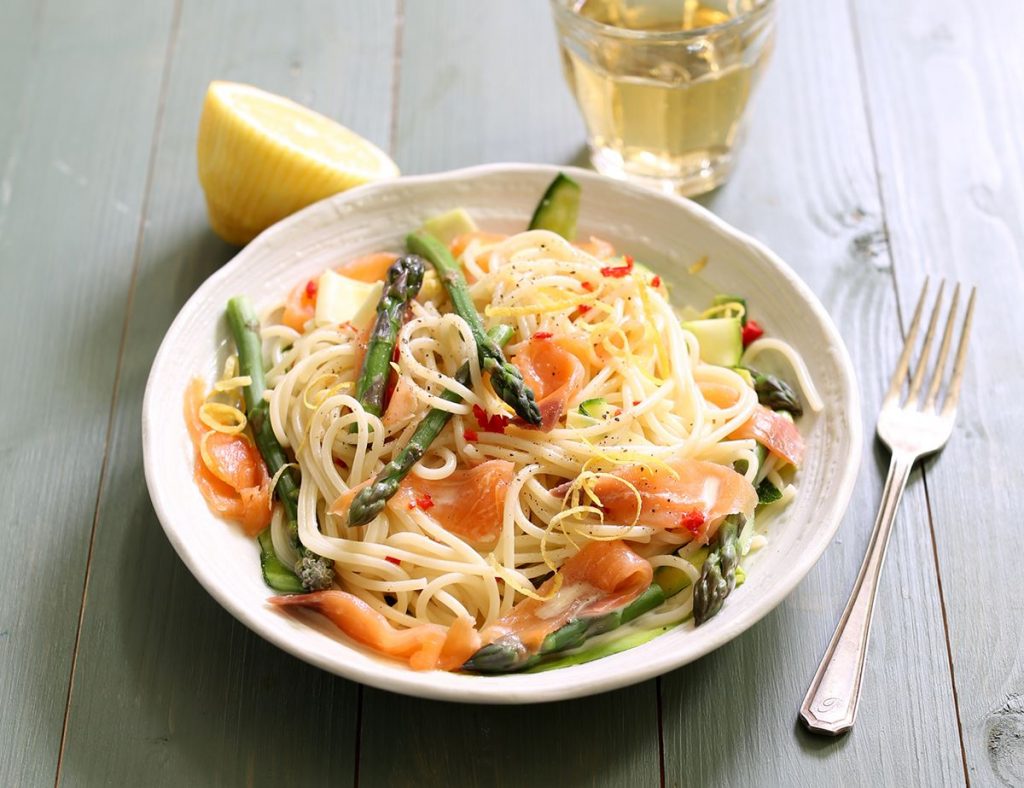 Ingredients Required
120g pack smoked salmon
300g spaghetti
One finely chopped red chili
One tablespoon of olive oil
finely chopped spring onions/chives
One lemon juice to taste
Method of Preparation
Take salt and water in a pan and boil the spaghetti according to the pack instructions until it becomes soft.
Now heat the oil in a medium base frying pan and briskly fry the chopped red chili to soften it.
Drain the excess water from the spaghetti with the help of a colander. Keep little of the same water aside, then add it into the wok.
Mix the chili oil into it, add the salmon slices, lemon juice, chopped chives, or spring onions, and then give it a toss again.
Add some seasoning and lemon juice to taste. This is one of our favorite recipes using smoked salmon.
Smoked Salmon Terrine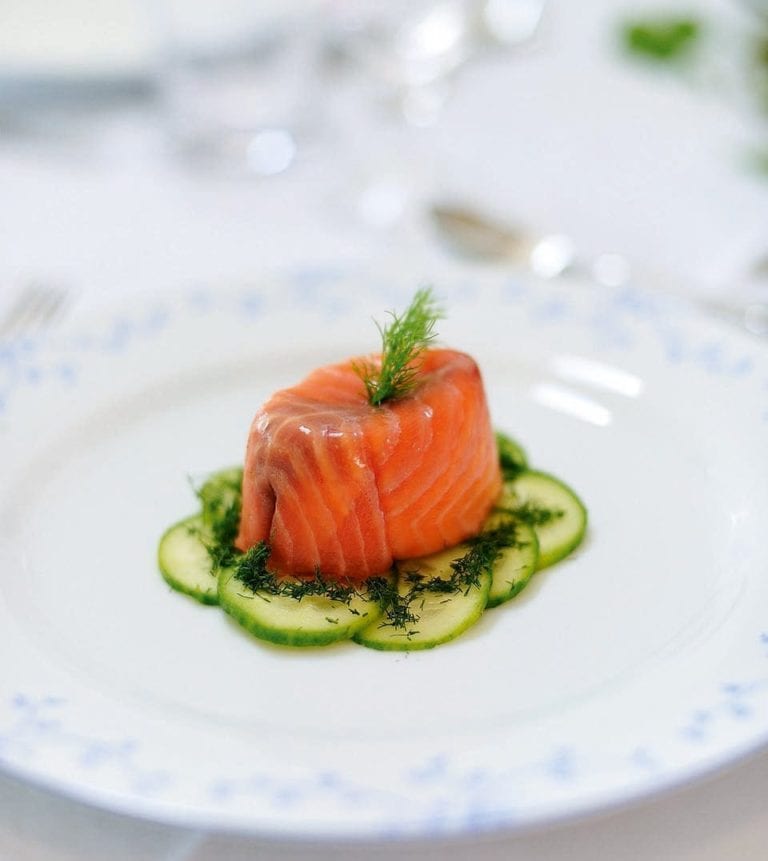 Ingredients Required
600g of cream cheese
600g packet of smoked salmon slices
2 tbsp finely sliced chive
1 tbsp chopped dill, a few fronds to serve
150ml cream
1 lemon juice and thin wedges to serve
Melba toast to serve
oil for greasing
Method of Preparation
Grease a bread tin with oil and cover it with silver foil. Then put one layer of salmon slices on the base neatly.
Take cream cheese, cream, and lemon together in a bowl and give them a good whip.
Crush and stir the dill and chives mixture with some herbs. Apply a layer of cream and cheese mixture and place a layer of salmon slices above it.
Repeat the same procedure to form another 7 layers of cream and cheese. Finish it with putting a last layer of salmon on the top. Cover and refrigerate the terrine.
Gently remove the foil paper film. Scatter with a few dill fronds and lemon wedges and serve with toast. This is one of the creamiest recipes using smoked salmon.
Smoked Salmon with Asian dressing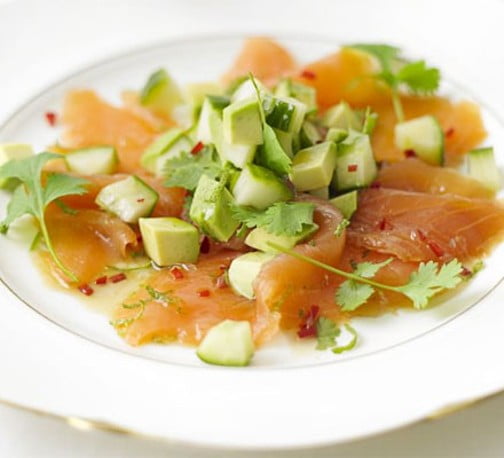 Ingredients Required
2 large avocados, peeled and diced
2 x 200g packs smoked salmon
A handful of coriander leaves
4 tbsp lime juice
½ cucumber, deseeded and diced
1 tbsp sesame oil
2 tbsp caster sugar
zest two limes
2 tbsp light soy sauce
One finely chopped red chili
Method of Preparation
Take a bowl and mix all the ingredients of seasoning.
Keep this mixture refrigerated overnight so that all the flavors are absorbed in the liquid.
Take a platter for serving and neatly place the smoked salmon slices on it. Finely chop the avocado and cucumber, mix it with coriander, then spread it on top of the salmon.
Garnish with the seasoning prepared and serve.
Smoked Salmon & Celeriac Dauphinoise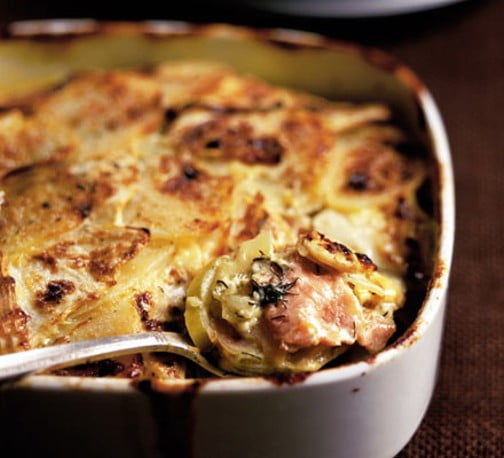 Ingredients Required
2 x 125g packs smoked salmon
1small celeriac, about 650g/1lb 7oz, peeled and quartered
284ml cream
A small handful of fresh dill, chopped
One onion, finely sliced
2medium potatoes, peeled and thinly sliced
One lemon juice
Method of preparation
Preheat the oven to 180C.
Take a bowl and squeeze one lemon, then cut the celeriac into thin slices and add them into the lemon juice.
Add the potato slices into the celeriac.
Now take a microwave dish, put the celeriac and potato mixture in the bowl. Add pieces of salmon over the celeriac and sprinkle chopped dill and onion. Pour cream over each layer.
Season each layer with chili. Finish the garnishing with the cream on the top layer.
Take a baking tray, cover it with foil paper, and put the dauphinoise in the microwave for 45 minutes. Unwrap the foil and bake the half-cooked dauphinoise for 30-40 minutes until the vegetables are cooked. Test it by inserting a knife through it.
Let it cool slightly. Serve it along with crisp green salad and chilled wine.
Creamy Smoked Salmon, Leek & Potato Soup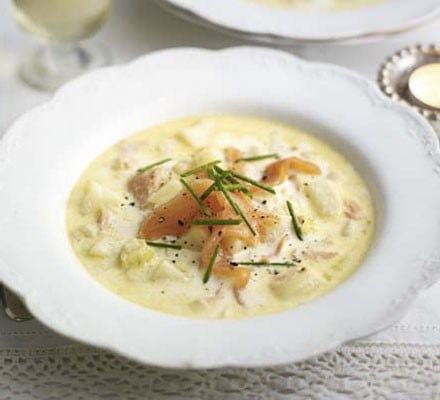 Ingredients Required
200g smoked salmon strips
large knob of butter
One bay leaf
1kg diced potatoes
small bunch chives
1l chicken or vegetable stock
Two large, finely sliced leeks
100ml double cream
Method of Preparation
In a large saucepan, heat some cubes of butter and cook the leek and bay leaves in it for 8-10 minutes until completely tender.
Add the potatoes and stir them together in butter.
Pour the stock and cream into the pan and give it a gentle stir. Simmer it for 10 minutes for the potatoes to become soft.
Please take out the pan and let it cool for some time. Then again, please put it back on flames and continue the recipe.
Add the smoked salmon to the gravy and stir it. Pour the soup into bowls and serve with snipped chives on the top. Garnish with seasoning. Out of all the recipes using smoked salmon, this dish is good for our health.
Smoked Salmon & Lemon Risotto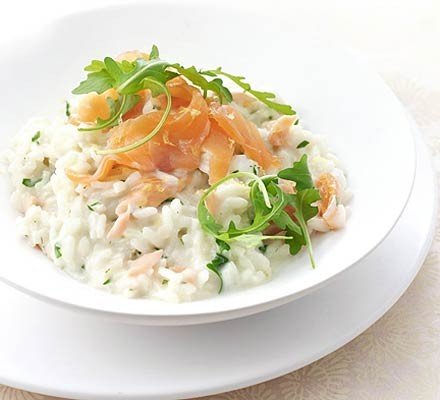 Ingredients Required
170g pack smoked salmon
85g mascarpone lite
One finely chopped onion
350g risotto rice
One finely chopped garlic clove
One ½l boiling vegetable stock
grated lemon zest and lemon juice
3 tbsp chopped flat-leaf parsley
A handful of rocket leaves
2 tbsp olive oil
Method of Preparation
Add oil to a frying pan and sauté the onions. After the onions become translucent, add the rice and garlic into the fried onions and stir and cook them for some time.
Pour one-third of the vegetable stock into the pan and let it simmer until the rice is cooked. Stir it continuously until the stock is absorbed.
Add the remaining stock and continue to simmer, stirring it continuously until cooked and creamy.
Turn off the gas and add the salmon slices along with mascarpone. Season it with parsley, black pepper, and lemon juice.
Serve with the remaining salmon slices and some rocket leaves.