The snowblower is used to remove the excess snow which blocks your driveway, entrance, or a particular area you want to be cleared out. Every snowblower owners face one problem: it does not start, majorly the second time you use it.
Snowblowers require timely maintenance to work correctly, so even if it is summer, make sure to switch it on and check if it is still in working conditions.
The problem can also be minor, which means that a good look in your snowblower's manual will help you. However, if it still does not work and your snowblower does not start, you can use some tips and tricks.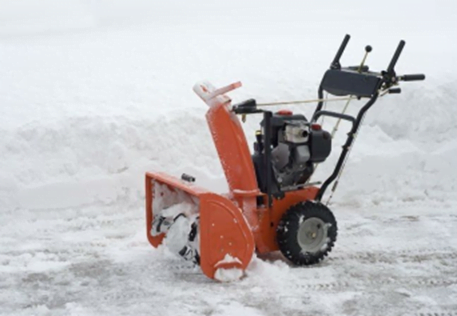 Although it is also recommended that you buy a new snowblower, it is time to upgrade it. And if not that, you can check your blower's warranty, and if it is still in warranty, you can quickly get your machine checked for free and know what and where the problem is.
Check your Valves
Make sure that all the valves, switches are in the correct position. The snowblowers nowadays have many switches or buttons on them, and you might forget to turn on some of them.
However, with the manual, you can check everything. For example – your throttle must be in "High Position," the fuel shut-off valve in the "Open" position, the choke in the "Full" position, and the run switch in the "On" position.
Either the manual gives instructions or explains detailed information through images. Either way, you can check it and see if that is causing your snowblower to start. Never lose the manual. It always helps in times like these.
Clean the Carburetor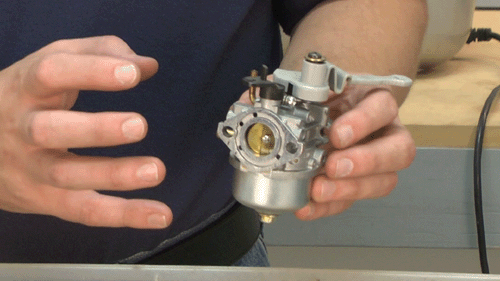 A carburetor should be thoroughly cleaned to dissolve gunk and any residue. It combines air and fuel in an appropriate ratio for efficient combustion, so it is essential to check if there is any residue left.
A carburetor is a metal case with an opening shaped like a cylinder located beneath the air filter.
You can use a carb cleaner to clean out the carburetor.
The cylindrical opening is the air-intake valve, and you need to spray the carb cleaner inside the valve following the can's instructions. 
After that, you should also clean out the air filters and its cover. Put the fresh filters back in and try starting the blower.
Replace the Old Gas in the Tank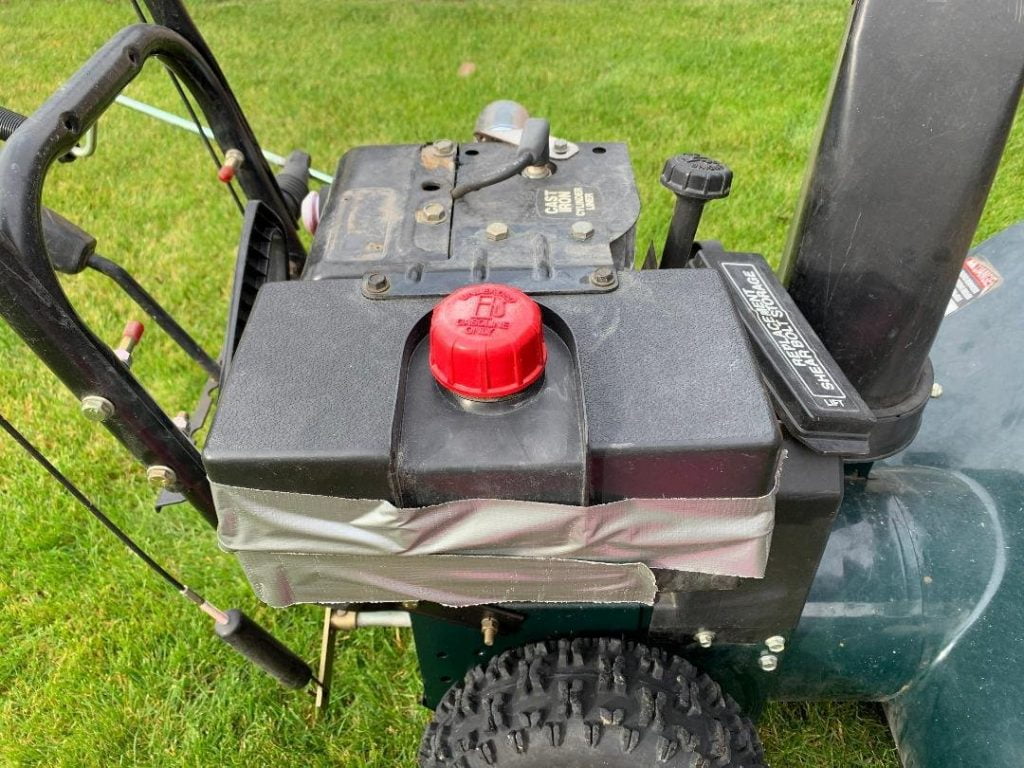 Because your snowblower has been sitting idle for an extended period, the gas can have residues, which can cause a problem in starting your blower.
You can use a siphon tube or pump and take out the old residue in your gas tank and dispose of the gasoline. After you have done that, fill the tank with new, fresh gas and try starting it again.
This problem is the same with a blower or even your car. Sometimes, some residue is left, making it difficult for the machine to start, so make sure to clean it properly before you try it again.
Add Fuel Stabilizer
Even if you have thoroughly cleaned the gas tank, there might still be some residue left.
What you can do is try adding a fuel stabilizer. It is a product made to clean the gasoline and dissolve the residue.
Just add the stabilizer's required content in the blower's gas tank and try starting the machine.
You need to keep starting it again and again if it does not start immediately or wait for an hour and a half to let the stabilizer dissolve the residue and then start again.
This process may take up a while, so you must be patient.
Force the Fuel into the Carburetor
In winters, any machine's engine takes a bit longer to start. What you can do is add a little bit of fuel to it.
You got to prime your engine for this by pressing the primer bulb, a small rubber or silicone bulb near the carburetor.
Priming it will let a small amount of fuel in the carburetor, making it easy to ignite. 
Start your snowblower immediately after priming, and it can take you 3-4 times to start it. Give gaps in between each try for about a few seconds.
Clean/Replace the Spark Plugs
Cleaning or replacing the spark plugs is one of the three most important things you need to start your snowblower besides fresh fuel and the engine's exact amount of compression.
Start by removing the spark plugs with the help of a socket wrench and a spark plug socket.
Once the plugs are out, check if any plugs have cracked and need to be replaced.
Thoroughly clean the residues from the electrodes with a carburetor cleaner and wire rush, found in the plugs' threaded ends.
Let the plugs dry, and then re-insert them. If this step does not work, you might need to replace the old plugs with the new ones.
Check to see where you can get a new set of good quality plugs and insert them.
Check the Fuel Line
There is a fuel line that runs from the gas tank to the carburetor. Make sure that the line is flexible.
When your machine has been kept for an extended period, the fuel lines can become challenging; a harsh and hard fuel line is prone to cracks, leaking fuel around the connections between the gas tank and the carburetor.
If there is a leak, it will prevent the fuel from going into the carburetor, and this might cause your snowblower not to start.
What you will need is a new fuel line, and you are good to go. For buying the new fuel line, you can check online or go to a repair shop to buy one.
Call a Technician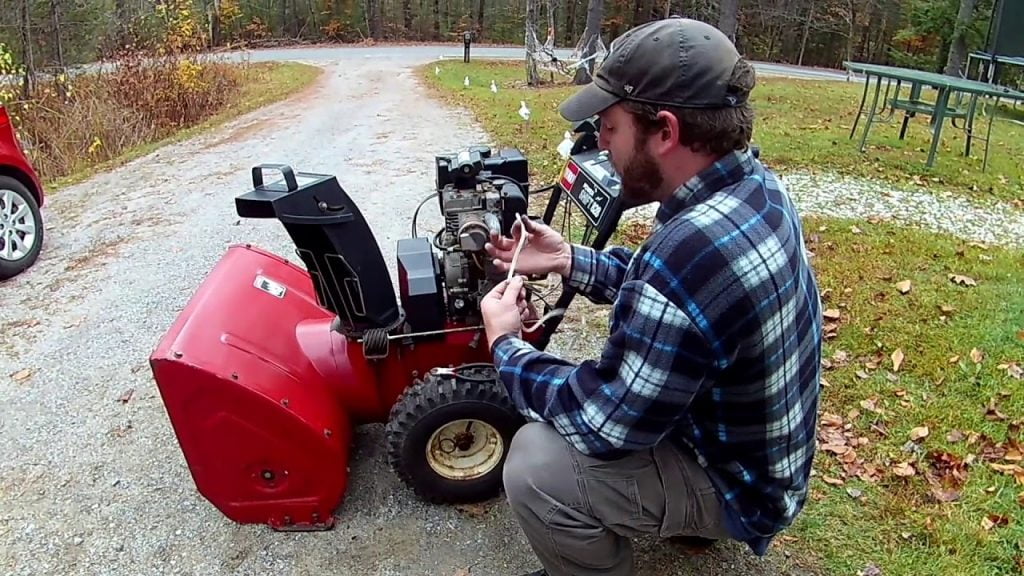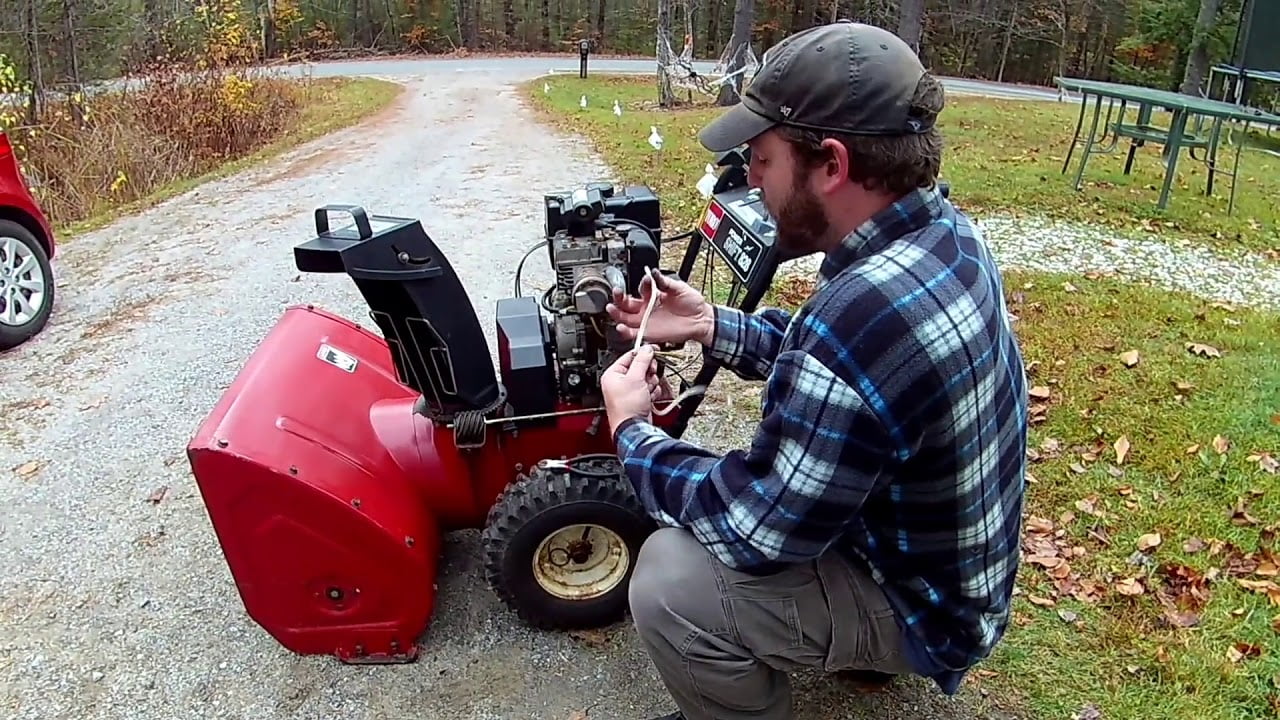 If nothing from the above works, you need to call an expert, and if your blower is still under warranty, you can call the manufacturer. There might be problems in the parts of the machines they can solve.
If your machine is old, you can take it to a small repair shop, the stores that sell lawnmowers, snowblowers, or any other equipment offer repair services.
Any technician can take up to $75-$300 for repairing the parts. It can be less and more depending upon the problem, which part needs to be replaced or fitted and which not.
Calling an expert should last on your list because there might be a minor issue that you can solve.
Snowblowers are of various types like – Single-Stage Snow Blowers, Two-Stage Snow Blowers, and Three-Stage Snow Blowers.
While buying snow blowers or snow throwers, few details you can keep in mind are – size and weight, terrain type, fuel, clearing width and depth, wheels vs. tracks, heated handles, lights, speed control, and automated safety.
The best snowblower with excellent overall functions is Briggs & Stratton 22-Inch Single-Stage Snow Blower, or Snow Joe SJ619E Single Stage Snow Thrower.
The best snowblower, if you are looking money-wise, is WEN 5662 Blaster 13.5-Amp 18-Inch Snow Thrower.
The snowblower for the best light show is Snow Joe iON18SB 40-Volt iONMAX Cordless Snowblower.
The best snowblower for removing heavy amounts of snow is Husqvarna 24-Inch 208cc Two-Stage Electric Start Snow Blower.
The best cordless snowblower is Snow Joe iON15SB-LT 40-Volt Cordless Snow Blower.
Apart from these, there are other good quality snowblowers based on our requirements.
Conclusion 
Snowblowers are great to use, but every great thing can cause you trouble.
And so, can the snowblower. However, if the problem is minute, you can quickly solve it with the few tips and tricks we mentioned above, and if by any chance these do not work out, you can call an expert to come and look at your machine since there may be a problem in its parts.
If your machine has been with you for quite some time and all the repairs on it seem to fail, it is time to upgrade your snowblower.
This can also be a case for why your snow blower will not start. You can only repair it a couple of times, but if the machine requires repairing every time you start it, you should buy a new one.
You can check some of the snowblowers we mentioned here or according to your requirements too.