Everybody dreams of getting their own house out of their earnings and savings. And when this dream comes true, it is the most magical moment on earth for that person.
But when you have enough money to buy yourself a house, you certainly do not want to spend it on buying any other house. 
You would want it to satisfy all your wants, everything that you wanted in your to-be house, the garden, the lawn, the beautifully painted walls, the best furniture, etc.
Along with the garden, the furniture, the terrace that you may want in your house is a deck where you can enjoy your coffee, snacks and spend some quality time with your family and with yourself.
The deck makes your house look even more spacious and grand. As it may seem, building a deck in your house is not that easy. You certainly need to have a big enough plot if you land to fit in the deck and the house at the same time. Building it also incurs a lot of costs that add up to the cost of building your home.
So, knowing that getting a deck in your house is not an easy and inexpensive task, you sure as hell want to make it look the best when you finally have one. There are a lot of ways to decorate your decks, but one among them outlines them all. Lighting up your deck with solar deck lights is the one we are talking about today.
Solar deck lights are famous among most people owing to a plethora of reasons. They have found their way in most households and are being used in many commercial places. The consumption of solar energy is the highest now more than ever since its inception.
Solar Deck Lighting Ideas
1. Solar Deck Lights Mounted on Trees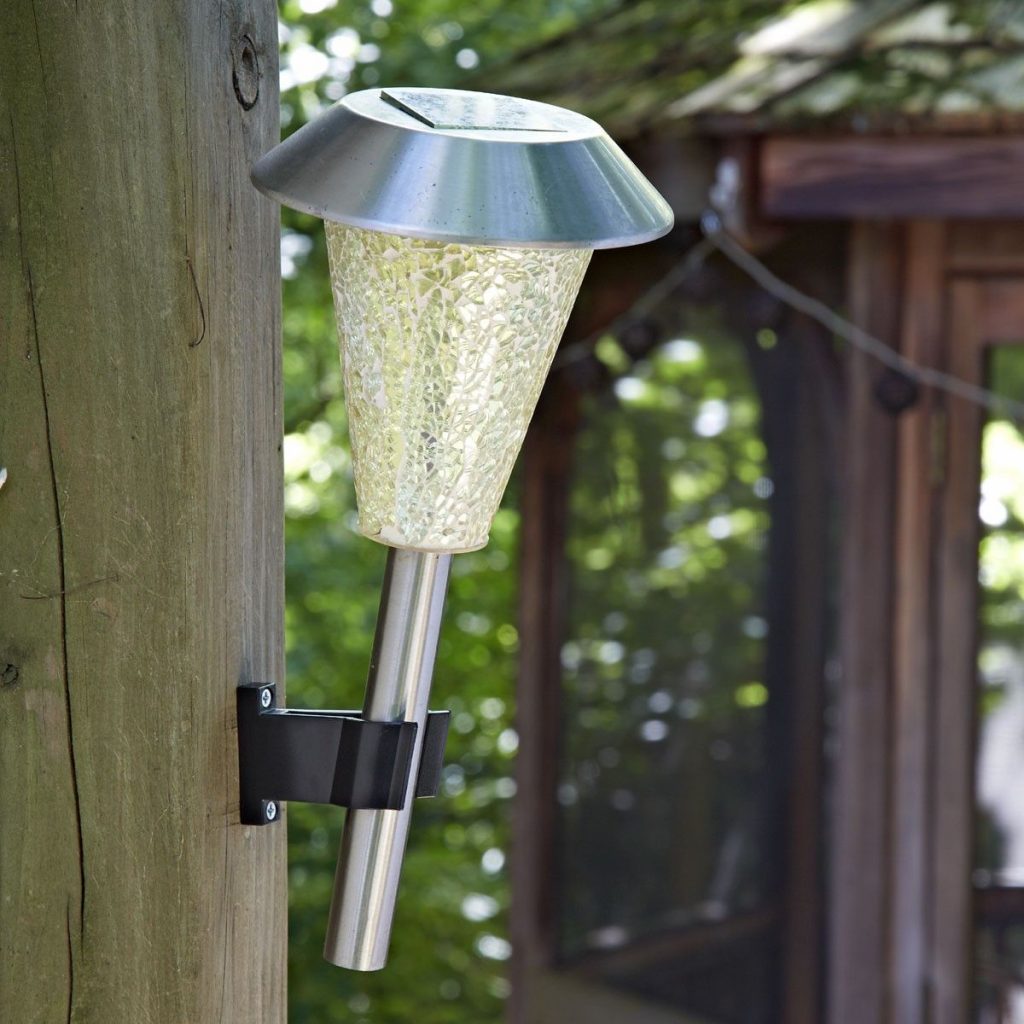 What can you do when you have a tree branching out over one side of your deck? Use it to your advantage. This is a very innovative way of using solar deck lights, and you may be the first to implement this among your friends and neighbors. 
Now is not that comforting? The lights can be hung in the branches of the trees randomly hung with the leaves. They will light your deck up like you could not even imagine. The whole scene would seem very magical and picturesque. Your deck would become an even more challenging place.
What if you are not that blessed and do not have a tree branching out over your deck. Plant a small tree over your deck. Do not plant a tree that could grow up to be very big.
2. Solar Lanterns
Well, solar lanterns could be the answer to your question of how they decorate your deck. The fascinating shape of the lantern and light coming from within it will make the whole deck even more perfect. One benefit of using solar lanterns is that these lanterns come in various fascinating designs and carvings. These designs and carvings of the lanterns will add to your decor's decor even when it is a day. 
Consider using a big warmer light inside the lantern as it will give an even beautiful touch to the whole scene. You can read your favorite book under the light of these lanterns and drink your favorite coffee along with it. What is more comforting than this?
3. Color Changing Electric Strip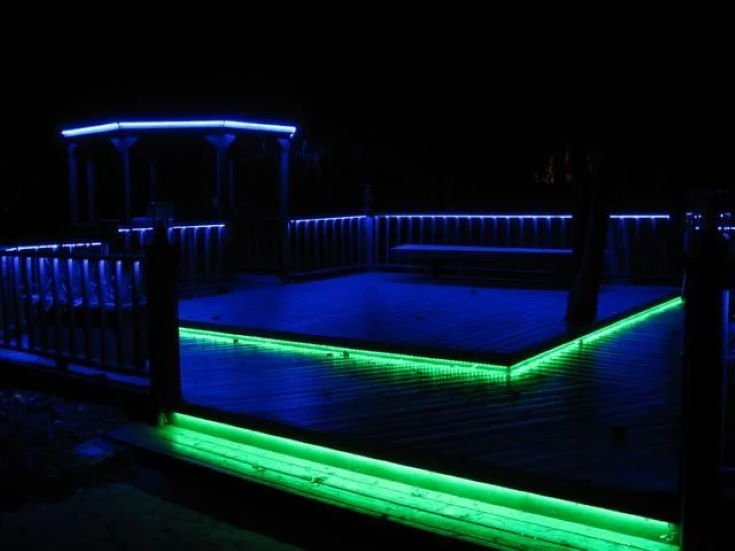 If you are more of a dynamic and party type person, this solar deck lighting idea is especially for you. These lights will change their color after set intervals of time. Your deck from a far-off place would look like a disco. 
So now you have a perfect place to call all your friends and show them how you roll. Your deck will now be converted into a dance floor in no time. All you need for this is solar deck light strips of these varieties. These lights will take no time to set up and give a colorful ambiance to your house.
4. Step Solar Lights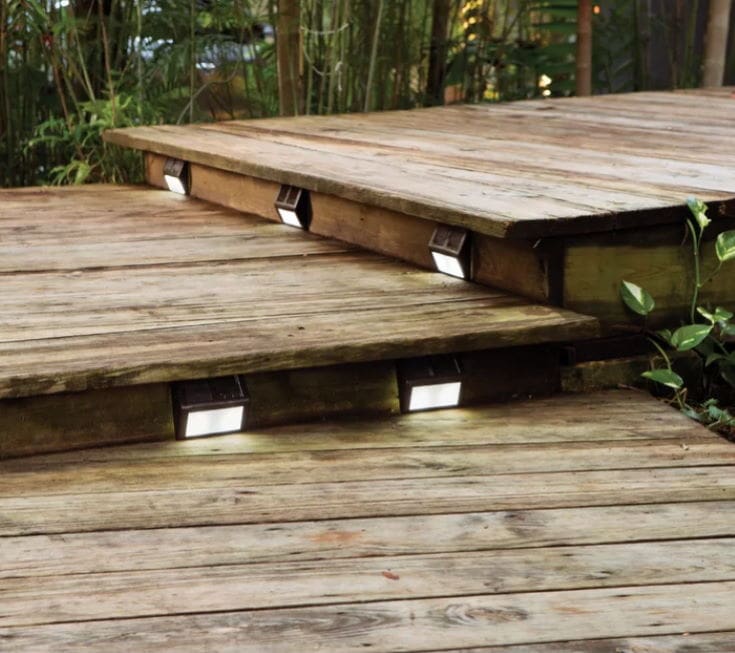 Step solar lights are scorching in trends, and that does not. They are temporary trends. These solar deck lights are here to stay. We will be witnessing even more of their installations in the coming years. 
The reason behind their popularity is their diversity of benefits. For one, they help you to navigate through the stairs efficiently and not end up falling in the steps. They also add to the beauty of your deck. 
They highlight the small parts and nooks and corners of your house. You will also find it very helpful when you lose a key or a ring or something small in these steps. Because of these lights, you can find them easily.
5. Deck Rail Lighting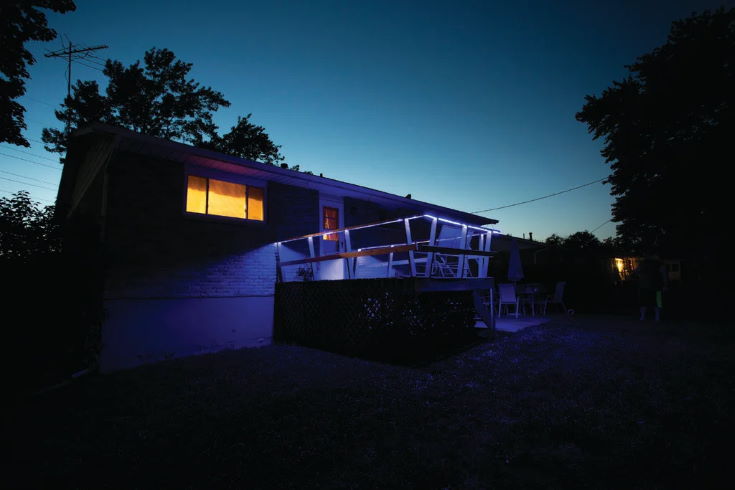 If you have a rail in your deck, then you can use it to your advantage. Light strips can be stuck to these rails. It will appear as the deck is exuding light. This is one of the best designs if you want to set up lights just for decoration. Your deck will then be converted into an alt location for a photo shoot.
6. LED Deck Step Lights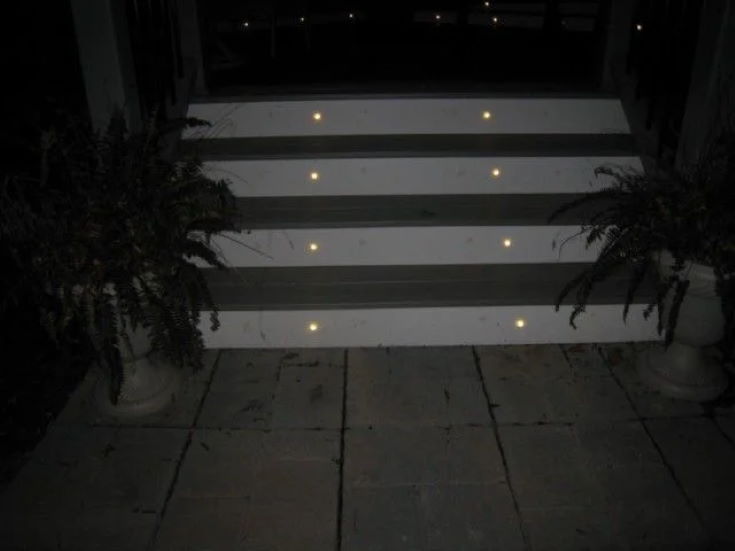 Step lights can be helpful and can also help increase the beauty of your deck at the same time. But the problem with fluorescent lights is that they are not that effective and do not last for a longer duration. A cure to this problem can be to use LED lights instead. LED lights are more effective and can light up for more duration than their counterparts.
7. Deck Dining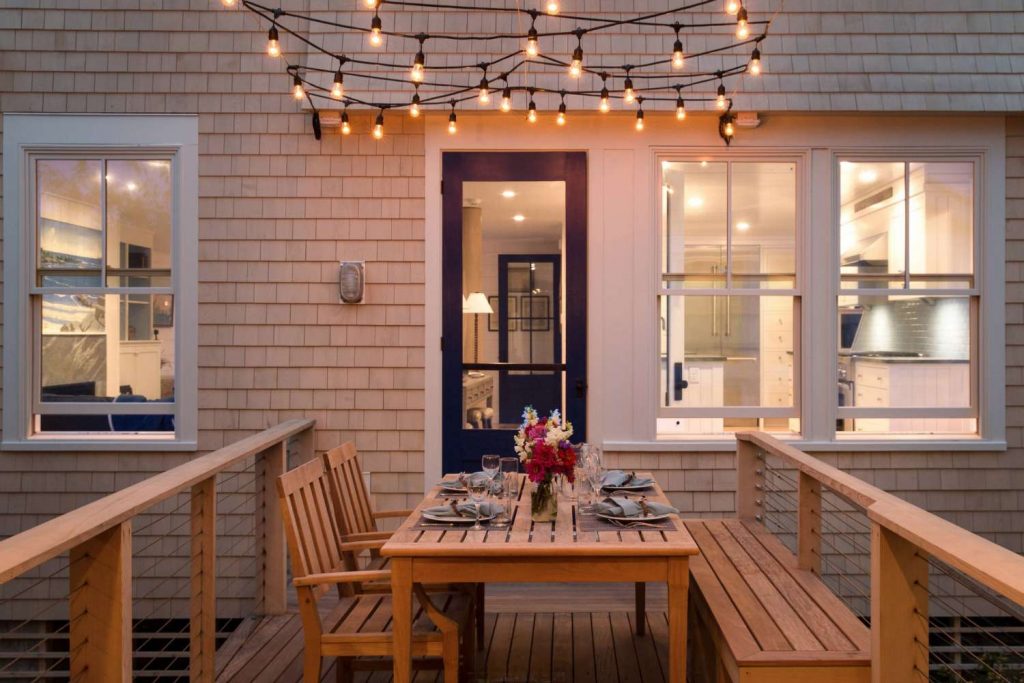 You may want to have that perfect dinner on your deck, but it would be incomplete without proper lighting. You can either take the help of regular lights or series lights that can give you a very rustic and warm deck dining experience. The lighting and the ambiance will amplify the taste of your meal. This could be the best spot for your in-house data.
8. Wooden Deck Lights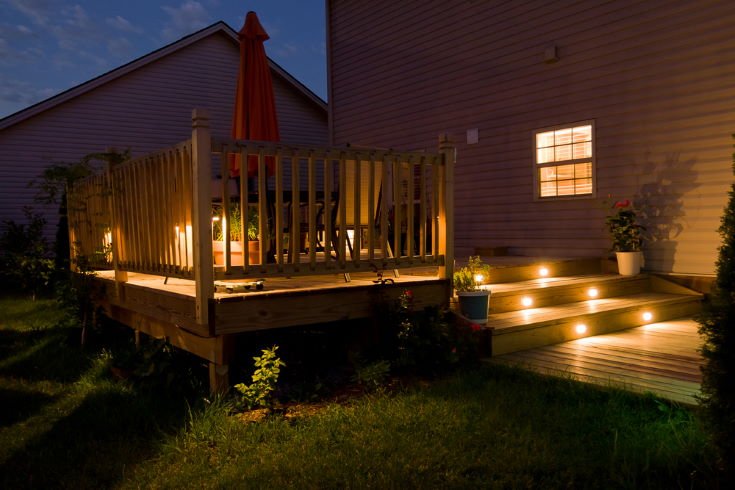 Wooden deck lights could be a perfect option to go with if you want something warm and comforting to build precious moments with your friends and your family. This also gives a very rustic look to your deck and will help you win your guests' hearts. 
Reasons Behind the Popularity of Solar Deck Lights 
Some of the reasons behind solar deck lights and the solar lights, in general, getting so popular are discussed below.
Cost-Effective
You may have to incur a massive cost while installing these solar lights along with the solar panels as they do not come in as cheap as compared to their counterparts.
But after the installation, you do not need to spend a dime on electricity charges like you will have to do when you are using the conventional source of energy, i.e., electricity. The only additional costs will be the minimal charges of repairs if needed. 
Looking at the whole picture through this length, you may realize that the cost involved in getting solar deck lights is translated in the form of a one-time investment, which is very favorable compared with other sources and counterparts.
This means that you do not need to spend a lot of money switching over to solar in the long run.
Eco Friendly
Every day we hear from news and other sources that the environment is in constant threat, and we need to do something about it. Well, here is something you can do about it. You can install solar deck lights and enjoy your coffee on that deck. 
That is all you need to do. Unlike lights powered by other lower power sources, solar lights do not contribute to global warming. This is because other energy sources like coal and fuel are burnt and emit a lot of greenhouse gases while producing electricity. 
However, solar energy is a renewable and pollution-free energy source as it does not contribute to the rise of greenhouse gases. Using solar deck light will give you the pride of saving the environment or making your contribution to its conservation.
More Efficient
The solar panels used today have become even more efficient because of the constant advancements in technology. Now, even more, energy can be harnessed from the same panel size at the same place.
This will undoubtedly increase the glowing time of the solar deck lights. And it is not just the panel that has been innovated, but it is also the lights. Now LED lights can give more lights and glow for even longer durations with the same amount of energy. Isn't that fascinating? 
The solar panels now can even store energy in shady areas. So more glowing time in the winters.
Easy to Install
Though the solar deck lights are expensive when it comes to installation, they are not that difficult to install. You might not even need a professional to help you out with the installation process.
You can do all the installation tasks on your own. Many of the solar deck lights come with an attached solar panel. This makes them work free and can withstand diverse weather conditions from cold to rainfall to the summers.
Conclusion
These are some of the benefits of solar energy and solar deck lights. Learning their benefits will allow you to stand in a better position to choose between solar energy and its counterparts.
Now that you know how solar energy is better, you can spread the word among your friends and family and take a step closer to polluting the environment.
After reading these solar lighting ideas, you will have a clear picture of what may and may not work for you. There indeed are a lot more ideas, but these are some of our best picks for you.