If you've just bought a new house or plan to soon, you're probably fixating on all the jobs you want to do inside the property to get it just right for you and your loved ones. However, also spend time thinking, planning, then actioning, steps to create beautiful outdoor areas that suit your needs.
It may be cold and wintry right now, but spring will be here before you know it, and you're sure to want to start spending more time outside. Consider the following key tips for getting the yard in your new home organized this year.
Plan How You Want to Use the Space
Before you go in too gung-ho about making changes, think about what you want to achieve. Consider your goals for the outdoor areas and if there are numerous ways you want to use them. You'll likely want to define various parts of your yard(s) for different purposes, such as exercising, playing, eating, cooking, resting, growing produce, etc.
Evaluate the space and get a good idea of where the sun and shade hit, the quietest areas, where you get the most privacy, and so on, before you do too much. Understanding the space will make it easier to design it in a way that works for the long-term.
Speak with Experts
Consult with experts, too. Get advice from landscapers, gardeners, and tree specialists who know plants and understand your area's topsoil and climate. Plus, speak with people at nurseries in your suburb or within the vicinity.
People who know the ins and outs of gardening, landscaping, and what works and doesn't in your location will be able to guide you on the best use of the space you have and the type of greenery and other items to purchase for it.
Get the Lawn Looking Good
One of the first things you'll likely want to do is get the lawn in your yard(s) looking as good as possible. If the grass has been neglected, you'll need to give it the attention it deserves to help it become healthy and lush. For example, get into the habit of mowing it regularly. Do be careful not to chop off more than a third of the length of the blades each time, though, as removing any more can damage the grass.
You'll also need to give the lawn a good feed so it can come back better than ever. Utilize a lawn fertilizer service in your area if you'd like. Plus, water your lawn regularly, use greenview fertilizer for better results and aerate it once or twice yearly to help it stay strong.
Cut Back Greenery
If your home was on the market or rented for ages, there may be significant greenery for you to clean up now. Cut back overgrown shrubs, hedges, and trees, and remove dead branches and plants. You may need to relocate anything that has become too large for the position it's in.
Get overhanging branches and vines away from the roof and gutters of your home, and clear away greenery that causes any issues from a security or access perspective.
Remove Old Junk
Remove any old junk that was left behind in your outdoor areas by previous owners or tenants. These things can be not only an eye-sore but also pose a potential threat to you and your children and pets if hazardous. They might be moldy, likely to fall over, or otherwise unsafe.
Look over your yard(s) with fresh eyes to notice what's broken, rusted, or won't be used by you at any stage. You might need to get rid of old swing sets, an unsteady treehouse, a water feature that stopped working long ago, leftover gardening tools, or benches or other furniture you don't like. Once you clear out these things, you'll have a better idea of the true size of your outdoor zones and how to best utilize them.
Spread Mulch
Another job is spreading mulch around gardens. Mulch comes in many materials, including bark, grass clippings, biodegradable paper and cardboard, straw, wood chips, and more. You may have options already at your property to use, or you can buy it.
Using this product will help keep weeds at bay (it smothers them and provides less room for them) and helps make the plants you want to grow happily to do so. Mulch helps soil retain moisture, and the material breaks down and becomes plant food, too.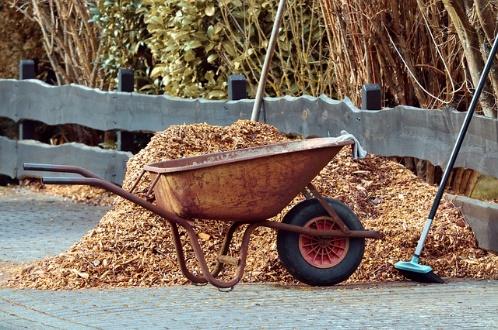 These are just some of the jobs to potentially complete when you buy a new home. You may also want to add or repair fencing and other fixtures and install an outdoor kitchen. You could add more lighting and repair leaks. Plus, consider installing some cover to make at least part of your yard suitable for all weather. Take all of these projects step by step and as your budget and time allow.